Grocery stores in Iceland are absolutely essential to visit if you are spending a long period of time in the country or if you are trying to see Iceland on a budget. While everyone knows that going out to eat while visiting is ultra-expensive, no one really talks about grocery stores in Iceland.
We are here to tell you that Icelandic grocery stores are actually really great and not scary at all for foreigners [you can breathe a sigh of relief!] Before you pay an Iceland grocery store a visit, there are a few tips you need to keep in mind!
Get a FREE printable "Hidden Gems In Iceland" E-book by joining our private Iceland Facebook Group and share your photos and ask for tips and tricks.
5 Things To Know About Grocery Stores In Iceland
#1: Grocery stores in Iceland really aren't that expensive
Grocery stores in Iceland are actually super affordable places for foreigners to shop. Unlike almost everything else in Iceland [gas, liquor, accommodations, dining out], prices at grocery stores in Iceland are relatively similar to shopping at your average store in America or Europe. For example, Iceland groceries such as frozen pizza may cost $4-5 USD, chips may cost $2 USD, and bread will cost $3.
Supermarkets in Iceland are quite reasonably priced when you consider that a simple hot dog and a drink can cost $15 USD from a gas station. If you want to save even more money, you can buy freeze-dried food online before you travel and bring it with you to Iceland! If you are going on an Iceland tour, pick up some snacks from your local Iceland grocery store to eat during the tour as well!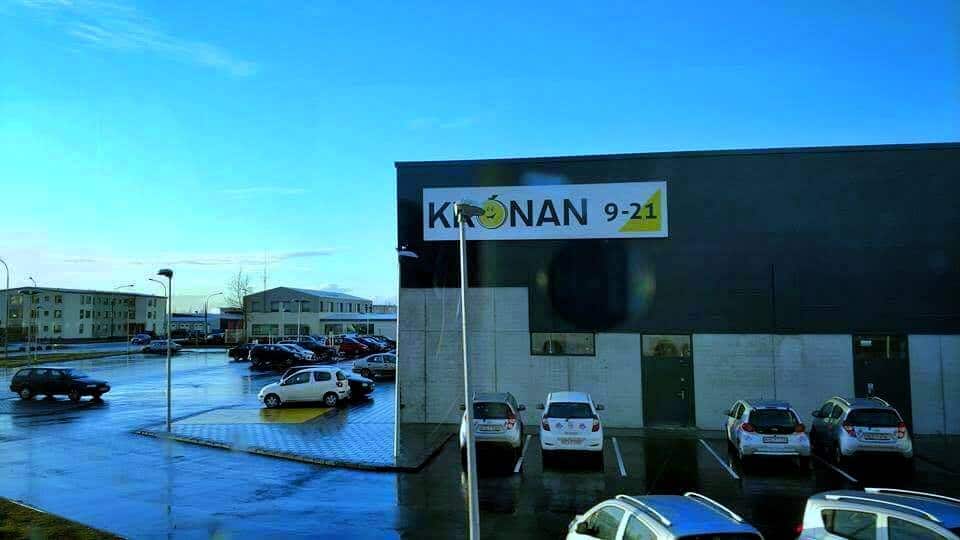 #2: Supermarkets in Iceland offer tons of recognizable brands
Brand snobs rejoice! Grocery stores in Iceland cater to their many tourist shoppers by offering tons of brands we all know! From Doritos and Lays to recognizable frozen and canned food brands, there are plenty of options for those who want a taste of home when buying Iceland groceries.
The country receives a ton of visitors from America, Europe, and Asia, and grocery stores in Iceland do a great job stocking some items that will remind us all of home. If you are looking for a taste of local culture, head to your local supermarket in Iceland a buy something native to the country!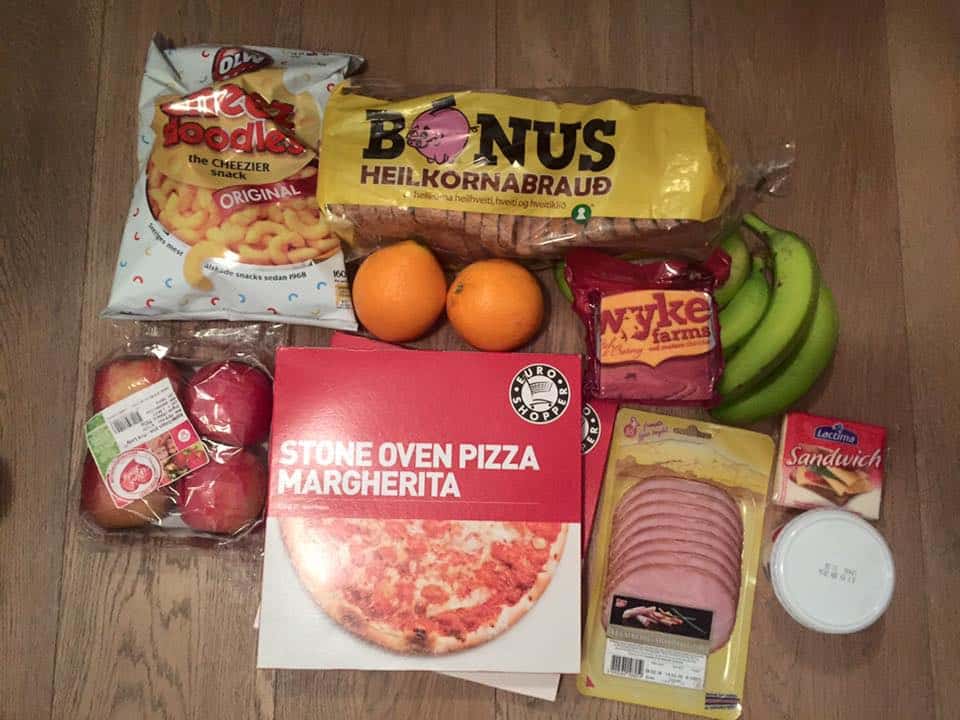 #3: All grocery stores in Iceland are not created equal
Whether you are venturing to south Iceland or driving the whole Ring Road, it is important to recognize that not all Iceland grocery stores are created equal. If you can, do the majority of your shopping in Reykjavik and just pick up perishables from other stores. Some grocery stores in Iceland offer a ton of selections while others are no larger than a gas station store.
If you are driving in Iceland, you are going to want to make grocery stores in Reykjavik one of your stops around the Ring Road! Some grocery stores in Iceland don't offer much, so it is good to stock up in larger cities before you head off. Luckily, stock has gotten better in recent days, but Iceland still has a lot of remote areas and you should be well prepared!
Despite the fact that a lot of smaller towns are quite remote, all Iceland grocery stores offer fresh produce, frozen goods, and dry foods. The difference between Iceland supermarkets will be in selection, size, and price.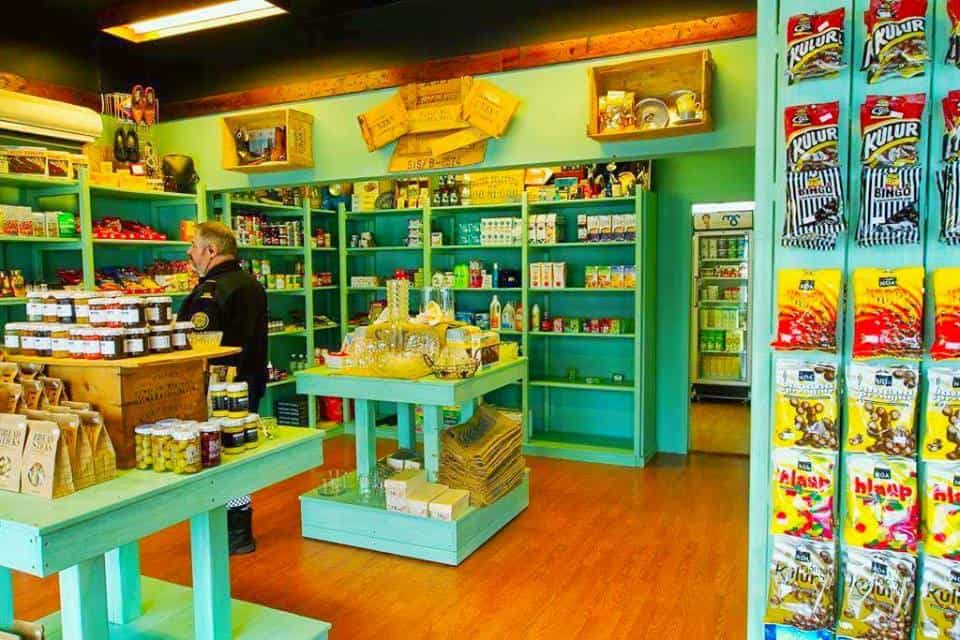 #4: Bonus Iceland is the best for range of options/price
Although there are multiple different places to shop for Iceland groceries, you are going to want to shop at Bonus Iceland whenever possible. Bonus Iclenad stores are easy to find because they are bright yellow with a huge pink pig logo.
Bonus Iceland stores are mostly located near Reykjavik/the surrounding area, with a few in west Iceland. As a result of their affordability, Bonus Reykjavik stores are one of the most popular supermarkets in Reykjavik.
Other popular stores for Iceland grocery shopping such as Kronan or Netto don't offer nearly as large a selection of affordable food products. Think of Bonus Iceland as the country's version of Aldi and you are golden. If you are currently searching for a Bonus in Reykjavik, you are in luck because they are all over the city and quite accessible from the surrounding areas as well.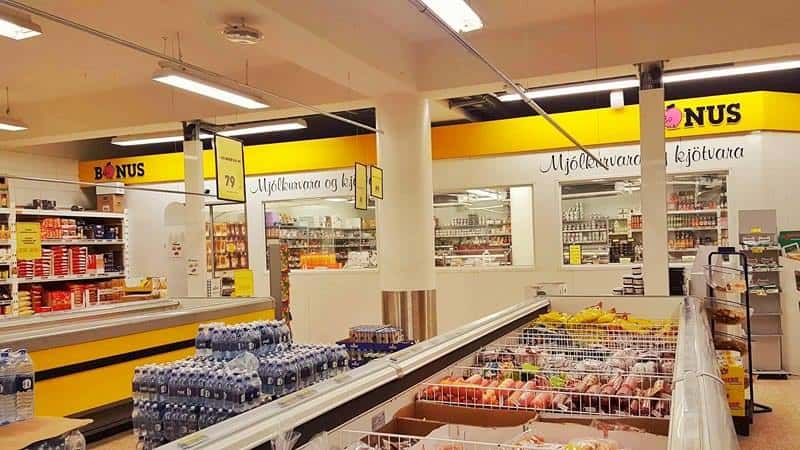 #5: You don't have to bring your own bag to go buy Iceland groceries
Unlike Aldi and many grocery stores in Europe, grocery stores in Iceland provide their shoppers with free bags upon checkout. If you don't get why this is such a big deal, then you have never shopped at a store that requires customers to bring their own bags or pay. That being said, if you want to help save the earth, add a foldable shopping bag to your Iceland packing list. You can buy a ton here for under $3!
If you do choose to get bags while grocery shopping, we highly recommend recycling them and reusing them throughout your trip. They can make a great trash bag in your car or a way to store your wet clothes if you happen to bathe in one of the many hot springs in Iceland. Either way, don't throw your bags away after one use, find a way to recycle them and reduce your impact on the earth.
Map Of Supermarkets And Grocery Stores In Iceland
We have created this wonderful handy-dandy map of grocery stores in Iceland for your ease of use! Supermarkets in Iceland are easy to find and are spread all around the country. Of course, there are lots of grocery stores in Reykjavik so you have plenty of options.
If you plan to drive the Ring Road or even parts of it, rest assured that there are many options for supermarkets in Iceland all around the country! Click the link below and save our guide for your trip to Iceland. Each one of the supermarkets in Iceland is marked with a different color and you can see the type using the map key to the left of the Google Map.
Click Here For Grocery Stores in Iceland Map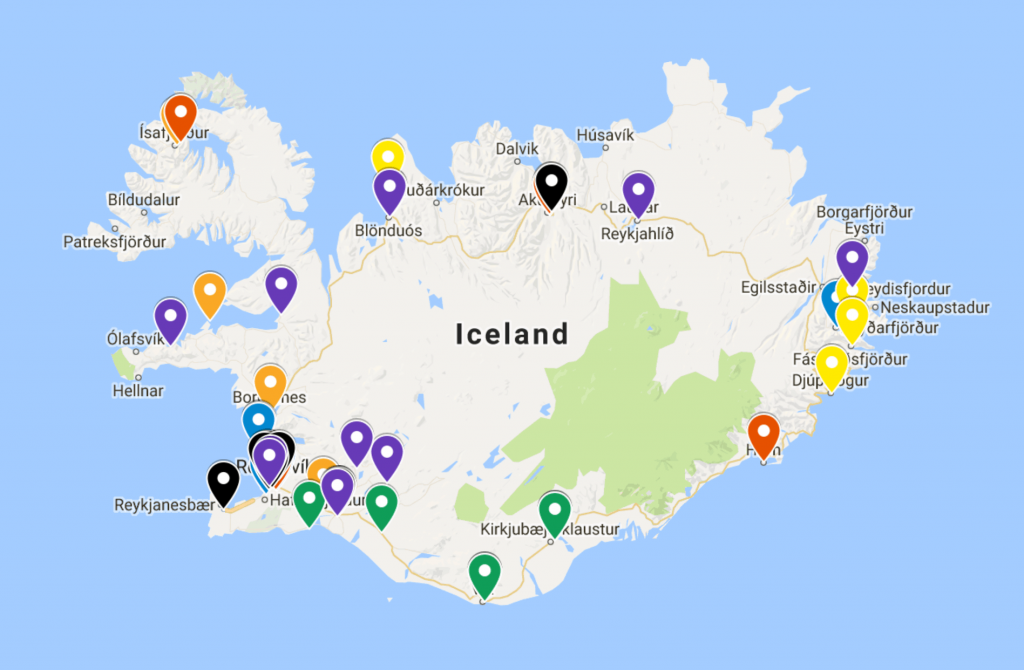 Different Types Of Supermarkets In Iceland
There are many different types of grocery stores in Iceland and we have given you a quick rundown below so you know what to expect when visiting! Each store offers something a little different than the rest, so if there is something specific you are looking for, be sure to head to that supermarket because another chain may not have as many options.
Make sure to refer to our map above and check the color coding if there is a specific type of Iceland supermarket you want to visit.
Bonus Grocery Stores In Iceland
Bonus is our favorite grocery store in Iceland and what isn't to love about a supermarket with a big pink pig on the logo? Bonus is the supermarket in Iceland that is for budget shoppers and also the cheapest and most affordable supermarket out there. Bonus is similar to stores like Aldi in Europe and the USA so everything is affordable and basic. This is where we stock up on the majority of our food when traveling through Iceland.
Kronan Grocery Stores In Iceland
Kronan is another budget grocery store in Iceland and another one of our favorites because there are lots of locations around the country, especially in the south and around Reykjavik. Kronan stores offer a larger meat and dairy section as well as fresh foods as opposed to Bonus.
If you are looking to buy lots of fresh foods Kronan is a good option but we still suggest stopping at Bonus first. Kronan also offers a variety of healthy food options as well.
Netto Supermarkets In Iceland
Netto is another one of the budget grocery stores in Iceland and it is quite large. Netto is one of the true supermarkets in Iceland because it sells more than just groceries. It is also larger than many Bonus stores and has lots of locations in the east fjords, west fjords, and north of Iceland. If you are looking for supermarkets in Iceland during your Ring Road drive, check out Netto for some great options!
Hagkaup Supermarkets In Iceland
Hagkaup is another one of the supermarkets in Iceland that you can visit during your stay. It is a bit like Walmart but for Iceland and you can buy everything from food to appliances and toiletries. Food is much more expensive at Hagkaup supermarkets in Iceland, but they are open 24 hours a day which is great if you need to make a run and all the other grocery stores are closed.
Kjarval Grocery Stores In Iceland
Kjarval is the name of the grocery stores in Iceland that focus a lot on smaller towns. If you are heading to south Iceland and plan on visiting Vik [which we recommend you should!] this is pretty much the only grocery store in Vik! It is teeny tiny, almost like going into a gas station, and the prices are medium to high.
If you are going to Vik, we recommend stocking up on groceries in Selfoss or Reykjavik and only using Kjarval grocery stores for anything else you may need.
Samkaup And Samkaup Strax Supermarkets In Iceland
Samkaup Strax and Samkaup are sister stores and part of a popular Icelandic grocery store chain. Once you depart bigger cities that are home to Netto, Kronan, and Bonus, you will start to see more of these Samkaup stores. Be warned, these stores are very pricey so we don't recommend visiting unless you really need to stock up on something. Even the locals who live near these stores drive to larger towns to do their shopping because of how expensive these grocery stores in Iceland can be!
Krambúð Grocery Stores In Iceland
Krambúð grocery stores in Iceland are another supermarket chain that focuses on the medium and small towns spread throughout the country. They are not located in Reykjavik or bigger cities and cater to the individual needs of the locals in that area. They are relatively small but offer good quality food especially if you are in a small town and need to visit an Icelandic grocery store with urgency!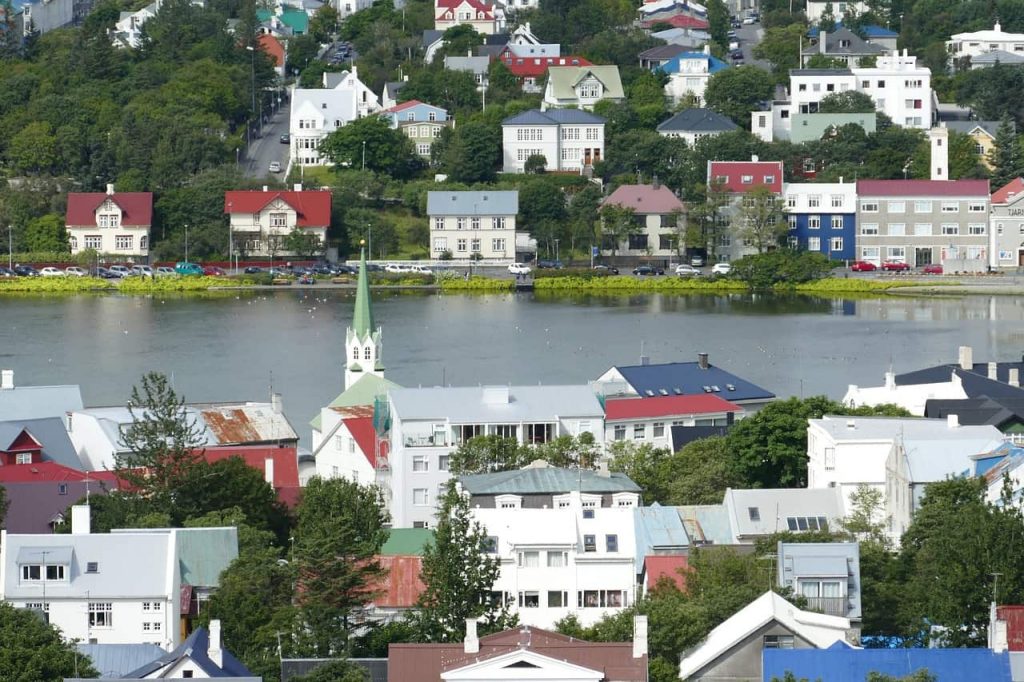 Iceland Grocery Store Hours Of Operation
While this may sound like a pointless tip, hear us out! Grocery stores in Iceland close at strange times [for people from the United States at least]. In the big cities, Icelandic supermarkets may stay open until 8-9 pm if you are lucky. If you are in a more rural area, some grocery stores close as early as 6 pm.
The grocery stores in Iceland close even earlier on the weekends, and some may not be open at all on a Sunday. How do we know this? We have learned the hard way multiple times during our previous visits to Iceland! We have waited to go grocery shopping and then the store closed super early like 4 pm or wasn't open at all.
To save you some grief, we recommend stocking up at grocery stores in Iceland early and often so you aren't stuck eating toast or leftover food you have stashed away if you make the mistake of waiting until the last minute. Some supermarkets in Iceland have their hours posted online or posted on your GPS location.
Be sure to check what time the store closes so that you can be prepared. There aren't a lot of people in Iceland, especially in rural areas, so stores tend to close earlier than people may be used to simply because there is no point in keeping the store open.
Make sure to check out our itineraries for 3 days in Iceland, 4 days in Iceland, and 5 days in Iceland as well as our suggestions on Where To Stay In Iceland!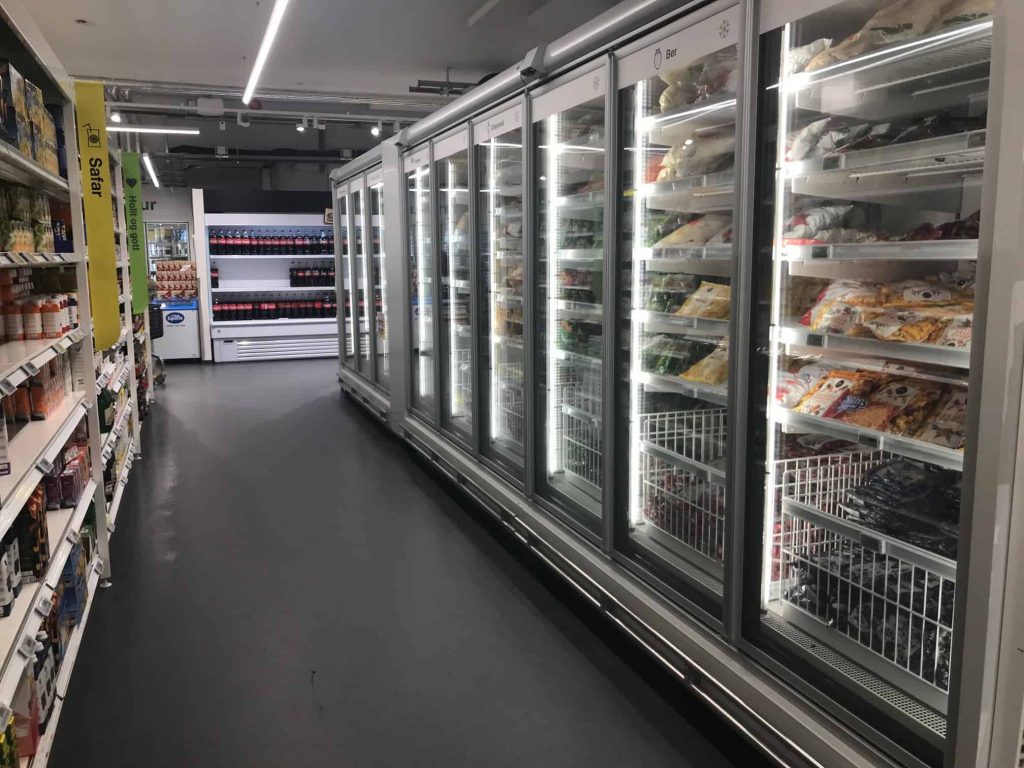 Don't forget to pack these 5 things for your trip to Iceland:
1. Balaclava:. Since Iceland is so windy, skip packing a scarf that will blow off and choose a balaclava instead. They protect your face and neck from arctic winds for less than $10 and they won't blow off like a scarf. Balaclavas tuck into your shirt and can be worn underneath a hat so you can enjoy all the protection they have to offer without all the bulk.
2. GoPro: If you are looking for an easy way to capture great photos and videos during your trip to Iceland, a GoPro should top your Iceland packing list. You can invest in a GoPro that is top of the line or stick with an older model like the GoPro Hero 7 which is what we travel with. GoPros are durable and waterproof and perfect to pack for a trip to Iceland.
3. Daypack: Since you won't be trekking your suitcase around, a daypack is the perfect travel item to carry your essentials for the day including a snack, extra clothing, water bottle, etc. If you want to add a daypack to your Iceland packing list, Look for one that folds up so you can pack it in your luggage and take it out upon your arrival.
4. Extra Food: Since going out to eat in Iceland is super expensive, bringing extra food is a great way to save some money. Even though grocery stores in Iceland are reasonably priced, it doesn't hurt to pack some freeze-dried meals. Buying them online or at your local grocery store will be a fraction of the cost of buying food in Iceland.
5. Wool Socks: There isn't too much to say on why you should pack wool socks other than wool is the single best fabric for keeping you warm and has been for centuries. We tried to do a winter trip without wool socks and it was a huge mistake.
Shopping in Iceland grocery stores is quite a pleasant experience and much less stressful and expensive than you would imagine! Comment below and let us know if you have ever shopped at a supermarket in Iceland!