The prices in Iceland are notoriously high. From food, to rental cars, to gas, many aspects of your trip will cost you a pretty penny. Iceland is becoming a more and more popular tourist destination by the year, and with the stunning natural beauty the country has to offer, it's easy to see why.
On top of the beauty which awaits you upon arrival, the airlines draw you in with great deals on airfare and the whole trip becomes irresistible. Icelandair allows free stopovers in Iceland from the US to the rest of Europe, and back when Wow Air was in business, there was always an affordable flight option.
But the cost of actually staying in Iceland might come as a shock to you if you don't know any better. The country is beautiful and worthy of all the recent attention it's been getting, but be prepared to spend some serious money while you're there.
There are a lot of components that will factor into your total Iceland trip cost, so spend some time thinking about how you want to tackle each one. This guide is here to help you know what you're getting into ahead of time, and give you the opportunity to plan accordingly and potentially cut back on expenses where it makes sense.
Iceland is a unique country full of thundering waterfalls, relaxing hot springs, and many other natural wonders you've only dreamed about. The experiences are worth the money poured into the trip, and hopefully, with some careful planning, you can have these experiences without breaking the bank.
Get a FREE printable "Hidden Gems In Iceland" E-book by joining our private Iceland Facebook Group and share your photos and ask for tips and tricks.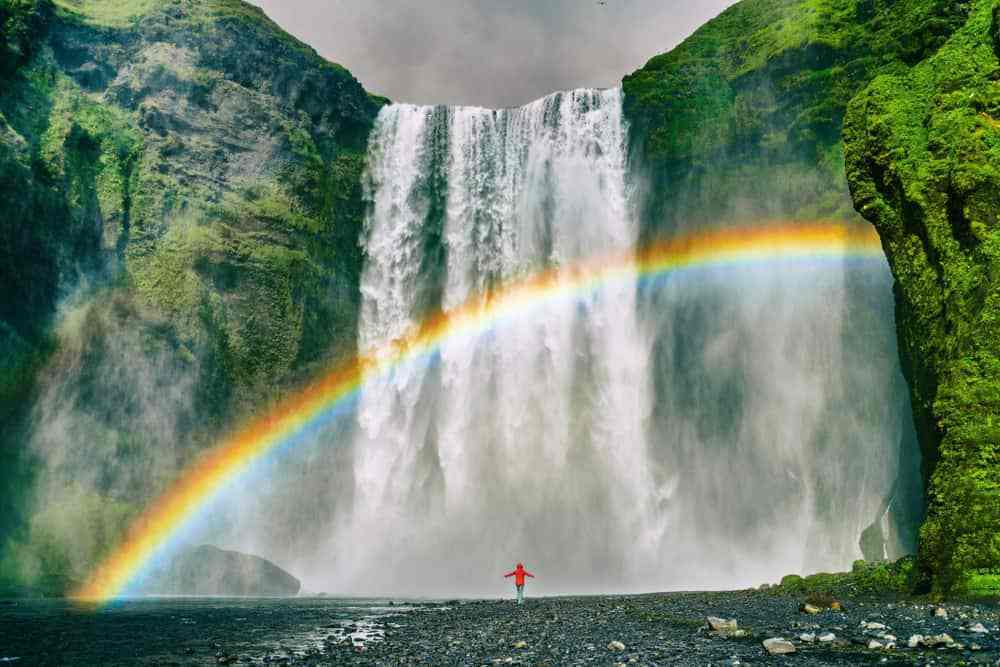 Average Iceland Accommodation Prices
The least expensive accommodation option (besides camping) will be staying at a hostel. Some hostels offer both private rooms and dormitory-style rooms, while others only offer dormitory-style. The nicer hostels usually include a café, bar and lounge area. The website Hotels.com is a great resource for choosing the hostel that's best for you.
On average, Reykjavik has the most expensive hostel rates, but the rates outside the capital region are not significantly lower. Some of the hostels also offer free cancelation rates as well as non-refundable rates.
The non-refundable rates can be as much as $45 less on the private rooms and $10 less on the dorm rooms. The rates at the hostels don't vary much throughout the year.
The off-season can occasionally bring slightly lower prices, but it's not guaranteed. As more tourists flock to the country in the winter for the Northern Lights though, the off-season is becoming shorter in Iceland. Below are some average rates to give you a sense of what you might be paying.
Here are examples of the cost of accommodations in Iceland
Standard Double Bed Private: $212-$239/room
4 Bed Private: $271-$311/room
8 Bed Mixed Dorm: $41-$46/person
6 Bed Mixed Dorm: $40-$61/person
4 Bed Mixed Dorm: $57-$67/person
6 Bed Female Dorm: $40-$61/person
Hotel prices in Iceland are steep. On top of that, you're offered far less for what you're paying than you would at a high end US resort. Though Iceland certainly has some nice hotels, most of the hotel options, particularly outside of Reykjavik, will be pretty basic. There's no shortage of hotels in the Reykjavik area, and more hotels are being built both in the capital and throughout the rest of the country.
Iceland offers varying price ranges for hotels from luxury and boutique to budget, with some of the more recent luxury hotels being built at the famous Blue Lagoon. There is an 11% VAT on the total hotel cost and a $3 per night city tax when staying in Reykjavik.
Check out www.booking.com to find exact prices and more detailed information on the accommodations. Below we've laid out a general breakdown for the cost per room of a hotel in each price category.
Boutique and Luxury Hotel Prices in Iceland:
Standard Single Room $340-$425
Standard Double or Twin Room $426-$550
Superior Double Room $489-$625
Junior Suite $677-$1146
Suite $766-$1548
Budget Hotels:
Standard Single Room $138-$220
Standard Double or Twin Room $146-$362
Superior Double or Twin Room $175-$407
Airbnbs are another possible accommodation in Iceland. They are usually a little less expensive than a hotel, but not always. There are plenty of Airbnb options in Reykjavik.
Outside of Reykjavik, the Airbnb prices in Iceland tend to be lower, and there also aren't as many options. In the capital though, people will controversially buy apartments with the sole purpose of converting them into Airbnbs, so there's an apartment shortage for residents of Iceland, but there are a lot of Airbnbs.
Experience Iceland like a local by staying at an Airbnb! Get a FREE $55 Airbnb coupon by using our code when you book!
The two options for Airbnb's are having a private room in a shared house or apartment, or paying to stay in the entire apartment (the number of beds varies). Below are some average Airbnb prices around Reykjavik.
These are just the base prices though. Be sure to check the final price because things like the service fee and cleaning fee are added to the base price, and have the potential to significantly increase the total price.
Average cost of Airbnb in Iceland
Entire apartment (2 beds) $150-$300
Entire apartment (1 bed) $100- $212
Private Room $40-$90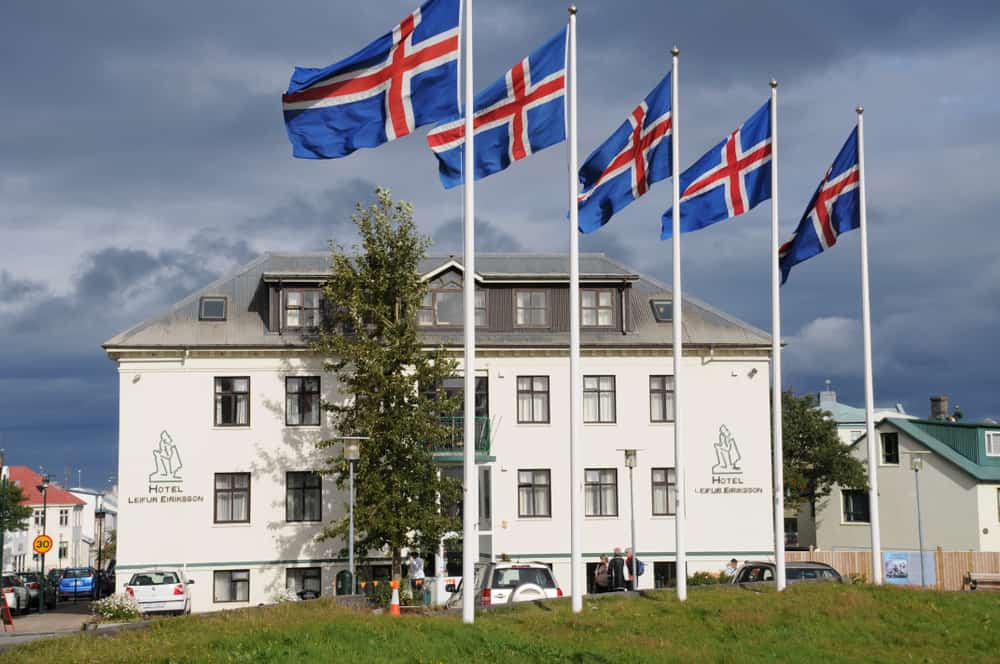 Cost Of Renting A Car In Iceland
Rental car prices in Iceland are high, but if you want to explore Iceland's natural beauty on your own terms, a car is essential. You are going to want to factor this into your Iceland trip cost!
For many people, this is the ideal option for getting around the country. Auto Europe is a wonderful website for comparing rental car prices in Iceland based on the company you're renting from, and the size of the car (or whether it's 4WD).
Before renting a car in Iceland you'll need to choose between 4×4 or 2×2, manual or automatic, and the size of the car. Renting a 2×2 will reduce your Iceland trip cost, however, some of the roads in Iceland require 4×4's, so it'll limit what you're able to explore.
You definitely cannot drive 2×2's on Iceland's F roads. Though 4×4's will give you the freedom to drive just about anywhere, it is possible to see much of Iceland, including many of its most stunning natural wonders, in a 2×2.
Driving in Iceland is something we highly recommend and you can easily do it in a 2×2, even in winter, if you aren't going on F roads [which are closed during winter!]
Unlike in the United States, many of the rental cars are manual. If you don't know how to drive a manual car, double-check to make sure your rental car is automatic! You'll also have to decide whether you want additional insurance.
In most countries, it's unnecessary, but some of the F roads in Iceland can be extremely rough so it's something to consider. Here are some examples of the least expensive rental car prices in Iceland per day and per week.
2 wheel drive compact manual: $63/day or $232/wk
2 wheel drive compact automatic: $93/day or $346/wk
2 wheel drive midsize manual: $83/day or $307/wk
2 wheel drive midsize automatic: $93/day or $346/wk
4 wheel drive SUV manual: $187/day or $625/wk
4 wheel drive SUV automatic: $232/day or $768/wk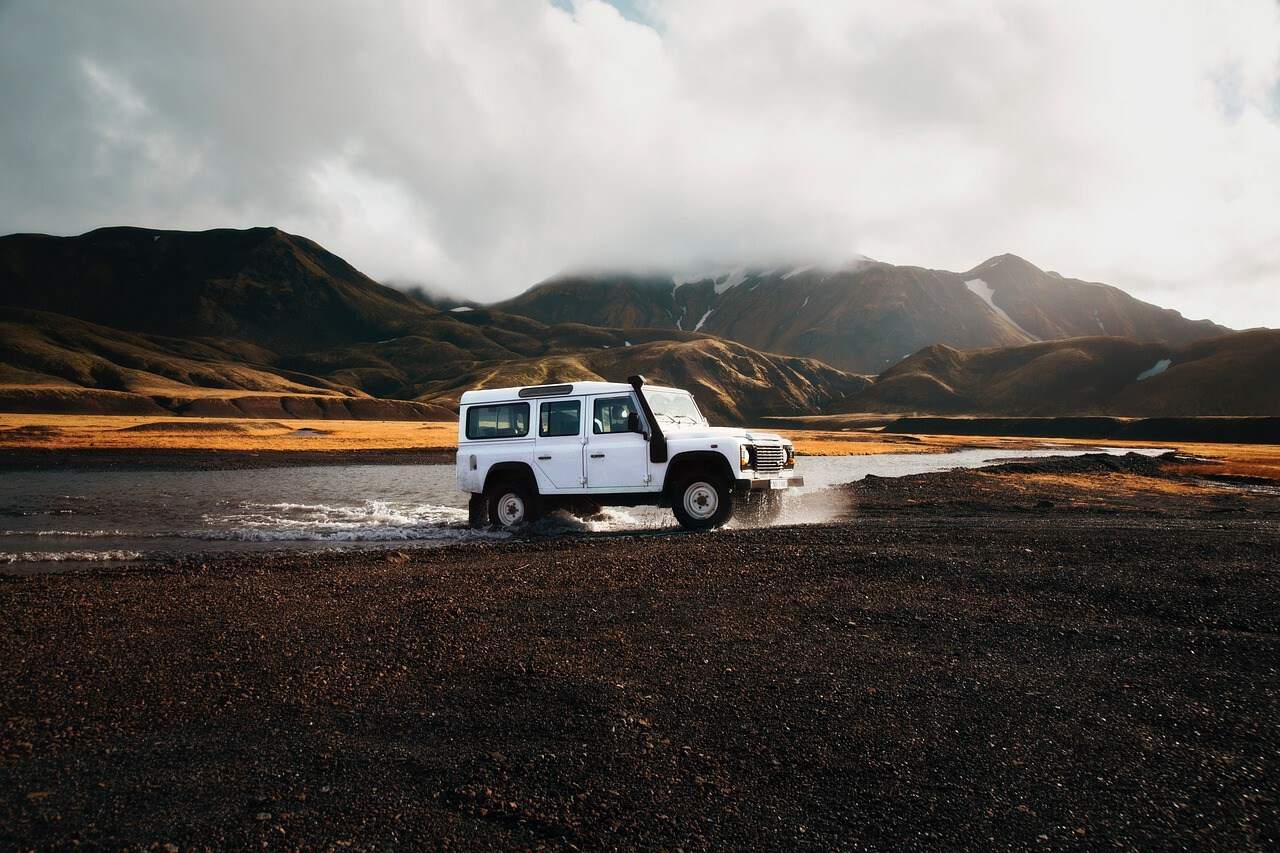 Price Of Campervans In Iceland
Combining your transportation and accommodation into one with a campervan has the potential to bring down your Iceland trip cost. Having a campervan is the ultimate way to take your trip into your own hands and camping in Iceland is a great way to save!
You can eat, sleep, and adventure whenever you want, increasing your general efficiency. Campervans come in 4X2 and 4×4 as well as both automatic and manual. Especially if you're visiting in the summer, you'll want to rent your van well in advance particularly if you want a manual vehicle.
Also, not all campervans have heaters, so take note of that if you'll be traveling in Iceland in the winter. Iceland has many campsites around the country both for tent camping and campervans.
You can pay at each campsite for roughly $8-$12 a person, or you can buy an Iceland camper card giving you access to roughly 40 different campsites around the country. One card costs $177 and covers 2 adults and up to 4 children. Most campsites are closed though during the winter.
There are many different campervan companies in Iceland, and the number of companies keeps increasing as the tourist population surges. There are some things to consider when choosing a company and evaluating their prices. Some of these things we mentioned above such as 4×2 or 4×4, manual or automatic, or whether it has heaters or not for more comfortable sleeping conditions. You should also check whether additional insurance is included in the price.
Some companies also require you to book the van for at least 4 days. The top campervan companies include Happy Campers, Go Campers, Campervan Iceland, Camper Rental Iceland, and Camp Easy.
It's difficult to compare prices between companies because every company's vans offer different things. However, here is a rough breakdown of average prices per day by number of seats.
These are the prices during high season. Low-season will be less expensive but the roads are less accessible and the campsites are closed.
2 seater (sleeps 2): $91-$208/day
3 seater (sleeps 3): $214 -$392/day
4 seater (sleeps 2): $224-$402/day
4 seater (sleeps 4) $279-$387/day
5 seater (sleeps 5): $288-$336/day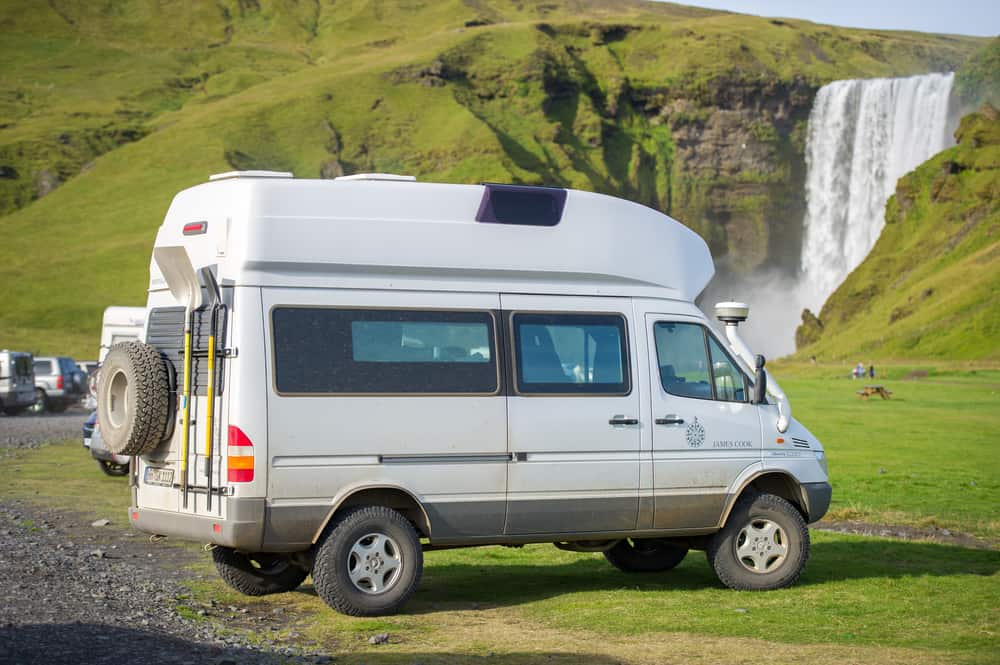 Average Grocery Prices In Iceland
When it comes to food, the best way to lower your Iceland trip cost is by shopping at the supermarket and cooking your own food. This is our favorite way to cut down on the cost of our Iceland itinerary!
The average grocery store prices in Iceland tend to be more expensive than other countries because as an island nation up near the Arctic Circle, the country has to import many of its products. This results in higher prices and sometimes less selection.
For example, there are far fewer fruit options available in Iceland than there would be at a US grocery store. Besides a few different types of small berries such as blueberries and crowberries, most fruit does not grow in Iceland's climate.
However, even things like lamb and fish that are found in abundance in Iceland and are big staples of Icelandic cuisine, are still relatively expensive. Some basic food items such as bread, rice, and pasta, are actually fairly affordable as long as you shop at the more reasonably priced grocery stores.
There are many options for grocery shopping in Iceland. Bonus is the least expensive grocery store. You'll see these yellow stores with a pig as their logo all around the capital region. They are great shopping options, but it should be noted that they have limited opening hours, usually not opening until 11 am and closing around 6:30 pm. Another low-cost option is Netto.
Netto prices are not much higher than Bonus, and they have longer opening hours. Some are even open 24 hours. Kronan is another popular option, but its prices are more expensive than Bonus or Netto.
Kronan stores are usually open from around 10 am-9 pm. Finally, Hagkaup is the most expensive grocery store to shop in, but it has the best selection and many of the locations are open 24 hours. There are many other grocery store options in Iceland, but these listed above are the most common.
Your best bet for keeping your cost of groceries to a minimum is buying everything you can at a Bonus in Reykjavik and only stopping at grocery stores on the road if it's absolutely necessary. The further you get from the city, the fewer grocery store options there are and the higher likelihood you'll be paying more.
There are also small selections of grocery items at many of the gas station stores if you are in need of a quick food source/snack. Here are some average prices in Iceland as of December 2018 for frequently bought food items.
500 grams Butter $3.87
1/2 liter Heavy Cream $4.29
500 grams Sliced cheese for putting on bread $5.71
150 grams Brie $3.97
1 liter Whole Milk $1.23
1 liter Reduced Fat Milk $1.23
1/2 liter Yoghurt with fruit $2.68
500 grams Ground beef $6.46
700 grams Chicken breast (fresh) $10.73
200 grams Sliced ham $4.45
1 kilogram Whole Wheat Sandwich Bread $2.41
500 grams Spaghetti $0.73
1 kilogram White Rice $1.45
1 kilogram Potatoes $2.41
800 grams Bananas $1.22
Carrots 500 grams $2.90
1 liter Orange Juice, 100% juice $1.60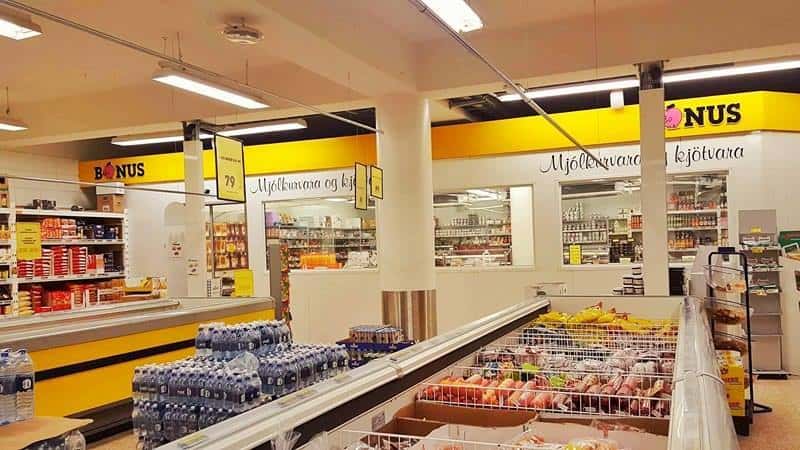 Average Gas Prices In Iceland
When you look at gas prices in Iceland, the number refers to the price per liter. For reference, one gallon is equal to 3.78 liters. For those of you with Costco memberships, Costco will be your least expensive gas option.
Costco cards work all around the world, so even though your membership may not be from the location in Iceland, it will work at the gas pump. Just ask the employee at the pumps, and they'll swipe their card allowing you access to the pump.
The catch is, there's only one Costco in all of Iceland (it's located on the outskirts of Reykjavik, in the town of Gardabaer), so if you're far from Reykjavik, Costco gas won't be an option.
Iceland has a lot of different options for alternative gas stations including N1, Orkan, OB, Olis, and AO. If you're looking for gas station prices, locations across the country or the closest location to you, the website https://gasvaktin.is is a great resource.
The gas prices in Iceland are expensive, even at Costco. You should expect to pay roughly $90-$100 dollars to fill up the tank of a 4×4 rental car and around $70-80 for the tank of an economy 2×2 car.
Sometimes you can plan ahead and use the website above to choose the least expensive options. But the further you drive out into the small remote towns of the country, the fewer options you have, and at some point, you'll just be thankful there's any gas station at all.
With all the natural beauty Iceland has to offer, it's impossible to experience the best of the country without driving around. It's inevitable that you will have to fill up your car throughout your trip, and the least expensive gas station won't always be available. As you drive out into the country, it's not worth the risk of running out of gas in an attempt to find a cheaper station.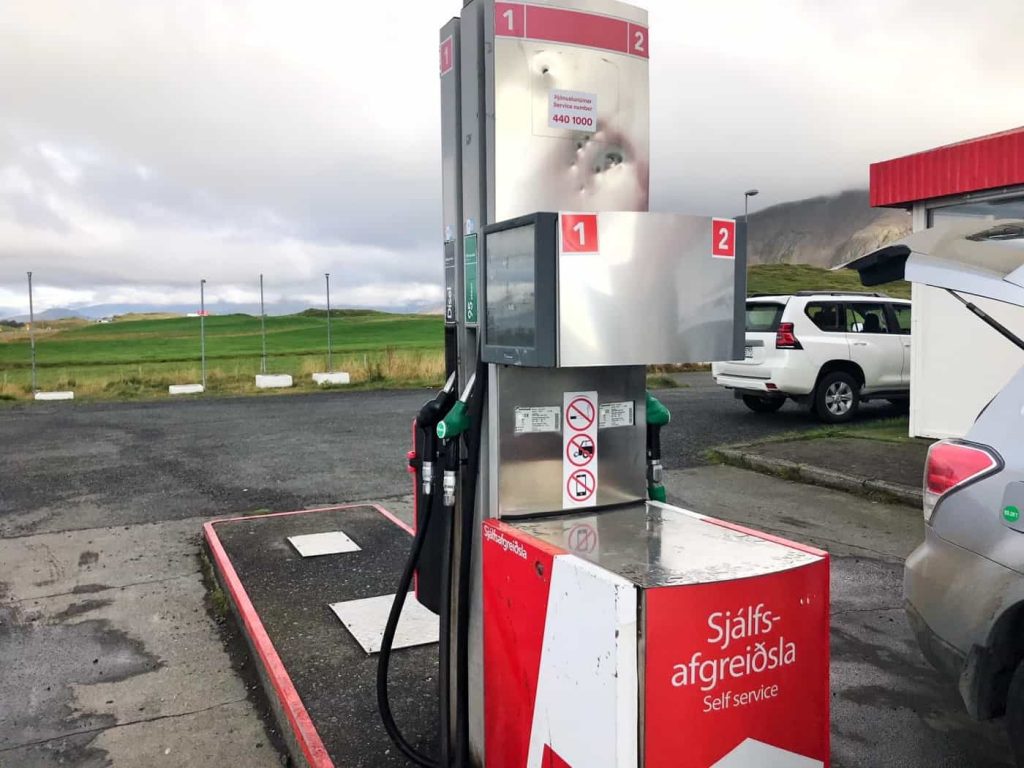 Average Tour Prices In Iceland
Paying to go on tours can be a great way to see all that Iceland has to offer. Everything is planned out for you and you have knowledgeable tour guides providing you with valuable information about the country and what you are seeing.
Tour prices in Iceland are not inexpensive. However, if you choose to only go on tours and not rent a car, you can potentially reduce your Iceland trip cost. Tours can also be ideal for people of all ages. The tour buses that stop at different sites usually stop at easily accessible locations.
Some of the most popular tours in Iceland are Northern Lights tours, whale-watching tours, Golden Circle tours, South Coast tours, and Icelandic horse riding tours. The Northern Lights tours can be particularly helpful since the lights have a tendency to be elusive.
Though there are ways for you to track the strength of the lights yourself, having a tour guide who chases the lights for a living can be useful. The tour companies will also give you a chance to take the tour again for free if you don't end up seeing the lights the first time around.
There are many different tour options in Iceland. Here's a list of average tour prices based on the activity or location. You can also book combination tours such as The Golden Circle with the Blue Lagoon admission included, or the South Coast with a glacier hike. These, of course, will be more expensive.
Golden Circle $47-$90
Northern Lights $81-$138
Horseback Riding $99-$184
Whale-watching $81-$89
South Coast $110-$194
If you are looking to NOT rent a car and just want to do tours while in Iceland, it may be better to book a multi-day tour! A Multi-Day tour allows you to save money and time on planning while still getting to see and experience the fantastic Icelandic landscapes!
Suggested Multi-Day Tours Of Iceland:
5 Day Winter Tour Of Iceland: Golden Circle, South Coast, Ice Cave
3 Day Golden Circle, Glacier Hike, Ice Cave, Northern Light Tour Of Iceland
2 Day Guided Iceland South Coast Adventure
3 Day Relaxation and Exploration Tour Of Iceland From Reykjavik
2 Day Jökulsárlón, Glacier Hike + DC-3 Plane Wreck Tour In Iceland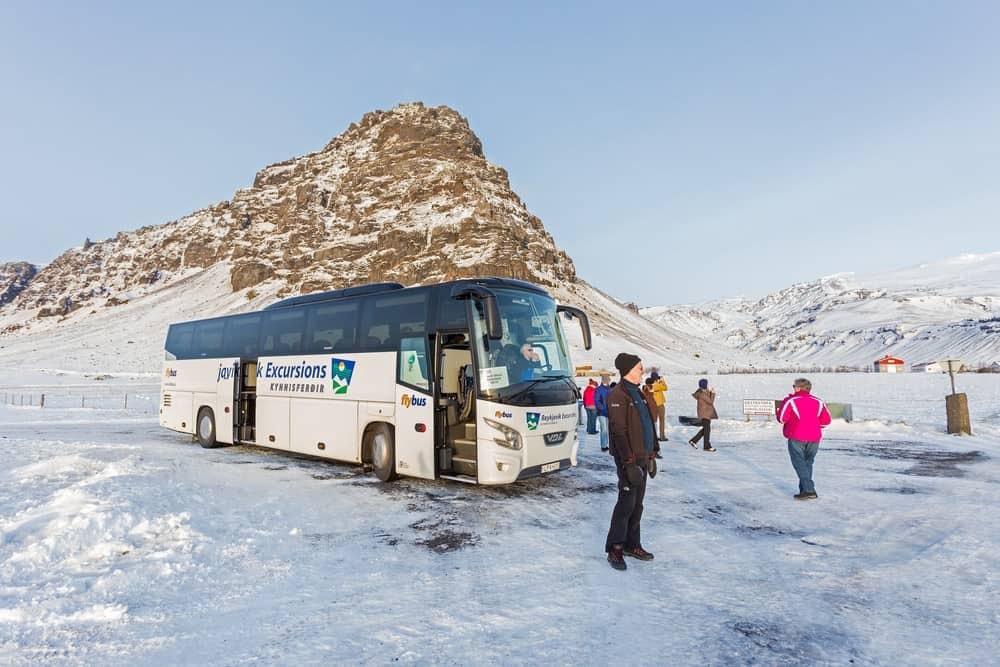 Fast Food Prices In Iceland
Iceland has a number of fast-food options from salads to gas station hot dogs Icelandic style, to burritos. They also have fast-food locations that Americans will be familiar with such as Metro (their equivalent of McDonald's), KFC, Subway, and Quiznos (though Iceland's Quiznos offers delicious lamb sandwiches as well that are unique to Iceland).
Some of these locations have healthy options, many are delicious, and they can be particularly convenient for grabbing something quick when you're on the road all day driving around the country. Though eating at fast food places is a less expensive alternative to going out to a restaurant, we have to warn you that the fast-food prices in Iceland are not cheap compared to the US.
Serrano, which is a semi-close equivalent to a Chipotle, sells burritos for roughly $12.50-$14.50. In contrast, Chipotle is around $7-$8 for comparable burritos. The Icelandic hot dogs are famous. The hot dogs made of lamb meat, are topped with crispy and raw onion, sweet mustard, ketchup, and remoulade.
The Bæjarins Beztu food truck location downtown drew additional attention after a 2004 visit from President Clinton. They cost $2.83 at the gas stations, but at the Bæjarins Beztu trucks, it'll cost $3.80. Even a salad (though the portions are solid-sized) costs $16-$19. At the Subway's in Iceland, a footlong tuna sandwich will cost $12.23, while the exact same Subway sandwich in the US costs $7.25. As you can see, the prices in Iceland for fast food are consistently more expensive.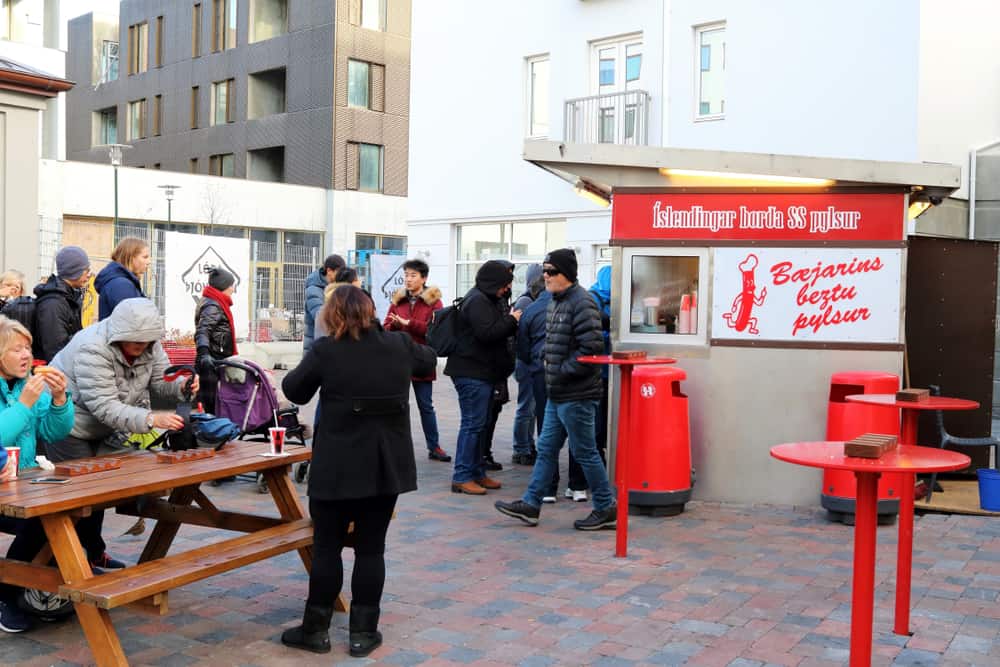 Average Restaurant Prices In Iceland
Restaurants in Iceland vary in price, but at nice restaurants downtown, any meat or fish dish is going to cost a lot.
Apotek Kitchen, Tapas Barrin and Brasserrie Askur are prime examples of average restaurant prices in Iceland. We never recommend going out to eat if you are looking to keep your Iceland trip cost down!
The cost of entrees at Askur ranges from roughly $24-$46 with the cheapest price being for vegetable pasta and the most expensive price being for beef tenderloin.
Similarly, the entrees at Apotek Kitchen range from $31-$52. At Tapas Barrin, single meat or seafood tapas can cost anywhere from $16-$32 with the vegetarian tapas ranging around $16-$19. People order about 3 tapas per person on average. And these prices are all assuming you don't add any alcohol to the bill.
Going out to dinner can be slightly less heart attack-worthy at some of the more casual restaurants. Burgers and pizza tend to be the best options for meals out that hover between fast food and fine dining. Burgers at Roadhouse are roughly $21-30 and pizza at Eldofninn is $16-$25.
A favorite casual restaurant among Icelanders is Saffran. Saffran serves flatbread pizzas, salads, wraps, and chicken dishes such as tandoori chicken, all ranging from $16-$20.
While these options are all nice while you're spending time in the capital region, as soon as you venture out into the more remote parts of Iceland, your dining options tend to be limited to fast food and expensive restaurants.
Average Cost Of Alcohol In Iceland
The easiest way to keep your alcohol spending to a minimum is to simply not drink at all! It'll save you a significant amount of money. But, if you are among the many who would like to drink while in Iceland, here are a few tips.
Your best option is to buy alcohol at the Duty-Free in the airport, but be sure to not exceed the allowed limits. Once you leave the airport, buying alcohol will be expensive. Though you can visit bars at Happy Hour for a slightly reduced rate, during regular hours you'll likely pay between $8-$12 for a half-liter of beer.
Besides 2.25% light beer, you won't find any alcohol in the grocery store in Iceland. Your only option for buying alcohol is at the liquor store Vinbudin. Vinbudin has limited locations and restricted opening hours, so check the hours ahead of time. Prices at the liquor store are less than buying a drink at a restaurant or bar, but they still won't be cheap.
A bottle of the more inexpensive wine options at the liquor store range from $15-$30, while a bottle of dessert wine will cost you anywhere from $19-$62. An individual half-liter can or bottle of beer will cost around $3.50. No matter where you go, alcohol prices in Iceland will always be expensive because alcohol is one of the highest-taxed items in the country. And suddenly not drinking at all sounds pretty appealing!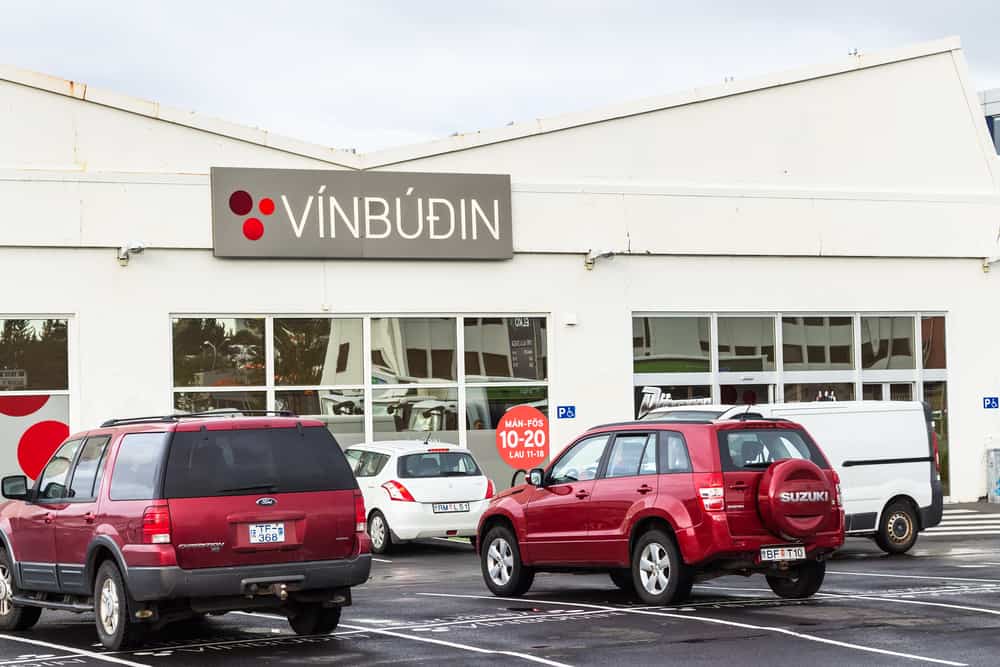 Cost Of Attractions In Iceland
Finally, a bit of good news when it comes to the prices in Iceland! Because Iceland's biggest draw is its natural landscape, many of the sights you'll visit will be completely free. Gullfoss and Geysir on the Golden Circle are both free.
The Solheimasandur Plane Crash and Reykjadalur Hot Springs? Free. Though there are some attractions that cost money, it is possible to plan your trip so that you only visit free locations but still get the chance to see some of the best that Iceland has to offer.
Thingvellir National Park, one of the 3 major stops along Iceland's Golden Circle, does not have an entrance fee, but it has a $4 parking fee. The stunning Seljalandsfoss waterfall also has a parking fee now of around $5.50. The parking fees usually go towards the maintenance of the roads and parking lot.
There are some natural attractions that do have entrance fees, such as Kerid Crater along the Golden Circle, which charges roughly $3.20 to enter.
At one point, the lava tube Raufarholshellir was open to the public for free, but now it requires a $50 tour ticket to explore. You can also expect to pay a small fee (somewhere around $1.50) to have access to the bathrooms at many of the major tourist stops.
If you're not paying for tours though, the most money you're likely to dish out is at museums. The LAVA Centre is an interactive museum teaching about volcanic activity.
In order to get the full museum experience, a ticket will cost you around $26. Perlan, which once was just a collection of water tanks, now has an incredible observation deck overlooking the whole of Reykjavik and beyond, and several museum exhibitions.
Tickets to these exhibitions and the observation deck range from $31-$36. Just the observation deck alone is $7. One of the biggest tourist attractions in Reykjavik is Hallgrimskirkja Church and the view it offers of the city from the top.
Tickets are $8 to ride the elevator to the top. The country is full of museums and interactive exhibits and many of them are worth the price of admission to learn more about the country, its culture, and its unique natural landscape.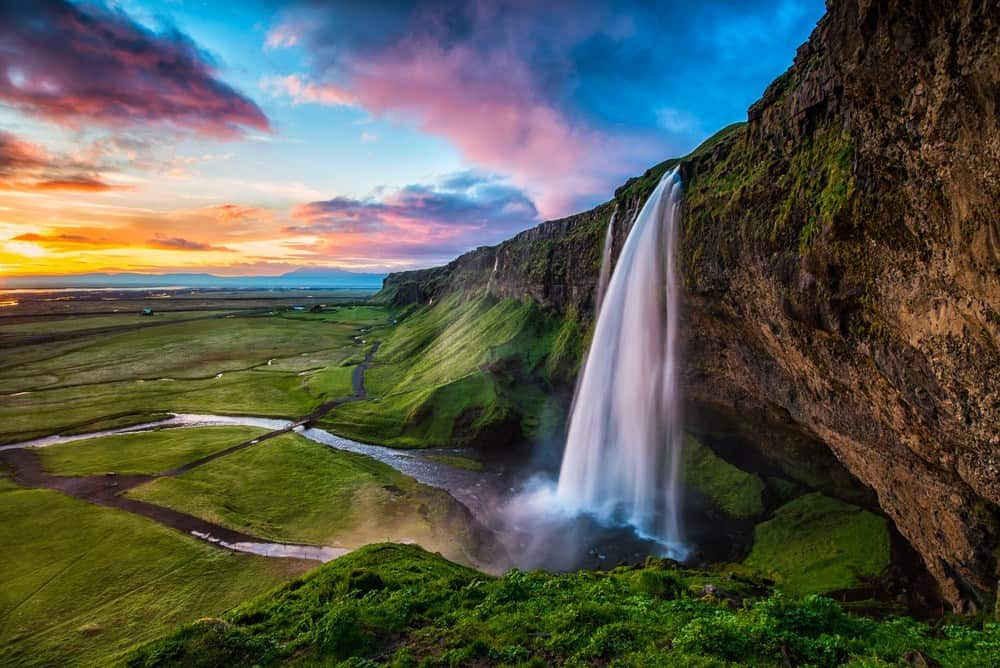 Prices Of Hot Springs In Iceland
When it comes to hot spring prices in Iceland, there are options for you at all price levels. It is possible to experience hot springs in Iceland completely for free. The whole country is full of natural hot pots. Much of Iceland's beauty comes from its unique natural elements, and the hot pots are a huge part of this.
There is nothing quite like relaxing in a Jacuzzi temperature natural hot pot right in the middle of nature. Some great examples of free hot pot options are the Reykjadalur Hot Springs on Iceland's South Coast and the Drangsnes Hot Pots.
Another option is to relax in the hot tubs at the town swimming pools. Every town in Iceland has at least one swimming pool and one hot tub (often more). In the capital region, the complexes have multiple hot tubs of varying temperatures.
Laugardalslaug, the biggest swimming pool complex in Reykjavik, even has a salt-water hot tub. The swimming pools are incredibly popular among locals and tourists alike and are a great way to wind down after a long day of adventuring. Admission for adults is roughly $8 a person per visit and $1.30 for children ages 6-17. Hot springs are some of the best stops along the Ring Road in Iceland and you really shouldn't miss them!
If you'd rather go to a geothermal bath than a swimming pool, locations such as Laugarvatn Fontana or The Secret Lagoon might be perfect for you. Both of these geothermal bath complexes are located in towns that are geothermal hot spots.
At Laugarvatn Fontana, you can bathe in hot pots filled with naturally heated water from the surrounding area, relax in a steam room, or even watch the staff bake rye bread in the ground. An adult ticket into Laugarvatn Fontana is $30.50 and a ticket for children ages 13-16 is $16.00.
The Secret Lagoon is one large natural bathing area surrounded by steam vents, and it comes complete with pool noodles for ultimate fun and relaxation. Admission here is $24 for adults and is free for children under the age of 14.
If you're planning a trip to Iceland, you've likely heard of The Blue Lagoon. The Blue Lagoon is Iceland's most famous geothermal bathing area. Contrary to popular belief, The Blue Lagoon is not actually a natural hot spring, but rather a man-made lagoon resulting from activity at the nearby geothermal power plant, Svartsengi.
The lagoon's water is renewed every 48 hours and is filled with natural minerals that are great for the skin. As a major tourist attraction, The Blue Lagoon now has a hotel, restaurant, and many other amenities. Due to its popularity, you have to book your entrance time at the lagoon, days and sometimes even weeks, in advance to ensure you'll get a spot.
The Comfort Package (and cheapest option) is $55. The Premium Package is $78, and the Luxury is $624. Iceland's other blue bathing complex is the Myvatn Nature Baths in North Iceland. The Nature Baths are smaller than The Blue Lagoon and as a result, have a slightly more intimate feel. Admission to the Myvatn Nature Baths is $36-$40 depending on the time of year.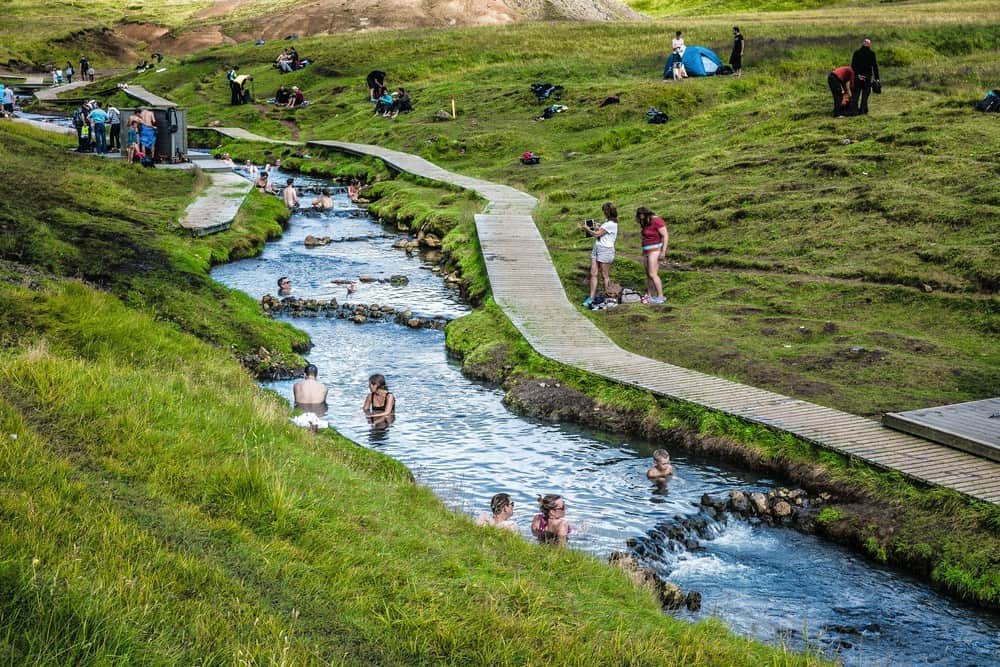 In order to best enjoy your Iceland trip, we suggest factoring all these various components into your budget ahead of time, but not worrying about the prices once you're actually on the trip. Prices in Iceland are expensive, and it's inevitable that you will be paying a lot of money to be there.
Go out and enjoy the stunning nature and fascinating culture of Iceland. It will all be worth it in the end. If you're planning a trip to Iceland, or have already been and experienced having to carefully budget for your trip, feel free to tell us your thoughts or ask questions in the comments section.