Iceland in December is magical. The country is humming with the joys of the holiday season, the elusive northern lights come out to play, and somehow people become considerably less concerned about the dwindling sunlight hours.
For much of the month, everything is coated in shining white snow. Combined with the sparkling Christmas lights, the otherwise darker days are brought to life. Both inside the capital region and out in the middle of nature, Iceland in December is a true winter wonderland.
With a slight decrease in tourism from the summer months, and the chance to see Iceland's nature laced with snow and dripping with icicles, Winter in Iceland has the potential to be an ideal time to visit the country. Iceland is the land of fire and ice and at no time is that more evident in nature than during the winter.
From volcanic craters, boiling pools of water, and erupting geysers, to ice caves, frozen waterfalls, and skiing, you're in for a real treat. Grab your cold-weather gear and prepare yourself for the experience of a lifetime with these tips for enjoying Iceland to the fullest!
To help you with your planning, we put together Where To Stay In Iceland where we break down all of the best lodging options around the Ring Road. We also have 3-Day Iceland Itinerary, 4-Day Iceland Itinerary, and 5-Day Iceland itinerary options to help you continue to plan your trip!
Get a FREE printable "Hidden Gems In Iceland" E-book by joining our private Iceland Facebook Group and share your photos and ask for tips and tricks.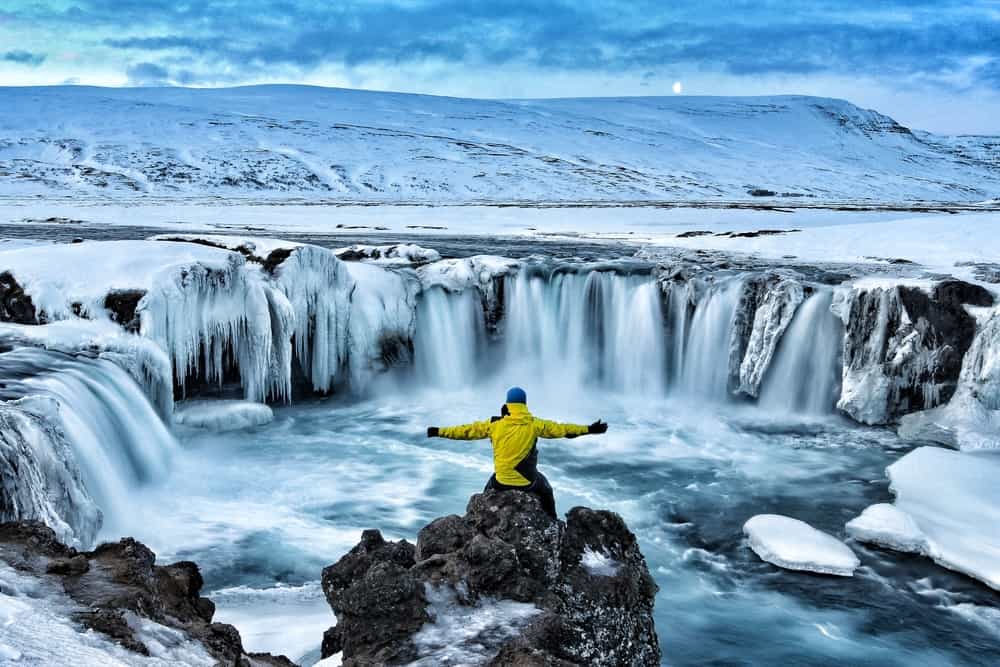 5 Things To Know Before Visiting Iceland in December
#1. Visiting Iceland In December Doesn't Guarantee A Northern Lights Sighting But It Helps
The Northern Lights are strictly a winter phenomenon, therefore December in Iceland is the perfect time to try and catch the brilliant natural light show.
Though the Northern Lights have the potential to be seen from September-April, December is the optimal viewing time due to an increase in the total hours of darkness. This allows you to venture out earlier in the evening to begin chasing the lights, instead of having to wait until the middle of the night/early morning.
A strong Northern Lights show makes your heart want to leap out of your chest with excitement, but the Northern Lights are inconsistent and elusive, even at this time of year. One minute the sky is dancing in brilliant hues of green and purple, and the next, clouds are obscuring anything and everything in the sky.
In Iceland, there's precipitation approximately 300 days a year on average, meaning the sky is more often than not cloudy or at least slightly overcast. This makes the northern lights search particularly frustrating when you know there's solar activity, but the lights are hidden behind clouds. Sometimes patience wins out, and the clouds will part long enough for you to see the lights; sometimes it never clears and you're just out of luck.
If you're visiting Iceland in December and are trying to maximize your chances of seeing the Northern Lights, here are two options. Your first option is paying to take a guided Northern Lights Tour.
These tour guides are extremely knowledgeable and seek out the Northern Lights for a living, so they know the best places to wait and watch. Remember though, nature is the only one in control of the Northern Lights, so even with a guide, there is no guarantee you'll see the lights. If you don't see the lights on your first trip, most tour companies allow you to rebook a second trip at no extra charge.
The other option is to take your car, drive away from the city lights and search for the lights yourself. Dark, clear skies give you the best chance of seeing the lights, and fortunately, Iceland in December has the highest percentage of both.
You can track the aurora strength and visibility yourself and can continue to check it throughout the night as it continuously updates. The Northern Lights are a remarkable sight and worth taking a chance on!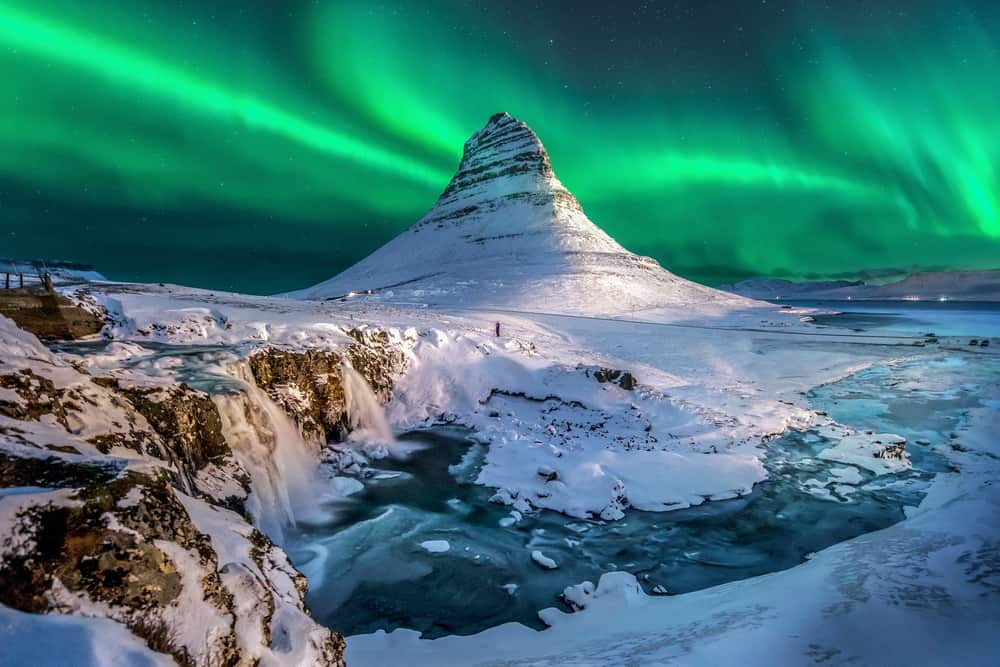 #2. Christmas Traditions Run Strong and New Years Eve Is Quite The Party
Iceland in December is a festive winter wonderland. Downtown Reykjavik is strung with sparkling lights, the Christmas shops are filled with customers, and there's an abundance of smiles and good moods. Locals get time off of work to enjoy the season. Time is spent feasting on delicious food, ice-skating, spending time with loved ones, and shooting off abnormally large amounts of fireworks.
Young children get particularly excited for December in Iceland and are on their best behavior lest they end up with a rotten potato in their shoe as a sign of naughtiness. In Iceland, there's no plump bearded jolly Santa Claus.
Instead the story of Christmas centers around the 13 Yule Lads, who come down from the mountains one by one in the 13 days leading up to Christmas. Their parents are ogres and the Yule Lads themselves are known to be particularly wicked, though in more modern times they are slightly less terrifying and are described as more mischievous than wicked. They engage in activities such as slamming doors, licking pots, and stealing meat.
The Icelandic children leave a shoe-in their window each night and are visited by a Yule Lad who delivers them a small gift as a reward for good behavior, or a rotten potato as punishment if they're bad. The Yule Lads attend a number of events and concerts throughout the country leading up to Christmas.
They are goofy and highly entertaining, and children stare in amazement, though admittedly the Yule Lads look a little like Santa's drunk, homeless cousins. The 24thand 25thof December is quieter throughout the country as most people spend them at home gathered with their families.
The real party in Iceland in December is New Year's Eve. In past years there have been 10 New Year's Eve Bonfires (Áramótabrenna) in Reykjavik, with 3 particularly large ones taking place at Geirsnef, Rauðvatn, and Gufunes.
The bonfires usually start around 8:30 pm, but there is no strict schedule or activities. People arrive, hang out, improvise the events of the evening and have a good time.
The fireworks show happens at midnight but is unlike anything seen in the United States. There is no choreographed display. Instead, every person, child or adult, is allowed to set off powerful fireworks, and they bang throughout the city in a cacophony of sounds and thrilling explosions.
The whole city lights up and the view is spectacular. Though you should be able to view the fireworks from any place in the streets, the best view will be from high points in the city.
Two ideal spots include the top deck of Perlan (former water tanks turned into museum exhibitions and a rotating restaurant) in Reykjavik and Kópavogskirkja in Kopavogur. The fireworks top off an unforgettable night, launching you into the New Year with a bang!
#3. Bring Your Swimsuit! Hot Pots and Hot Tubs Are Perfect For Iceland In December
It may seem counterintuitive to bring a swimsuit to a country called Iceland during the coldest part of the year. And yet, Iceland in December is the perfect time for a bathing suit. Iceland is teeming with hot tubs at the public pools, and natural hot pots right out in the middle of nature.
Every town in Iceland has at least one swimming pool complex (Reykjavik has many). This usually includes a heated lap swimming pool, a heated kiddie pool, and multiple hot tubs of differing temperatures. Few things are more relaxing than sitting in a hot tub in Iceland in December with a ring of snow circling the edge of the tub to cool you down as your body temperature rises.
If soaking in the middle of nature while gazing at glaciers, snow-capped mountains, or waterfalls is more your style, Iceland has hot pots throughout the country for you to enjoy. When visiting Iceland in December, everything is often covered in snow, making the views that much more striking.
The hot pots generally come with more privacy than their swimming pool hot tub counterparts, as they often take more commitment to get to and are less frequented as a result. Because the hot pots are filled with natural geothermal heated water, the water temperature isn't regulated as it would be in a pool.
Sometimes the water is closer to the temperature of a heated swimming pool, which isn't always an ideal fit for the cold weather that accompanies winter in Iceland. However, many of the hot pots remain at comfortable temperatures, and if you've ever wanted to bathe amongst Iceland's most impressive natural features, why not give it a go!
The other alternative to the hot tubs and hot pots include the popular Blue Lagoon, or its northern counterpart, the Mývatn nature baths. Both are impressive and relaxing experiences, however, the increase in tourism has made them more expensive and at times overcrowded.
Even in December in Iceland, the Blue Lagoon requires advanced booking to reserve a time slot, and at the Mývatn Nature Baths, it's encouraged to arrive when it opens to avoid navigating larger crowds in the changing rooms.
There's also a hotel, spa, and restaurant at the Blue Lagoon, which can be added to your day visit package if you desire. Despite the crowds and prices, both experiences are worthy of a visit at least once.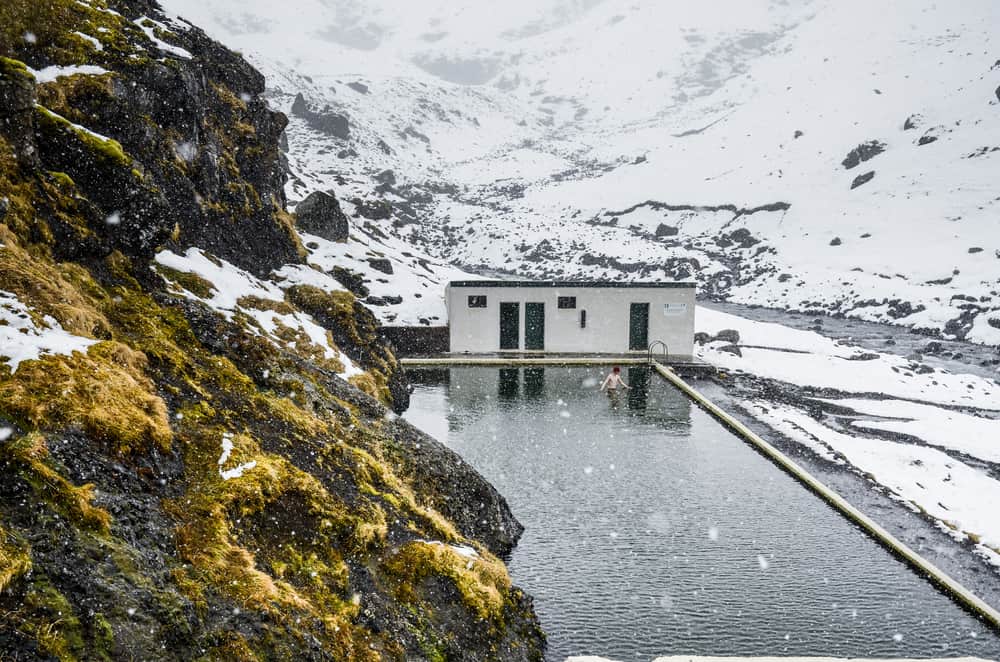 #4. Check Road Conditions And Don't Take Risks When Driving in Iceland in December
Visiting Iceland in December guarantees some roads in the more remote parts of the country will be closed, but many of the main tourist attractions are still accessible. However, it is critical that you keep an eye on the road conditions, road closures, and in general use common sense when deciding whether it's safe to be out driving. Getting stuck in a snowstorm or sliding off the road won't help anyone involved, so let the experts do their job, and when it's safe, enjoy the beauty that is Iceland.
There are search and rescue teams in Iceland that will come to your aid if you should happen to be in a situation unfortunate enough to need them, but they should be a last resort in a freak incident.
Sadly a lot of the cases they deal with are from tourists who are overconfident or not thinking and get themselves into dangerous situations. In winter, rental cars will be equipped with winter tires to make driving on ice safer.
That being said, winter tires are not fool-proof, so exercise caution when driving on ice and don't speed. When it snows, snowplows and salt are used to keep the main roads clear, but the further you venture from the capital region, the less the roads are maintained.
The roads through the highlands (F roads) will typically be closed in December in Iceland. Even in summer, you need a 4×4 and a healthy dose of caution. These are gravel roads and are not designed for fast driving or winter driving. Because the roads aren't paved, chunks of ice can be hidden under seemingly harmless puddles of water.
When in doubt, if you're not sure if a section of road is safe to drive, turn around and don't change it. Even on sunny days in Iceland in December, you'll need to exercise caution. Snow or ice on the ground can make the reflections blinding.
On the rare occasion that the sun does come out in the 3-4 hours of daylight, it stays quite low in the sky making the reflection that much worse. Wear sunglasses and keep your windshields clean by spraying them with the antifreeze liquid in the car. These are warnings but are not meant to scare you. Common sense goes a long way, and so much of Iceland can be enjoyed safely in December.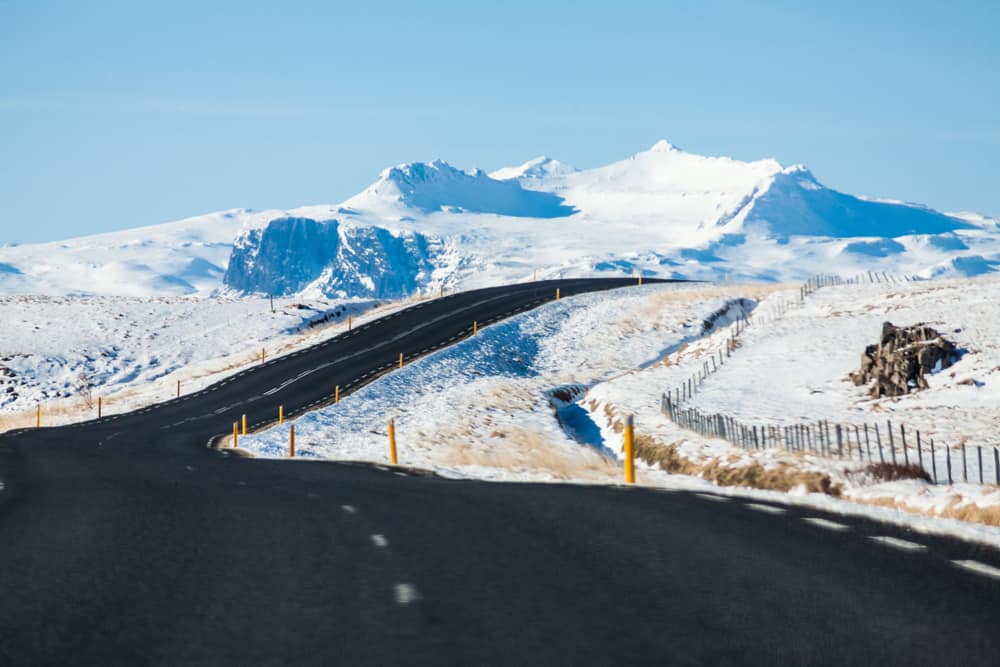 #5. Due To Road Closures, Day Trips Make The Most Sense
Day trips tend to make the most sense for exploring Iceland in December. Too many of the roads in the north and the east might be closed off to be able to venture very far along the perimeter of the country. The south coast and the Snæfellsnes Peninsula should still be accessible in December in Iceland.
As mentioned before, pay attention to road closures and warnings, but these roads tend to be well maintained, frequently trafficked, and don't get the worst of the winter weather. Many of the biggest tourist attractions are in these parts of the country and seeing these impressive landscapes frozen or draped in snow adds to the magic of it all. The feel of the landscape is drastically different from that of the summer months, and it's equally beautiful in its own right.
Some of the best sights to stop at in December in Iceland are the waterfalls Seljalandsfoss and Skogafoss, the Sólheimasandur Plane Crash (which is a 4km walk to get to), and the Reynisfjara Black Sand Beach where the black volcanic sand is sprinkled with stark white snow spread from the water to the base of the towering basalt columns.
If you continue east along the coast you'll hit the JökulsárlónGlacier Lagoon where icebergs float in the still waters. On the other side of the road is Diamond Beach, which is black sand covered in large chunks of sparkling ice. This is about as far east as you'll want to travel in December.
If you're driving northwest to the Snæfellsnes Peninsula instead, you should look to stop at the Eldborg volcanic crater, Gerðuberg Basalt Columns, Arnarstapi, Kirkjufell mountain and the Kirkjufellsfoss waterfalls beside it, and Bjarnarfoss.
The beauty of all the stops both along the Snæfellsnes Peninsula and the south coast is that with the exception of the Sólheimasandur Plane Crash, they don't require hiking.
You can park in a parking lot and immediately view the natural wonder in front of you. And even Sólheimasandur is a flat walk, not a hike. If you do happen to make a stop that requires hiking, wear crampons. The snow can quickly turn to deceptively slippery ice after a rain, and the crampons will help steady your feet on the ice.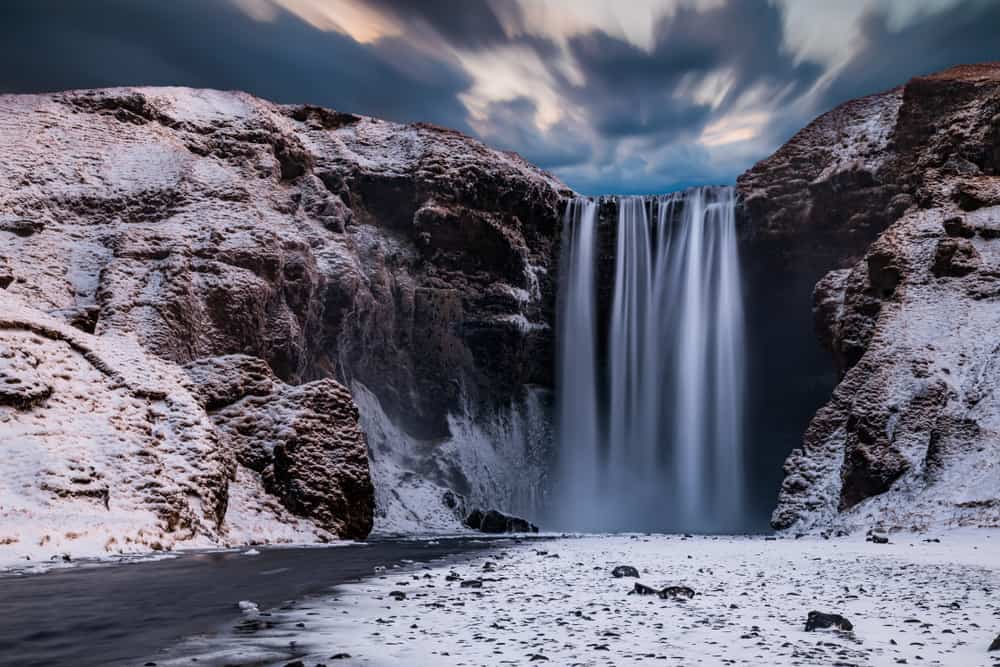 What To Pack For Iceland In December
Packing for Iceland in December should be done with care. Please don't skimp when buying new clothes or think that you can get away without investing. Whether you choose to take a road trip, group tour, or want to be more adventurous, we highly recommend bringing the appropriate clothes. These are some of our tried and true favorite suggestions when traveling to Iceland in December.
There is so much to love about Iceland in December, and we hope you get the chance to experience it too! Iceland is such a beautifully unique country where stunning nature is just an arms length away. Be careful, but enjoy your trip. December in Iceland is full of gems just waiting to be explored. If you have any questions, feel free to ask us in the comments. We want you to have the best trip possible!