Are you visiting Iceland in July? You've picked an ideal time of year when the weather is at its best, roads are open, and the landscape is full of vibrant green grass and beautiful summer wildflowers. 
There are plenty of things to do in Reykjavik in July, but you might consider using the favorable weather and increased daylight hours to venture away from the capital and explore the unique Icelandic landscape. Iceland becomes a playground for outdoor enthusiasts in the summer with an abundance of hiking opportunities, beautiful campgrounds, and natural hot pots.
There's no shortage of things to see in Iceland in July from towering waterfalls and floating glaciers to breaching Humpbacks and adorable puffins. As you get ready for your trip, we've got you covered with six of the most important things you should know before you go.
6 Things To Know Before Visiting Iceland In July
Venturing Into The Highlands Becomes Possible In July In Iceland
The possibilities for adventure are endless in the summer. With the roads open and the weather more favorable, Iceland in July is the perfect time of year to venture into the highlands.
In order to reach the highlands, you'll have to take F-roads which are notoriously tricky to navigate even in the best of circumstances as they're rocky and unpaved. In the winter, and sometimes even into late spring and early summer, snow and ice make these roads impassable. But in the summer, with a little patience and a 4×4 vehicle you're in for a real treat.
Thorsmork in particular is a favorite highland destination for tourists with an adventurous spirit and great hiking stamina. This nature preserve has exceptional views, is ideal for both hiking and camping, and may even offer you a glimpse of the elusive arctic fox.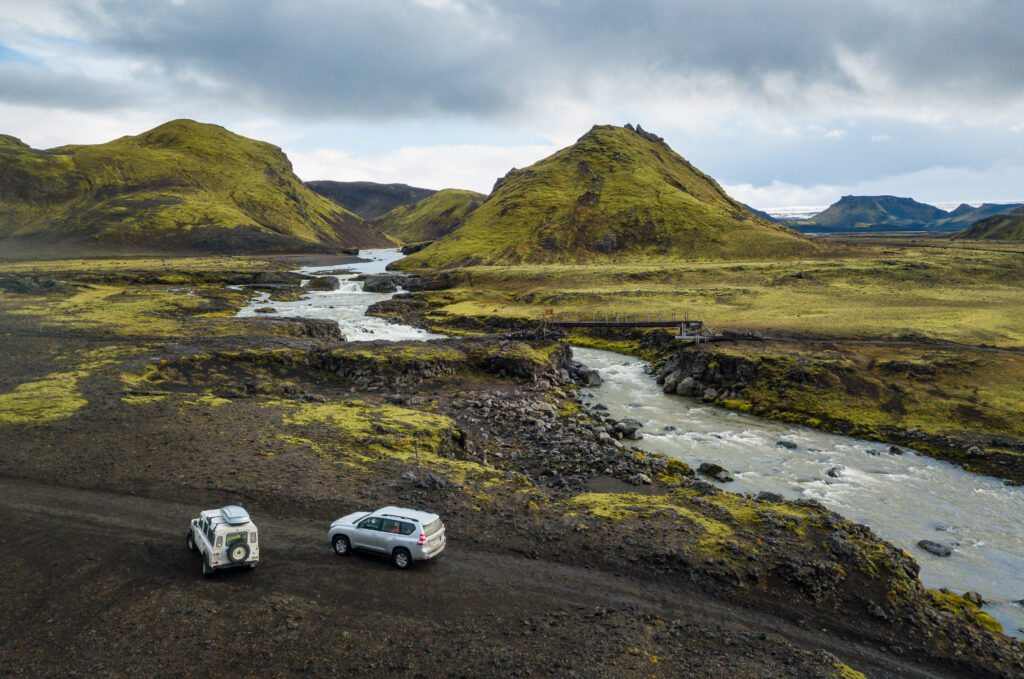 The Northern Lights Are Swapped For The Midnight Sun
In the winter, the Northern Lights cause tourists to flock to the land of fire and ice for a glimpse of this fascinating natural phenomenon. Unfortunately, July lies outside of the September-April time frame for catching the Northern Lights.
Technically the Northern Lights are active all year round, but the long hours of sunlight in the summer months prevent them from being visible. Though you'll miss out on the vibrant, dancing Northern Lights in Iceland in July, you'll have the benefit of the midnight sun.
With nearly unlimited daylight hours, the possibilities are endless. Have you ever wanted to go hiking or bathe in a natural hot spring at midnight under the magic glow of a fading but still present sun? Now's your chance!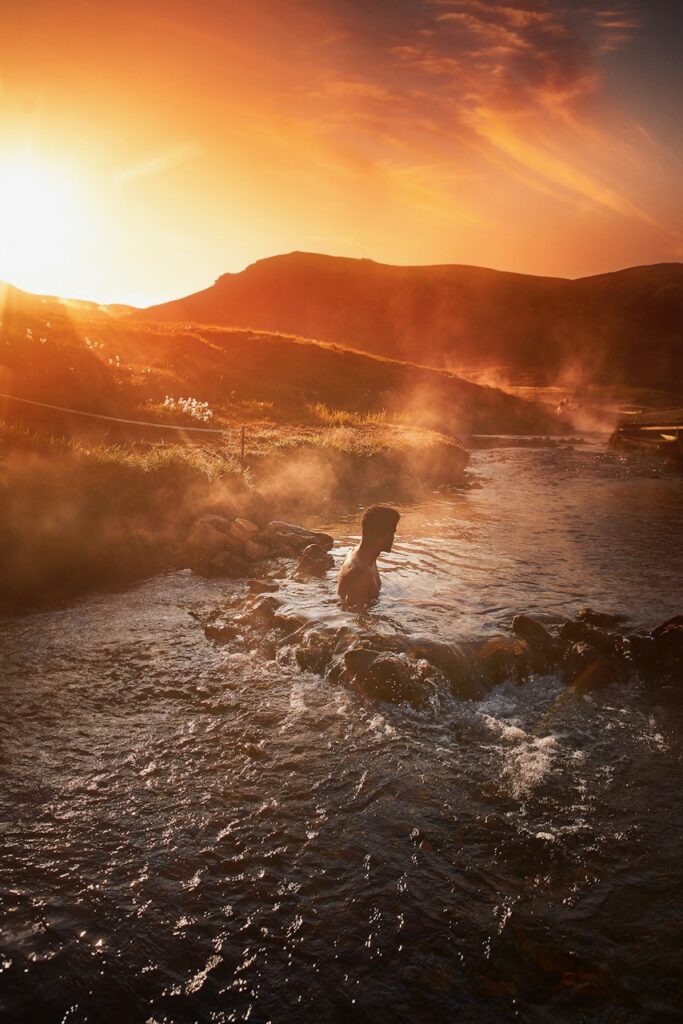 Weather In July Is As Nice As It Gets But Still Unpredictable
Iceland weather in July is as ideal as it gets. The average temperature in Iceland in July ranges from 48-57F, making July the warmest month of the year. It's the perfect time of year for hiking, camping, and general outdoor adventures.
Though June has the longest day of the year, you'll still enjoy long hours of daylight in July that allow you to stay out enjoying the scenery well into the night.
Despite this being the warmest month of the year, warm is a relative term when it comes to Iceland. July is also one of the driest months of the year, but in Iceland, you should always expect rain to be right around the corner.
We highly suggest bringing waterproof and windproof clothing. The weather in Iceland in July is as unpredictable as it is any other month of the year, and it's better to be over-prepared than wet and cold.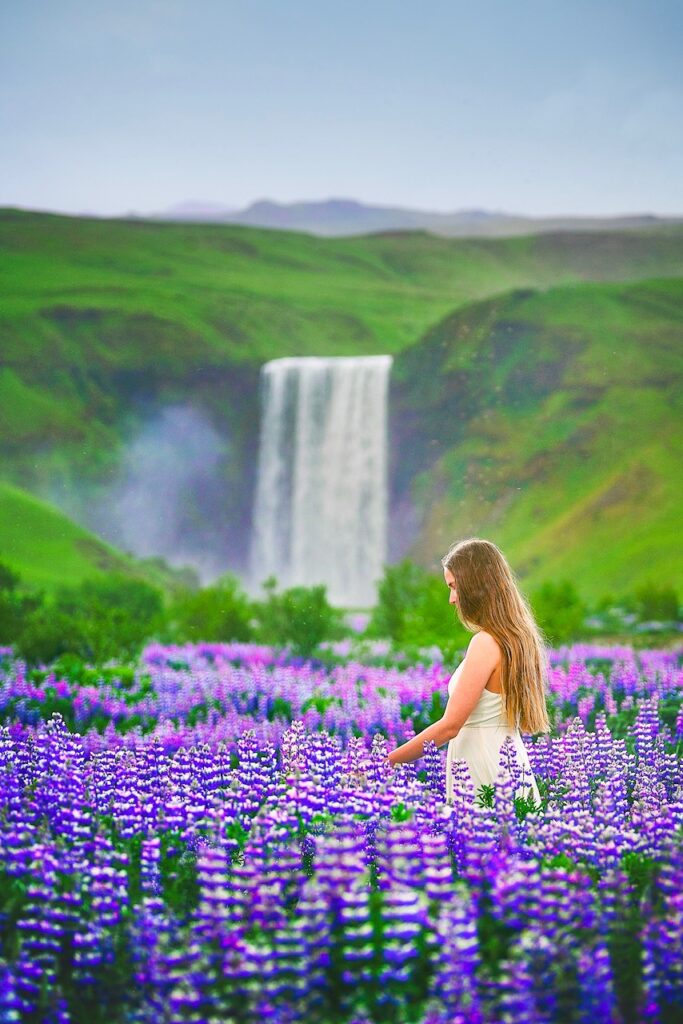 Bathing Suits Are Always A Good Idea In Iceland In July
Swimming/bathing is one of the best things to do in July in Iceland. You'll definitely want to bring along your bathing suit to take advantage of the hot pots, hot tubs, lagoons, and more.
If you've begun planning a trip to Iceland you've probably heard of the iconic Blue Lagoon, which for many tourists is the first stop on their Iceland itinerary. This brilliant blue, mineral-rich water complete with a swim-up bar and surrounding lava rock landscape makes for the perfect place to relax and thaw out from the cold Icelandic air. Though expensive, it's a stop that everyone should enjoy at least once.
Iceland bathing experiences don't have to break the bank however. Every town has a public swimming pool with at least one hot tub. The larger complexes, such as Laugardalslaug in Reykjavik, have multiple hot tubs of varying temperatures.
There's also an abundance of natural hot pots and hot rivers throughout the country, many of which are free to visit. There's nothing quite like bathing in the middle of nature with the vast Atlantic Ocean beside you or jagged mountains creating a dramatic backdrop.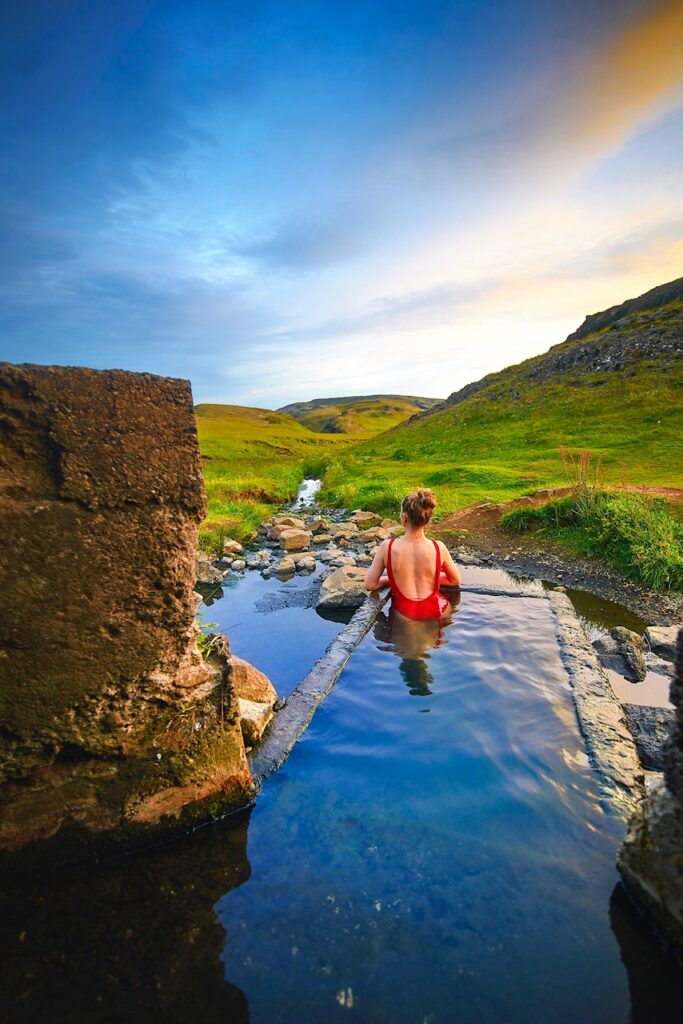 Now Is The Time To Tackle Iceland's Most Spectacular Hikes
Hiking is one of the best things to do in Iceland in July. It's an ideal activity for those looking to get up close and personal with the extraordinary natural landscape the country has to offer.
The summer is the perfect time of year to venture to the Reykjadalur Hot Springs. A 45-minute hike of moderate difficulty takes you to a hot river where you can bathe and relax before heading back through the steam-filled valley to your car. This hike can be particularly magical when done late at night under the soft glow of the midnight sun.
Another popular summer hike takes you up to Glymur, the country's second-highest waterfall. River crossings and chains to assist in steep sections make this hike more challenging but thrilling at the same time. The views throughout the whole hike are incredible as you make your way up and over the towering waterfall.
For those who choose to take the unpaved F-roads into the highlands, an abundance of hiking opportunities await you. If you have a few days to spare and advanced hiking experience, you can even tackle the multi-day Laugavegur hike into Thorsmork valley from Landmannalaugar and experience jaw-dropping scenery along the way.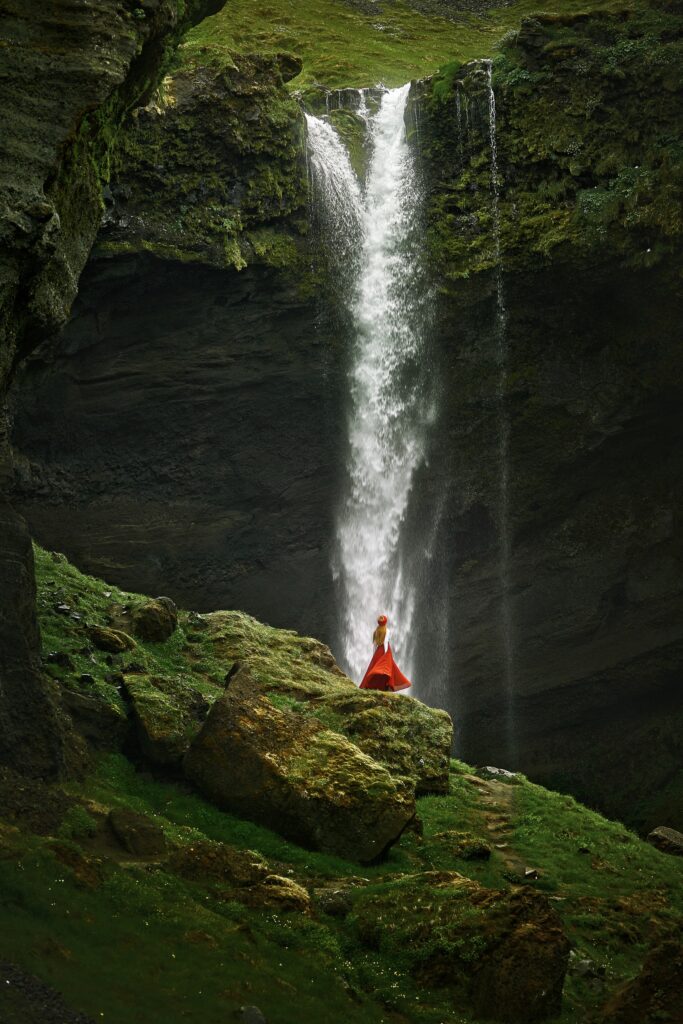 July In Iceland Is The Heart Of Whale Watching Season
If you're traveling to Iceland in July, you'll arrive just in time for the peak months of whale watching season. While the season typically ranges from May-September, July is a particularly ideal month for spotting these majestic beings.
From Minke whales and Humpbacks to Orcas and Harbour Porpoises you're in for a real treat if you choose to venture out on a whale watching tour.
Tours are offered all around the country, but they're particularly popular up north in Husavik which is considered to be the whale watching capital of Iceland. If however you'd prefer to stay closer to Reykjavik there are many options right nearby out of Faxafloi Bay.
Be sure to dress appropriately. Though the weather in Iceland in July is certainly more favorable than other times of the year, it can still be cold and windy particularly out on the water.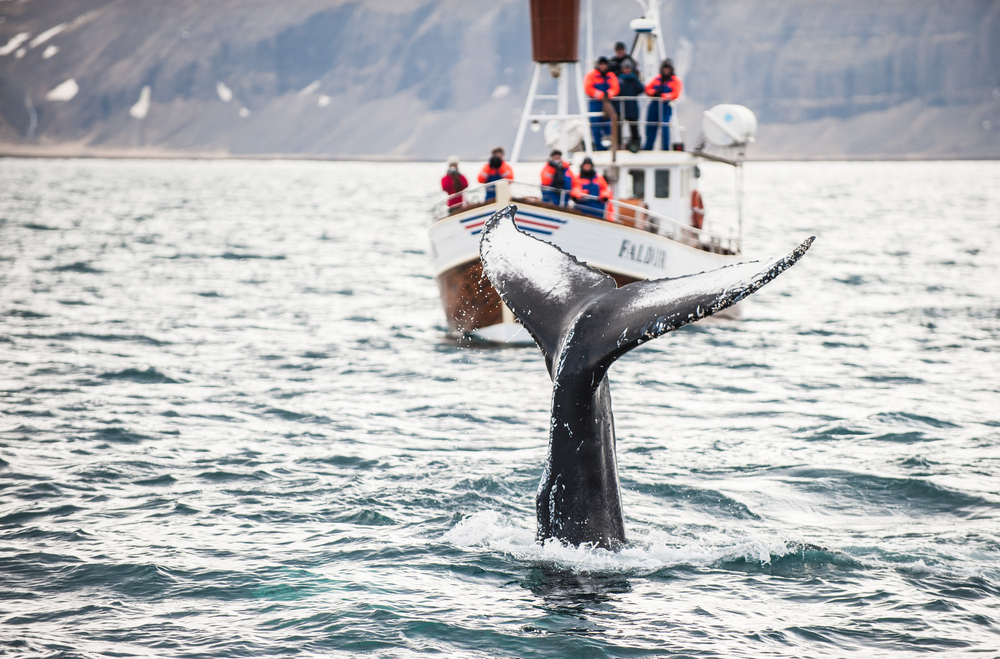 We're thrilled you'll be traveling to Iceland in July. If you're willing to brave the tourist crowds it's an ideal time of year to explore the land of fire and ice. The midnight sun, fields of arctic lupines, sheep roaming the lush green valleys, waterfalls glistening in the sun…it's all awfully idyllic.
As you begin planning your trip to Iceland in July, feel free to ask us any questions or tell us stories of your own in the comments section.