The crisp winter air and the promise of longer days ahead make February in Iceland particularly appealing to locals and tourists alike. It's a transition period as the country emerges from its dark winter and the land of fire and ice starts to come alive again. 
Iceland in February means smaller crowds and snowy landscapes. With the right preparation, it can be a magical month to visit.
Though the weather is consistently cold, there are enough hot tubs and natural hot pots to thaw you out, and enough jaw-dropping landscapes to distract you from feeling cold. If you're looking for things to do in February in Iceland, we've got you covered with suggestions for day trips to thundering waterfalls or festivals in the capital. In other words, you're in for a great time in a remarkable country.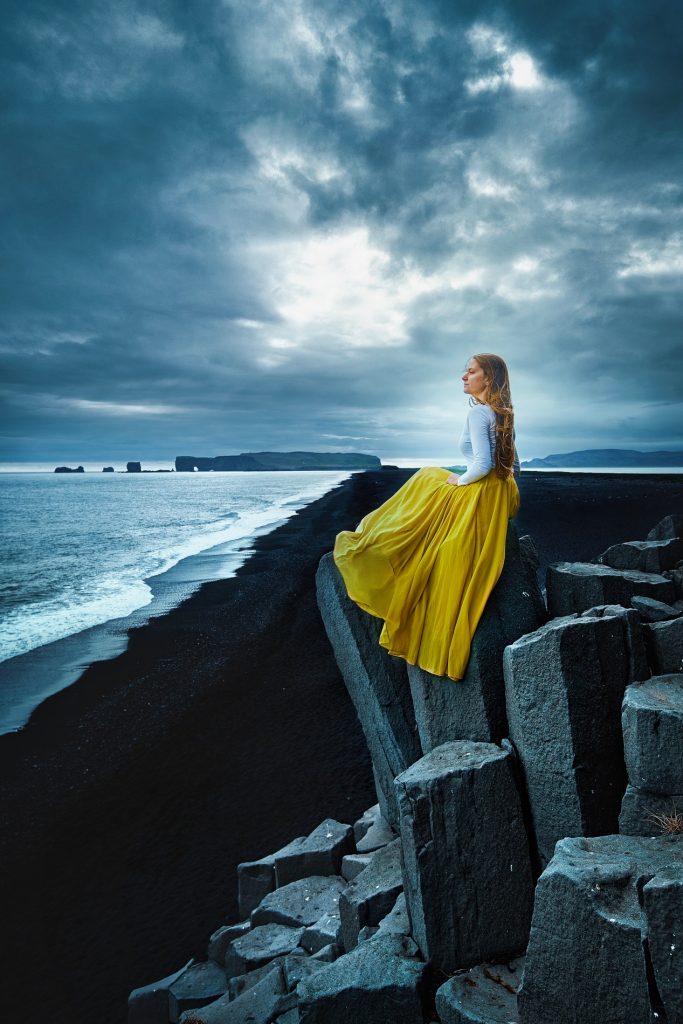 7 Things To Know Before Visiting Iceland In February
Pack In Preparation For Both The Cold And The Wind
February is one of the coldest months of the year in Iceland, reaching an average high of about 37 degrees F. But we hardly need to warn you about the cold temperatures. After all, you're visiting a country called Iceland in the winter. Common sense tells you to bring cold-weather gear.
What makes the weather in Iceland in February particularly rough is its versatility and unpredictability. Packing for Iceland in February can be a pain because you have to prepare for every type of weather including sunshine, harsh winds, rain, and snow.
Many tourists expect snow and even rain, but the wind catches many by surprise. You'll likely get wind for at least part of every day with wind speeds reaching up to over 15 miles per hour. In addition to heavy winter coats, rain jackets, waterproof hiking boots, etc. you'll need to bring a windbreaker to brace yourself against the mighty Icelandic winds.
The weather in Iceland changes frequently throughout the day. As long as you know what to expect and come prepared you'll have a wonderful trip no matter what weather is thrown your way.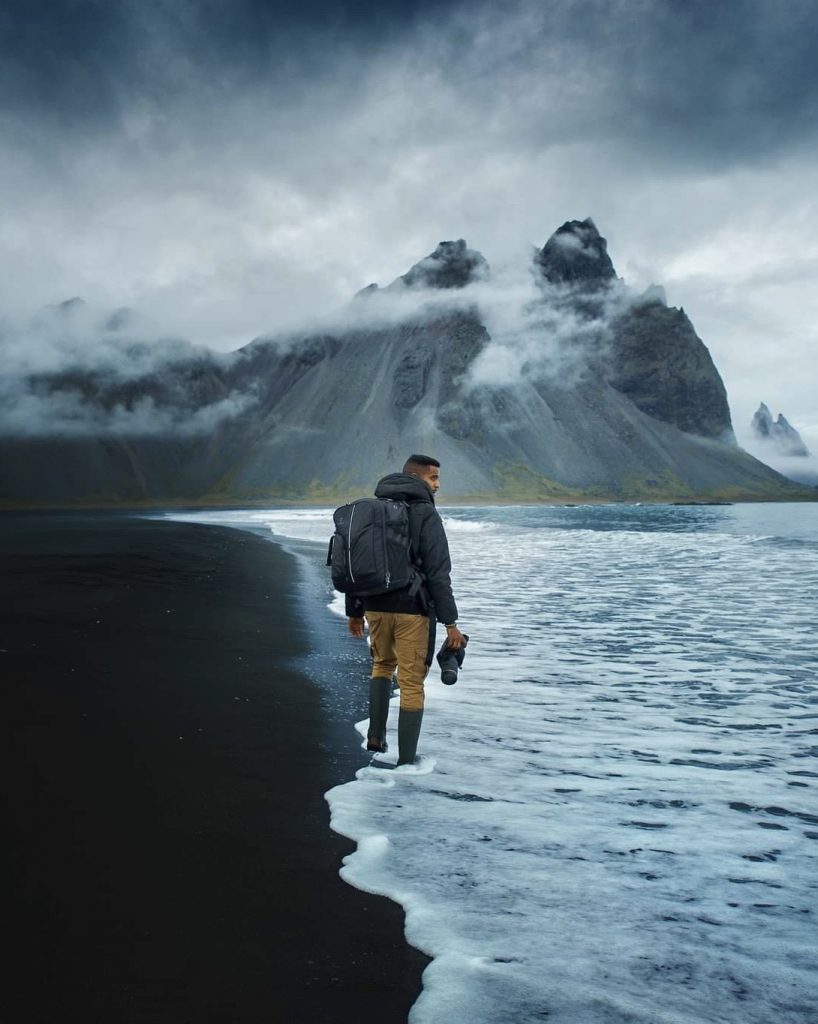 Daylight Hours Start To Get Longer Again In February In Iceland
Though we just talked about February being one of the coldest months in Iceland, the good news is that the daylight hours are starting to get longer again.
Winter in Iceland can be rough with seemingly never-ending darkness, but in February the island gains a whopping 6 minutes of sunlight a day. Though relative to the other seasons the sun still rises late and sets early, there's a significant difference between February and the few months preceding it.
Much of Iceland's beauty and appeal lies outdoors, so having more hours of daylight is crucial when it comes to exploring the natural landscape of the country. February in Iceland gives you the best of both worlds where you have plenty of time to adventure throughout the day and still potentially have the opportunity to see the Northern Lights at night.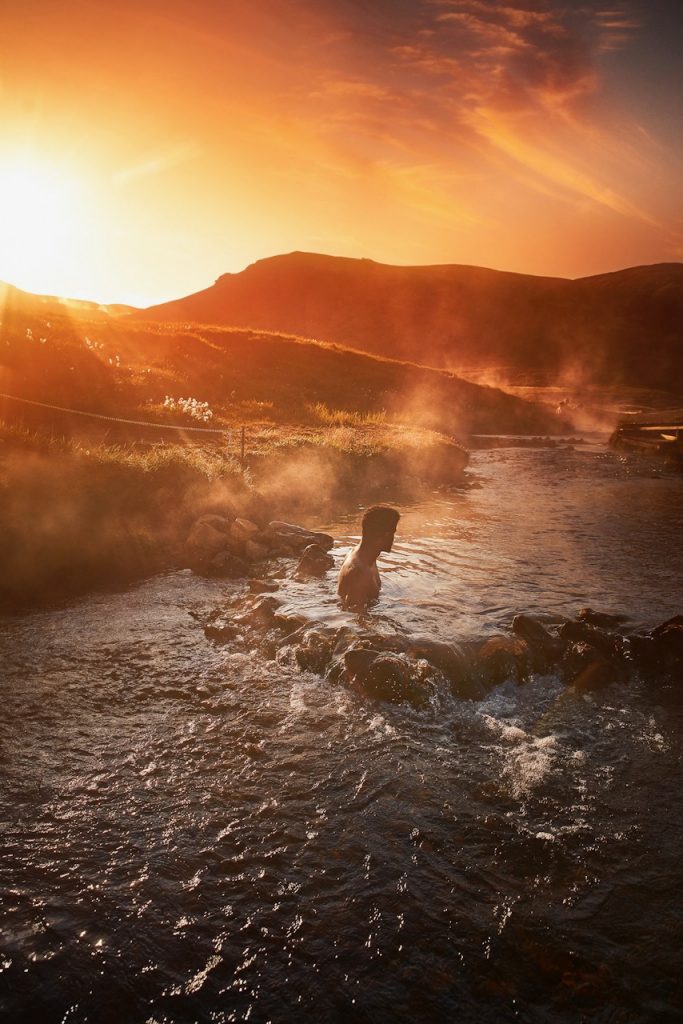 Visiting Iceland In February Improves Your Chances Of Seeing Northern Lights
From roughly September to April, the Northern Lights have the potential to grace the sky on a clear, crisp Icelandic night. As a result, visiting Iceland in February greatly increases your chances of seeing this spectacular natural phenomenon.
As you go hunting for the notoriously elusive Northern Lights, it's important to keep in mind that nature is fickle and doesn't always deliver the exact result you want, no matter how hard you wish for it. It's not your guide's fault nor your fault if you don't see the lights on any given day, it's just the will of nature.

Dark skies, away from city lights, give you the best chance of seeing the Northern Lights on a high activity night. Though it is possible to see the Northern Lights in Reykjavik when the aurora is particularly strong, the probability increases the further you venture out.
There are two great options for heading out in search of the Northern Lights.
If you enjoy having control of your own timeline and schedule and have access to a rental car, driving out in search of the lights yourself can be the perfect option.
Be sure to track the aurora strength and visibility and continue to check it as the night progresses. When the forecast is high, pick a dark part of the island and feast your eyes on the dancing light show.
The other option is to take a guided tour. This makes Northern Lights searching easy as all the work is done for you. The guides keep up to date with the forecast and know the best places to take you.
Again, it's important to remember, the guides don't have control over the lights. Nature alone decides what shows up in the sky that night. Most tour companies will allow you to book another tour at no extra cost if you weren't able to see the Northern Lights the first time around.
If however, you're lucky enough to spot the Northern Lights in Iceland in February, you're in for a real treat.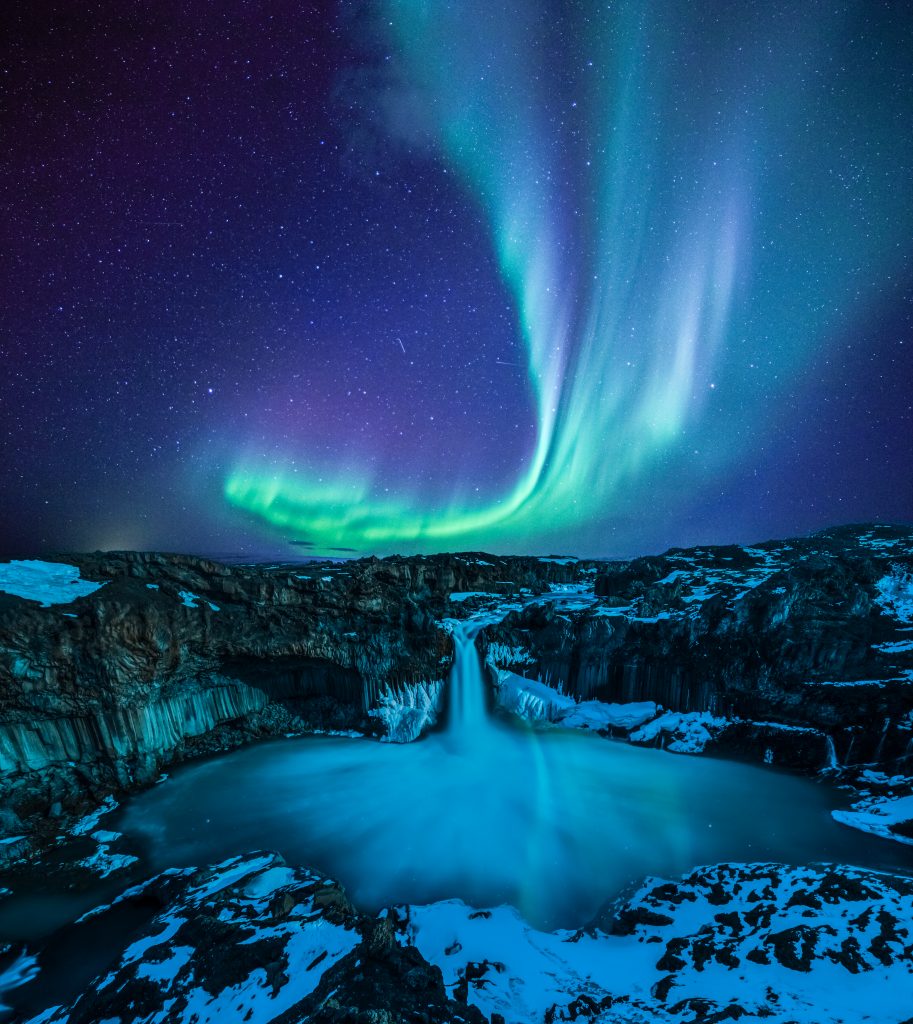 Bring A Swimsuit To Take Advantage Of The Hot Pots And Hot Tubs
The hot pots and hot tubs are welcome at any time of year, but thanks to the weather in Iceland in February, the escape from the cold becomes increasingly appealing. There's nothing quite so magical as thawing out in the warm water of a hot pot and gazing out at the ocean and mountains beyond while a thin film of snow drapes itself around you.
Every town in Iceland has a public pool complex complete with a heated outdoor swimming pool and at least one hot tub. Some of the larger complexes, especially the ones in Reykjavik, have multiple hot tubs of varying temperatures.
Natural, geothermally heated hot pots are a wonderful more remote alternative to the public pools. Located throughout the country in some of the most picturesque spots on the island, you can relax in the warm water while enjoying the stunning natural landscape around you.
Another option is to head to any one of the major lagoons such as the iconic Blue Lagoon, the Mývatn Nature Baths (the Blue Lagoon of the north), or the more low-key Secret Lagoon. These cost money and cater to a more touristy crowd, but the Blue Lagoon in particular is quite spectacular and is worth breaking out the wallet for at least once.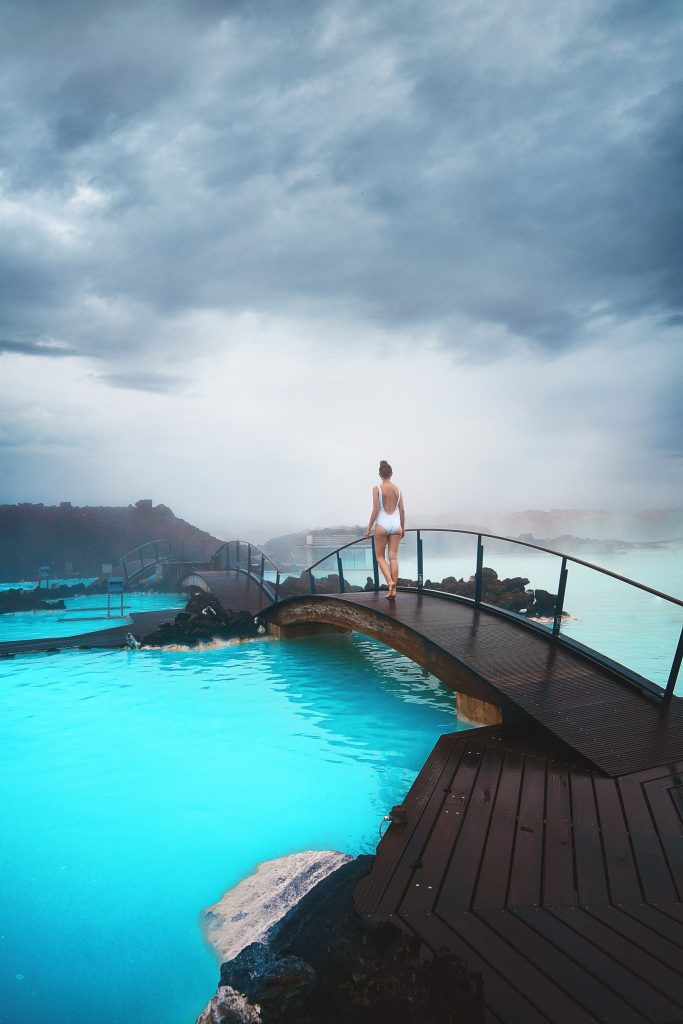 Road Conditions Can Be Dicey, So Don't Take Risks!
Adventure awaits you, but before you head out on those potentially icy, snowy roads that often come hand in hand with visiting Iceland in February, there are a handful of things to keep in mind.
It's incredibly important to continuously check the road conditions and road closures. The f-roads into the highlands and parts of the Ring Road are closed for much of the winter. Taking day trips from Reykjavik such as driving the Golden Circle route is entirely possible if you first ensure that the roads are clear and safe to navigate.
You're unlikely to have problems driving in and around Reykjavik because the roads there are frequently plowed and salted, but we suggest exercising caution nonetheless.
Driving in Iceland often boils down to just using basic common sense. Unfortunately, there are enough over-confident tourist drivers to keep the search and rescue teams in Iceland busy. We know you're anxious to explore the wonders of Iceland, but it's not worth risking your safety over.
If you choose to rent a car while visiting Iceland in February, you'll find that the car will come equipped with winter tires. This doesn't mean they're completely fool-proof however they make driving on ice much safer.
On the rare occasion that the sun has come out to play, bring along a pair of sunglasses because the sun reflecting off the ice can be particularly blinding. Make sure your car is filled with antifreeze windshield washer fluid as well to keep your windshields clean and your vision clear.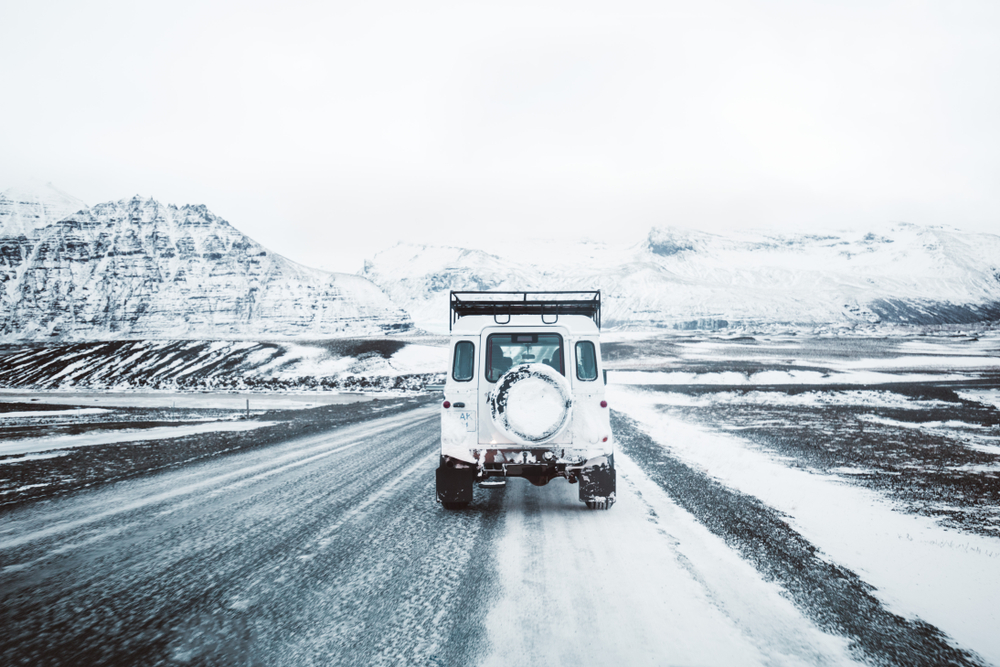 Reykjavik Lights Up For The Winter Lights Festival
If you're fortunate enough to visit Reykjavik in February we suggest joining in the Winter Lights Festival celebration. This three-day celebration is designed for locals and tourists to embrace the joys of winter and simultaneously rejoice in the increasingly longer days.
For these three days, the city comes to life, sparkling with mesmerizing light displays featured on major buildings such as the iconic Hallgrímskirkja church and the Harpa Concert Hall. With the help of artificial light, the dark days suddenly turn bright and you can't help but smile and celebrate.
From Museum Night to Pool Night and all the activities in between, you have the opportunity to embrace the culture and beauty of Iceland's capital city. Be sure to check the event website for dates and activities.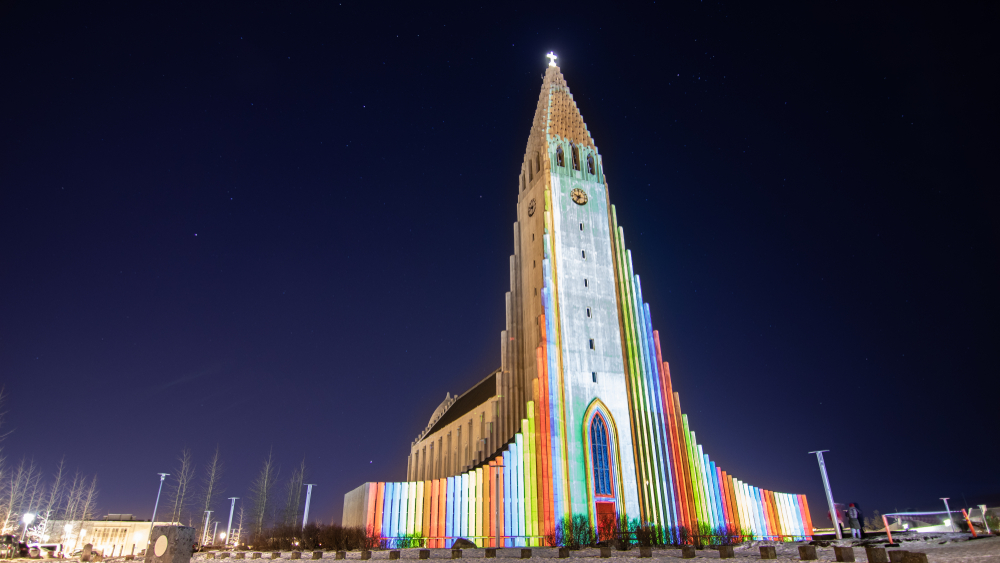 Day Trips Make The Most Sense When Visiting Iceland In February
Iceland's Ring Road is spectacular and makes for a great multi-week summer expedition, but in the winter months, day trips tend to make the most sense. Many sections of the Ring Road as well as the f-roads through the highlands tend to close down for much of the winter making it difficult to venture too far from the capital.
In Iceland in February, the south coast will be your friend. Iceland's south coast is home to some of the country's most spectacular waterfalls such as Seljalandsfoss and Skogafoss among other more hidden gems.
Other unusual and fascinating stops include the Sólheimasandur Plane Crash and the Reynisfjara Black Sand Beach. Further east you'll reach the Jökulsárlón Glacier Lagoon where you can admire floating icebergs backed by majestic glaciers.
The famous Golden Circle route is another great option that allows you hit Iceland's most iconic tourist spots all in one trip. The three major stops include Thingvellir National Park, the Strokkur geyser, and Gullfoss waterfall. A volcanic caldera, a geothermally heated lagoon, and more lie on this route as well.
In the northwest lies the Snæfellsnes Peninsula which is home to a natural bridge at Arnarstapi, a postcard-worthy landscape of Kirkjufell mountain and the Kirkjufellsfoss waterfalls, the dramatic Gerðuberg Basalt Columns, and the Eldborg volcanic crater. Whether you're admiring the basalt columns or gazing down into a volcanic crater, you're sure to enjoy your time on the Snæfellsnes Peninsula.
Sticking to day trips might seem like a limiting factor in your vacation plans, but when you discover how much there is to see within a handful of hours from the capital, you'll realize there are more than enough adventures to tackle and sites to see to keep you busy for the duration of your Iceland travels.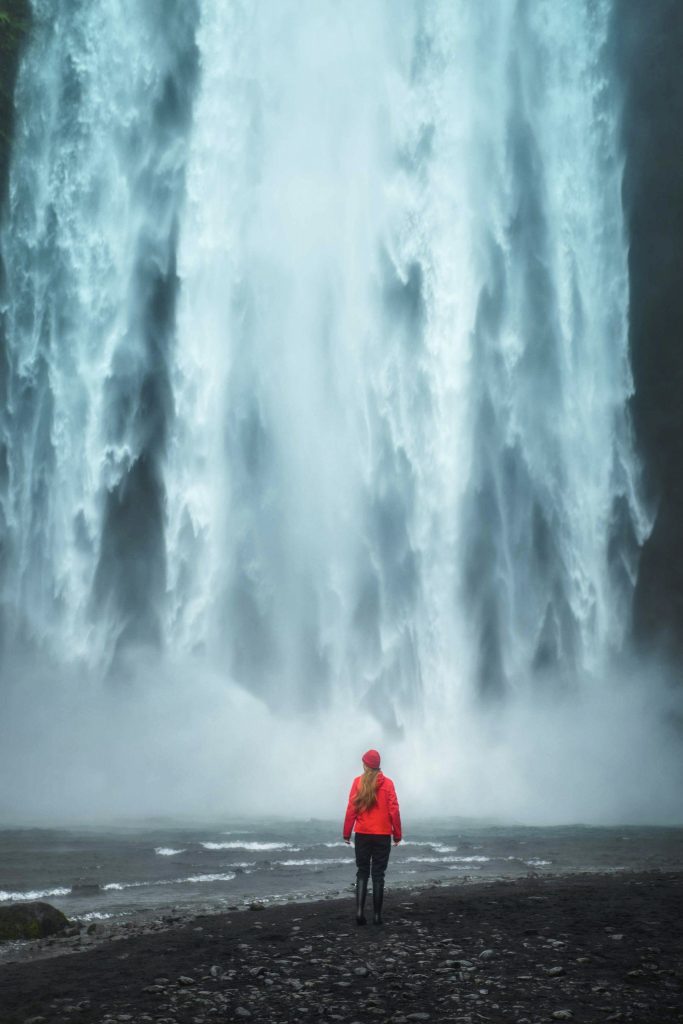 We loved visiting Iceland in February and hope that you get the opportunity to as well. With the possibility of catching the elusive Northern Lights or relaxing in a hot pot with the landscape around you draped in snow, it's nearly impossible not to book your ticket immediately.
Everywhere you turn there is something new and equally stunning to enjoy and February is the perfect time to see it all. If you have any questions or comments as you begin planning your trip to Iceland in February please feel free to let us know.