We have put together tips for your visit to the Sky Lagoon Iceland! This is one of the newest and most luxurious geothermal spas near Reykjavik that you must visit!!
The Sky Lagoon offers amenities and ambiance of a high-end hot spring experience while being just minutes from Reykjavik.  We highly recommend booking one of the amazing tours from Reykjavik that visit here!
Planning your trip to Reykjavik last minute?
Make sure to book ahead! Hotels and tours often sell out the closer you get to your trip. Here are our top picks for Reykjavik!
Top Experiences And Tours In Reykjavik:
Top Hotels In Reykjavik:
While visiting the lagoon, you're encouraged to participate in a 7 step ritual complete with swim-up bar, restaurants and gorgeous ocean views, you'll never want to leave.
Having access to thermal pools in Reykjavik is a treat, so take advantage of its proximity to the heart of the city and be come prepared to unwind and relax at the Sky Lagoon! We have even included a stop here on our Ultimate Reykjavik Itinerary!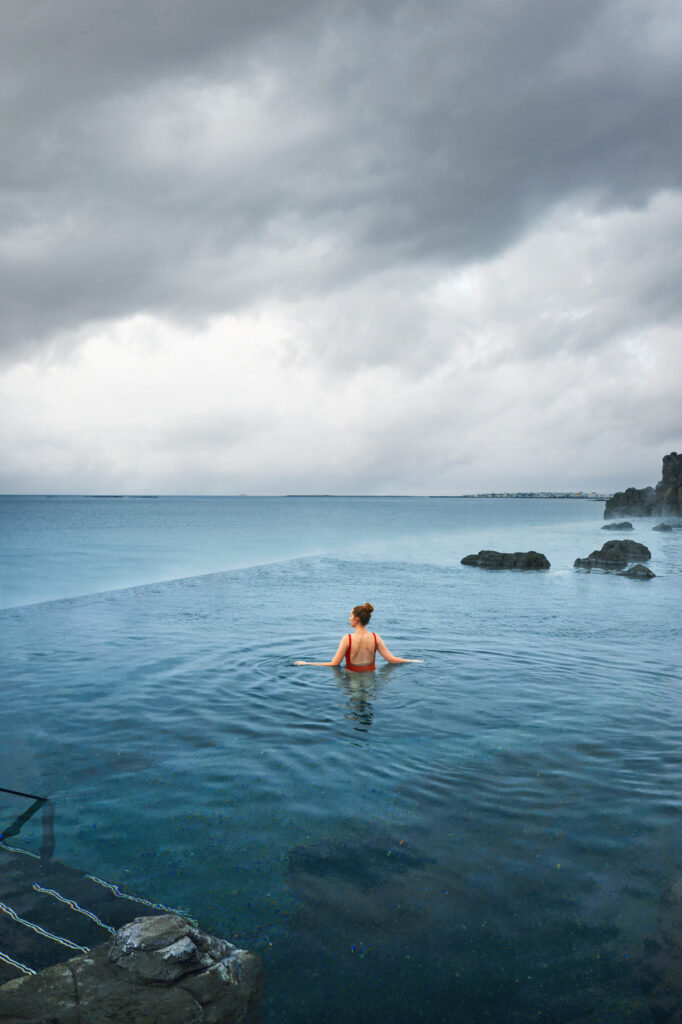 What is Sky Lagoon in Iceland?
Opened in 2021, the Sky Lagoon is one of the newest luxury hot springs that is located just 10 minutes from downtown Reykjavik, in Southwestern Iceland!
The motto here is "revive your senses at the edge fo the world" and a visit here you will get to experience the oceanside geothermal spa with a unique 7 step spa like ritual.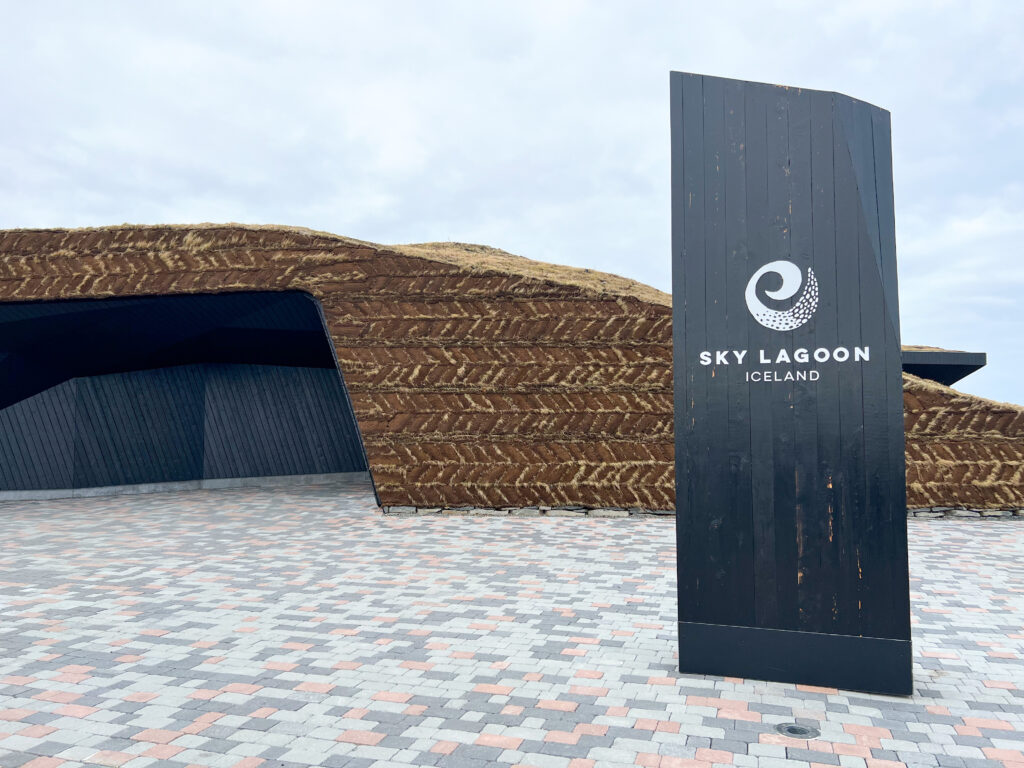 Where is the Iceland Sky Lagoon located?
The Sky Lagoon is located just 10 minutes ( 4 miles) south of downtown Reykjavik! It is even more convenient and is closer to the city than the Blue Lagoon. Located on the Karsnes Harbour, visitors will be awarded with breathtaking vistas.
Not to worry for those without a car ( if you have a car there is free parking), you can book one of several tours, like this Sky Lagoon Entrance and Transfer that includes pickup from bus terminal in downtown Reykjavik and your admission.
Likewise, you can take the public bus (Number 4) from Hlemmur square to Hamraborg where you will switch to bus number 35 and get off at Hafnarbraut, and follow the signs for a 5-minute walk to the Sky Lagoon!
If you are going to visit the Sky Lagoon Iceland before flying home, they do offer a luggage storage room!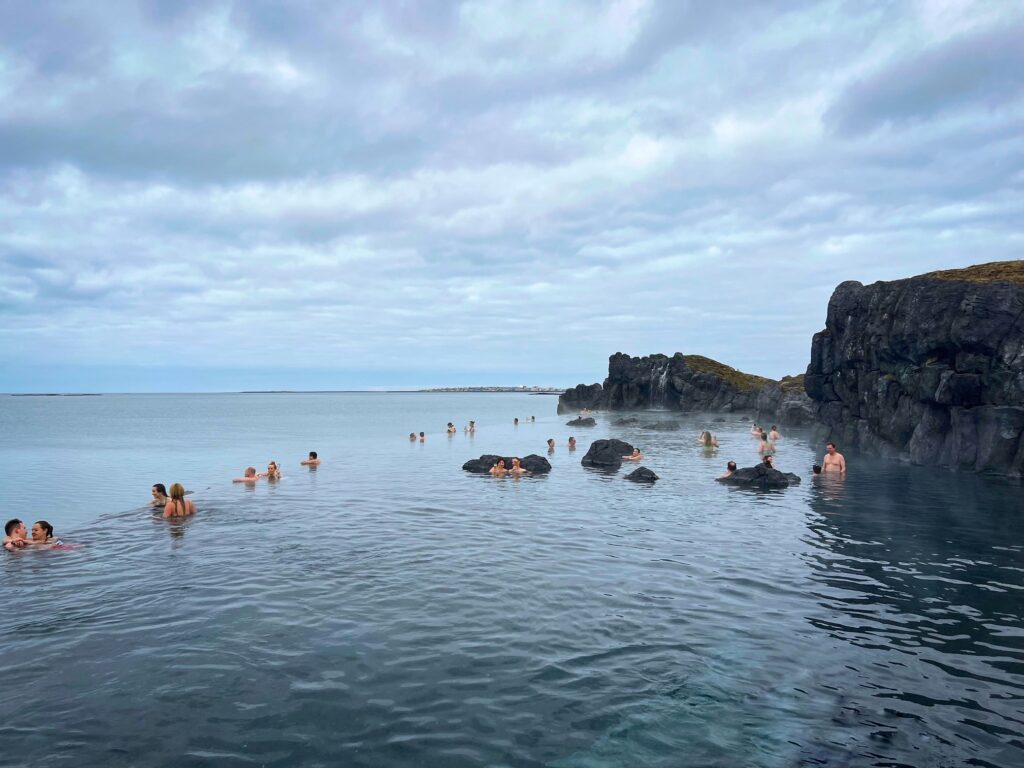 Sky Lagoon Iceland Prices
As we mentioned earlier, the Sky Lagoon is a luxury experience and as such as a higher cost than other geothermal hot springs in Iceland. All tickets include admission, changing area and towel. You will want to pack a swimsuit as they are required for entrance!
Tickets range from $53 (6,900 ISK) for the Pure Lite Pass does NOT include the 7-step ritual, Pure Pass with 7-step ritual is $76 (9,900 ISK), and the Sky Pass with a private changing area for $108 (13,900 ISK).
If going with a friend or partner the Sky Lagoon for Two with 2 Sky Pass, a drink (alcohol included) per person, and a Sky Platter from the snack bar for $178 (23,990 ISK).
Book your Pure Pass with 7 Step Ritual with Transfers here!

Buying your Sky Lagoon ticket packages
Now for the fun part! Booking your tickets to the Sky lagoon is something we high encourage you to do early! Once you know your travel dates, it is time to book!
We have put together a list of the best tours to book that include the Sky Lagoon, best of all you can just show up. No need to arrange transportation or wait in line for tickets.
If you are traveling with your own car, and don't need transportation, you can still purchase your tickets ahead of time as to not wait in line! Booking the Sky Pass with 7-Step Spa Ritual, covers your admission, with private changing rooms where you can relax and admire the view over the Atlantic Ocean after completing the 7-step ritual!
And for those without a car, why not book the Sky Lagoon Admission Including Transfer, this tour includes your transportation from the BSI terminal in downtown Reykjavik and your admission to the Sky Lagoon with a 7-step spa ritual included!
Book your Sky Pass with 7-Step Spa Ritual Here
Book Your Sky Lagoon Admission Including Transfer Here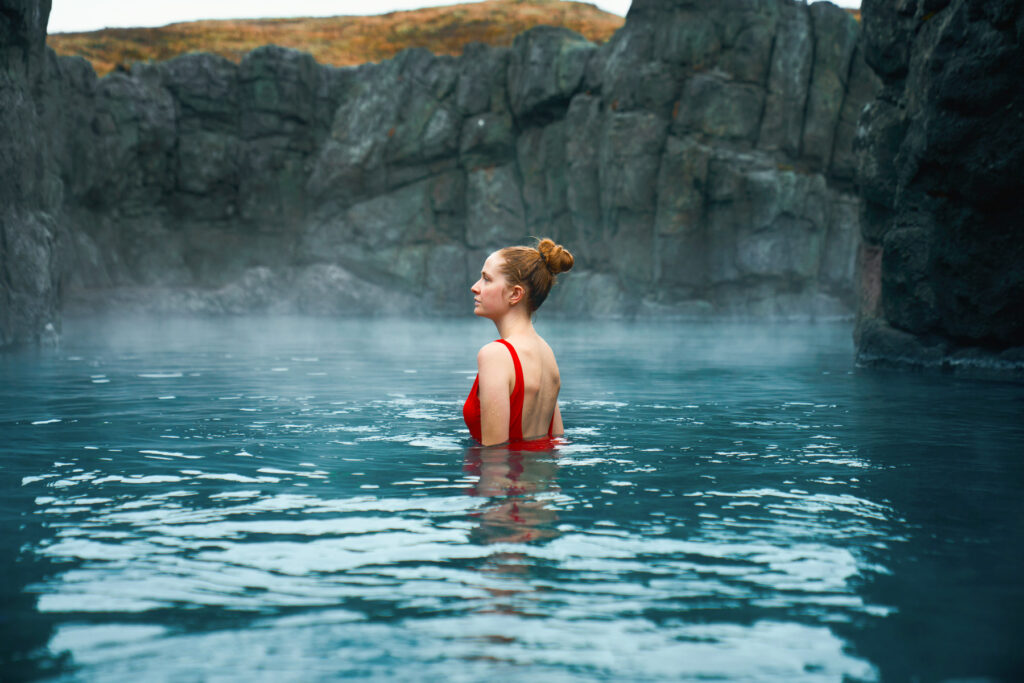 Are children allowed at the sky lagoon?
As Iceland has become a popular family destination, this is a great question! Unfortunately, the spa/geothermal pool is not suitable for children under the age of 12. While children ages 12 to 14 must be accompanied by a guardian that is over 18 years of age! We recommend families book a private changing area for more privacy and space.

Best tours that include the Sky Lagoon
For those who want to sightsee and explore first, and then head for a relaxing evening at the Sky Lagoon we have two amazing tours picked out for you!
On this 10 hour Sky Lagoon Bath, book the Golden Circle Tour and Sky Lagoon Bath tour you will see the highlights of Iceland ( Thingvellir National Park, Gullfoss Waterfall, and Geysir and then end your day with a relaxing stop at the Sky lagoon bath!t
OR this on this 11-hour Day Trip to Golden Circle and Sky Lagoon that shuttles you to all the famous sights listed above plus the 7-step ritual at the Sky Lagoon!
Book Your Sky lagoon bath and Golden Circle Ticket Here
Book Your Day Trip to Golden Circle and Sky Lagoon Here
How deep is the Sky Lagoon?
At its deepest point, the lagoon is almost 5 feet deep ( 4 feet 9 inches to be exact). But not to worry for those who don't want to swim or get their hair wet ( it is OKAY here unlike the Blue Lagoon), there are shallow areas along the edges of the Sky Lagoon!

What is the temperature of the Sky Lagoon in Reykjavik?
This is a great question! The Sky Lagoon can be enjoyed year-round, even during winter as the water averages between 100 and 104 degrees, much like a hot tub. However, the Icelandic weather can impact your experience and the water temperature can vary slightly!
As the water is warm, it is very important that you stay hydrated during your visit. They recommend visiting for 1.5 to 2 hours! And offer water fountains in the changing rooms and around the lagoon, as well as a swim-up bar to purchase drinks!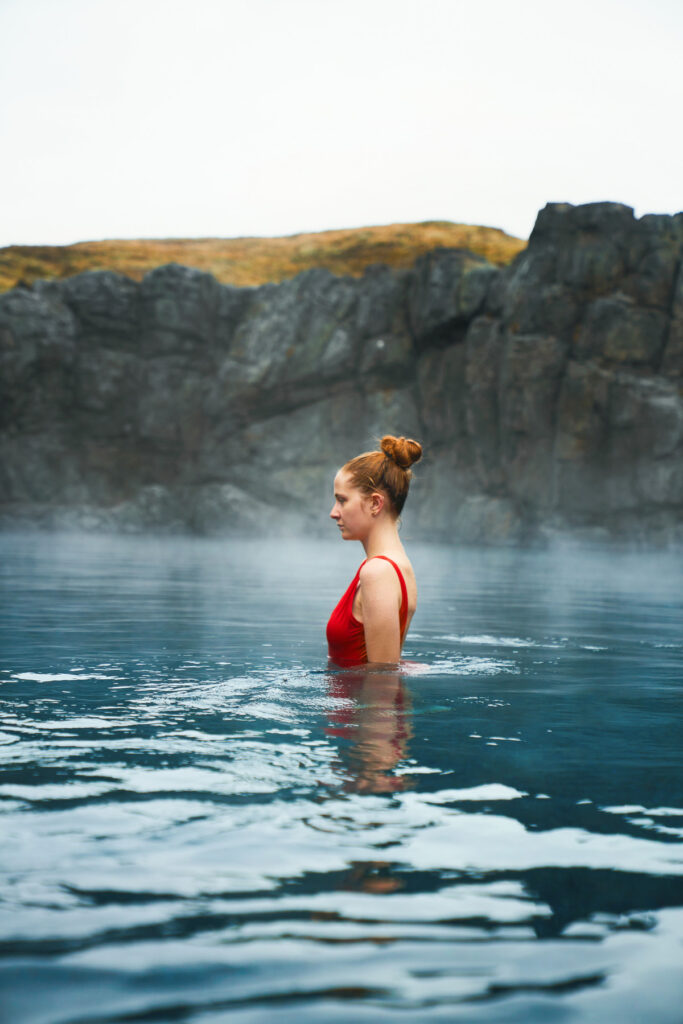 What amenities are at the Iceland Sky Lagoon?
Upon arrival, you will be given a wristband that works as your locker key and as a credit card for all purchases during your SKY experience. A towel is included in all packages.
This includes purchases from the Lagoon bar, Sky Cafe and Smakk Bar, as well as your private changing and private shower room with the signature Sky Body Lotion should you purchase this package!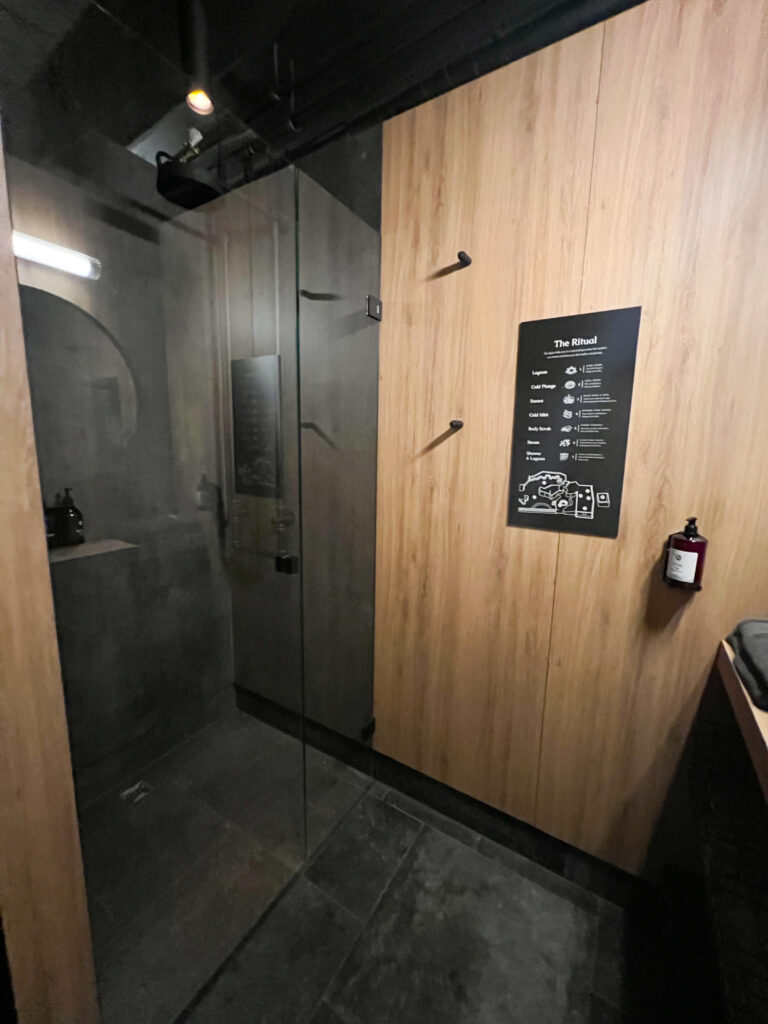 Is it safe to wet your hair?
YES! Unlike the Blue Lagoon, it is totally acceptable to get your hair wet! The reason is that the water at the Sky Lagoon is processed differently than the mineral-rich water of the Blue Lagoon!
It goes through a very thorough, high-tech, and extensive cleaning process during the night.
After that, the night-shift team members go into the Lagoon to make sure everything is up to standard.
Therefore, it is even safer to let your hair get wet as it is very clean geothermal non-chemical water. Enjoy soaking under the waterfall and swimming around the lagoon!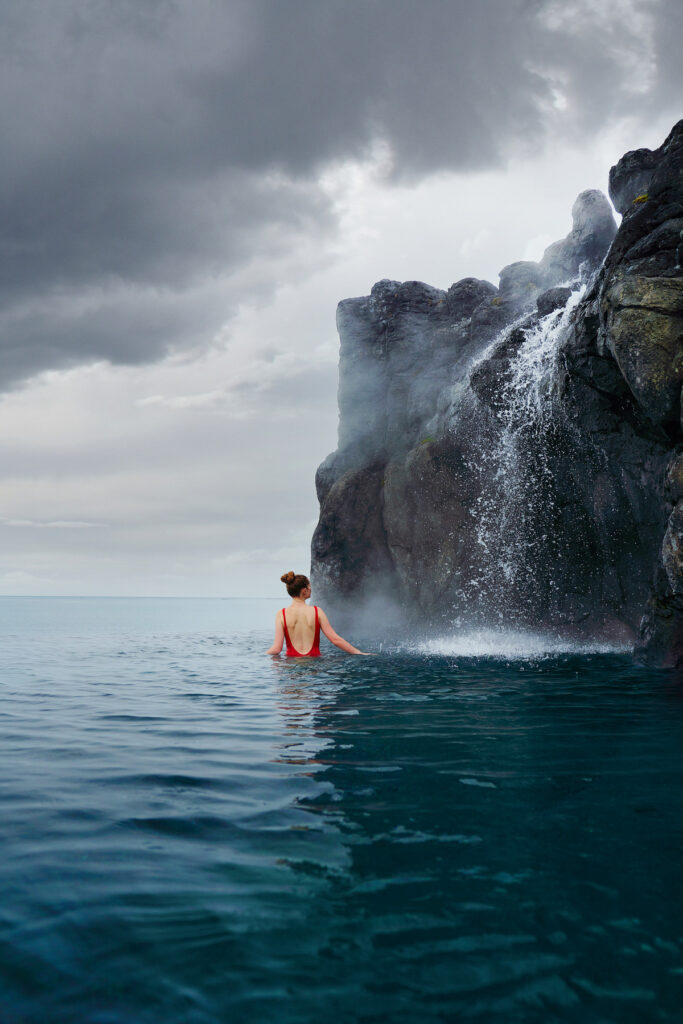 What is the 7 step ritual?
The 7-step ritual is what the Sky Lagoon is known for and it is Amazing! Before beginning your experience which is included in all the of the passes except Pure Light, you will end the changing area, and shower before beginning your journey through the 7 steps.
This is a self-guided wellness journey through warm and cold water, heat and fresh air that leaves visitors feeling rejuvenated. So let's go through what to expect during each step!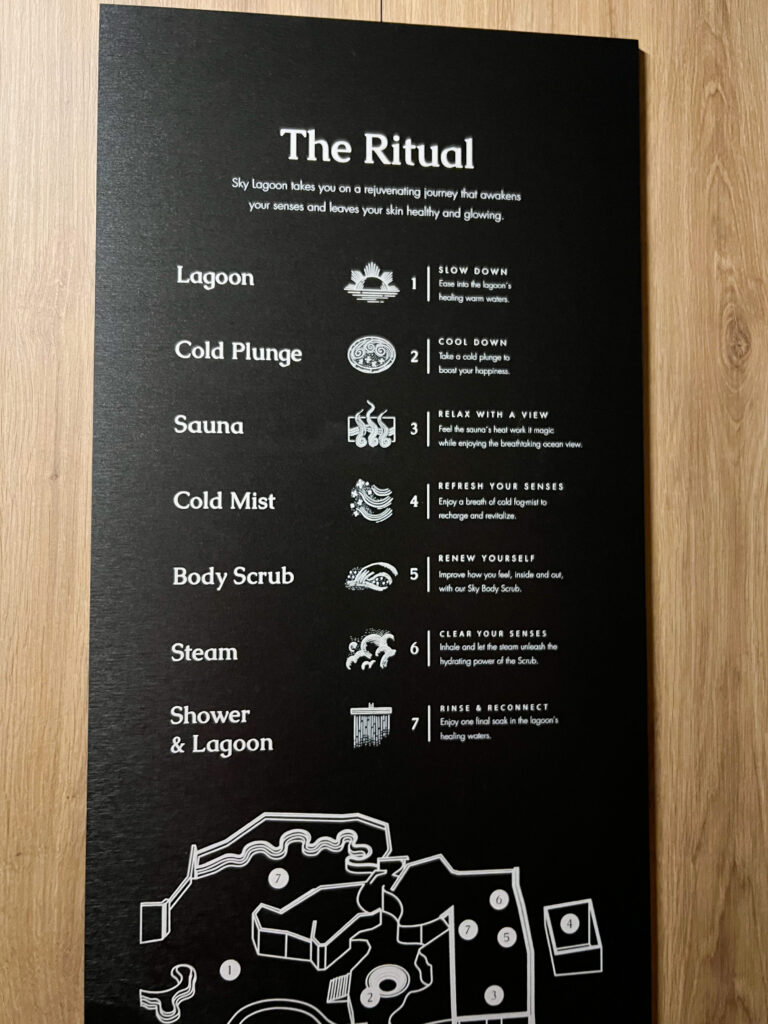 Step 1: The Lagoon
You will begin your relaxing journey in the Sky Lagoon, here at the cave-like entrance of the Lagoon! After showering you will enter the warm water, surrounded by ocean air, and float through the man-made canyon walls surrounded by Mount Keilir and the infinity-edge pool leading to the Atlantic Ocean!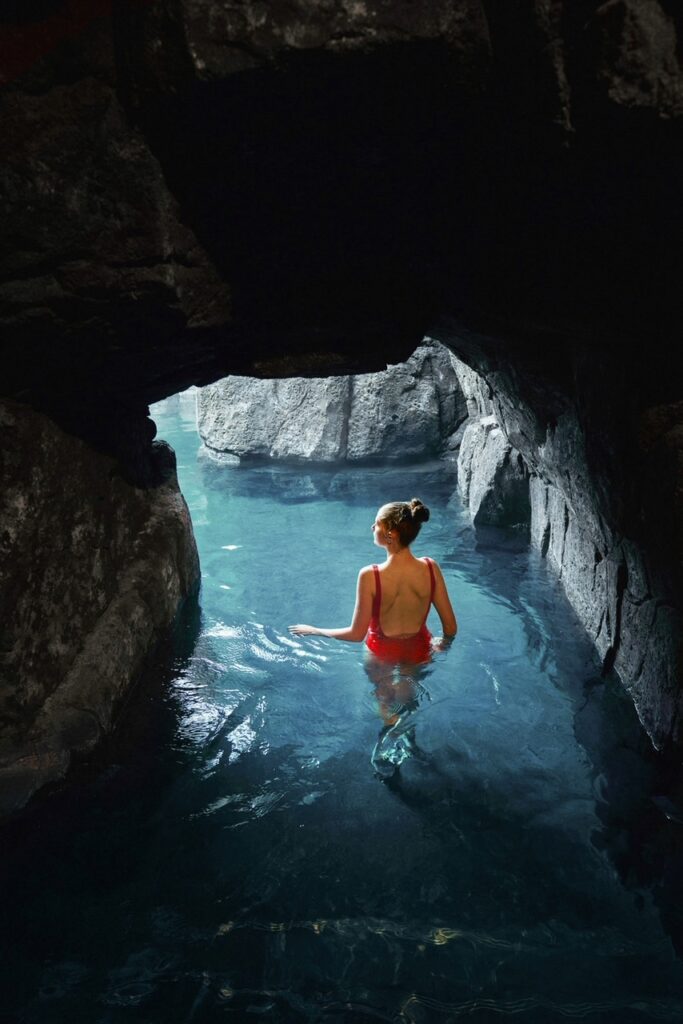 Step 2: The Cold Plunge
After unwinding in the 100+ degree water you will begin your traditional Icelandic bath experience, where you will take a dip in the cold plunge! Used since Viking times to stimulate your immune system, it gives those brave enough to endure a natural high! Spend 10-30 seconds here!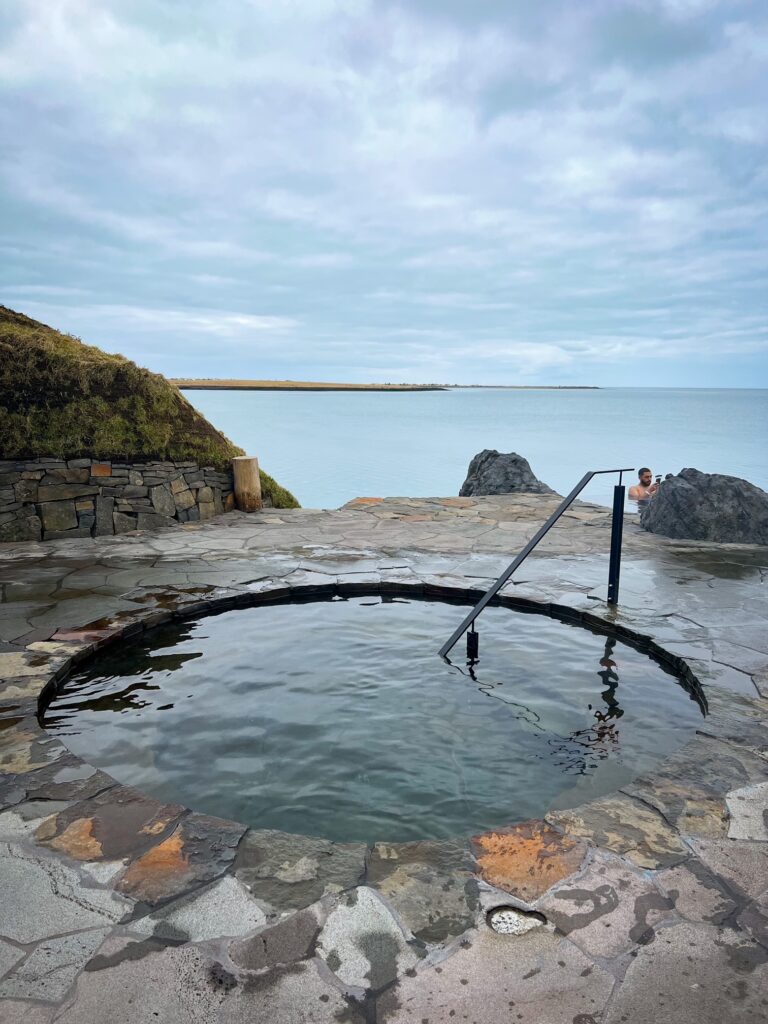 Step 3: The Sauna
After experiencing the invigorating cold plunge, head to the warm sauna for 5 to 10 minutes. The heat purges toxins from your skin and you are awarded with gorgeous ocean views through the enormous glass window!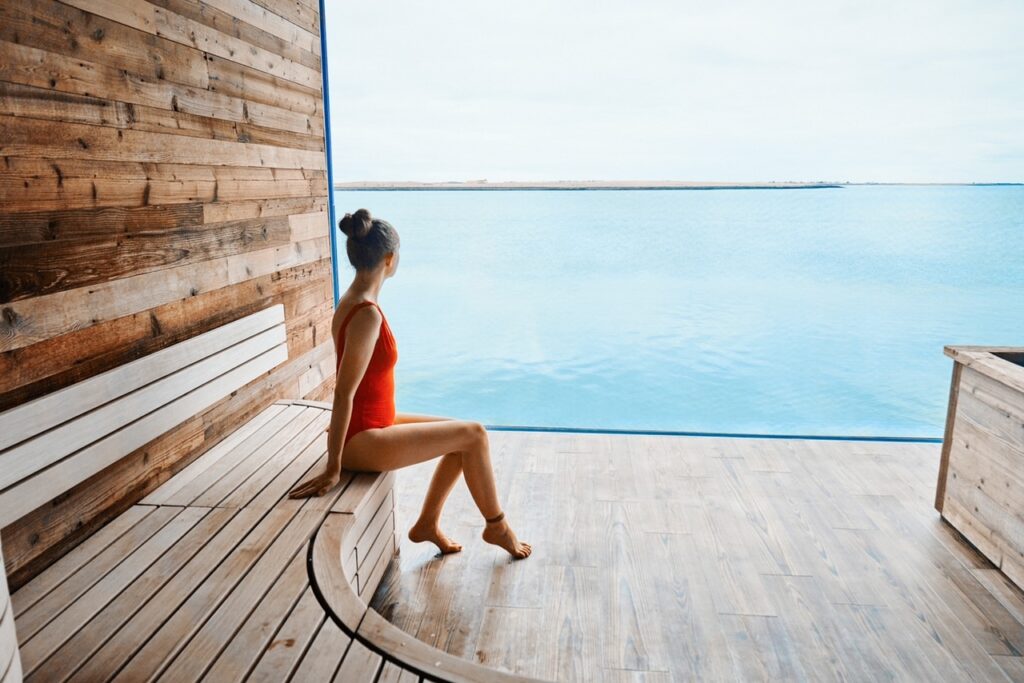 Step 4: Cold Mist
If you are noticing a trend, of hot-cold-hot-cold you are correct. In step 4, you will be refreshed by a cold-mist space that is great for your skin and stimulates your senses.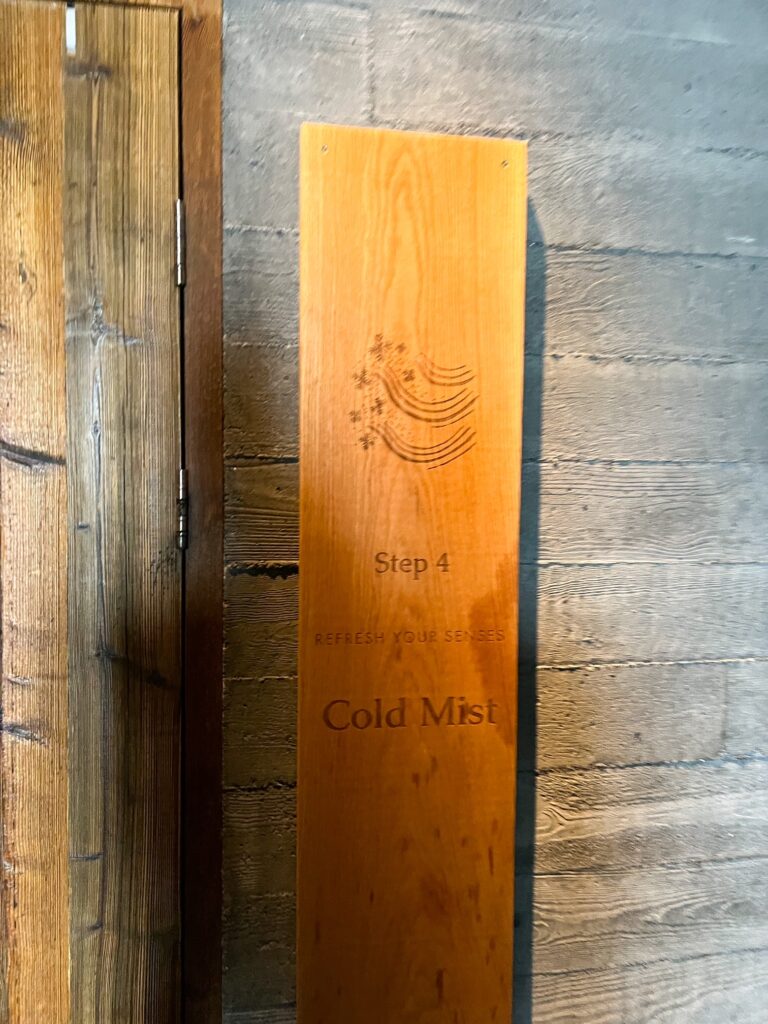 Step 5: Sky Body Scrub
After leaving your skin and body feeling amazing, you will apply the signature Sky Body Scrub to your skin, visitors call this the highlight of the visit. The sea salt scrub leaves your skin feeling super soft!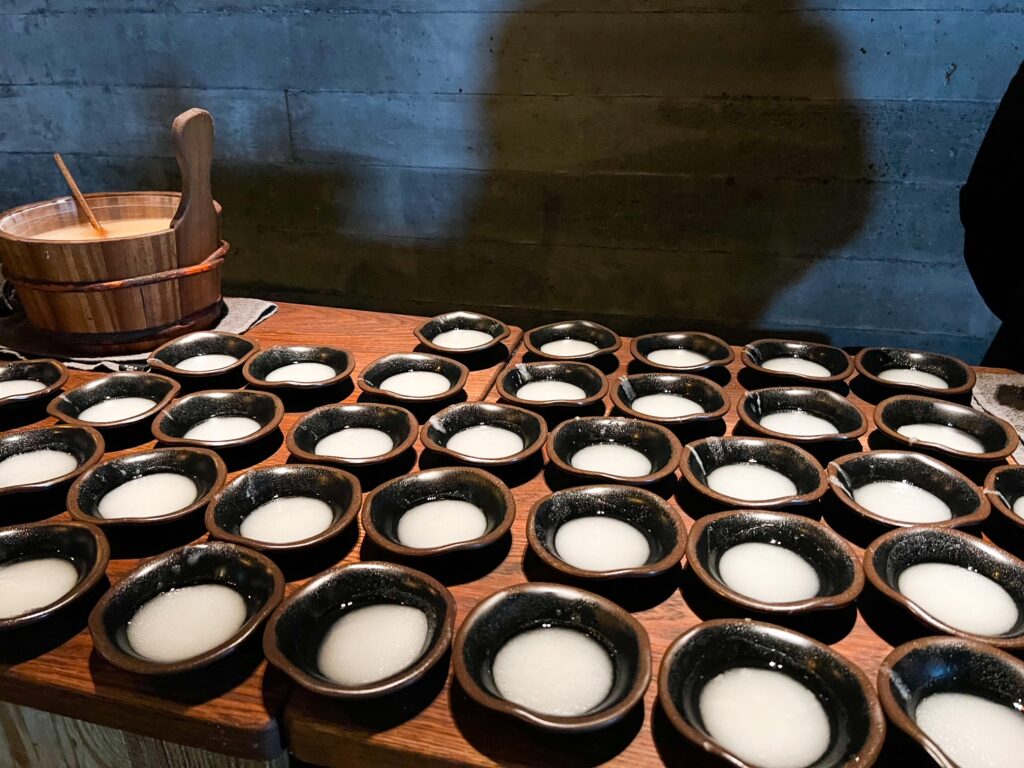 Step 6: Steam Room
After having your skin scrubbed clean, you will head to the steam room to once again open your pores and rehydrate your skin. You will enter this room with the scrub still on your body!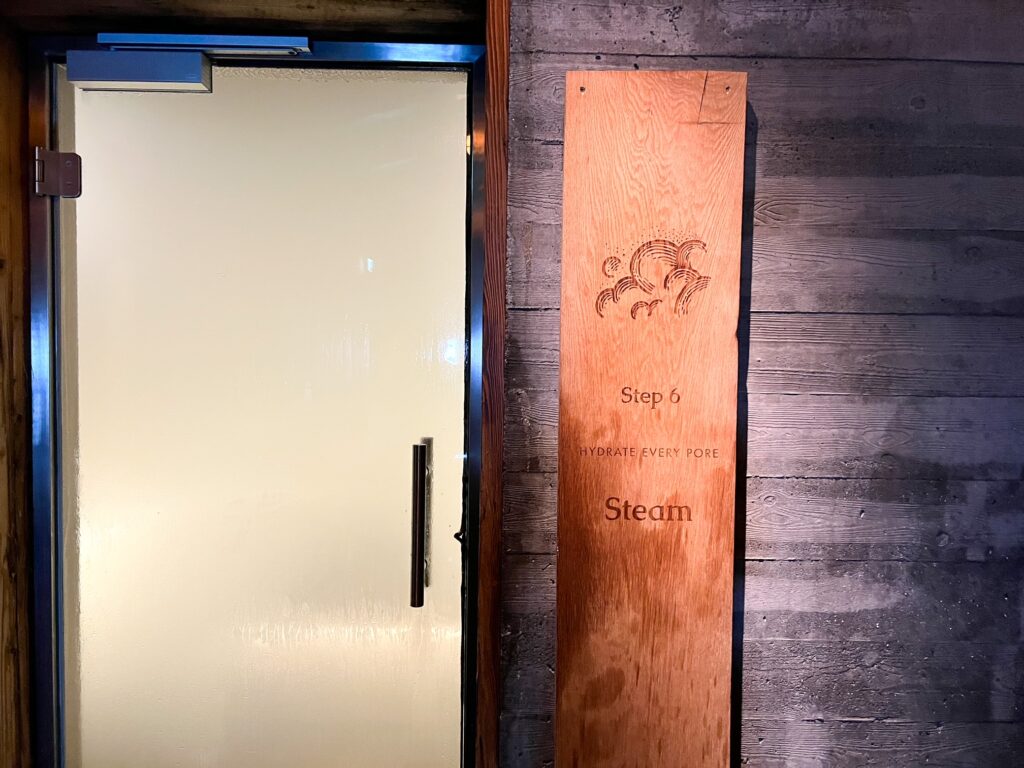 Step 7: Shower and Lagoon
In this final step, you will rinse off the scrub in the shower, and then head back out towards the geothermal warm lagoon for more relaxation. We promise you will feel like a new person! From here you can decide what to do next! Relax, have a drink or grab a bite to eat!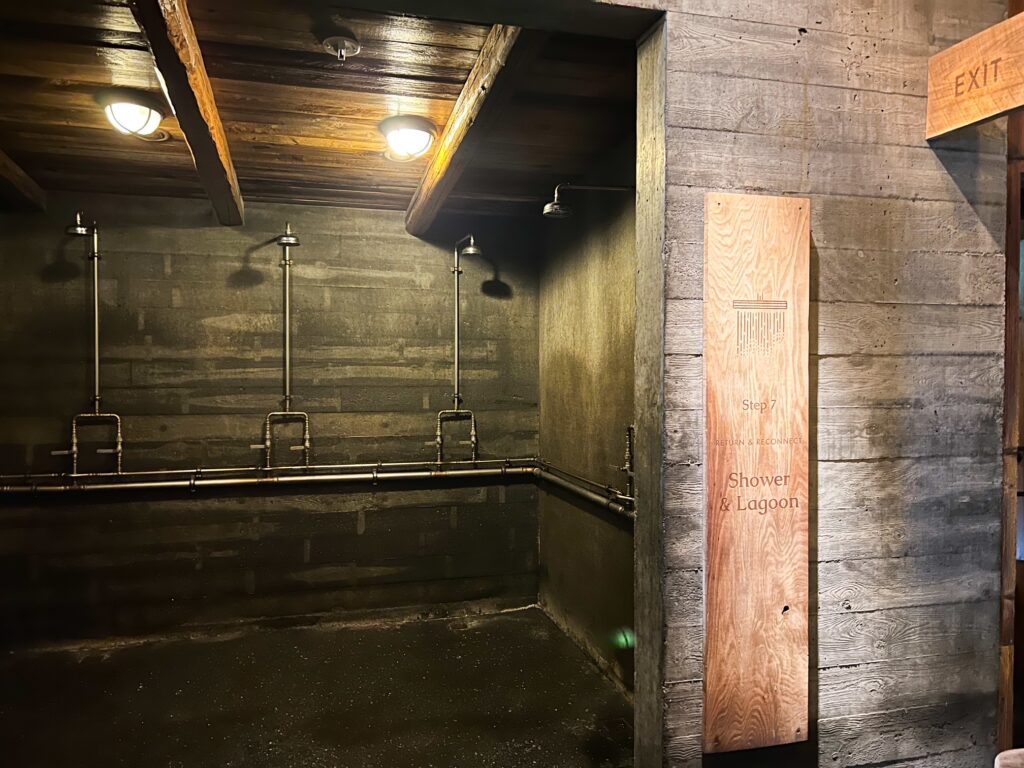 Drinking at the Sky Lagoon
If you chose to purchase the Sky Lagoon for Two with 2 Sky Pass, you and your partner will each have a drink of your choice included in your admission.
For everyone else, you can purchase drinks such as Icelandic Beer or a local drink, at the Lagoon Bar. There is a 3 drink max for guests! Or you can head to the Smaak bar for a bite to eat and order a drink here!
Please remember to stay hydrated by drinking plenty of water during your visit! Especially if you plan on having a glass of wine, or a beer!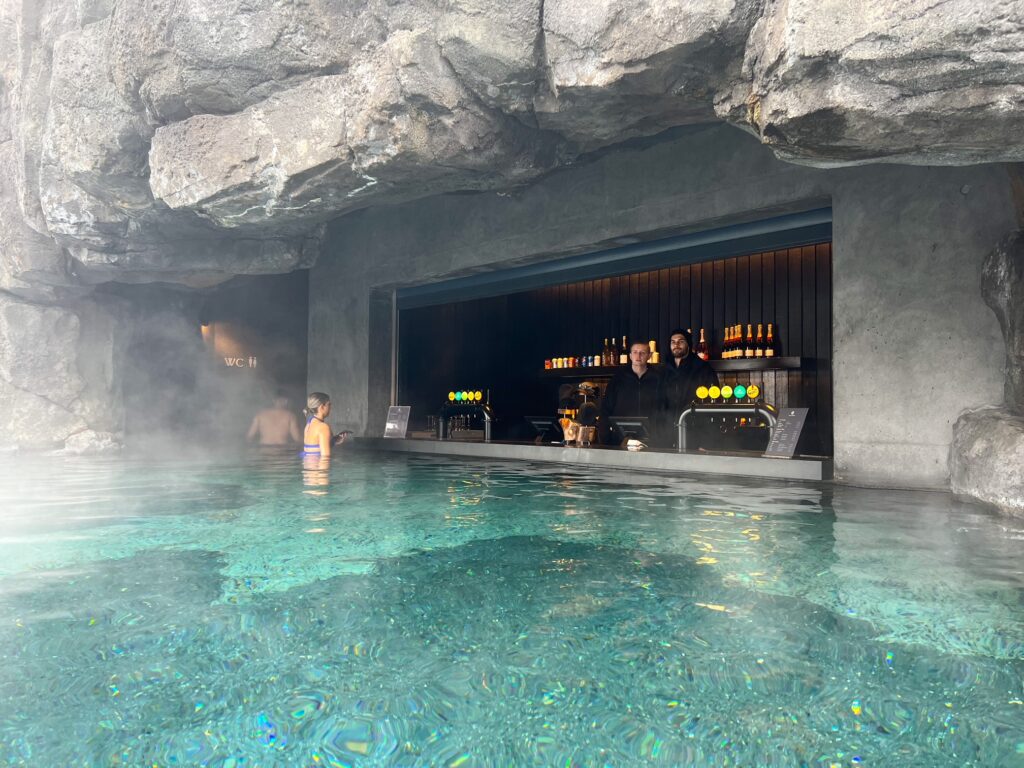 Dining at the Sky Lagoon
For those that purchased a Sky Lagoon for Two with 2 Sky Pass, your admission comes with Sky Platter from the Smakk Bar!
We recommend eating before you come to the Sky Lagoon, and then enjoying a snack or meal after experiencing the 7 step ritual. You can enjoy fresh and light meals in the Sky Cafe such as sandwiches, soups, and local Icelandic delights!
At the Smakk Bar you can sample unique food and drinks through the 5 state plates that change seasonally and feature local Reykjavik ingredients!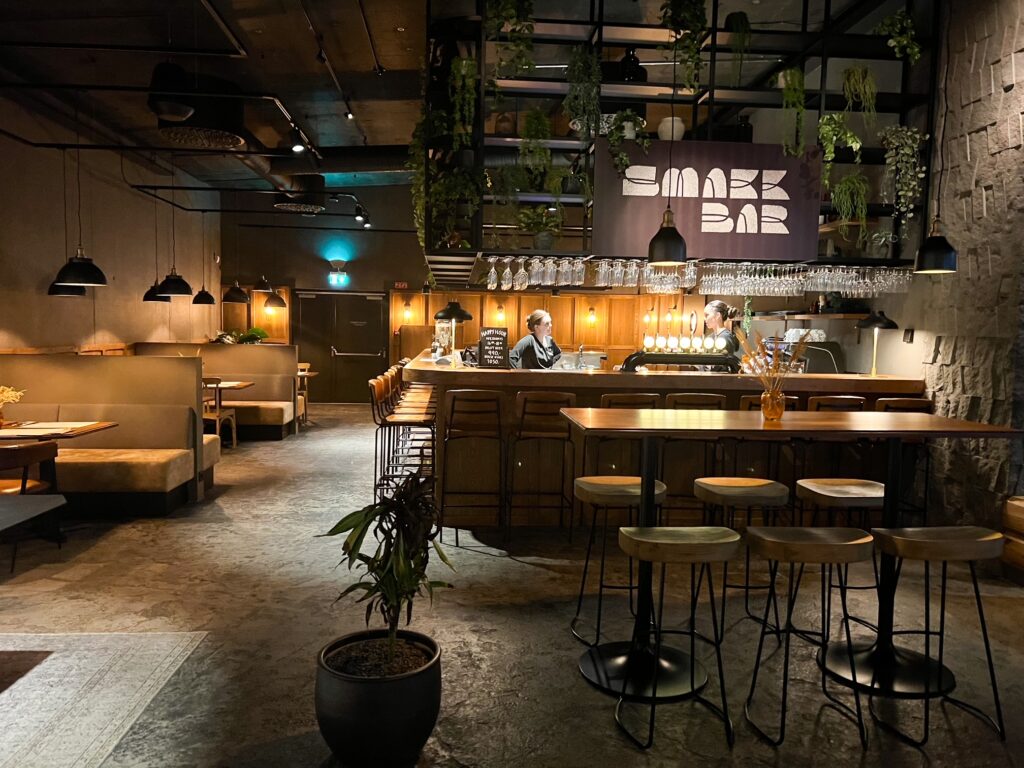 How much time to spend at the Iceland Sky Lagoon
Personally, we loved our time here! We would suggest spending anywhere from 2 to 4 hours. This includes the 1.5 to 2 hours exploring the Lagoon and the 7-step ritual and gives you time left over to enjoy a bite to eat and a drink.
Trust us the views here of the infinity lagoon overlooking the ocean are worth savoring! Grab a drink and relax especially if you have just arrived on a flight, will be flying out, or have spent all day exploring Iceland on a tour!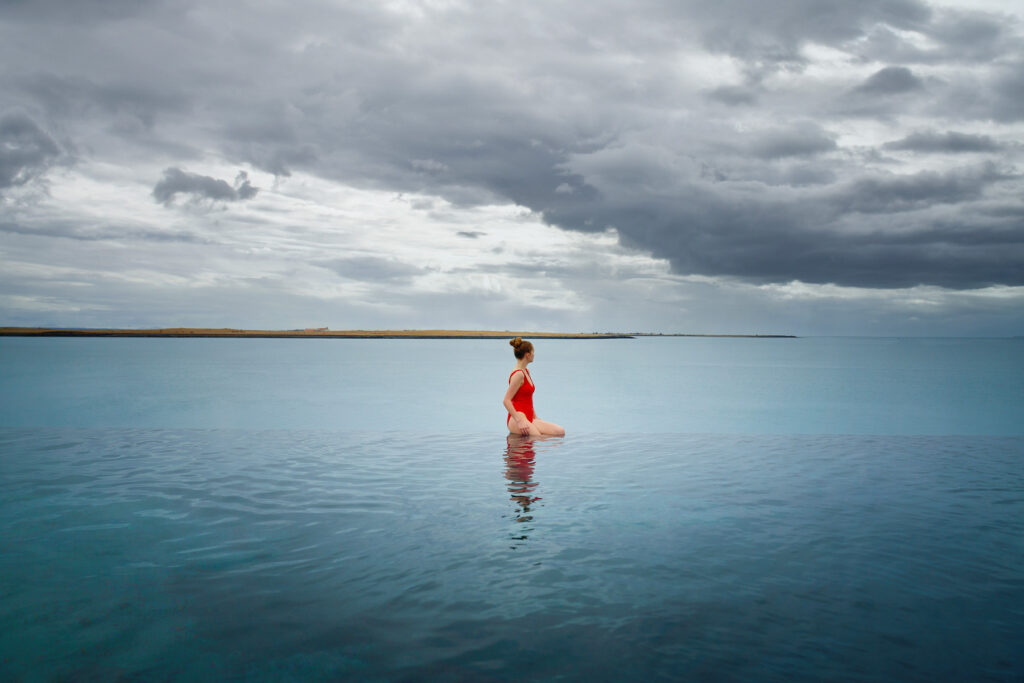 Things to do at Sky Lagoon
Here we will explain the exhaustive list of things you can do at the Sky Lagoon, and trust us it is a lot! If you are traveling with a group, you will want to email the Sky Lagoon for special pricing for 10 or more guests!
Starting with enjoying the 7-step ritual that will take you through hot and cold sections of water, and steam/sauna rooms, to summering yourself under the waterfall section ( remember it is okay to get your hair wet), to enjoying the swim-up Lagoon bar where you can order drinks, to eating and dining in the Sky Cafe and Smakk Bar, to showering and changing rooms, the Sky Lagoon is HUGE!
We highly recommend visiting here, it was way bigger than we expected, and we rate it a 10/10!!! You do not want to miss a visit here on your next trip to Iceland.