Looking for some of the prettiest towns in Iceland? You've come to the right place! Iceland is a country of great natural beauty and its towns and cities are no exception.
There are hundreds of fantastic towns in Iceland, but ten of them truly stand out for their gorgeous views, quaint charm, and amazing activities. No matter the season, these Iceland cities will be sure to delight you all year long and will have you coming back for more!
We will explain all you need to know about each town and even give you some great options on where to stay. Iceland is an excellent place for you to sit back and enjoy the incredible scenery, as well as traverse the area and discover all there is to know about each marvel you stumble upon.
These towns in Iceland are perfect destinations for both the more relaxed sightseers and the hardcore adventure seekers. Whichever category you fall into, you will be sure to enjoy the top ten prettiest cities and towns in Iceland.
Get a FREE printable "Hidden Gems In Iceland" E-book by joining our private Iceland Facebook Group and share your photos and ask for tips and tricks.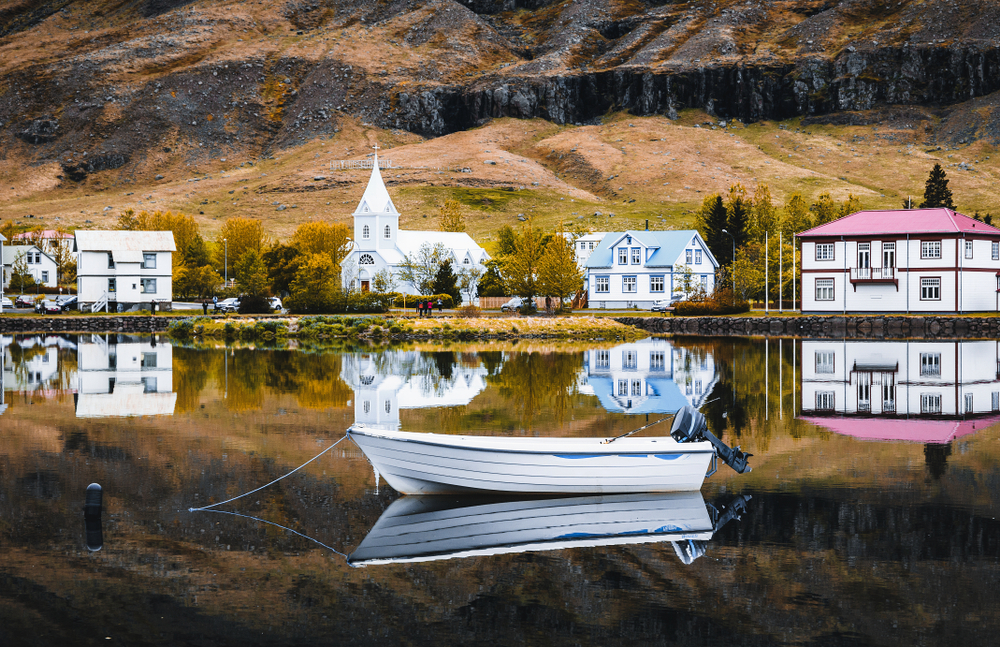 10 Prettiest Cities and Towns in Iceland
Take in the views in Vik
The first city on our list is Vik, located in the southernmost tip of Iceland. This is a very remote town in Iceland with a tiny population of around 300 people and it is the only village for 31 miles in any direction. Yet its small size belies an extraordinary atmosphere, with its strong community and famous attractions drawing visitors from all over the world.
Vik is around 110 miles from the Icelandic capital of Reykjavik and is easily accessible if you travel by the Ring Road or Route One. Due to its low population and remote location, supplies are more limited and expensive, but you should have no trouble getting what you need.
Hotels tend to fill up fast, so make sure you book your stay in advance before coming to see Vik. This is an especially great place to spend your Honeymoon In Iceland!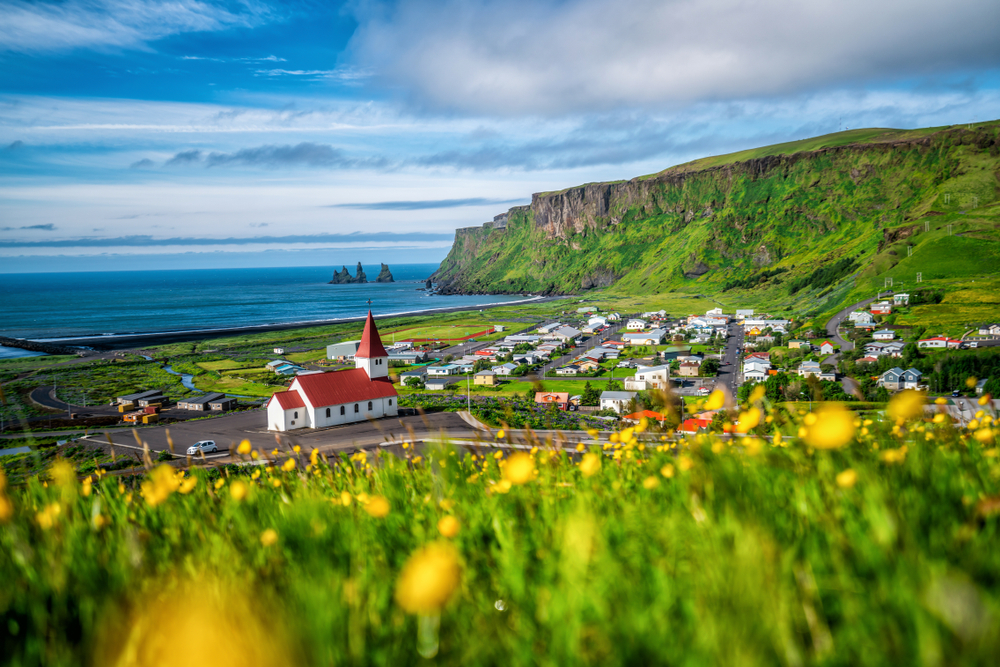 Vik is known for Víkurkirkja Church, which was built in 1934. The little all-white building with its red roof is surrounded by lush green grass and looming hills, making it one of the most photographed landmarks in Vik.
This church also doubles as an evacuation spot for the Katla volcano. Due to its high position above the town, it can shelter residents from floodwaters that occur if Katla erupts from underneath the nearby glacier Mýrdalsjökull.
Katla is said to erupt every 40-80 years, but the last eruption was in 1918, making it way overdue for another one. Víkurkirkja is a great sight to behold and is vastly beneficial to this town in Iceland, making it a must-see during your trip to Vik.
Other iconic areas in Vik include Reynisfjara Black Sand Beach, which has been called one of the most unique and beautiful beaches in the world. The black sand is a result of a prior eruption of Kalta volcano, when the molten lava mixed with the water and rapidly cooled, breaking into sand.
This beach is one of the most famous destinations in Iceland, having been featured in film and TV franchises like Star Wars, Star Trek, and Game of Thrones. Reynisfjara has insane basalt columns and caves, lava formations, and cliffs, and is truly an amazing force of nature.
However, you should be careful when visiting, as the high tides and strong currents have been known to drag people into the ocean if they are not paying attention, especially when climbing the basalt columns. As long as you keep a safe distance from the sea and stay aware of your surroundings, you will be all set to enjoy one of the best beaches in the world!
Whether you're hiking and exploring Vik's natural wonders, or taking in the views from your hotel room, you won't want to miss one of the most incredible towns in Iceland.
Where to stay in Vik:
Black Beach Suites is a perfect option for your travels in Vik. Only 2.5 miles from Reynisfjara Black Sand Beach, this condo apartment gives you a view of the sea to grant you the best views possible! Black Beach Suites comes with free wifi, a flat-screen TV, and free parking on site. You'll be able to kick back and relax in no time while enjoying the sights of Vik in this stellar apartment complex!
If you want even more detailed information, we have an entire post on the Best Hotels In Vik!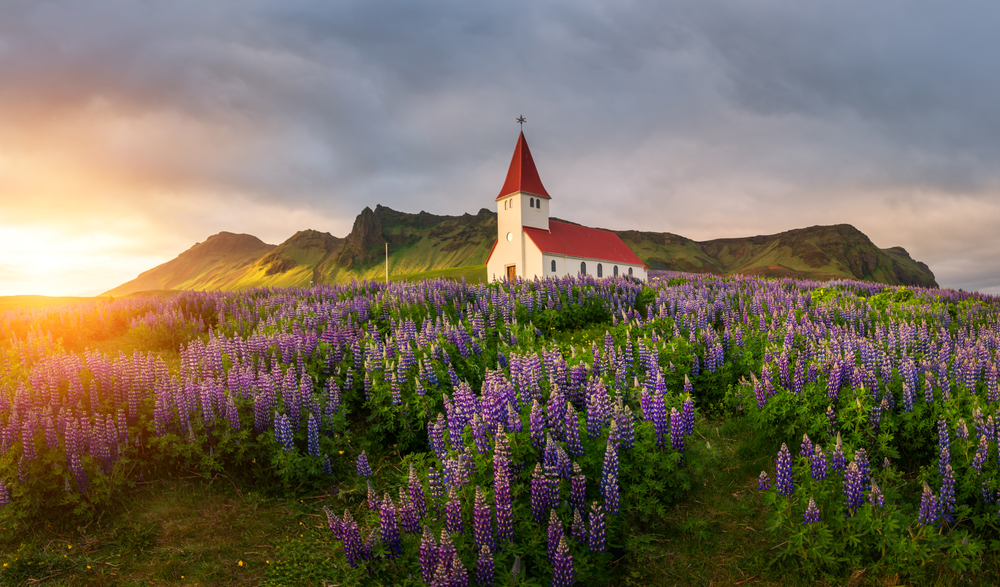 Explore the mysterious island of Heimaey
Dive deep into another of the prettiest towns in Iceland, known as Heimaey. Heimaey is the largest island in Iceland, just four nautical miles off its south coast, near Vik. Because it is surrounded entirely by the Atlantic Ocean, you will have to either take a ferry or fly out from the mainland to get to it.
The ferry has several regularly scheduled travel times every day, and flights can be arranged in Reykjavík or Bakki (in southern Iceland), so choose whatever option works best for you and you'll arrive at Heimaey in no time.
Heimaey is part of the Westman Islands, a cluster of 14 islands total, yet all are uninhabited except for Heimaey. The Westman Islands are so named due to two Irish slaves who first stepped foot on the islands in order to avoid punishment for killing their master, Hjörleifur Hróðmarsson.
However, Hróðmarsson's adopted brother, Ingolfúr Arnarson, was very angry at his brother's murder and tracked the slaves to the islands and killed them both. The Irish used to be known as Westman at the time, hence the title of the Westman Islands, named after the slaves who died there.
Heimaey has a further dark history, as pirates were a major problem for towns in Iceland in the early 1600s. They would raid the Icelandic coast and capture the island residents as slaves, who had nowhere to run and no means to defend their homeland from the pirates.
A few centuries later, on January 23, 1973, a huge volcanic eruption tore its way through Heimaey, destroying homes and wildlife. All of the residents were quickly evacuated to the mainland, with emergency response personnel staying behind to combat the natural disaster.
The eruption lasted until July 3, and many residents returned to find the entire island covered in ash and their homes gone. Within a few months, rebuilding efforts were well underway and you can now go on walking tours to see the huge volcanic cone Eldfell that formed as a result of the eruption.
Other fun things to see and do in Heimaey include visiting the world's first-ever beluga whale sanctuary and aquarium, take minibus tours to see wild puffins and famous Heimaey landmarks like Elephant Rock, or visit museums full of more interesting history about the Westman Islands.
Out of all the cities in Iceland, you will never see anything as unique as Heimaey. Make sure to explore this island as best you can because it has so much to offer and is fun for all ages!
Where to stay in Heimaey:
The best place to stay in Heimaey is Hotel Vestmannaeyjar. This hotel is only a mile away from a heart-shaped extinct volcanic cone and also puts you in the middle of town so you'll be in on all the action. Hotel Vestmannaeyjar also features a free sauna and two hot tubs, a billiards room, and an in-house restaurant. Book your rooms today before they run out!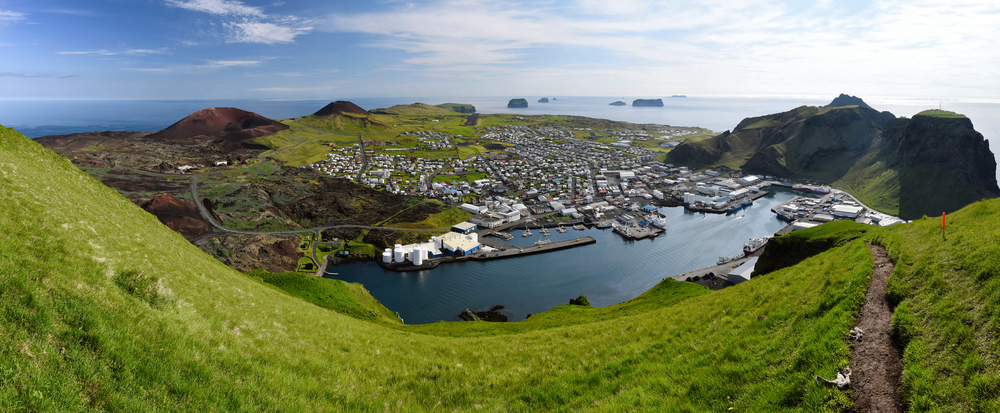 Húsavík is the Whale Capital of Iceland
Húsavík can be considered one of the most exciting towns in Iceland! It's located in northern Iceland, off the Skjálfandi bay. You can reach Húsavík by flying indirectly to its airport or by car.
While there is no official taxi or cab service, there are several companies available that provide visitors with access to transportation, whether you're coming to or from the airport or going somewhere in town. Húsavík is pretty cold all year long, with the average yearly temperature being 40 degrees Fahrenheit, and the summers reaching the upper 50s.
Húsavík has been called the Whale Capital of Iceland, as whales have been spotted in 98% of all of its whale-watching trips. Whale-watching is one of the most popular activities in Iceland and Húsavík is one of the best places in the world to do it, drawing thousands of people to this town in eager anticipation of seeing the magnificent animals in the wild.
Around 23 different species of whales have been spotted here, but the most common ones you will see are humpbacks, minkes, white-beaked dolphins, harbor porpoises, and blue whales.
There are four main whale-watching companies in Húsavík to choose from: Gentle Giants, Húsavík Adventures, North Sailing, and Salka Whale Watching. No matter which company you choose, you will definitely have the time of your life watching the breathtaking creatures up close.
The town of Húsavík hosts other great locations, like the Whale Museum, where you can see a lifesize blue whale skeleton and learn more about what makes whales so special.
Take a dip in the warm waters of GeoSea, a place where you can swim in geothermally heated pools and enjoy magnificent views of Skjálfandi bay and the mountains far off in the distance. Hike up Húsavík Mountain and immerse yourself in the beautiful scenery.
Húsavík is undoubtedly one of the best towns in Iceland and you will have so many fun memories during your time here!
Where to stay in Húsavík:
You'll want to be right by the sea in Húsavík, so check out Fosshotel Húsavík. This hotel is just minutes away from the ocean, near the harbor, so you can catch your whale-watching tour at a moment's notice. It's also close to the Whale Museum in the city center, so you can have a great time exploring the town. Fosshotel also offers a 24-hour reception, an in-house restaurant, free parking, and free wifi.
This stop is in a great area and actually on our list of Best Places To Stay In Iceland. In this post, we offer suggestions for where to stay around the Ring Road!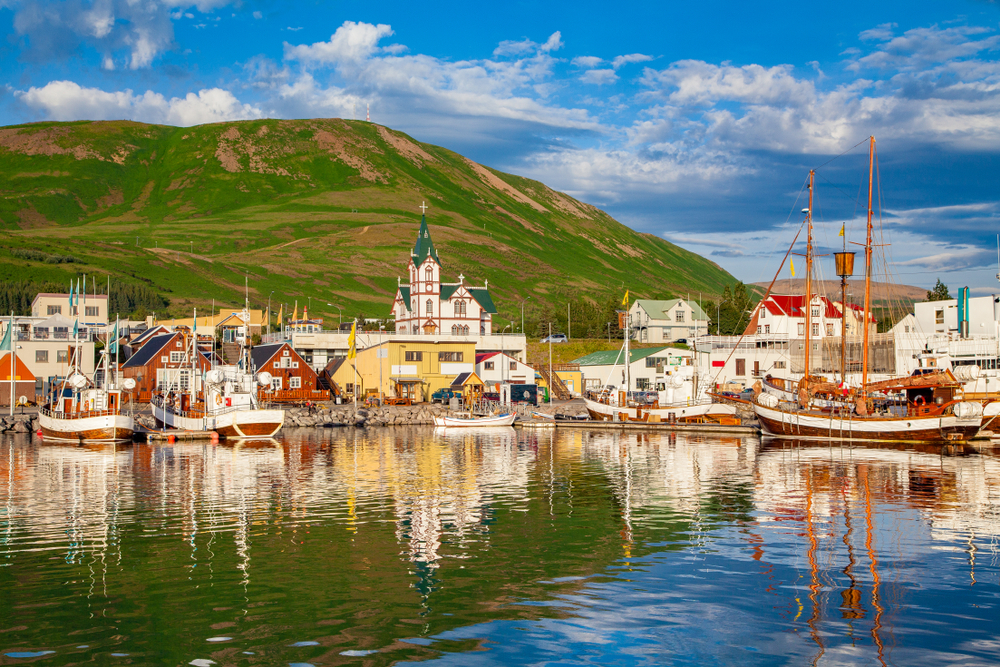 Seyðisfjörður is a place like no other
Seyðisfjörður (pronounced say-this-fjurther) is part of the eastern towns of Iceland, close by Húsavík. Surrounded by mountains, Seyðisfjörður can be reached by car only via the road over Fjarðarheiði pass. It's around an 8.5-hour drive from Reykjavík and is easily doable in summer.
This is one of the best stops around Iceland's Ring Road. If you happen to be driving in Iceland, you will want to ensure that you make time to see it!
Yet when late autumn starts, driving this road can be a lot more dangerous as it ices over quickly, so be careful if you decide to visit here in the colder months. You might be predisposed to label Seyðisfjörður as one of the more secluded, quieter towns in Iceland, but you would be wrong! This area has so many delightful attractions in store for you.
Along with its stunning setting next to the majestic mountain lines, Seyðisfjörður hosts a multitude of other charming sights. People come in droves in order to see Seyðisfjörður Church, a bright blue cheery building tucked at the base of the mountains.
The street leading up to the church is painted in bright rainbow colors, drawing you further into the town. It's a fun setup that brings smiles and laughter to all visitors, and you will be no exception.
If you are interested in contemporary art, you could check out the Skaftfell Art Centre, which hosts exhibitions by local, national, and international artists.
You should also walk around the town and stop by the local cafes and breweries and talk to the locals. Additionally, if you're up for it, hike up some of the mountain trails and take in the grand views from above Seyðisfjörður.
This area might be small and hard to come by, but it is full of heart and beautiful scenery, making it another of the prettiest towns in Iceland!
Where to stay in Seyðisfjörður:
What's more fun than seeing a rainbow road? Living on it! The Við Lónið Guesthouse sits directly by the rainbow street and is just a short walk away from Seyðisfjörður Church. Built in 1907, this house was recently renovated and is the best way to experience Seyðisfjörður. It comes with free parking and wifi, plus an unbeatable view of one of the most charming towns in Iceland!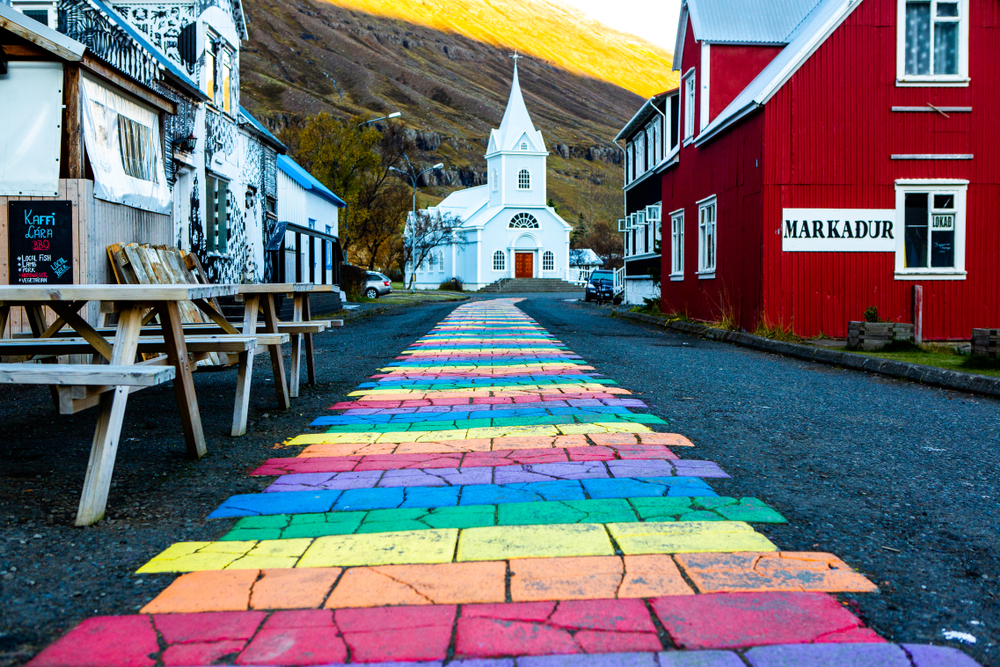 Ísafjörður has a rich cultural background
Ísafjörður is one of the larger towns in Iceland within the Westfjords (northwest Iceland). It sits between Hnífsdalur and Súðavík and has a tundra climate throughout the year, with cool summers and cold winters.
You can arrive in Ísafjörður by car or plane, with short 40 minute flights offered in Reykjavik to get here, or driving via the Ring Road.
Ísafjörður is a fishing region, with a long history as a central trading post. It contains the oldest building still standing in Iceland from 1734, which is now part of a local museum.
There's also a copious amount of old timber frame houses from the 18th century, which used to house foreign traders and have since been turned into local establishments like restaurants and other small museums.
To learn more about Ísafjörður's history, you'll want to visit the Westfjord Heritage Museum, which displays several remarkable maritime artifacts and collections.
There are several fun events here that you should try to attend if you can! In April, Ísafjörður hosts an incredible music festival called Aldrei Fór Ég Suður, in which the biggest bands and artists in Iceland are invited to perform their music in a series of concerts for days on end.
Additionally, a skiing festival is also held during the same month, often during the same week as the music festival, causing Ísafjörður's population to double in size.
In the summer, a swamp soccer tournament has often been held in Ísafjörður, where teams from any of the towns in Iceland as well as international players gather for three days to play soccer tournaments on a super muddy field or ditch.
Whether you're skiing, hiking, visiting museums, or having a blast at its cultural events, Ísafjörður has something for everyone!
Where to stay in Ísafjörður:
If you love mountain views, then you'll want to stay in Sigurhæð, an apartment where the mountains become your personal backyard! This apartment is right next to the town center and is complete with a kitchenette, two twin beds, and a flat-screen TV. You'll never want to leave the incredible view right from your window!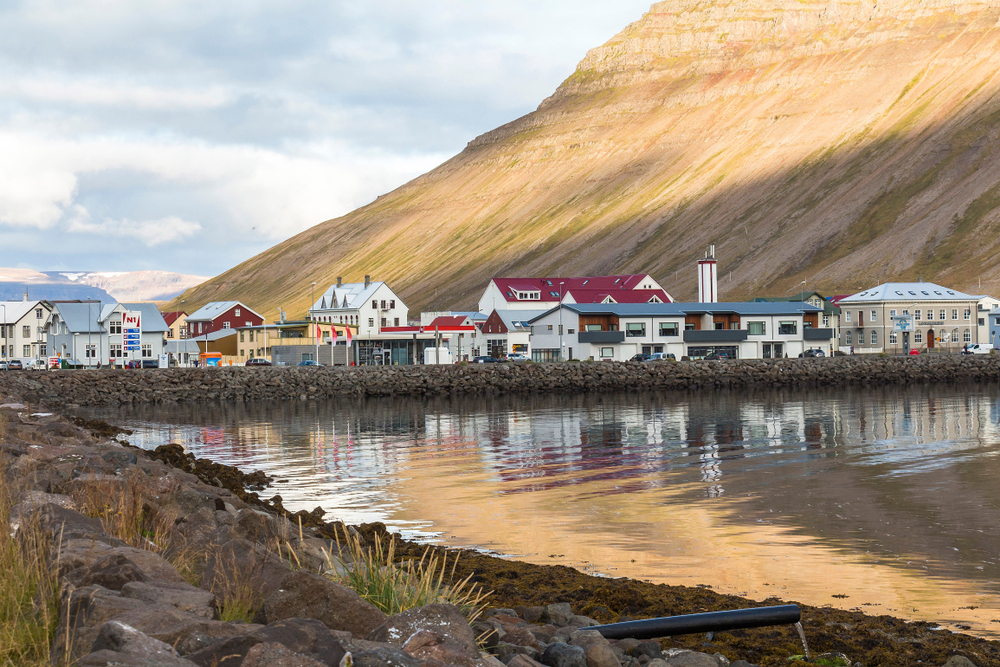 The Aurora awaits in Akureyri
One of the biggest cities in Iceland, Akureyri has plenty of beautiful sights to see. It lies in northern Iceland, just 62 miles from the Arctic Circle. Akureyri is easily accessible through the Ring Road or by plane.
You should be aware of exactly what season you want to visit this stretch of towns in Iceland, as the daylight hours are extremely limited from November-February and snow arrives starting in October.
Yet the long, dark nights during the winter season make Akureyri a perfect place to try and spot the Northern Lights, the gorgeous phenomenon where the sky is aglow with dancing light and colors.
If viewing the Northern Lights is on your bucket list, make sure to book a Northern Lights Tour where your expert guide takes you directly to the best areas to witness them.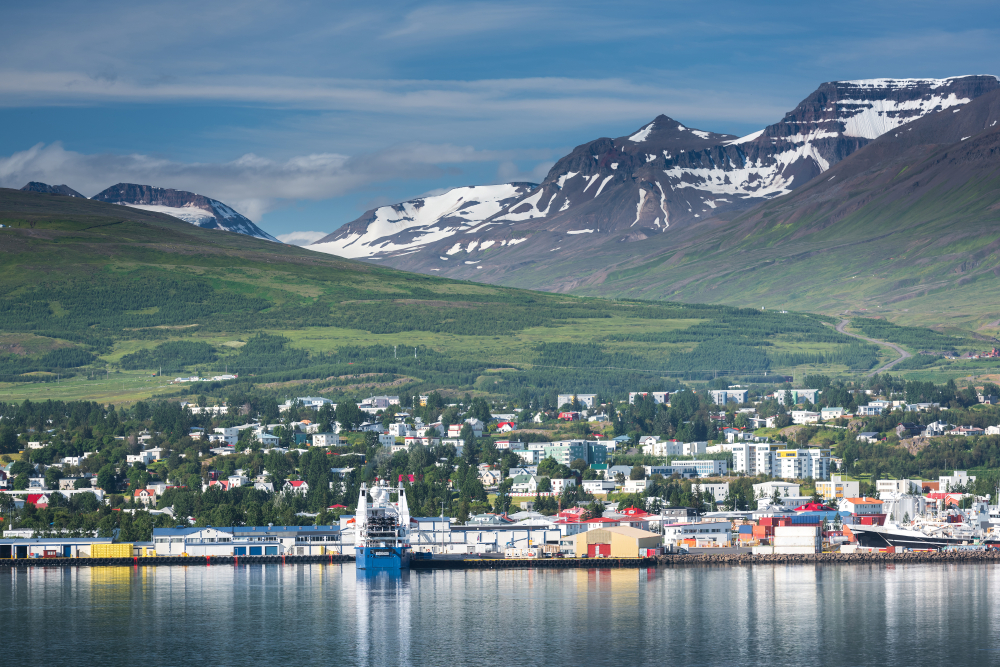 One of the highlights of Akureyri is the Akureyrarkirkja Church, a popular photogenic site that looks down on the city. The church is unique based on its large organ with over 3,000 pipes and the ship that hangs from the ceiling.
Another interesting place is the Christmas House, a bright cherry-red building that faintly resembles a gingerbread house, open all year long. You can also stop by Akureyri's wonderful botanical gardens, a place of peaceful relaxation with hundreds of different plant species on display.
Go back in time with a visit to Laufás, a settlement of turf houses belonging to the National Museum of Iceland and run by Akureyri Museum. Laufás is mentioned in the early records of the Iceland's origins in the 9th century.
The current houses are from the 19th century and are fully furnished, demonstrating how their residents lived and worked during that time period. They are small but very picturesque and are a great piece of Icelandic history.
Akureyri is truly one of the most impressive towns in Iceland that you will never forget!
Where to stay in Akureyri:
Hotel Akureyri is a great place to stay while in this Icelandic city. It's in a prime location, near the botanical gardens and only a six-minute walk to Akureyrarkirkja Church. Enjoy free wifi, homemade dishes at the continental breakfast, and views of the neighboring fjord.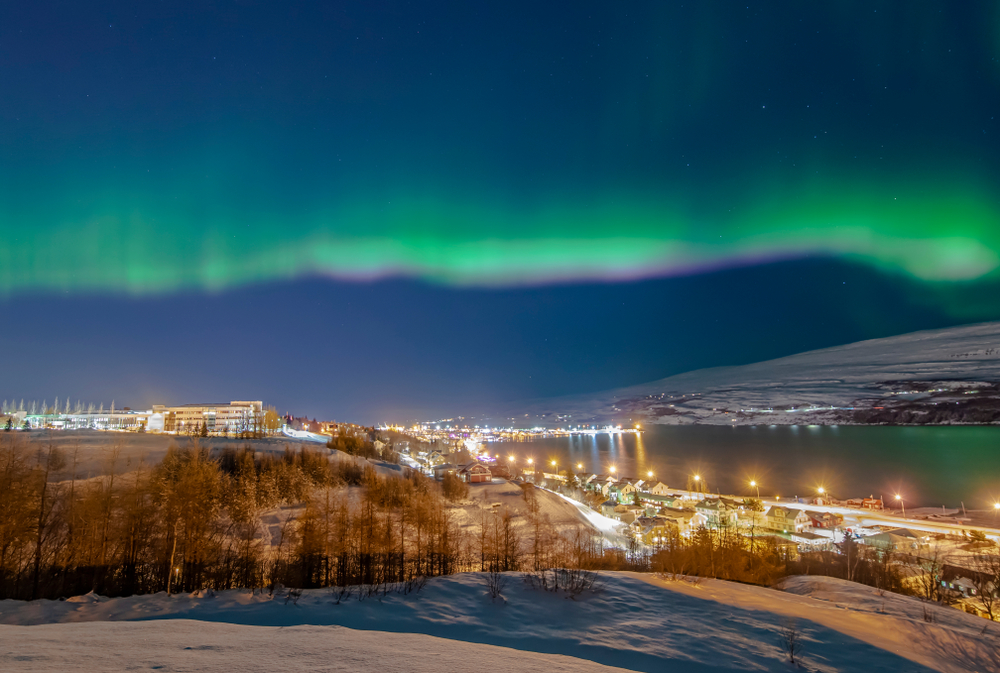 Stykkishólmur has the most spectacular scenery
The next area on our list is Stykkishólmur, part of the western cities in Iceland, next to Helgafellssveit. Stykkishólmur falls within the Snæfellsnes peninsula, just by the Breiðafjörður Bay. It earns a place on our list of beautiful towns in Iceland due to its excellent selection of outdoor activities.
Stykkishólmur is a place right next door to some of the best scenic outlooks in Iceland. When you come to Stykkishólmur, you must first go see Helgafell, a sacred mountain to Icelanders. Early records of the settlement of Iceland show that Helgafell was a site of religious gatherings.
It is said that if you climb this mountain for the first time without speaking or looking back, you will be granted three wishes. Helgafell is about 240 feet tall and only takes about 10-15 minutes to hike up to the top, so getting those wishes is easily doable. You will also be gifted a sweet view of the surrounding bay and other glorious mountains in the distance.
Farther out from Stykkishólmur are two other incredible landmarks. Kirkjufell Mountain, a 45-minute drive from Stykkishólmur, is a magnificent 1519 ft mountain that is one of the most photographed locations in Iceland.
It is famous for being in the TV show "Game of Thrones" and is clearly a photogenic area. Kirkjufell has clearly defined layers, jutting upwards at the sky, and has an accompanying mighty waterfall named Kirkjufellsfoss. You can hike this mountain with an experienced guide, or visit its base and take brilliant photographs of the space around you.
If you're up to venturing even further, Snæfellsnes National Park is only an hour and 20 minutes away and boasts a marvelous volcano and glacier. It's a nature reserve backed by centuries of folklore and mysteries, just waiting for you to uncover them. Snæfellsnes is another must-see destination, with truly wondrous expanses of mountains, unique rock formations, and seaside views.
Out of all the towns in Iceland, Stykkishólmur is a great choice to discover more about this country's natural beauty.
Where to stay in Stykkishólmur:
One of the best hotels here is Hótel Fransiskus Stykkishólmi, a cozy and cheery hotel in the town center that overlooks the harbor. You can enjoy a buffet or continental breakfast, free parking and wifi, and local attractions that are nearby, such as the Library of Water and Volcano Museum.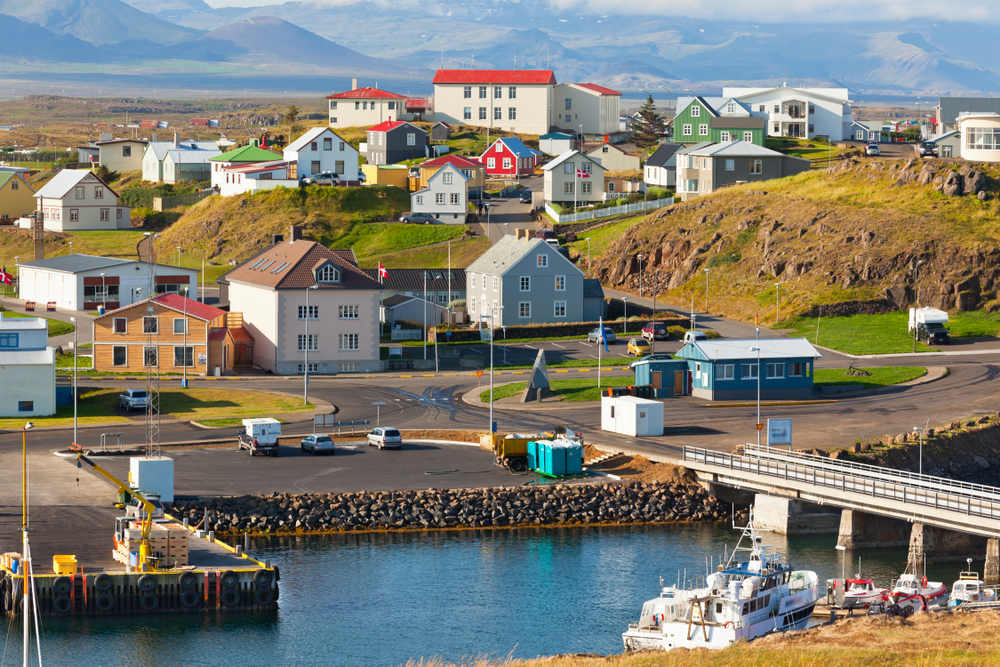 Hveragerði is full of delightful hot springs
Hveragerði, or Hveragerdi, belongs to the group of southern towns in Iceland, about 28 miles from Reykjavík. It is right along the Ring Road, so it's easy to get to.
Nicknamed "The Hot Spring Town," Hveragerði's claim to fame is geothermal heat, as it is built right on top of natural hot springs. These springs are a significant reason why people first settled here, as they were ideal for cooking, laundry, baking, and heating the general area.
Without a doubt, the best thing to do in Hveragerði is to visit the Reykjadalur Hot Spring Thermal River. You can swim in the divine geothermal river that sits in the heart of Reykjadalur valley, with lush green grass and rocky outcrops surrounding you.
To get to this spot, you will need to hike about 2 miles through the valley, and it takes about 45 minutes to an hour depending on how often you stop to take pictures of the incredible scenery on your journey.
The trail starts by the parking lot of the restaurant called Dalakaffi and is clearly defined, so you should be able to follow it straight to the river. There are several mini hot springs and mud pools along the way for you to look at from a safe distance (they aren't safe to touch!) and the hike is fairly easy even for inexperienced hikers.
Can't get enough of the hot springs? Head to the Geothermal Park, where you can see more hot springs and active geysers, including one that goes off every half an hour. No other towns in Iceland have hot springs as good as Hveragerði does, so check them out as soon as you can!
Where to stay in Hveragerði:
If visiting the hot springs are your number-one priority, then stay at Backyard Village, where you can hike up to the Reykjadalur Hot Spring Thermal River from the house, which is only two miles away! Backyard Village offers wellness areas, where you can use a hot tub or sauna, and individual units also contain a washing machine, dishwasher, and a hairdryer. This comfy house also has some great views, making it a great option for you to unwind after a long day exploring one of many fantastic towns in Iceland.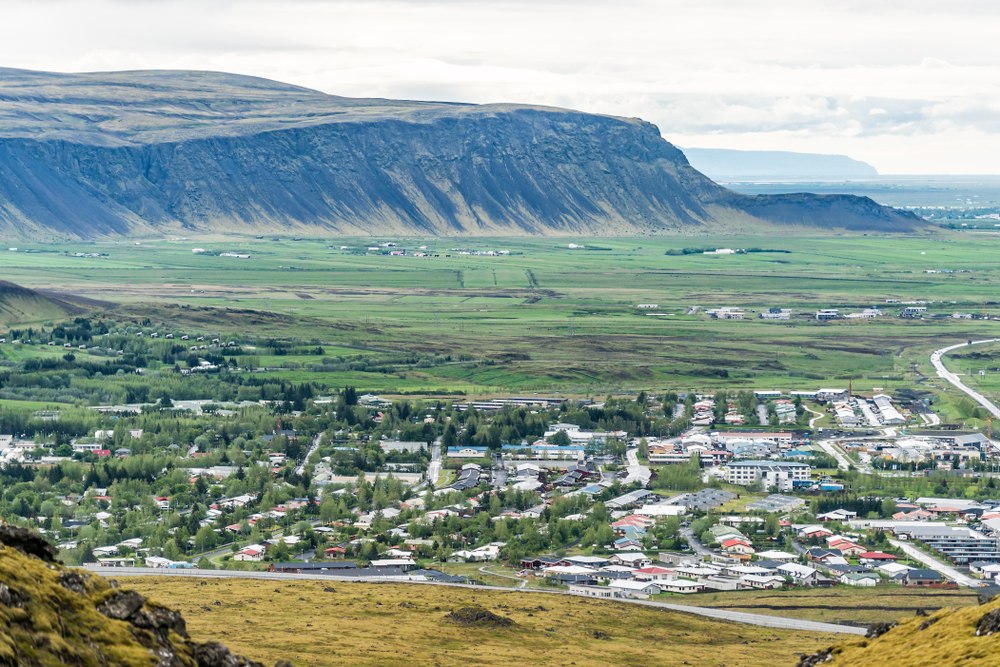 Gaze at glaciers in Höfn
Höfn is a seaside village. It is located next to the Hornafjörður fjord and is the second largest of the southeastern towns in Iceland. If you drive the Ring Road and turn onto Road 99, you be taken straight to Höfn.
This quaint little town has a main harbor, which is where the name Höfn comes from. You can see the colorful boats dotting the coastline, with tall mountains providing a perfect backdrop.
Höfn has grand views from every direction. If you want to see part of the largest glacier in Europe, or experience a unique glacier lagoon and share the views with a sea lion or two, then you need to visit the Hoffellsjökull glacier and Diamond beach.
Höfn is the closest town to what are the most treasured attractions in Iceland such as the Glacier Lagoon, so while they might be a little farther out, you will at least be in the general area to see these breathtaking locations firsthand.
Hoffellsjökull glacier is about 30 minutes away from Höfn, and you can walk right up to the glacier and marvel at the amazing scenery. Diamond Beach is even further, about an hour and ten minutes, but it is definitely worth the drive.
It's another black sand beach where icebergs from the Jökulsárlón glacier lagoon wash ashore, creating otherworldly "diamonds" right in front of your eyes. This area is renowned for the astonishing beauty of all the nearby glaciers, and if you have the time, definitely plan on visiting more of them.
Stay in Höfn for as long as you can, as no other towns in Iceland can get you this close to some of the best attractions in the country.
Where to stay in Höfn:
As Höfn is an area where you can decide to sightsee in any direction, it's important to stay somewhere where you can be on the move but also have your lodging needs met. Luckily, Seljavellir Guesthouse meets all the requirements! It's located right off the Ring Road, so you can conveniently drive to any location without any hassle, but also is only eight minutes from Höfn's main square. Best of all, this sleek, modern guesthouse comes with mountain views that stretch as far as the eye can see.
If you are looking for more detailed information, we have a post on the Best Hotels And Hostels In Hofn!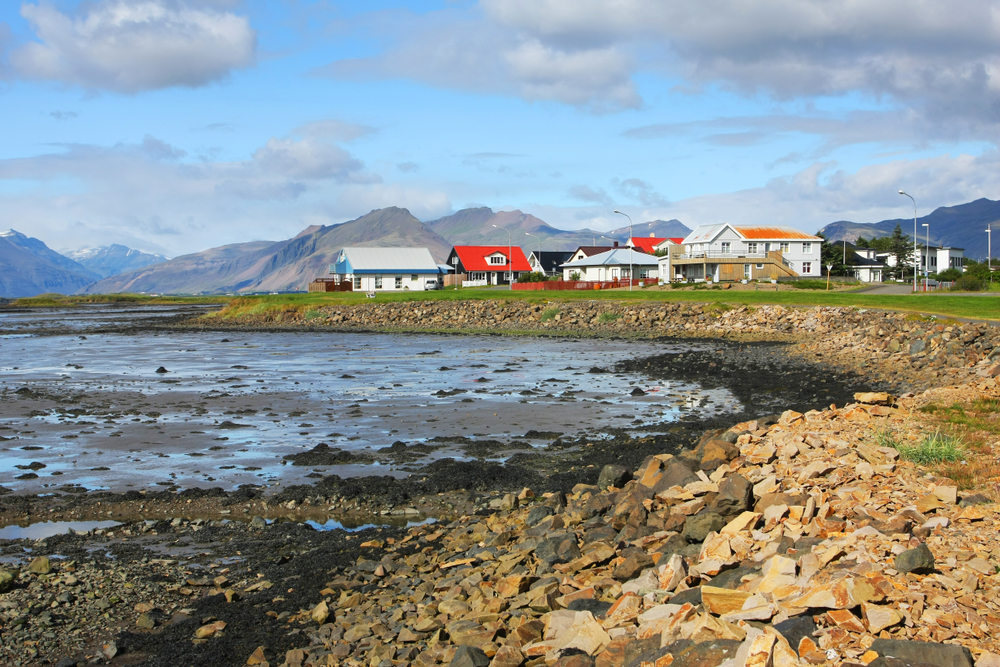 Reykjavík is the capital of Iceland
Last but not least, we come to Reykjavík! One of the more well-known towns in Iceland, this is the place most people fly into from around the world. There is plenty to do within Reykjavík, including some of the most popular tourist attractions within the country. You will want to spend a lot of time here in order to see all it has to offer!
To start with, Reykjavík has the most interesting museums that cover a multitude of subjects. The Saga Museum displays tons of artifacts from Vikings, and the Perlan Museum is a huge dome-shaped building with exhibits on all the geographical and geological phenomena in Iceland.
You can also visit the Maritime Museum, the Whales of Iceland museum, and the National Museum of Iceland, which displays several amazing objects from Iceland's history and explains how the country grew to be what it is today.
Reykjavík also has wonderful architecture, as demonstrated by the Hallgrimskirkja, a cathedral with a soaring tower that can be seen from almost any point in the city. There's also the Sun Voyager, an intricate sculpture of a boat sitting by the Sæbraut road, looking out over the sea.
One of the popular choices among tourists in Reykjavík is to embark on the Golden Circle Tour, a tourist route that encompasses some of the best natural sites in the vicinity. While the farthest one is about two hours from Reykjavík, they can either all be visited in a day or over the course of a few days, depending on how much time you have and what you want to see.
The Golden Circle Tour takes you to Þingvellir National Park, the Geysir Geothermal Area, and gorgeous Gullfoss Waterfall, and you can drive to any of these sites without a problem.
You also don't want to miss one of the most iconic destinations in Iceland: the Blue Lagoon! About an hour from Reykjavík, the Blue Lagoon is known for its peaceful atmosphere and blue geothermic waters and is the perfect place to relax after your whirlwind adventures throughout all the towns in Iceland.
Where to stay in Reykjavík:
If you want to be in the heart of Reykjavík, look no further than Rey Apartments! These spacious, bright apartments are directly near all of Reykjavík's biggest attractions, such as the Hallgrimskirkja Church, the Sun Voyager, and the National Museum of Iceland.
It's also within walking distance of great shopping and restaurant locations, so you won't be disappointed! Rooms also come with free wifi, kitchenettes, and modern, stylish furnishings.
For a more unique-looking residence, try Castle House Luxury Apartments. Made to look like a castle, this sparkling white building hosts a communal garden and terrace and comes with heated bathroom floors. Castle House also sits in a splendid location in the center of the city.
The Reykjavík Domestic Airport is only a mile away from the property, with shuttles that come right to the apartments. If you want to be in a fun, special place during your stay in one of the best towns in Iceland, then Castle House Luxury Apartments is for you!
If you are looking for more, we even have a whole post on Where to Stay In Reykjavik For Any Budget!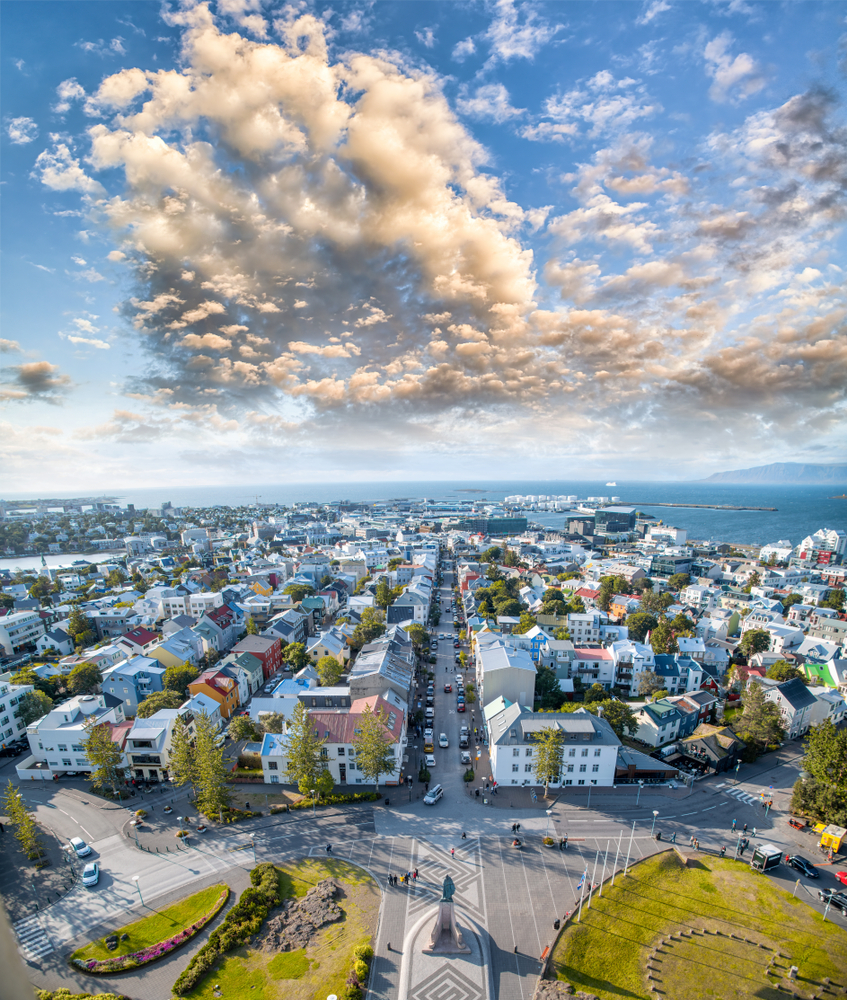 We hope you enjoyed this list of the ten prettiest cities and towns in Iceland! This beautiful country has so many marvelous areas and natural wonders that will leave you wanting more.
No matter the season or region, Iceland sure has something for everyone to enjoy and is definitely one of the most unique places in the world. Do you have a favorite place in Iceland? Share your thoughts with us in the comments below!