If you are planning a trip to Iceland, we highly recommend that you stay at one of these fantastic Hofn Hotels and Hostels. Hofn is located in southeast Iceland, just about 1 hour from Glacier lagoon and very close to Stokksness, one of the best places on the ring road. It is a perfect home base for exploring many stunning Icelandic attractions.
When we first learned of the town of Hofn, we thought it was pronounced Hof In, but we were way off! In Icelandic it is pronounced as HUP. Just goes to show you that Icelandic words can be a little tricky at first, but with a some research and meeting locals, you'll start picking things up in no time.
Not only is the town of Hofn filled with beautiful scenery, but it also has a lot of options for entertainment. Your itinerary most certainly will not be lacking as there are local hiking trails, restaurants that feature fresh local lobster, shops, swimming, golf courses, museums, and two national park visitor centers.
Hofn has grown and developed a great deal over the past few decades. It started as a small fishing village, but is now known as the Lobster Capital of Iceland. The name Hofn means Harbor which is fitting as it is one of the few natural harbors in the area. It is one of the prettiest towns in Iceland so you are in for a treat
Get a FREE printable "Hidden Gems In Iceland" E-book by joining our private Iceland Facebook Group and share your photos and ask for tips and tricks.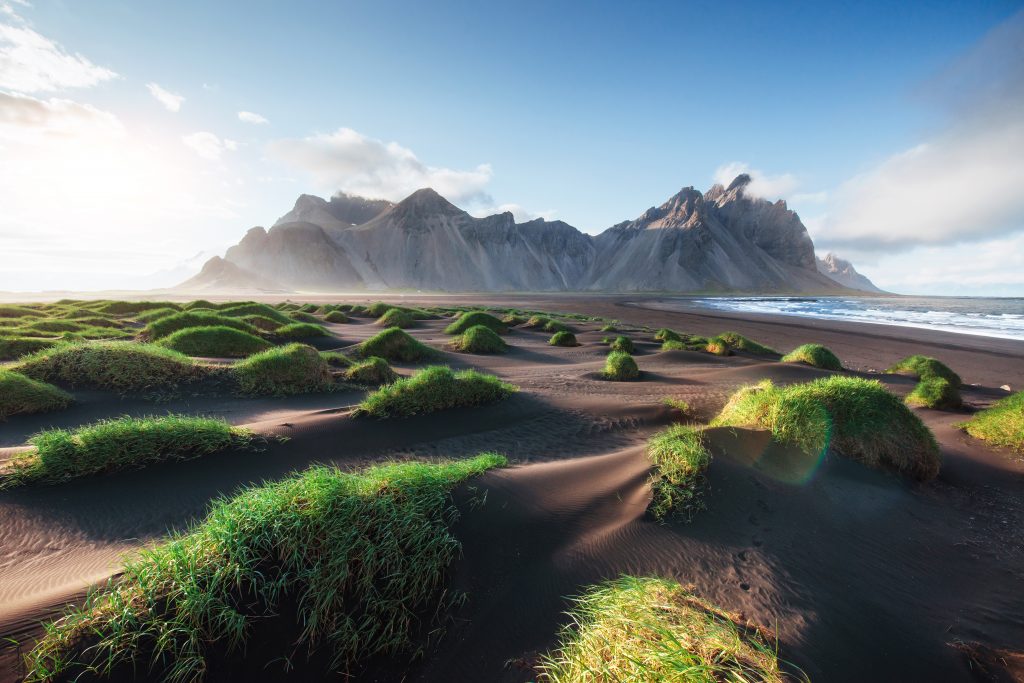 Best Hotels In Hofn
Hotel Hofn
This is the perfect Hofn hotel for those of you that are looking to splurge a bit and enjoy a very elegant accommodation. The rooms feature a mostly black and white decor that is very striking and crisp.
Amenities include an on-site restaurant and bar, garden, terrace, and a sun deck. The Hofn Harbor and Silfurnes Golf Club is about a 10 minute walk from the hotel. If you're feeling adventurous, the Jokulsarlon glacier lagoon is only about a one hour car ride away.
Check Rates: Booking.com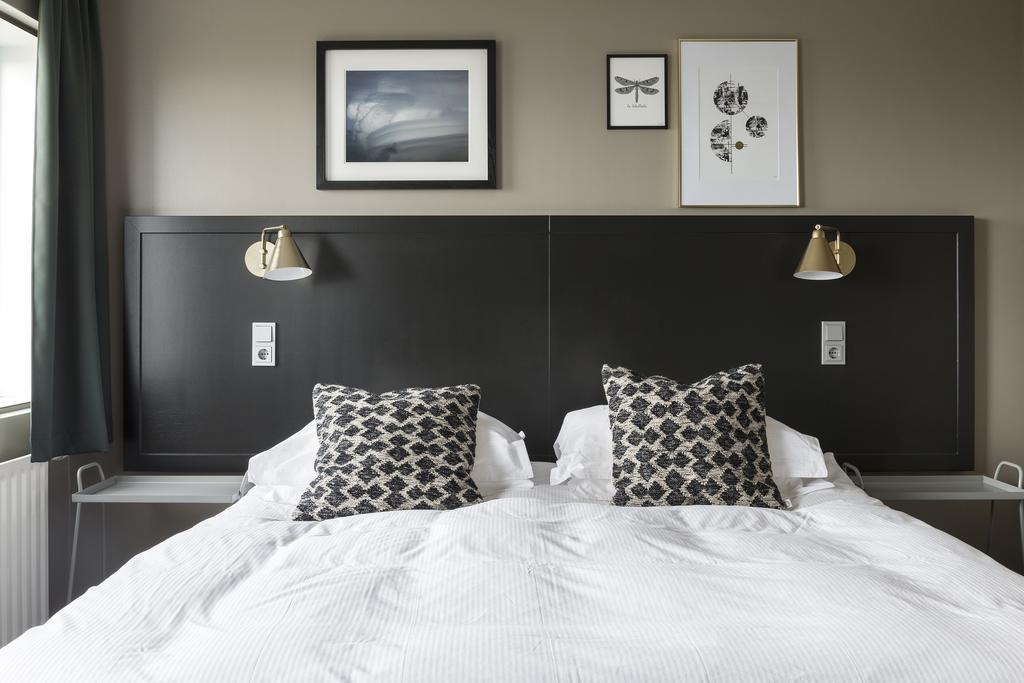 Fosshotel Vatnajokull
Fosshotel Vatnajokull is the Hofn Hotel that is known for going the extra mile to provide you with an excellent stay. Upon request, staff will notify you when the Northern Lights are visible. They will also help you plan excursion trips and advise you of possible weather constraints.
The guest rooms are decorated beautifully and most feature incredible mountain views. The on-site restaurant has a gorgeous dining room that offers panoramic views. Ring Road is only 1.2 miles away and the Hofn Airport is conveniently only 3 miles away.
Check Rates: Booking.com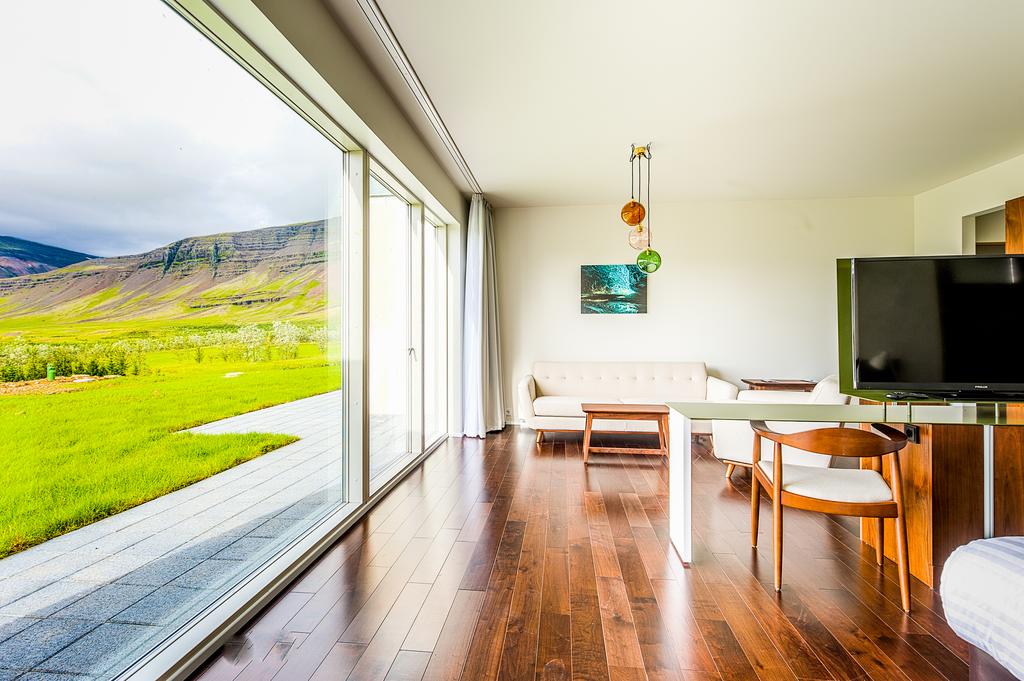 Arnanes Country Hotel
Our next Hofn Hotel features a warm and cozy cabin vibe that is perfect for those looking for a more quaint and home away from home ambiance. Each guest room features a terrace and black out curtains.
Breakfast is included daily and there is also an on-site restaurant, bar, and coffee shop. Cape Ingolfshofdi Nature Preserve is only a 5 minute car ride away and is the ideal place for viewing native puffins and other wildlife.
Check Rates: Booking.com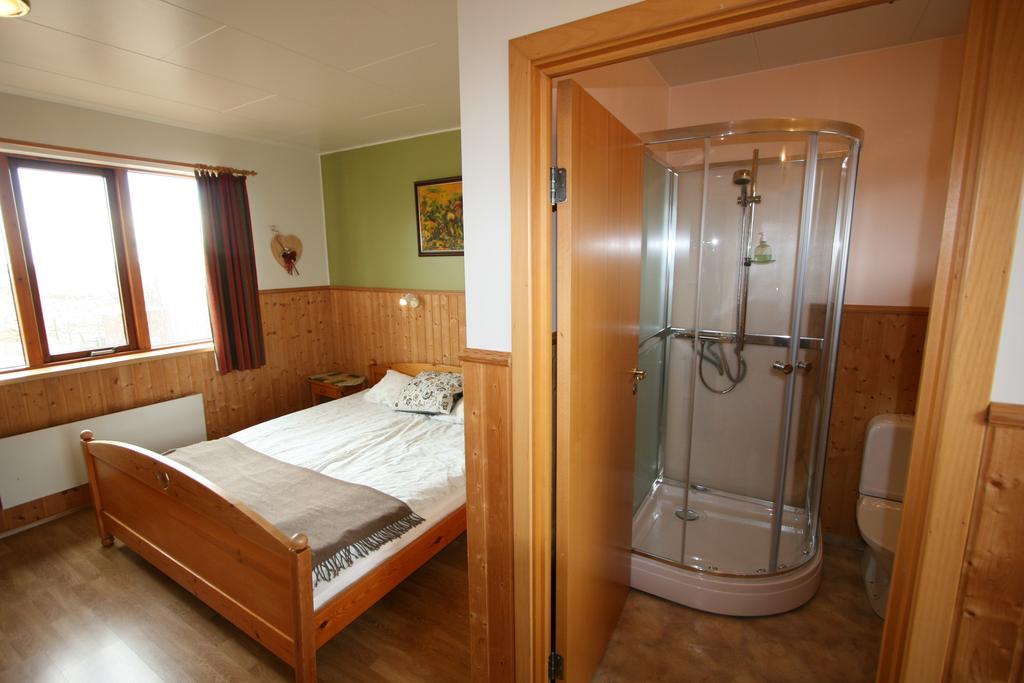 Seljavellir Guesthouse
Seljavellir Guesthouse is very striking in its appearance as it is extremely sleek and streamlined in both architecture and decor. Conveniently located directly off of Route 1 Ring Road and only 0.6 miles from the airport.
All guest rooms feature a seating area, desk, and private bathroom. Amenities include an on-site bar, relaxing terrace, and on-site car rental. Hofn town center is only 8 miles away and the glacier lagoon is just 45 miles from the property.
Check Rates: Booking.com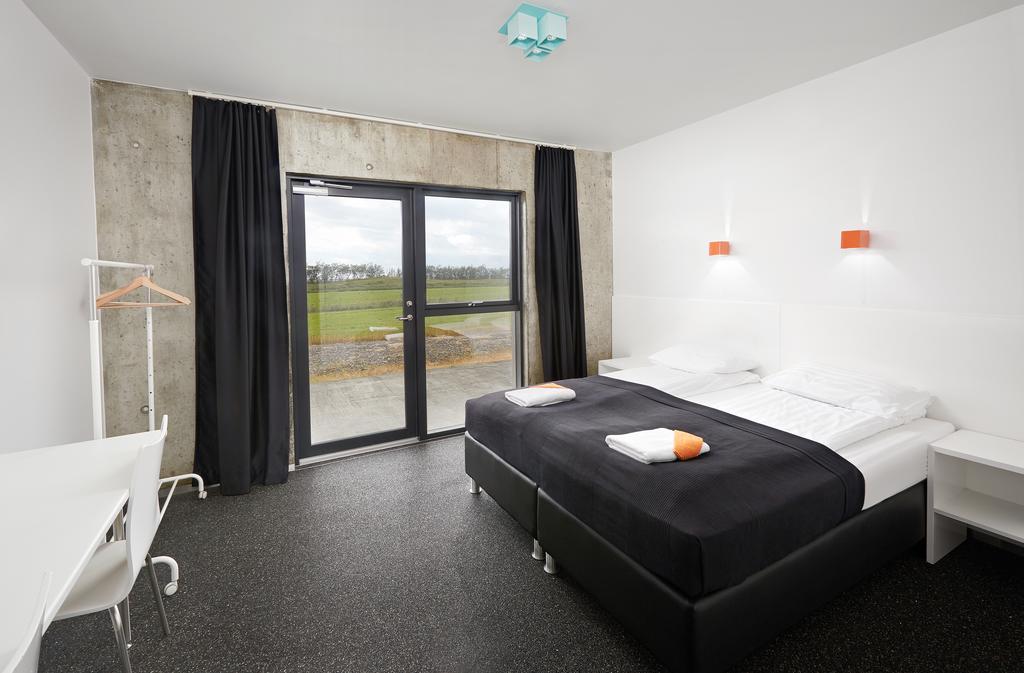 Guesthouse Nypugardar
Guesthouse Nypugardar is a fabulous Hofn Hotel option for those looking to stick to an affordable budget. It is actually a family-run guesthouse that is located right on a sheep farm. It is incredibly charming and provides a B&B type of stay. Don't forget to check out our Tips For Traveling Iceland On A Budget!
A home-cooked breakfast is included daily and there is a dinner buffet served nightly that features lamb. The rooms are inviting and many offer mountain views. Some rooms have private baths and others have shared bathrooms, so be sure to select the option you prefer.
Check Rates: Booking.com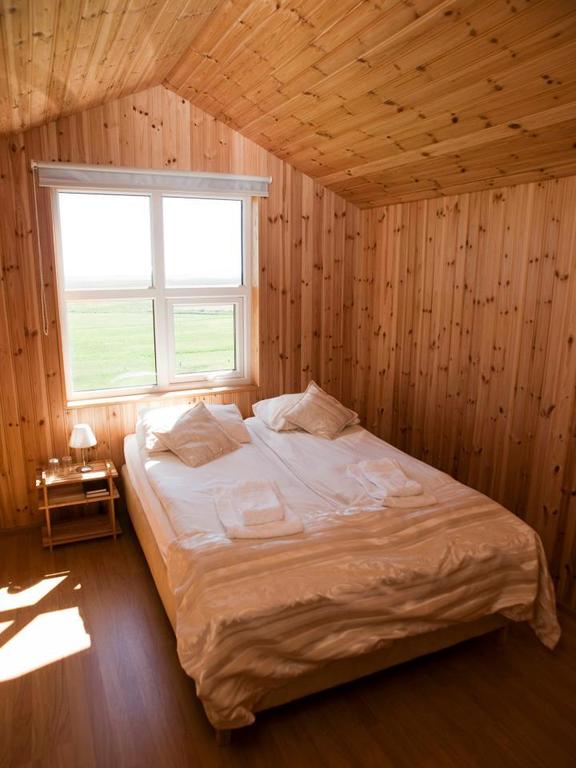 Old Airline Guesthouse
Old Airline Guesthouse is truly a hidden Hofn Hotel gem! The outside of the guesthouse is somewhat unassuming, but you will really be pleased when you see the guest rooms.
The guest rooms are extremely bright, spacious, and feature modern decor. There are two shared bathrooms for guests as well as a well appointed guest kitchen. A tasty breakfast is included daily.
Check Rates: Booking.com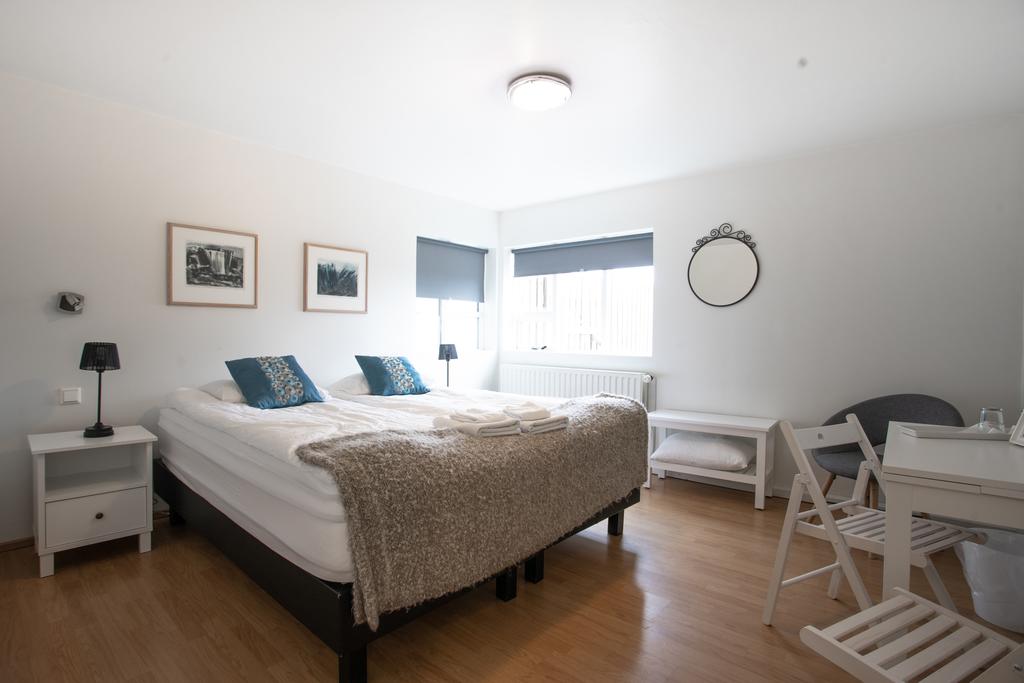 Hotel Edda Hofn
Hotel Edda Hofn is a great choice if you are looking for a moderately priced Hofn Hotel. It is truly a wonderful value because you are located right on the water with views of local boats.
Packed picnic baskets are available for purchase and really add to any sightseeing you have planned. A delicious breakfast buffet is also available daily for purchase. Amenities include a sun deck and picnic area.
Check Rates: Booking.com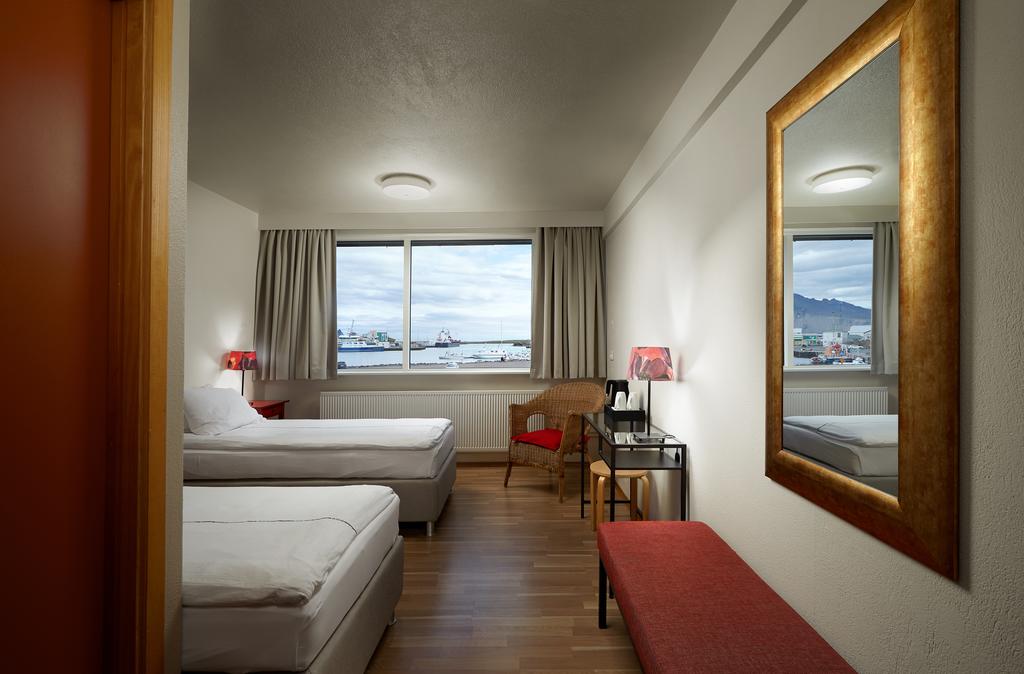 Aurora Cabins
Aurora Cabins are ideal for those looking for a secluded and private feel. The cabins feel very remote and isolated, but they are conveniently only about a 3 minute drive away from town and restaurants.
The cabins are modern and cozy and all feature a kitchen, a dining area, a living room with a sofa, and a private bathroom with a hairdryer and shower. Other amenities include a grill and porch with seating.
Check Rates: Booking.com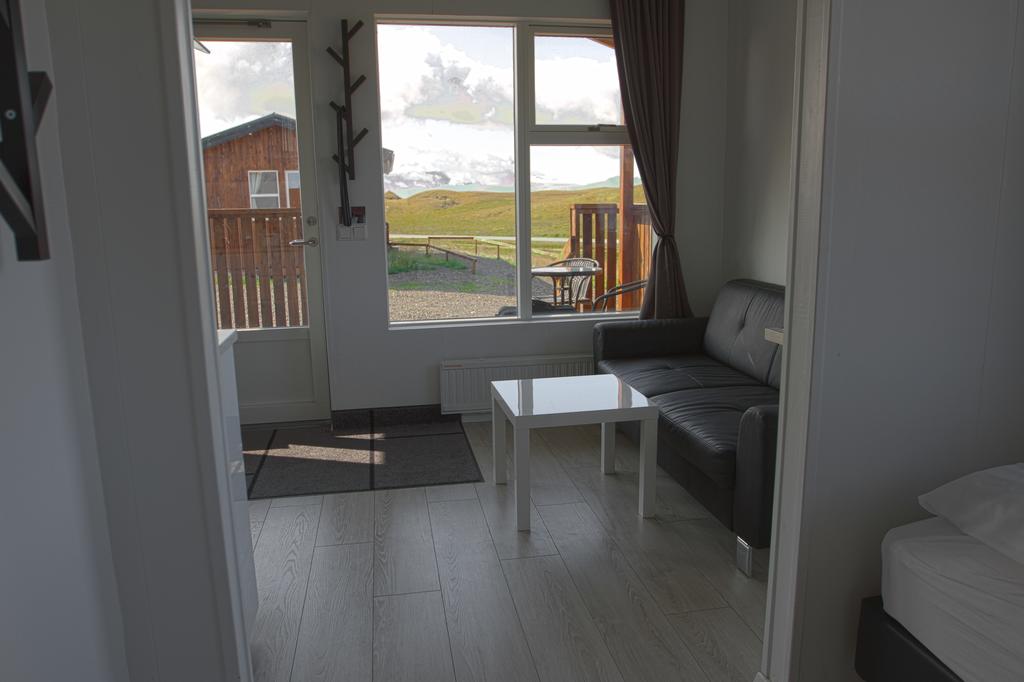 Hotel Jokull
Hotel Jokull is a moderately priced Hofn Hotel that provides a comfortable stay with simple modern decor. One of the highlights is that during the summer months Hotel Jokull hosts fresh seafood buffets.
There is an on-site restaurant that is mainly open during the summer and breakfast is included daily. Guest rooms have both shared and private bathrooms, so make sure you choose the one that is right for you.
Check Rates: Booking.com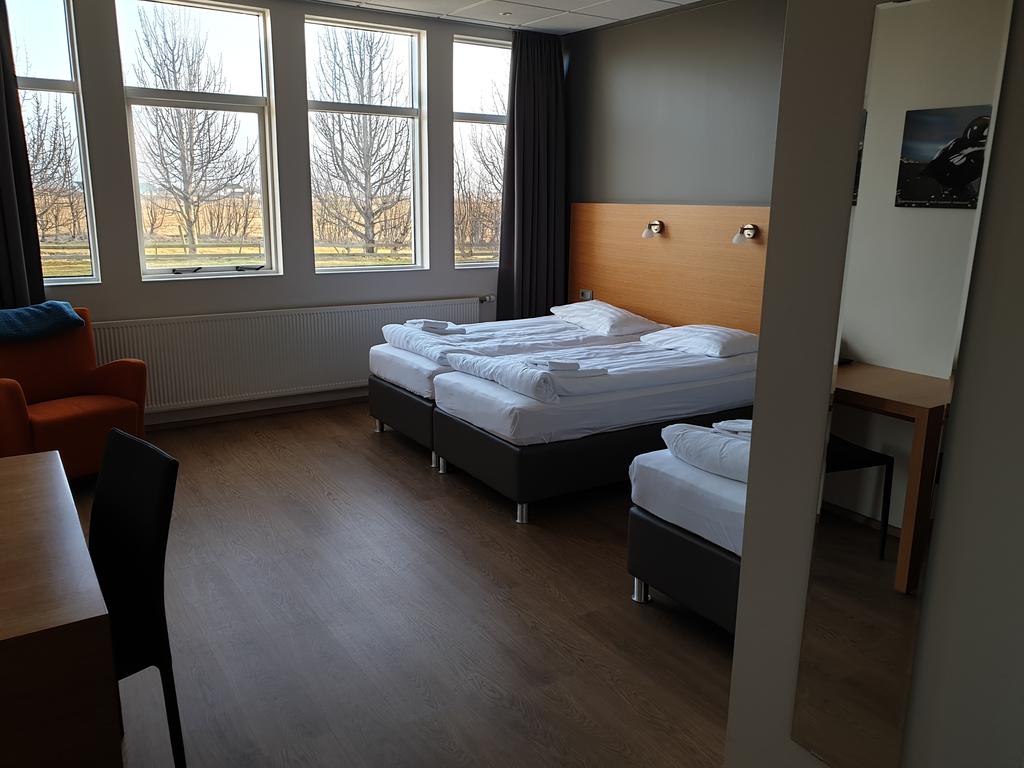 Vikingcafe
Vikingcafe is probably one of the most peculiar Hofn Hotels on this list! The exterior is quite industrial and almost looks like a warehouse, but you won't believe your eyes when you see what lies behind each guest room door….
The interior is quite chic with a color palate that mostly consists of many shades of gray. There are little pops of color throughout the property and a variety of different textures as well.
This beachfront property has an on-site coffee shop and includes a continental breakfast daily.
Check Rates: Booking.com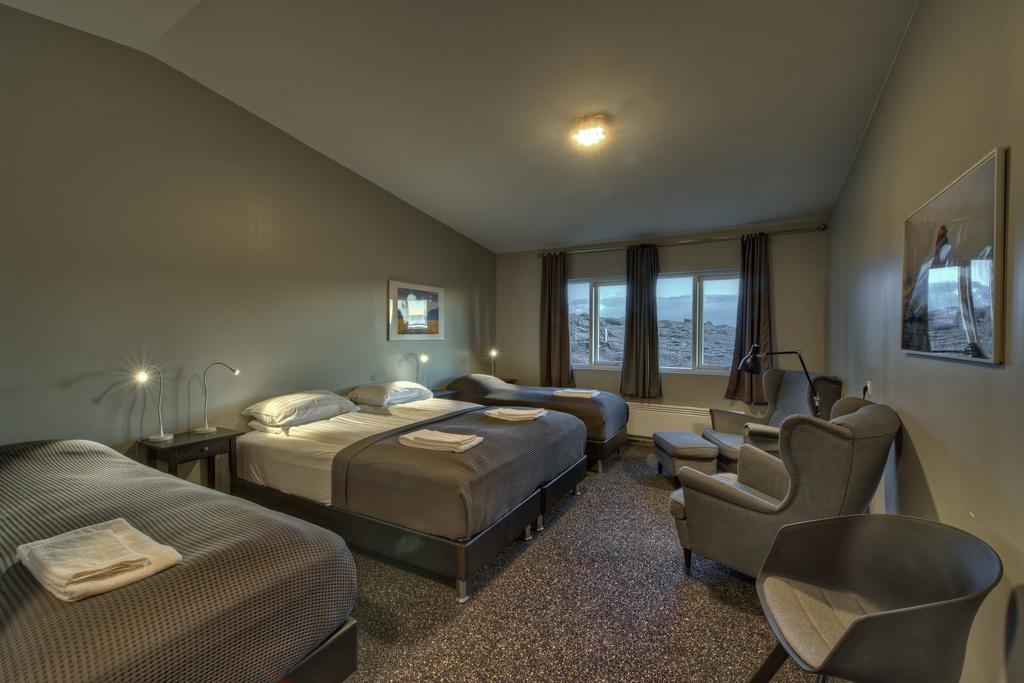 Best Hostels In Hofn
Hofn Hostel
Hofn Hostel is great budget friendly option as well as a perfect way to meet other travelers. The guest rooms a very tidy and the property is well-maintained.
Amenities include a guest kitchen, large dining area, and laundry facilities. You will really love being able to walk to nearby shops, restaurants, and cafes.
Check Rates: Booking.com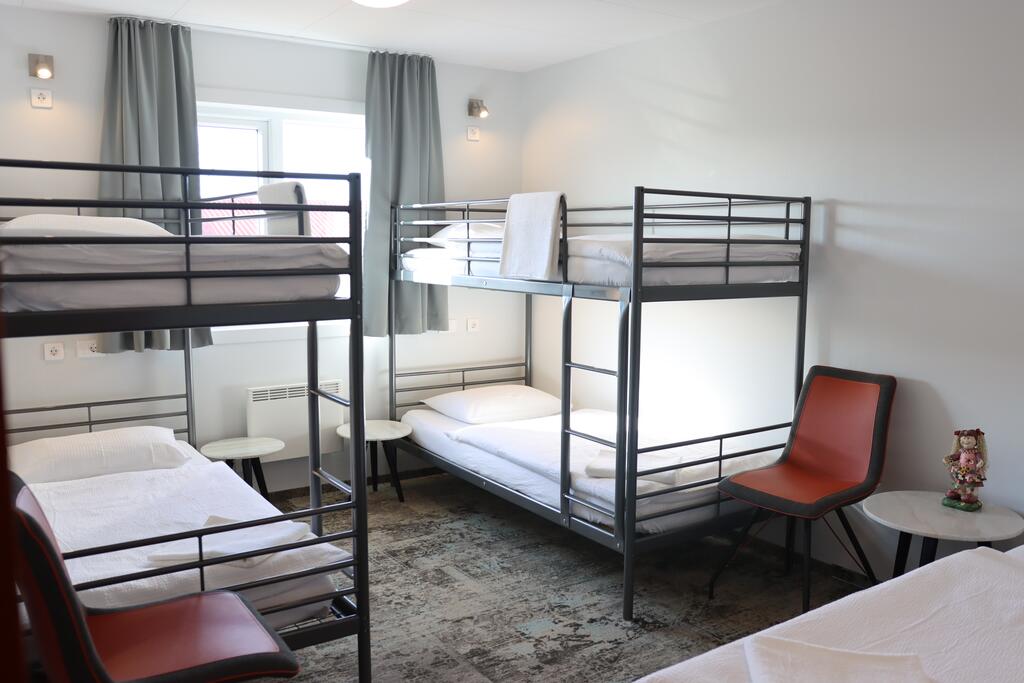 IG Hofn
IG Hofn is an affordable accommodation that has small rooms that are simply furnished but makes for a great choice when wanting to stick to your budget. You will see that it is listed as a guesthouse, but in our opinion, it feels more like a hostel.
Amenities include a shared lounge, kitchen, and bathroom facilities. The laid back atmosphere sort of feels like you're staying at a friend's house for the night.
Check Rates: Booking.com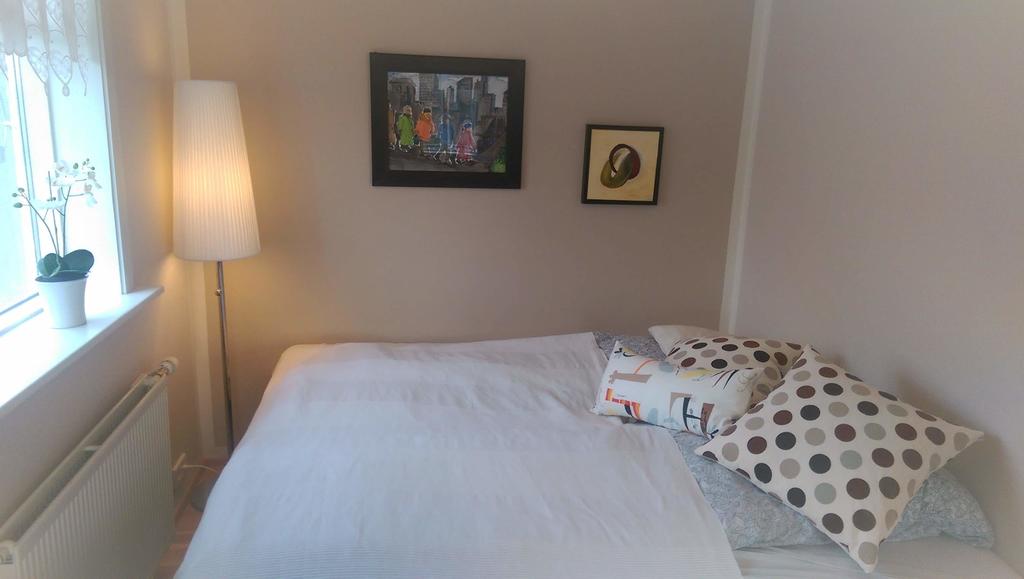 We hope you have found this list to be helpful and informative. As you can see there are so many great Hofn Hotels to choose from and we hope you find the perfect one to suit your needs.
Whether you are sticking to a budget or deciding to splurge a little, you don't have to stress at all because Hofn has several options for all price points. We wish you safe travels for an amazing trip to Iceland and hope you enjoy all of these phenomenal Hofn Hotels and Hostels.