Jon Snow may know nothing, but we know all about the Game of Thrones Iceland shooting locations and we are going to share all of these incredible sites with you. Get ready to explore the stunning terrain that was definitely one of the biggest stars of the Game of Thrones series. 
SPOILER ALERT: Do not read any further if you have not completed the series and wish to be surprised. We might include spoilers ahead and we do not want to ruin the viewing experience for you.
Not only will you get to experience some of the most beautiful parts of Iceland, but you will also get to walk the same pathways as Aria and Sansa, stand where Daenerys' Dragon eats the goat and sets fire to the flock, and see the hot spring cave where the famous love scene with Jon Snow and Ygritte takes place. These are just of few of the locations on our list, so get ready to fully immerse yourself into the Game of Thrones Iceland filming location experience.
Get a FREE printable "Hidden Gems In Iceland" E-book by joining our private Iceland Facebook Group and share your photos and ask for tips and tricks.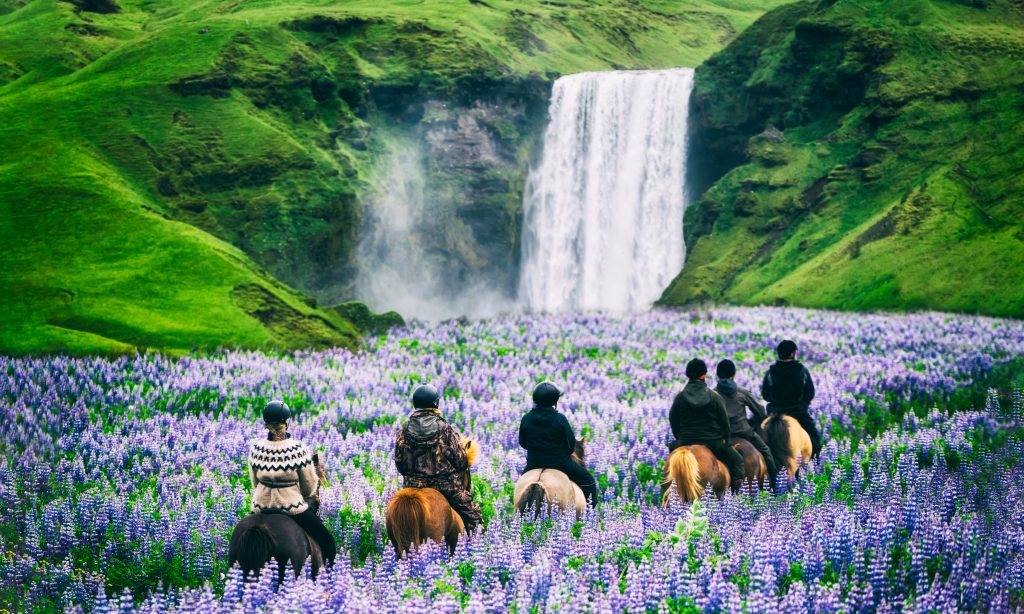 Why Was Game Of Thrones Filmed In Iceland?
The Game of Thrones story line details a very harsh and brutal landscape North of the Wall, so producers had to find a location that would bring this described world to life.
It was a daunting task to find the right location to provide dramatic imagery that would also have easy accessibility for the actors and crew. What good is a gorgeous landscape that is too difficult and dangerous to get to, right?
Here enters Iceland! Iceland definitely ticks all of the boxes: icy rugged terrain, massive waterfalls, vast untouched land, several easily accessible locations, and the lighting is exceptional throughout most of the year. In addition to adding all of the breathtaking scenery, Iceland also contributed their own special breed of horses as well as actors and terrain experts.
Folklore, books, and movies have drawn inspiration from Iceland for a very long time. Local Icelandic lore suggests that the tall and massive rock formations are actually trolls that were petrified by the rising sun. "Hidden People" supposedly live in the lava fields and can move between worlds.
Lastly, there are many natural formations that are so unbelievably majestic that people believe them to have been made by Old Norse Gods. So, you can easily see why the Game of Thrones predominant filming location just had to be Iceland!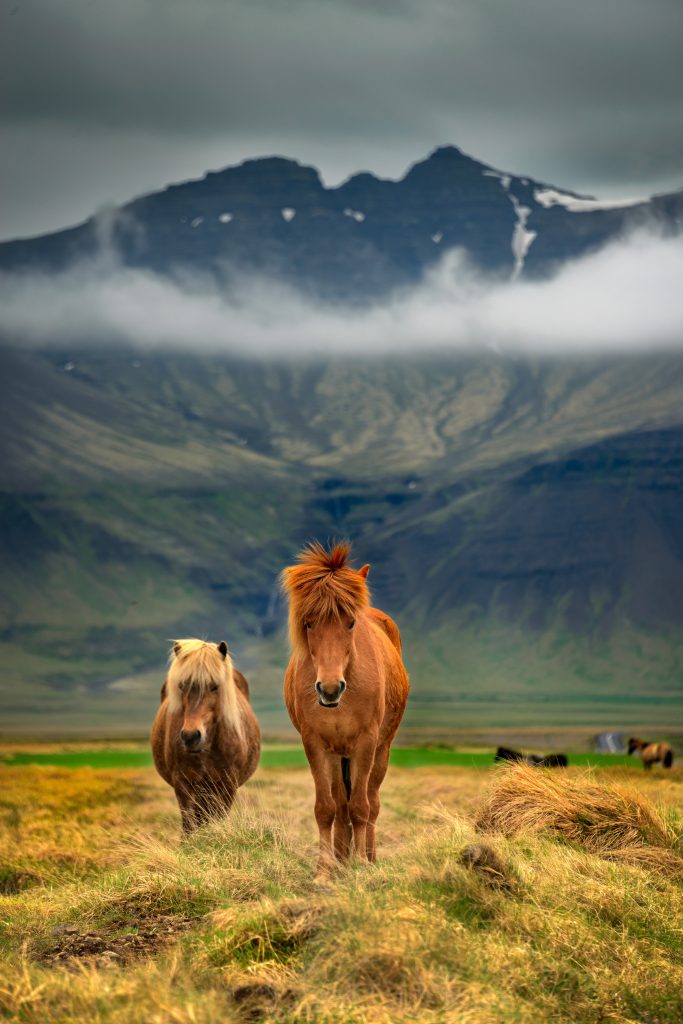 Which Seasons Of Game Of Thrones Were Filmed In Iceland?
Starting from Season 2 and moving forward, Iceland was the main shooting location for any scenes that were taking place North of the Wall. In addition to North of the Wall scenes, scenery from Iceland is used throughout the entire series from Season 2 onward.
Now, you may find yourself asking what location was used in Season 1 for scenes North of the Wall. Well, we won't leave that question burning in your head and keeping you awake at night! The scenes North of the Wall in Season 1 were filmed in Northern Ireland at a quarry – artificial snow had to be brought in to create the cold winter landscape.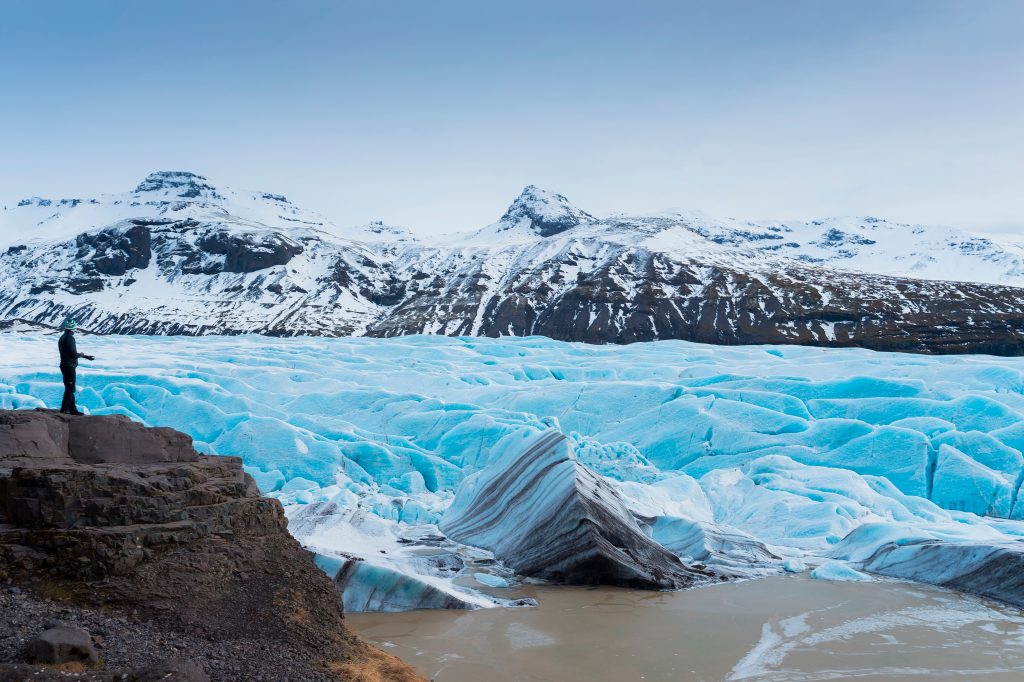 Game Of Thrones Guided Tour In Iceland
Full-Day Iceland Game of Thrones Tour
Okay, where are our biggest GOT fans?! This tour is for you! Get ready for a full 8 hour guided tour that explores Þingvellir (Thingvellir) National Park. You will really get to feel like one of your favorite characters as you walk exactly where they filmed.
Tour guides dress in character and will share a behind the scenes peek as well as local history. Photo stills from the Game of Thrones Iceland locations will be shown at each site to help you recall exactly which scenes took place there.
Complimentary bus pick up is included with your tour ticket and provides great convenience. They suggest that you wear comfortable shoes for walking and dress appropriately for the weather. Ticket prices are discounted for children and you are able to cancel without penalty up to 24 hours prior to the tour date you selected.
Check rates & book tour: Iceland Game Of Thrones Tour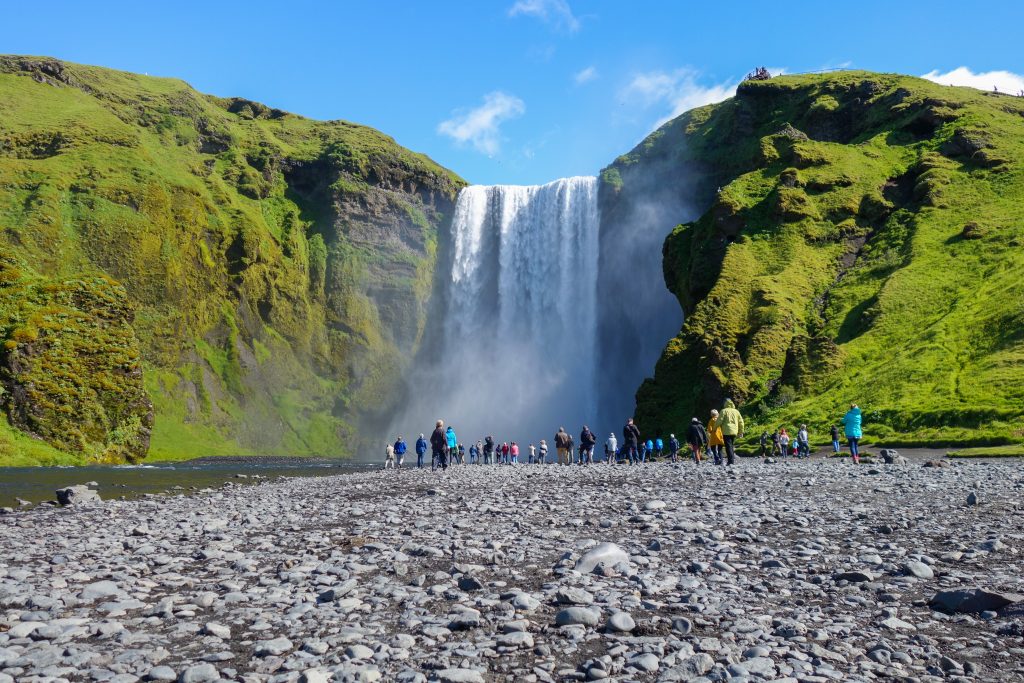 Game Of Thrones Filming Locations In Iceland
Kirkjufell
Kirkjufell is said to be the most photographed mountain in all of Iceland. It is located on the north coast of Iceland's Snæfellsnes Peninsula and is close to the town of town Grundarfjörður.
This location appeared in Season 6 Episode 5, when the Children of the Forest made the first White Walker. Kirkjufell is also featured in Season 7 Episode 6 during which Jon Snow and his crew seek to capture a Wight to bring to Queen Cersei. In the Game of Thrones world Kirkjufell is referred to as "Arrowhead mountain".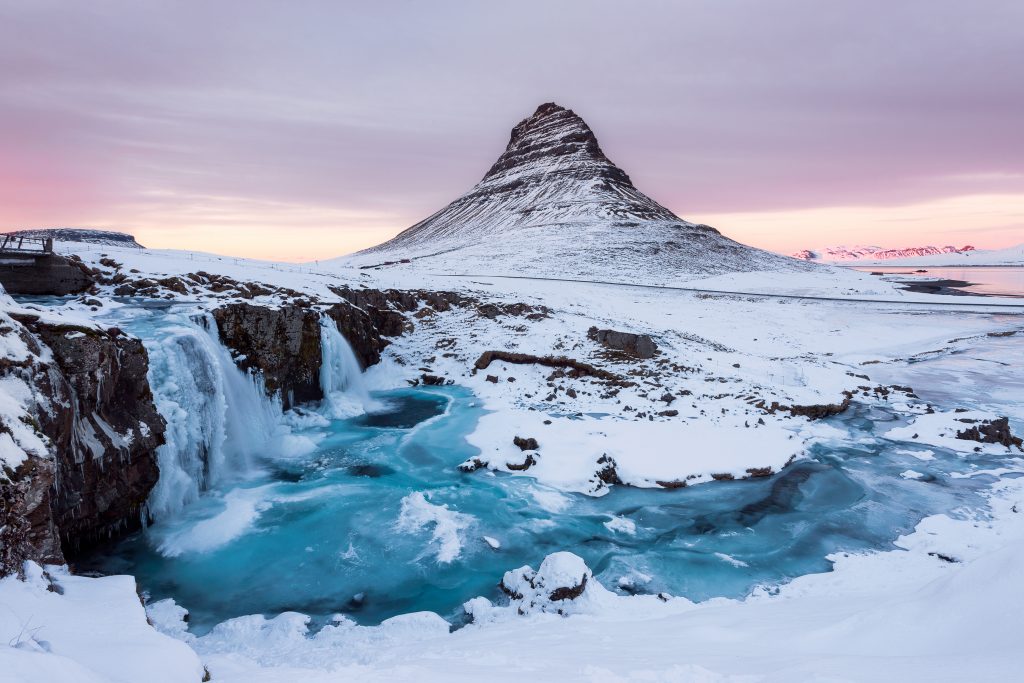 Höfði
Höfði is a small peninsula on the shores of Lake Mývatn, across from Dimmuborgir. Höfði is particularly interesting due to the unique lava formations that come up through the water's surface throughout the lake.
This Game of Thrones Iceland filming location was featured as the camp of Mance Rayder and the Wildlings in Season 3. Scenic shots of Höfði were also used prior to Jon Snow's dispute with Orell regarding the defensive abilities of the Night's Watch.
Höfði is very easy to access a parking area close by, and marked trails that lead to the lava formations. It will take you approximately 5-10 minutes to walk from the parking area to where you can view the famous lava pillars.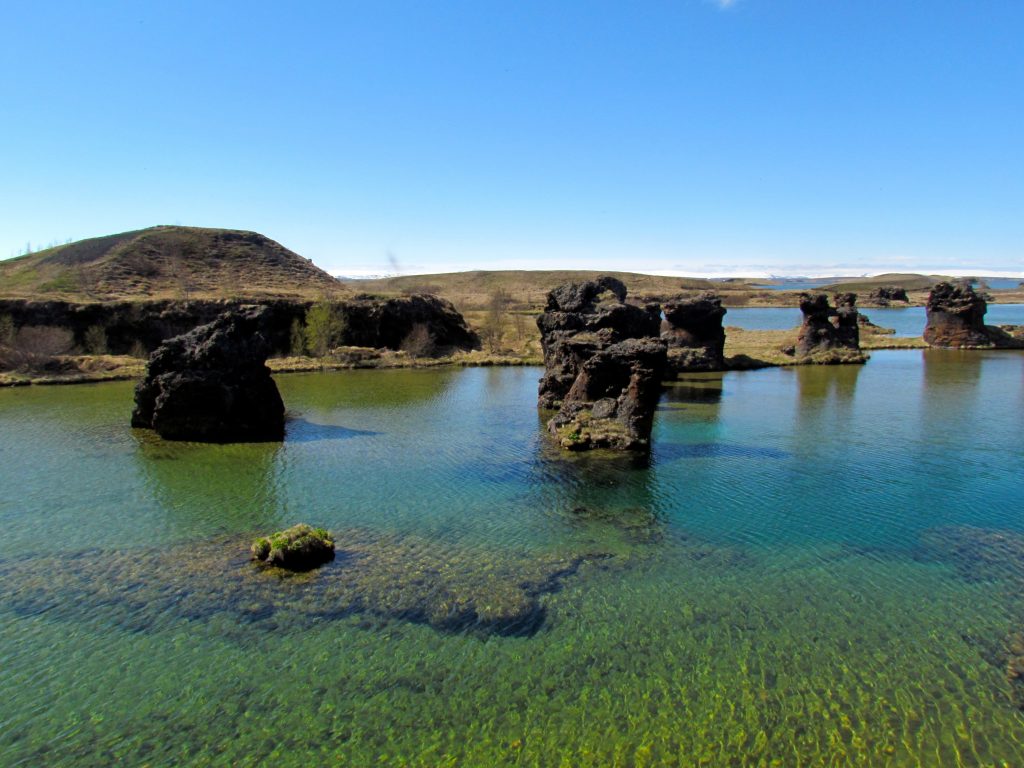 Hverir
Hverir is a geothermal spring that is located at the foot of Namafjall Mountain and is well known for it's sulfur springs and hot mud pits.
This Game of Thrones Iceland shooting location is featured in Season 3 Episode 1, when Samwell Tarly is trying to make it back to his men through sight obstructing snow north of the Wall.
This "white-out snow" was actually just steam from the geothermal vents of the Namafjall geothermal area. Can you imagine what this was like for the actors and crew? Not a very pleasant smell!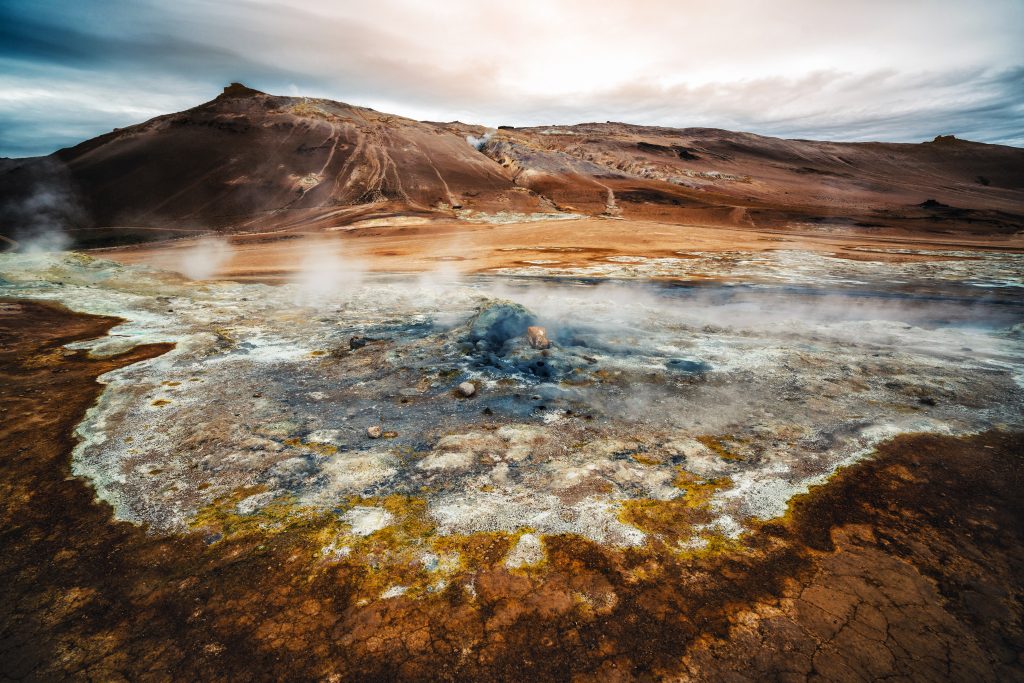 Dimmuborgir
Dimmuborgir is a frozen lava field located close to Lake Mývatn. Dimmugorgir translates to "Dark Fortress" and its easy to see why when you see the massive dark rock formations. According to Icelandic folklore this area is known for being home to Iceland's scariest troll, Grýla.
This Game of Thrones Iceland filming location was used for Mance Rayder's Wildling army camp in Season 3. Fun or not so fun fact is that filming actually occur while temperatures were as low as -11C!
It is here that Jon Snow explains to the Wildlings that he has cast away the ways of the Night's Watch. It is also here that you see the Free Folk army gather in preparation for their assault on the Wall and where the first Giant is seen.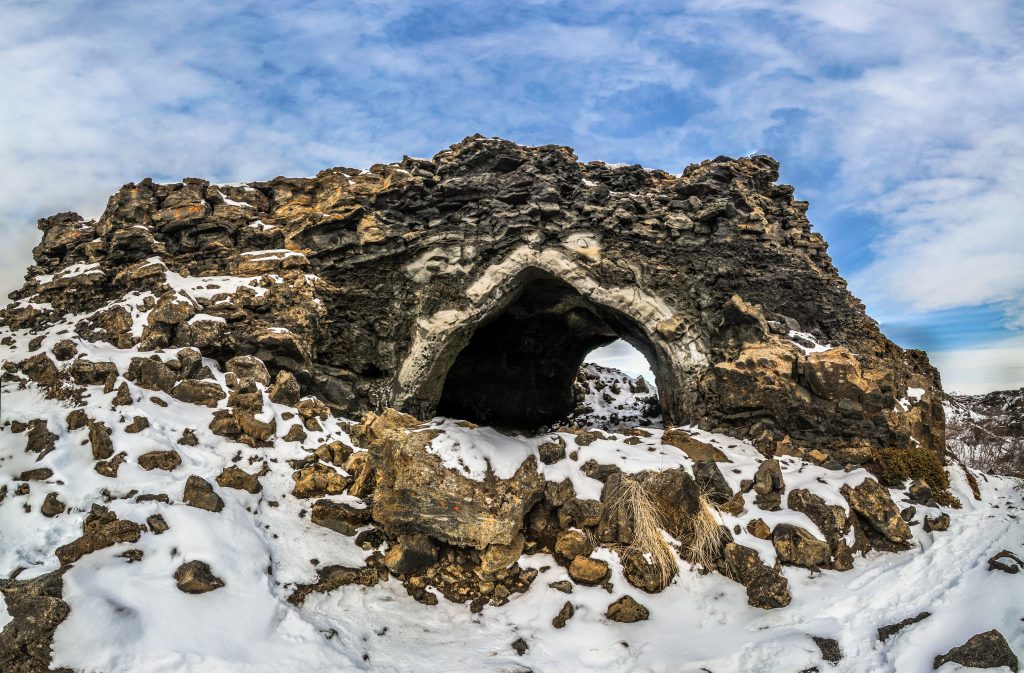 Grjótagjá
Grjótagjá is a small lava formed cave with a hot spring in Lake Mývatn. It used to be a common bathing place, but that was before the water rose to an unsafe boiling temperature.
This is a very popular Game of Thrones Iceland filming location! It is here that in Season 3 after much anticipation and fan speculation, Jon Snow and Ygritte have the very steamy love scene.
The cave is quite stunning and magical all on it's own, but a waterfall was added through CGI to bring the fantasy up to an even higher level.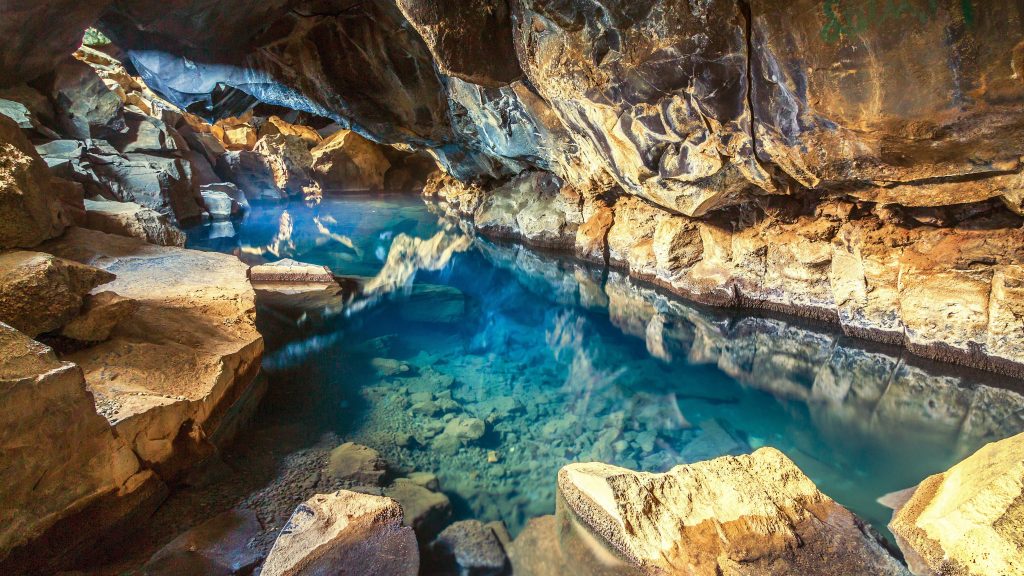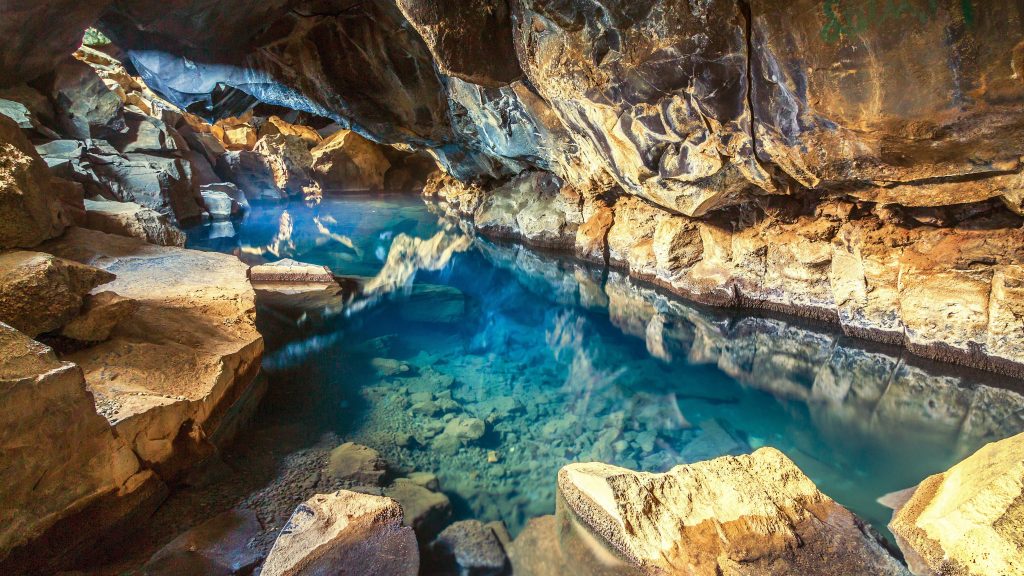 Svínafellsjökull
Svínafellsjökull is an outlet glacier and the largest ice cap in Europe. It is an extremely popular site for glacier hiking enthusiasts as there are some really incredible ice formations and stunning views. Svínafellsjökull is part of the Skaftafell Nature Reserve and highly photographed.
Even though it has very rugged terrain, it is actually easily accessible which makes is a popular Hollywood filming location. Svínafellsjökull was used a lot throughout Season 2 and Season 3 for scenes taking place North of the Wall. Those scenes include the Wildlings, armies of the undead, and the Night's Watch.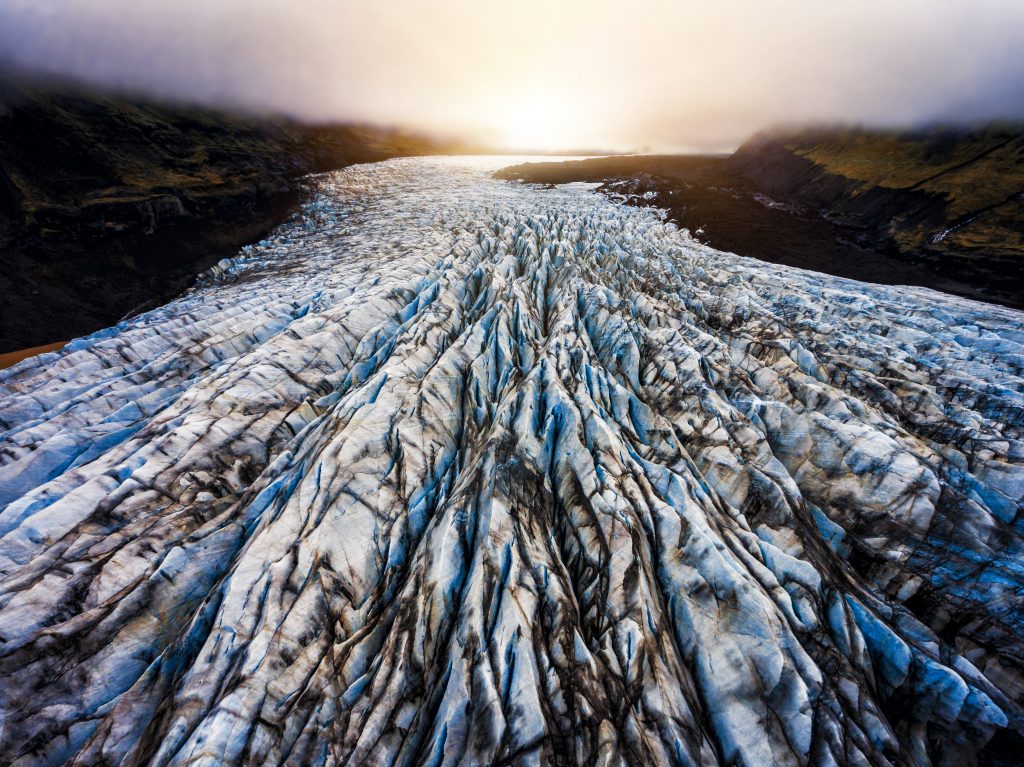 Fjaðrárgljúfur Canyon
Fjaðrárgljúfur Canyon is an epic canyon located in South Iceland, approximately 150 miles from Reykjavik. It measures just over 300 feet deep and almost 2 miles long. This canyon is particularly unique and beautiful due to it's many curves, sharp and smooth edges, and deep green patches of moss throughout.
Fjaðrárgljúfur Canyon is most well-known for scenes that feature dragons flying through the majestic canyon. It can easily be viewed in the official Game of Thrones trailer. It is one of the best places to see on your Iceland Itinerary!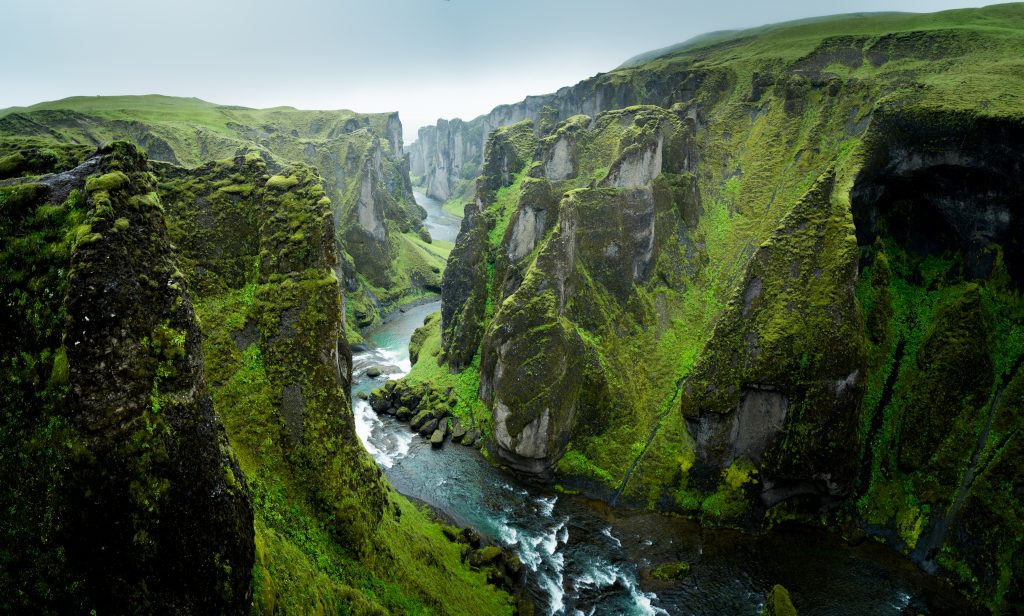 Höfðabrekkuheiði & Mýrdalsjökull Glaciers
Höfðabrekkuheiði is a massive ice cap in South Iceland that was used to depict the icy landscapes of the far North of Westeros and the Frostfang Mountains.
Mýrdalsjökull is another ice cap in South Iceland and it was used as a Game of Thrones Iceland shooting location during scenes that included the Fist of the First Men on Westeros. In the Game of Thrones universe, it is situated several days North of the Wall, just at the border of the Haunted Forest.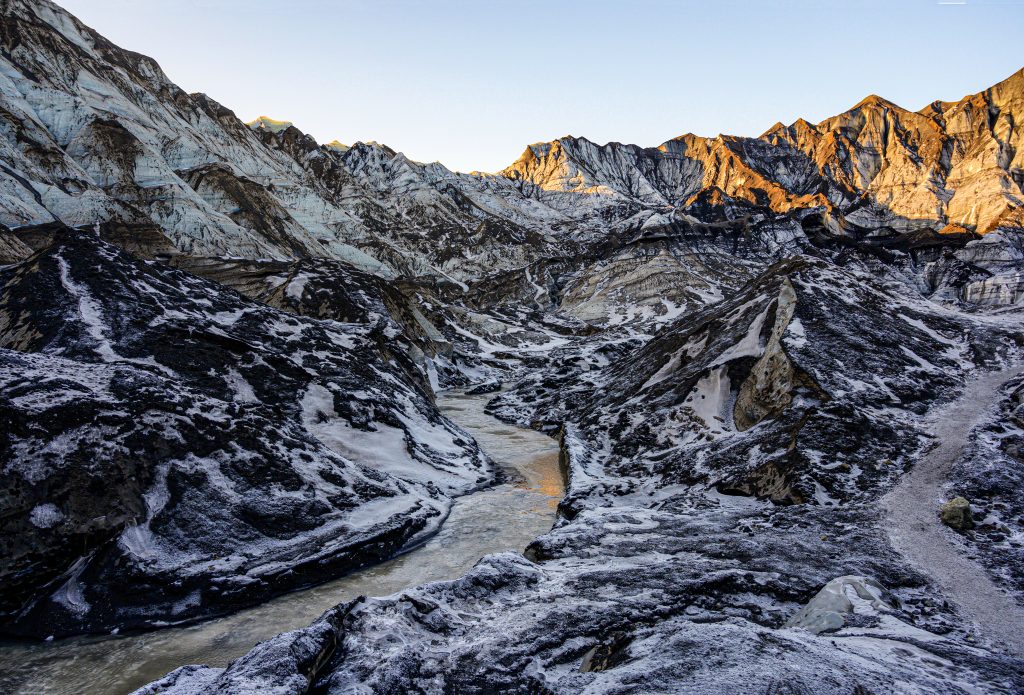 Reynisfjara Beach, near Vik
One of the most striking attributes of South Iceland is it's black sand beaches. Reynisfjara Beach is one of the amazing beaches in Iceland and it is located close to Vik. We highly recommend finding hotel accommodations in Vik because it is truly a lovely town.
Reynisfjara Beach was only featured briefly in the Game of Thrones series. It was used to represent the coastal land around Eastwatch by the Sea, the Night's Watch castle that the army of the dead is seen marching toward.
The filming crew accidentally caused some conflict with local authorities by using their vehicles on the beach without first gaining permission from the Environmental Agency of Iceland.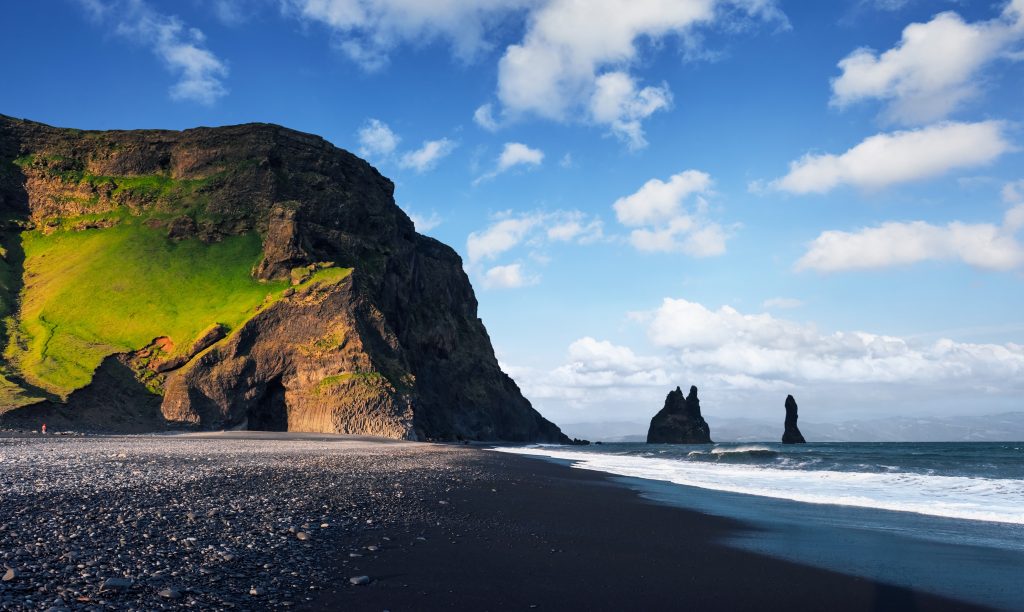 Skogafoss
Skógafoss is one of the biggest waterfalls in Iceland and it is located on the Skógá River in South Iceland. It is an impressive 200 feet tall and 80 feet wide!
This Game of Thrones Iceland shooting location is featured in the opening scene of Season 8 Episode 1, just after we see Jon Snow and Daenerys ride dragons. Even though this location is quite spectacular without any added effects, the show added an another waterfall with CGI to make it even more magical.
Skofagoss is truly one of the Best Waterfalls In Iceland so you get two for the price of one!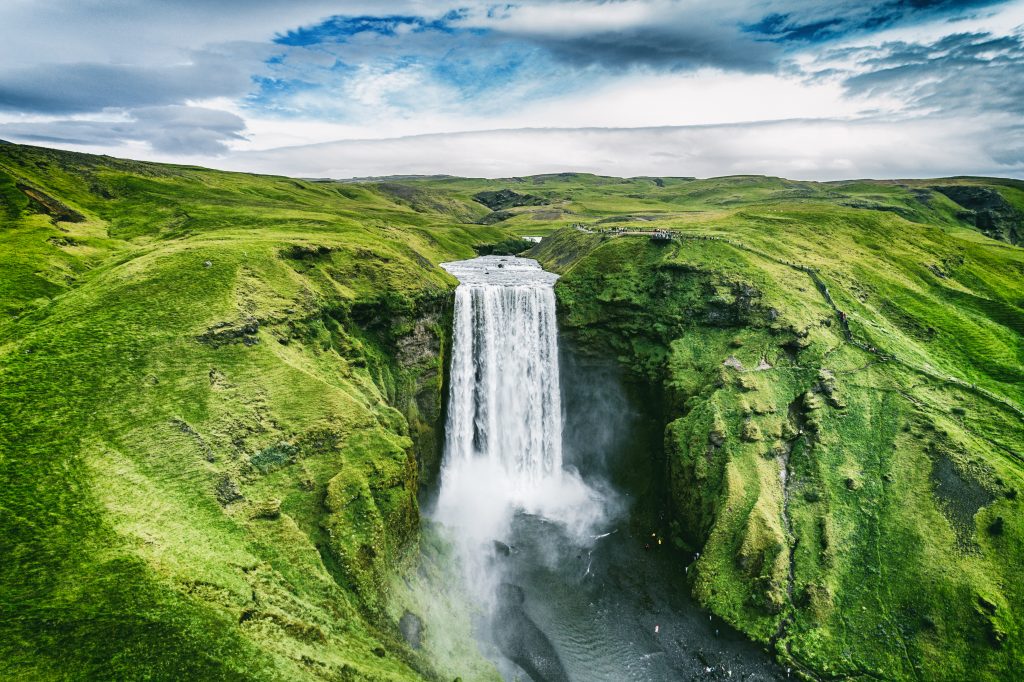 Þórsmörk & Stakkholtsgjá
Stakkholtsgjá is an incredible canyon that cuts through the Þórsmörk region of Iceland. Þórsmörk is a mountain ridge that is named after Norse god Thor.
Stakkholtsgjá is featured in Season 7 Episode 6, when Jon Snow and his men capture a Wight. Þórsmörk is the snow covered terrain that they are seen trekking across in this same episode.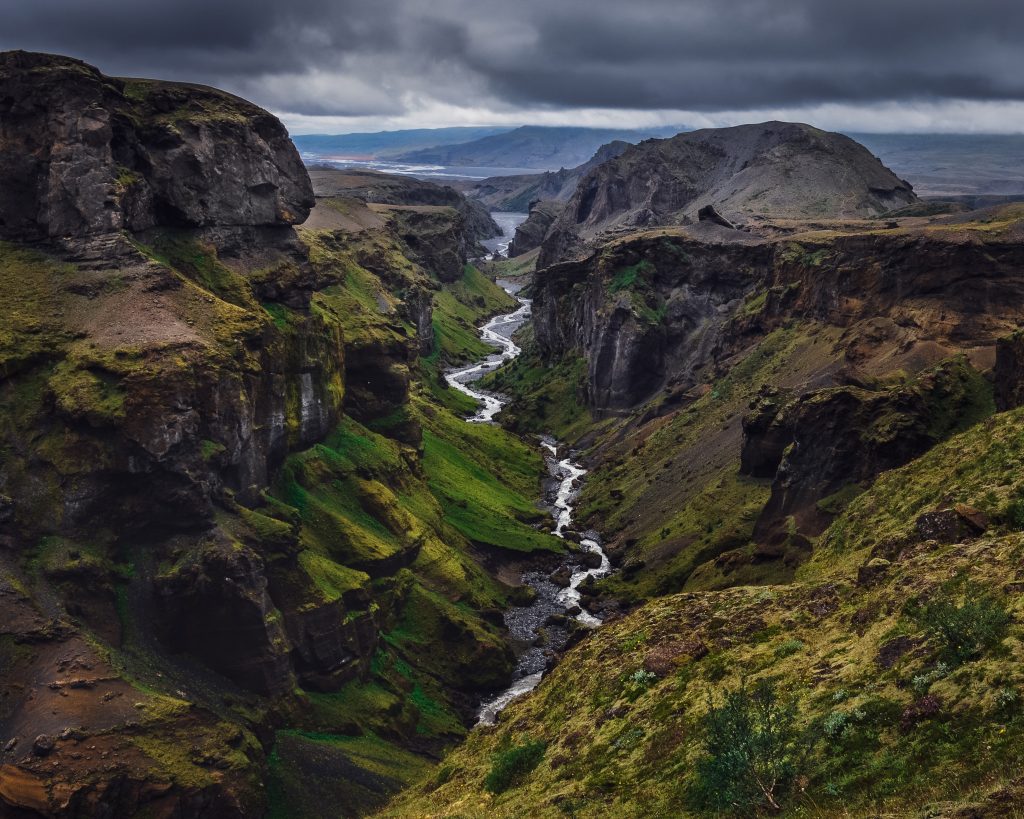 Gjáin (Þjórsárdalur Valley)
Gjáin is a small valley with trickling tiered waterfalls, volcanic formations, and ponds. Gjáin is a relatively hidden gem in Iceland, but has increased in popularity due it's star role in Game of Thrones.
This Games of Thrones Iceland filming location was used in Season 4 when the Water Dance takes place with Arya and the Hound. Gjáin is a sight right out of a fairy tale, so nothing was digitally altered in this scene. Arya is also seen training with her sword in this location.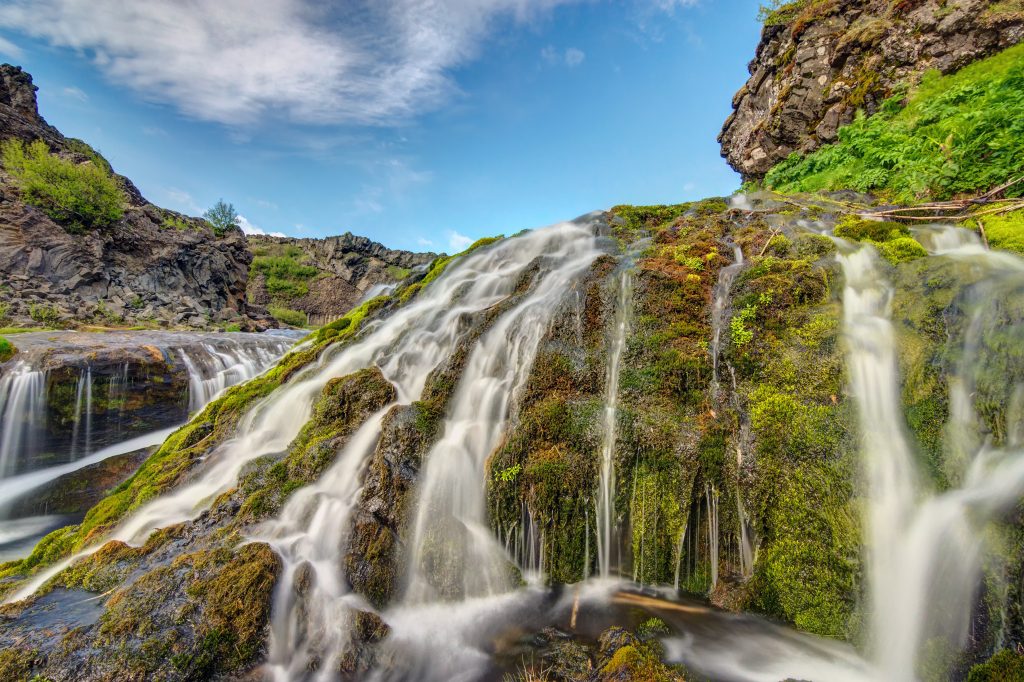 Thingvellir National Park
Thingvellir National Park is a gorgeous nature park located in Bláskógabyggð in southwestern Iceland, about 25 miles northeast of Reykjavík. It is one of the most popular stops on the Golden Circle Drive!
This Game of Thrones Iceland filming location is featured in Season 4 Episode 10 when an intense fight takes place between Brienne and the Hound.
Öxarárfoss Trail is located in the Thingvellir National park and it leads to the Öxarárfoss waterfall. This site was used for the location of the Bloody Gate in Season 4 Episode 8.
During this episode Arya and the Hound end months of traveling to find Arya's aunt Lysa in the Vale. When they arrive they are met with the Bloody Gate (the entrance to her kingdom) and realize that she has died.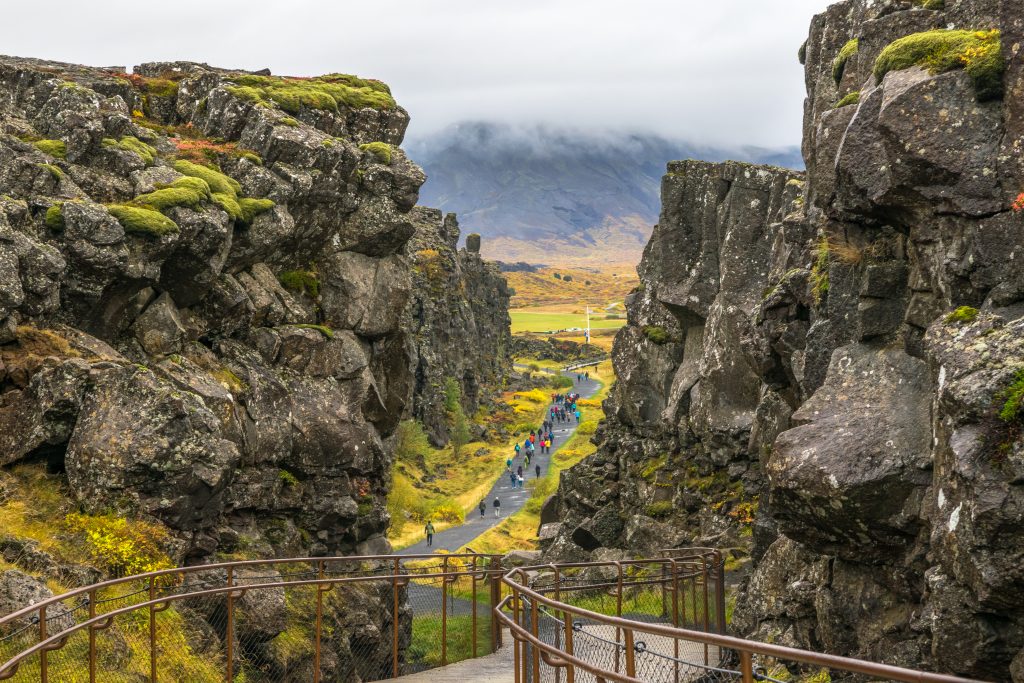 Þórufoss
Þórufoss is a secluded waterfall in the Golden Circle. Located slightly off the beaten path, this is a great waterfall to visit without the hassle of a lot of other tourists.
This location is seen in Season 4 Episode 6, when a goatherd's son is seen throwing rocks into a waterfall. Then, a dragon flies overhead and burns a large portion of the flock. Later, the goatherd goes to Daenerys to voice his complaints. You also see an aerial shot of this valley.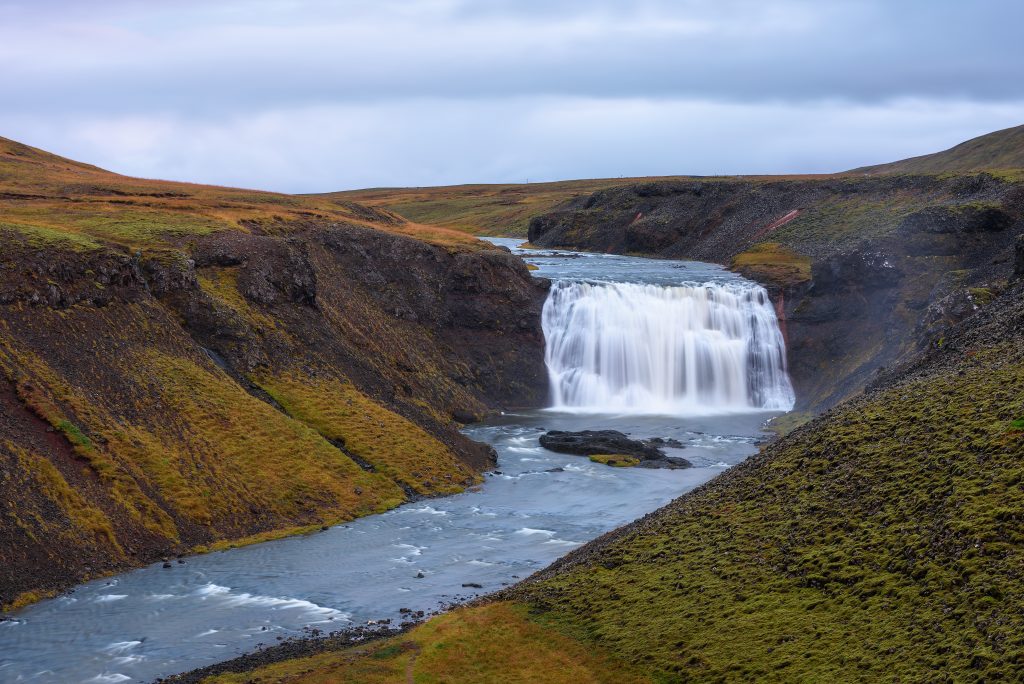 Hengilssvæðið
Hengilssvæðið is a massive volcanic mountain that is located South of Thingvellir. It is a popular hiking location for many locals and visitors. During snowy months, it can be more challenging to access.
This Game of Thrones Iceland filming location is seen in Season 4 Episode 10. It is in this episode that Brienne of Tarr battles the Hound. After this showdown, Arya and the Hound go their separate ways.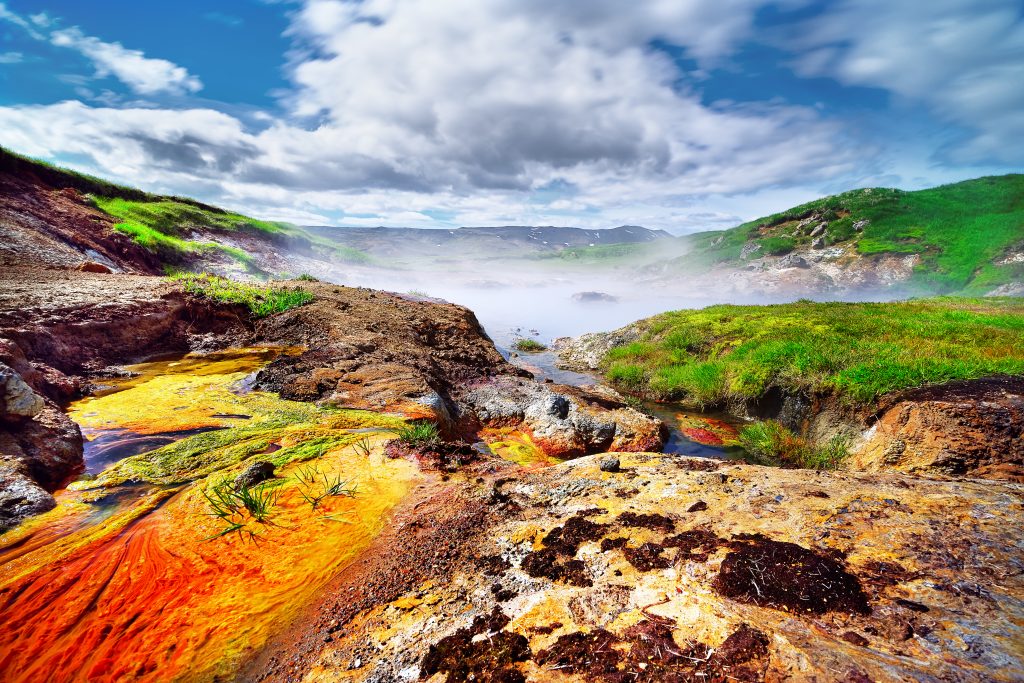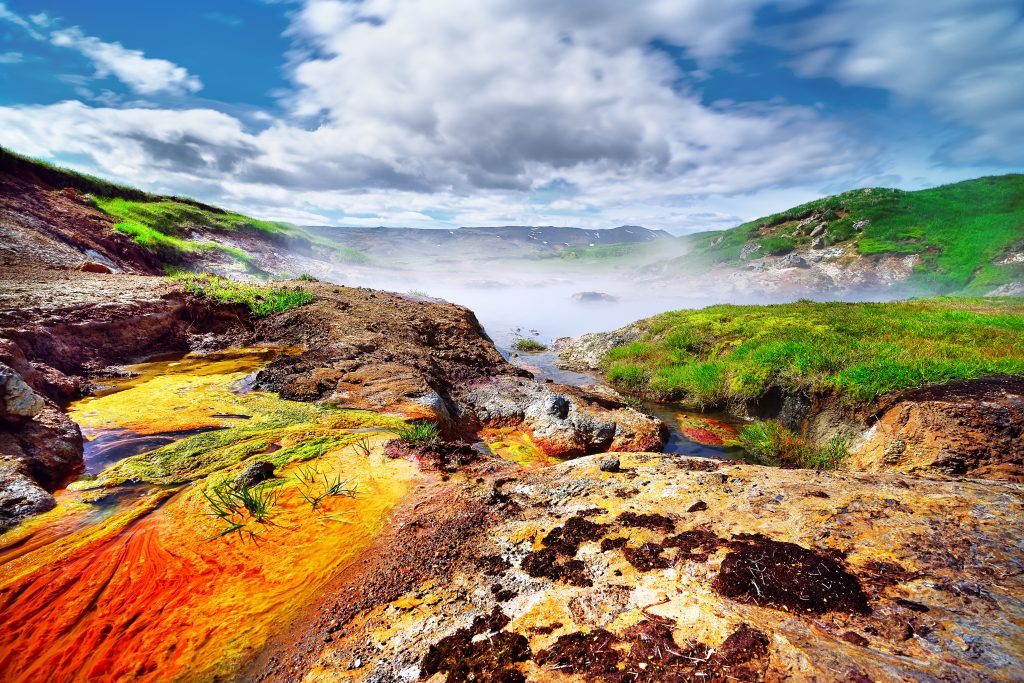 Map Of The Game Of Thrones Filming Locations
If you are a visual planner, you may want to look at a map of the Game Of Thrones filming locations in Iceland!
We have put one together so you can easily find all of the best spots. Make sure to download this Game Of Thrones Iceland Map to your smartphone so that you have all of the locations easily accessible while you are traveling in Iceland!
CLICK HERE FOR THE GAME OF THRONES LOCATIONS MAP!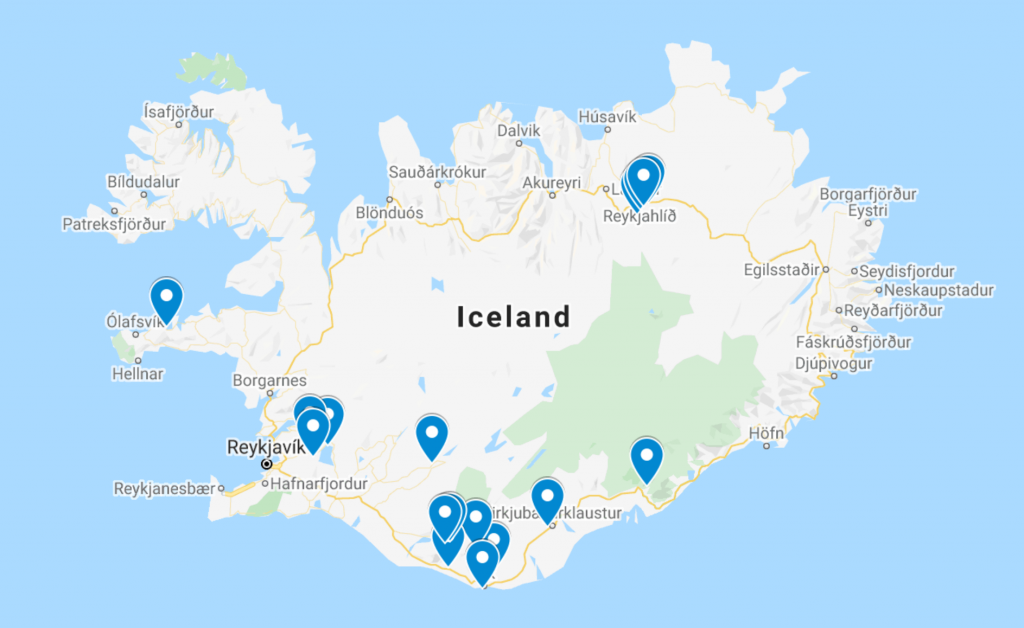 So, even though the series has ended, the fantasy and adventure lives on through these incredible Game of Thrones Iceland filming locations. We hope that you have enjoyed learning all about each shooting location and why Iceland was chosen to be the unsung star of the series. We wish you safe travels.