On the hunt for the best Silfra snorkeling tours? Looking for a once-in-a-lifetime adventure to add to your list of things to do in Iceland? Look no further than here! We are offering some of the best insider tips and insight on the most wonderful Silfra snorkeling tours out there!
So be prepared to jump in the water on a day trip and explore the ocean below beautiful Iceland in a chilly yet unforgettable moment. We promise you won't be disappointed.
This is an experience you cannot find anywhere else, so book ahead and get ready to be amazed at the cool waters, pure nature, and divine views you'll witness while on a Silfra snorkeling tour.
And if you are spending some time in Iceland, don't be shy! Stop by and visit our article that sketches out a 7 Day Itinerary for Iceland!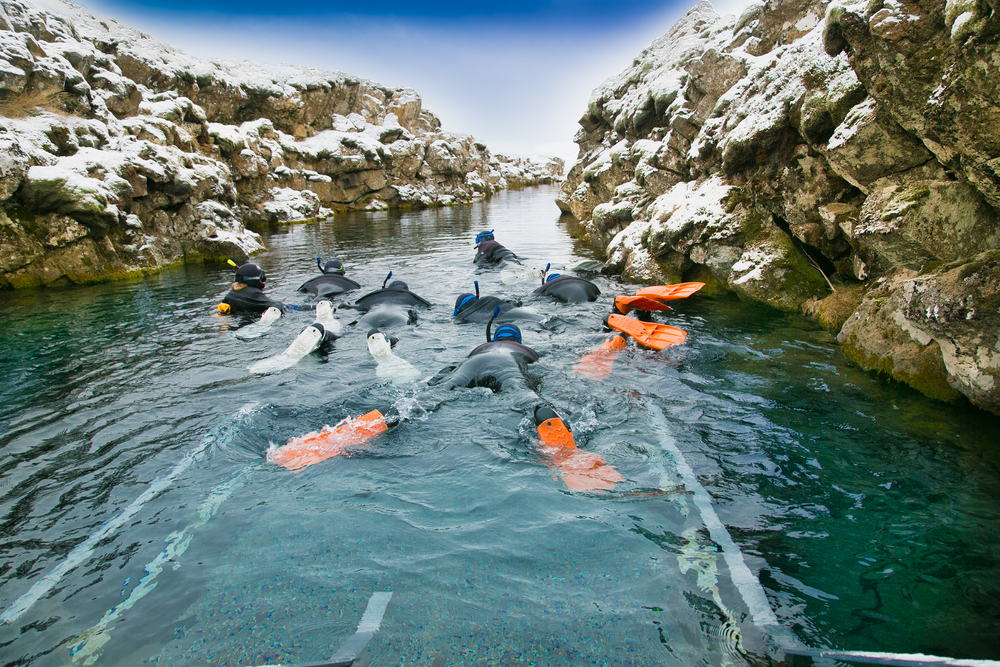 What is Silfra Fissure in Iceland?
Silfra is a rift that has naturally formed because of two divergent tectonic plates. Located between the boundaries of North America and Eurasia, these plates offer a once in a lifetime opportunity to explore cave systems and magical diving experiences.
These caves can be up to 60 meters deep– but don't worry! You can only reach a diving depth of 18 meters for safety. Nevertheless, this is the only place in the world where you can snorkel between two continents. It is one of the best snorkeling spots on Earth! We highly recommend going Silfra snorkeling!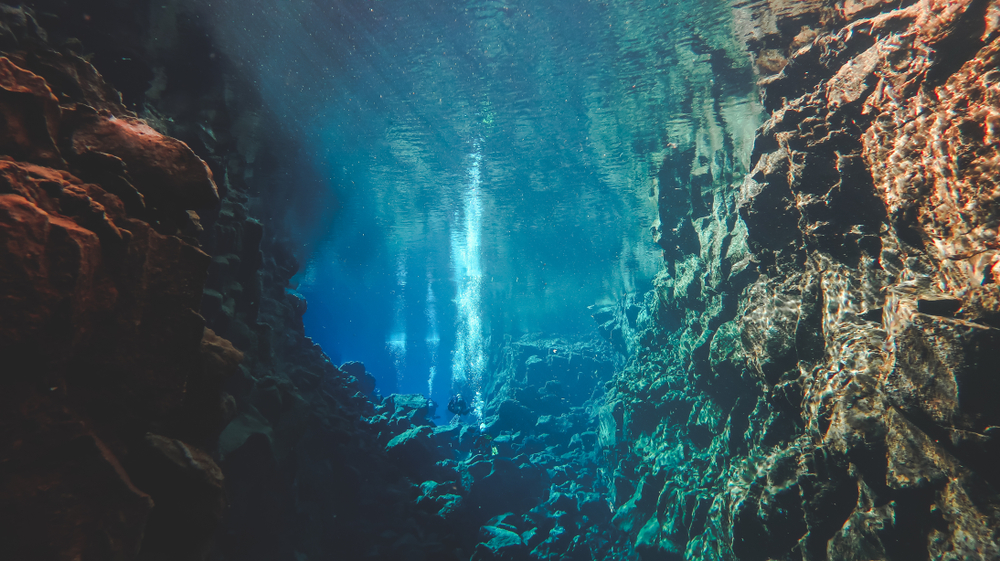 Where is the Silfra Fissure Located
As previously mentioned, the Silfra fissure is located between the boundaries of North America and Eurasia. The rift itself sits between the North American and Eurasian plates, and in retrospect to Iceland, is located on the Tingvallavatn Lake.
This is located in the Tingvellir National Park in Iceland, meaning it is easy to get to! Located just 30 miles easy of Iceland's capital city Reykjavik makes it an easy day trip that is worth it. Make sure to book a tour to visit the fissure and go Silfra snorkeling.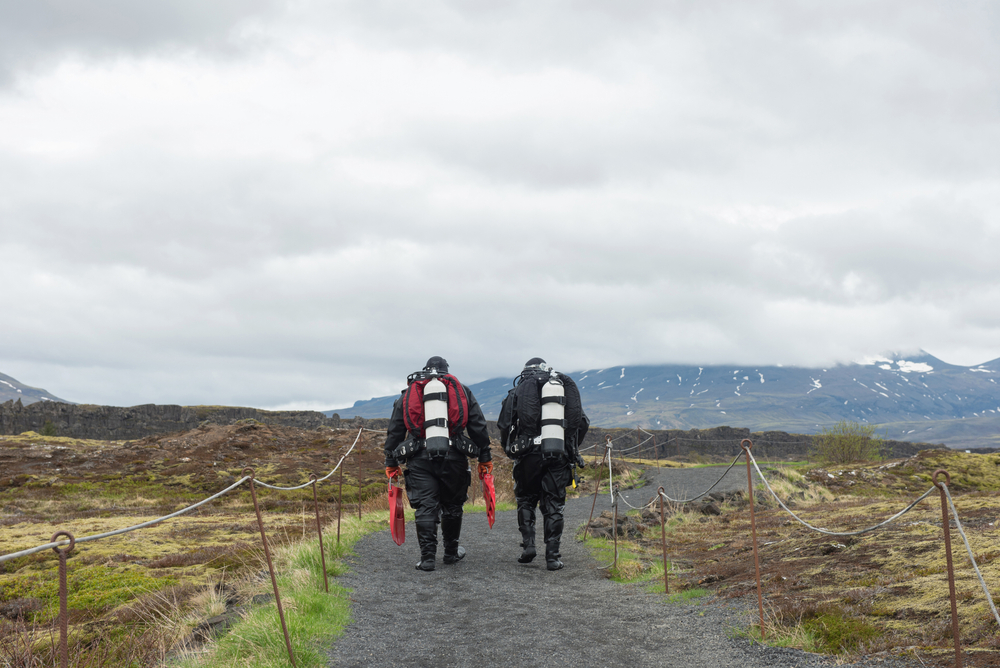 5 Best Silfra Snorkeling Tours in Iceland
Silfra Fissure Snorkeling Tour with Underwater Photos (3 Hours)
We always want to recommend a Silfra snorkeling tour that offers underwater photos because snorkeling in these waters can get chilly, and so when you wear those neoprene gloves, it can be hard to get a great picture! That is why we want you to check out the Silfra Fissure Snorkeling Tour with Underwater Photos!
Make sure to document this small tour experience and be the envy of your friends back home through your souvenir photos. This is one of the top dive and snorkeling sites in the world, and with only six participants in a tour group, you will be more than ready to snorkel and pose for photos. Don't forget to smile under the neoprene hoods, thermal undersuit, dry suit, mask, snorkel, and fins!
Explore with a live tour guide, have easy transport to and from the activity, and more. And don't forget to enjoy a complimentary hot chocolate after you get out of the water! These pure glacial meltwaters is a bucket list experience and this is one of the best Silfra snorkeling tours you can do!
Book Here: Silfra Fissure Snorkeling Tour with Underwater Photos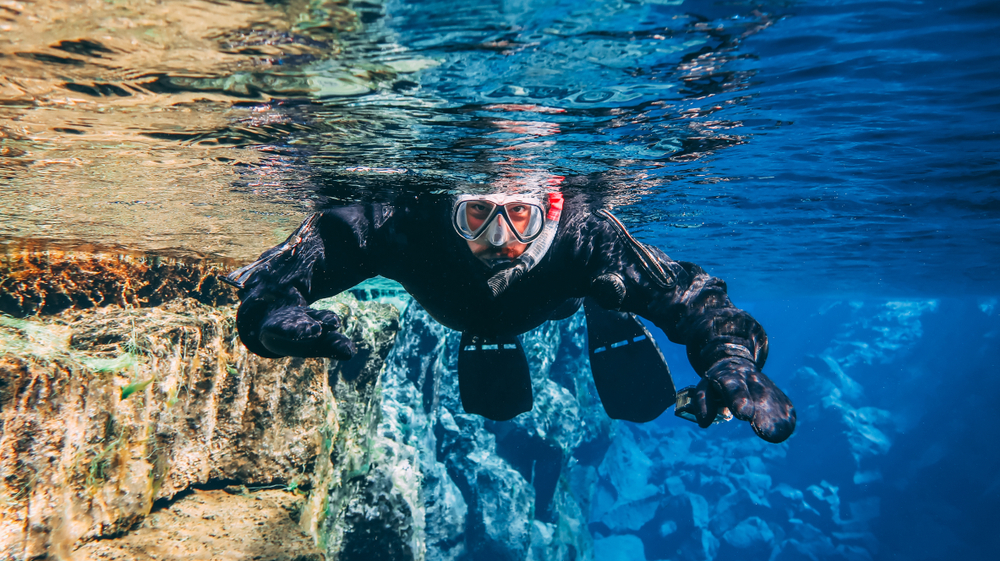 From Reykjavik: Golden Circle with Snorkel in Silfra (10 Hours)
If you are looking for a full-day trip for Silfra snorkeling, look no further than the From Reykjavik: Golden Circle with Snorkel in Silfra tour! This tour allows you to see the vast amounts of geothermal landscapes in Iceland's legendary Golden Circle.
In this small group, you will enjoy Icelandic music as you travel by minibus to Thingvellir National Park from Reykjavik, where you will actually go in the Silfra snorkeling. Here you can gaze as the tectonic plates pull apart in cool, blue water.
But then! Then you can watch water melt as your tour continues, visiting Iceland's biggest glacier as you make your way to Gullfoss Waterfall. Here you can also enjoy watching Geysir explode and more. From the erupting hot springs to the pure, glacial meltwater, you are bound to float, relax and love Silfra snorkeling.
And if the Golden Circle is of interest to you, make sure to check out our article on the 14 Best Golden Circle Tours in Iceland too!
Book Here: From Reykjavik: Golden Circle with Snorkel in Silfra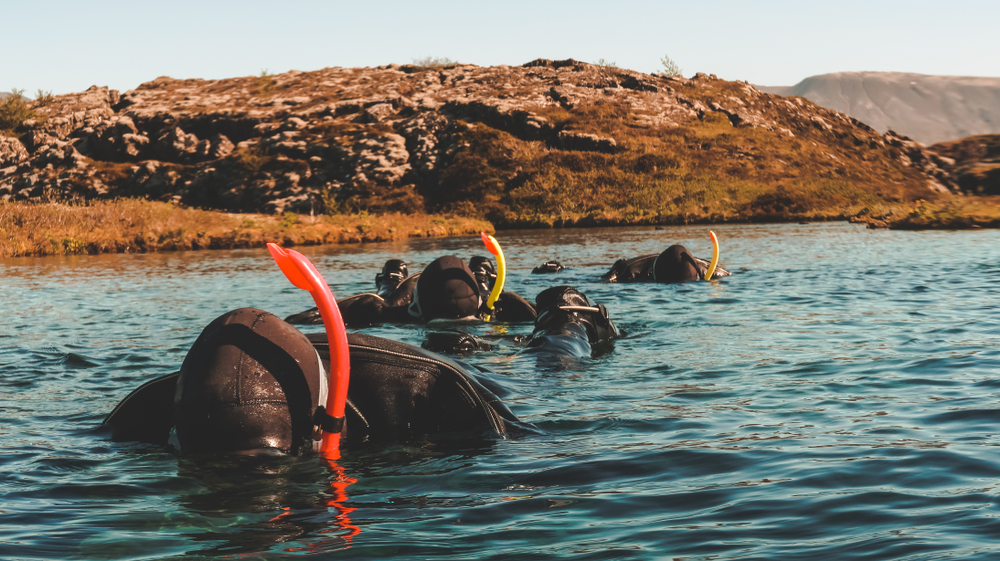 Silfra: Leidarendi Lava Caving & Snorkeling Tour with Photos (7 Hours)
Caving and snorkeling is the best combo for your Iceland adventure! It is the perfect way to enjoy Silfra snorkeling and an even better way to spend a full day. This is why we recommend checking out the Silfra: Leidarendi Lava Caving & Snorkeling Tour with Photos.
This tour gives you the ultra experience of Icelandic nature. Here, you can explore the hidden world of the lava fields both on foot AND underwater. The cave you visit on this tour is called Ledarendi and is 900 meters long that offers views of unique rock formations and shelves of the lava fields.
After exploring the cave you have access to snorkel under this World Heritage Site, where you can snorkel at the surface of the Silfra. Silfra snorkeling allows you to see 60-63 meters at its deepest because the water is so clear! So book a tour, hike, and snorkel in one day! Enjoy!
Book Here: Silfra: Leidarendi Lava Caving & Snorkeling Tour with Photos.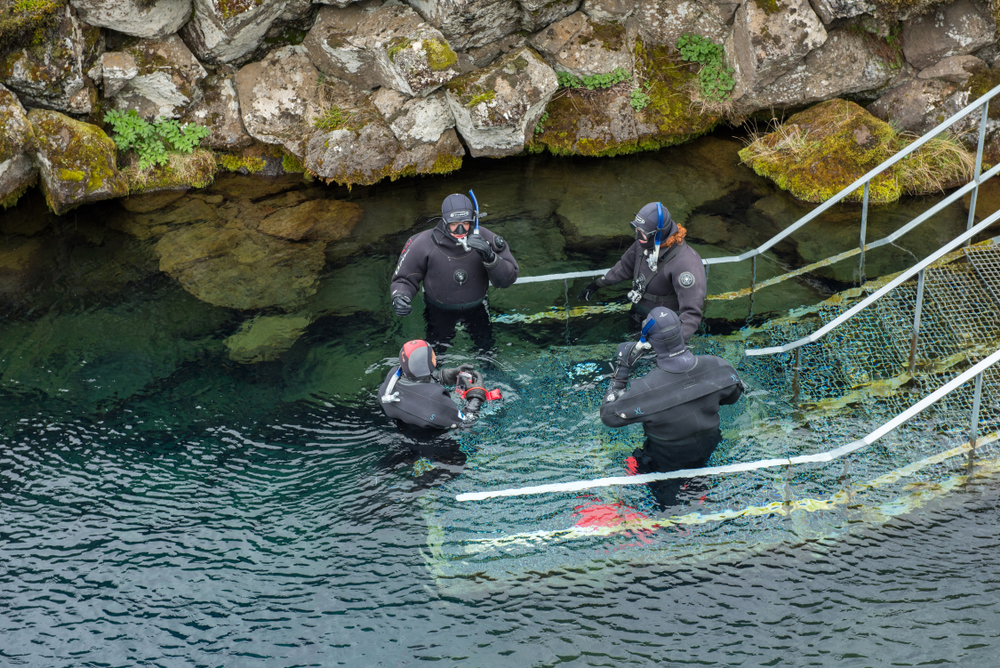 Diving in Silfra Fissure in Thingellir National Park (4 Hours)
If you want to enjoy a day in the extraordinary Thingvellir National Park, look no further than the Diving in Silfra Fissure in Thingellir National Park Tour! This tour lasts for four hours, has six participants, and a live guide.
And with this tour, you get to see some of the famous otherworldly scenes not just under the water, but in the National Park too! Enjoy the heavenly shades of blue, the depth, the famous World Heritage Site!
Here you get to snorkel in the mysterious Silfra Ravine, swim close to past volcanic activity, float, relax, and just feel weightless. This tour is perfect for Silfra snorkeling as they encourage you to enjoy the glide of the natural lazy current of the fissure.
Book Here: Silfra Fissure in Thingvellir National Park Tour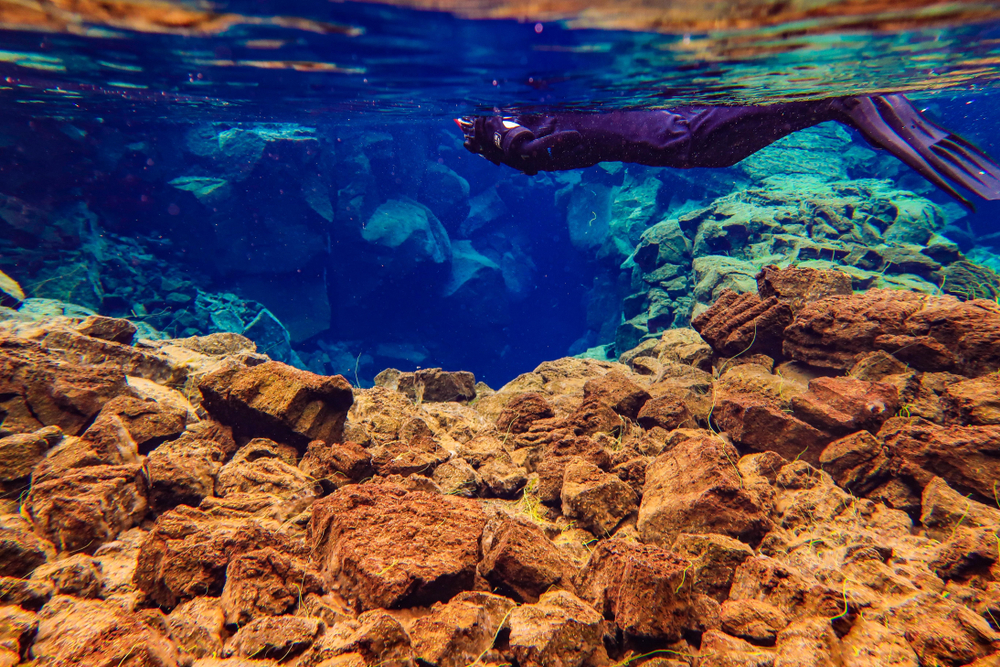 Top-Rated Snorkeling Silfra Tour Self-Dive (3 Hours)
If you are looking for a tour that is a little more hands-off, make sure to check out the Top-Rated Snorkeling Silfra Tour Self-Dive. This Silfra snorkeling tour prepares you for your dive with a dry suit and snorkeling equipment.
From a changing van– which is heated– you will walk 5 minutes to Silfra and start your 30-40 minute snorkeling tour of the Silfra Hall, Silfra Cathedral, and Silfra Lagoon.
After, you can enjoy hot cocoa and cookies to warm up! This tour shows you the best elements of this dramatic snorkeling slight, and while your guide is there to help you change and learn how to use your equipment, they love to let you explore!
Book Here: Top-Rated Snorkeling Silfra Tour Self-Dive
How Cold is the Water When Snorkeling the Silfra Fissure?
If you notice one thing about these tours, it is that they all come with wet suits, and suggest bringing warm socks along! That is because the Silfra fissure is melted glacier water.
On average, the water temperature is 2-4 degrees Celsius all year round. This converts to 35-39 degrees Fahrenheit. So if you book those tours with hot cocoa, you know you're going to need it! Where the equipment and pack warm to keep yourself safe when Silfra Snorkeling.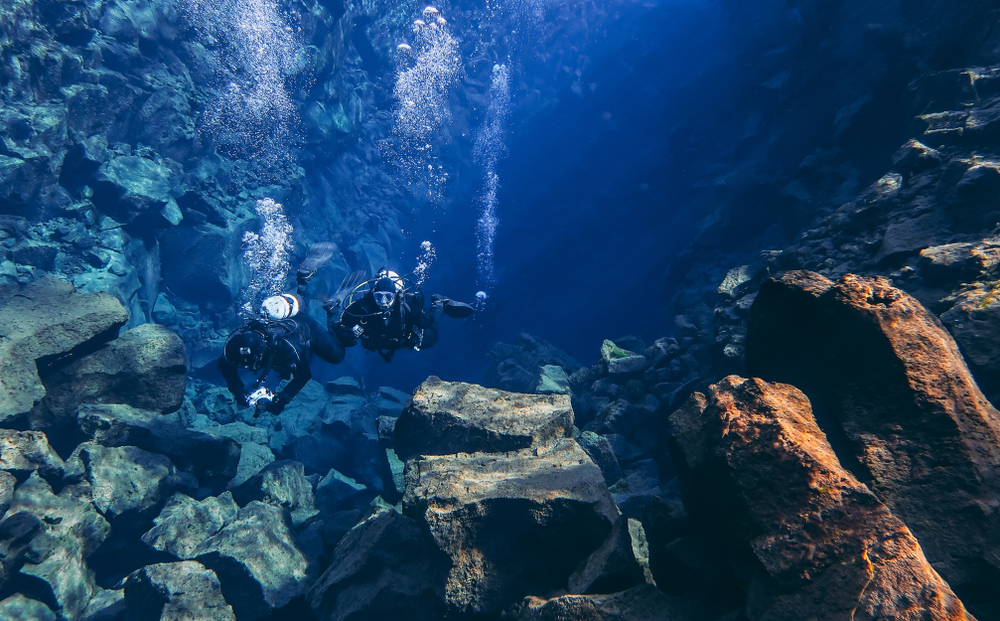 What to wear when going on a Silfra Snorkeling Tour
The equipment and clothes you wear when going on your Silfra snorkeling tour is so important to keep you safe and comfortable. The glacial water is cold and pure, no matter what season. Booking with tours will thankfully provide you with wet suits and gloves.
However, it is smart to bring a thick, fleece-lined undergarment or onesie that can keep you warm throughout your tour.
It is also recommended that you wear a layer under this undergarment as well: this can be any piece of clothing that keeps you warm and comfortable. We recommend thermal undergarments, especially if you are going on a winter snorkel.
However, if you cannot get thermal undergarments, leggings or sweatpants work well too! But avoid jeans at all costs and remember that the drysuit can be super restrictive and can making moving freely a bit more difficult.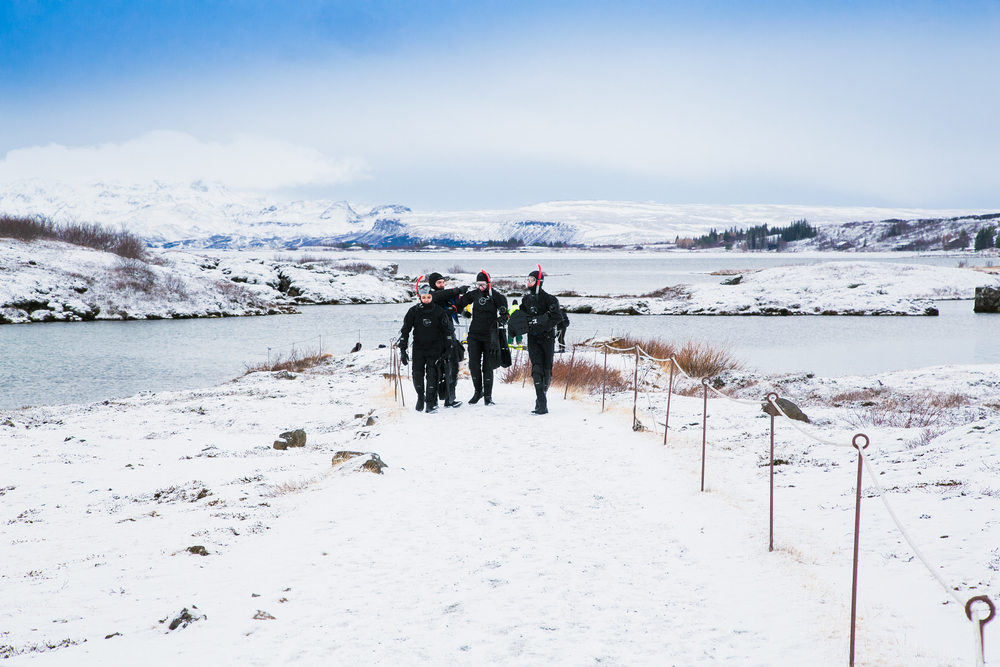 Best Time of Year to go Snorkeling in Silfra Iceland
One of the best things about Silfra snorkeling is that there is no wrong or right time to go! You can go at any point in the year!
However, do note that in the summer, there are typically more divers and snorkelers. The winters, on the other hand, are a lot calmer with traffic but the winter weather conditions also pose some issues with surface conditions and getting to the fissure itself.
This will ultimately be your call of when you visit and go Silfra snorkeling!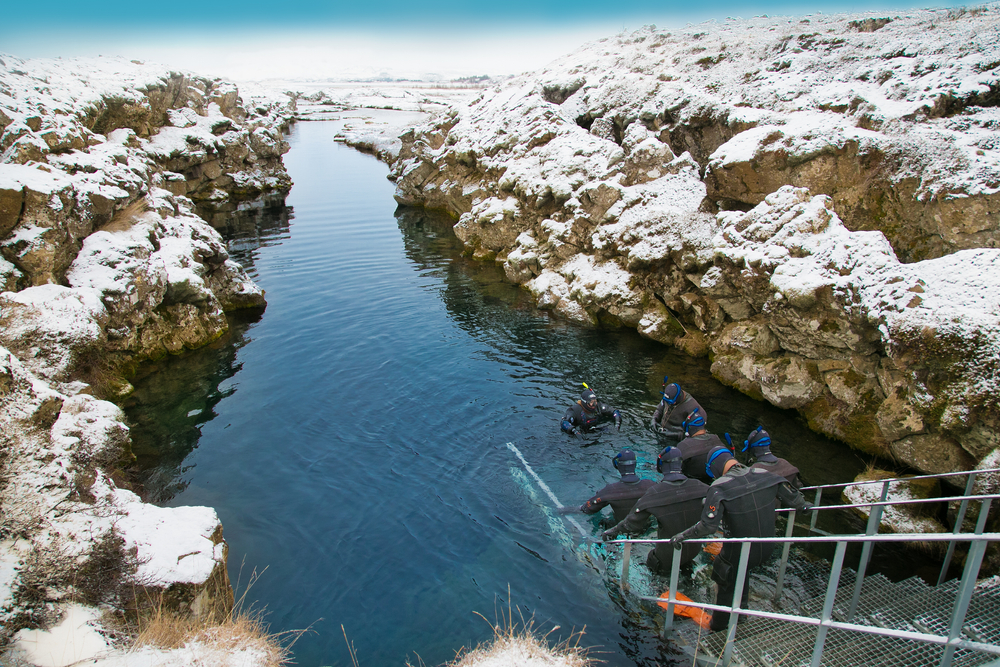 Book Your Snorkel Between Tectonic Plates in Advance
These tours sell out so quickly– so you want to make sure to book your Silfra snorkeling tours well in advance of your trip! Do not wait until the day before you want to take a tour to try and book, especially if you are traveling in Summer.
Do your research and book early! Besides, if something changes, most tours offer a 24-hour cancelation feel.
You just don't want to miss this. Remember, the plates move and shift every day, so the fissure crack may look different for different tours and in different months. Book now! You don't want to miss a Silfra snorkeling opportunity!
And before you go or book anything, make sure to check out our article on the 25 Most Important Iceland Travel Tips you must know!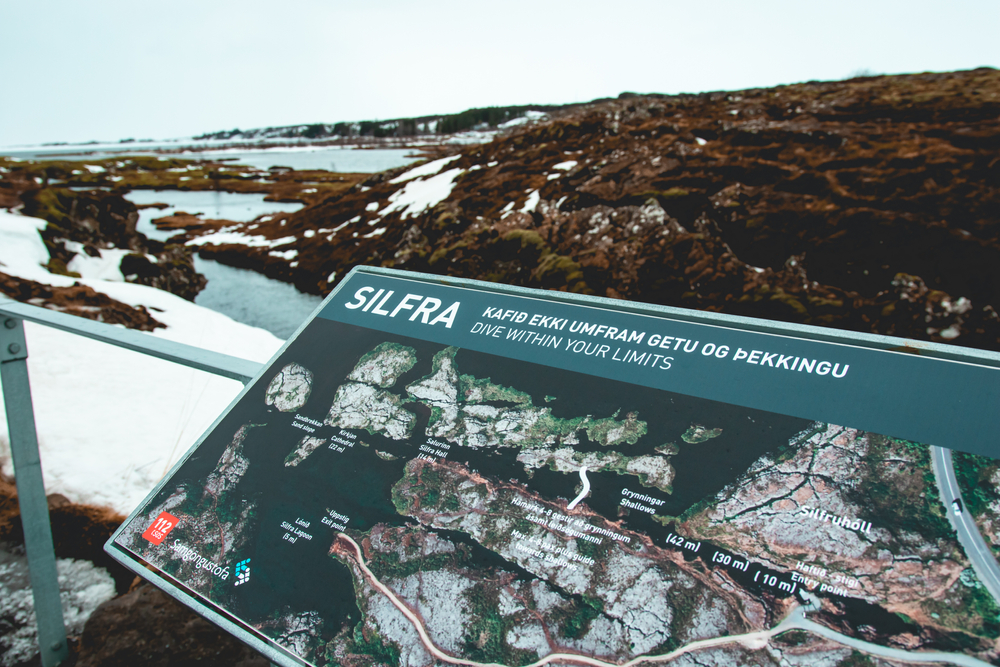 Taking Photos is very Hard!
As we mentioned earlier in this post, taking photos while snorkeling, caving and diving in the Silfra can be very difficult. Because of the cold weather and water, most tours offer gloves and these gloves are bulky.
With thicker fingers it can become hard to press buttons or even firmly grasp onto a camera– and you don't want to drop that to the bottom of the fissure valley! So don't take the chance. Book a tour that takes photos for you. Whether they are a part of the tour's package or offered for purchase after the adventure, that is up to you!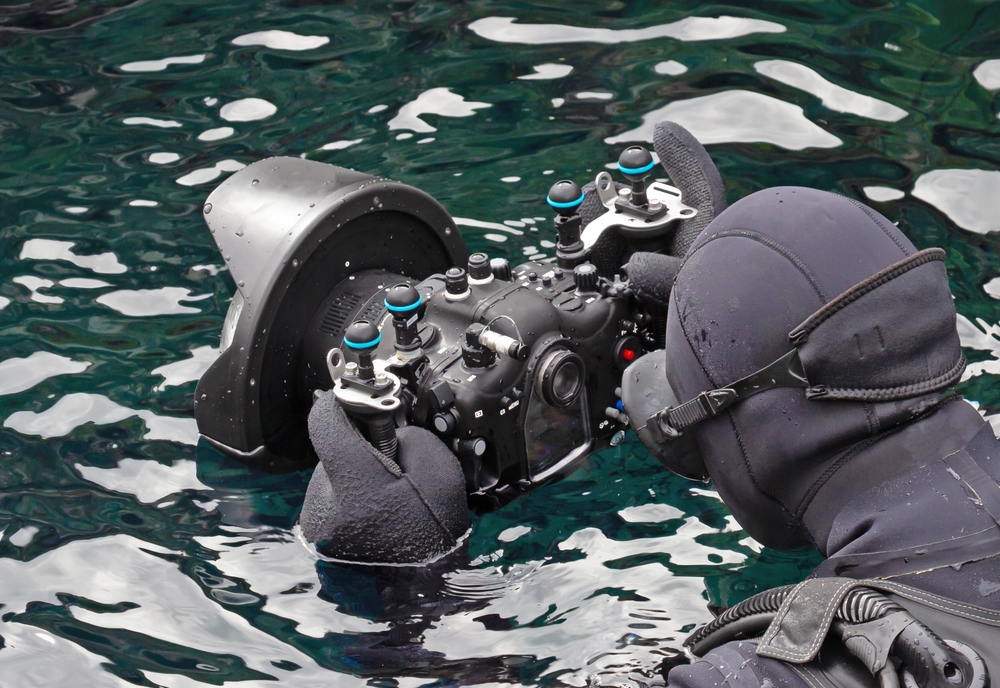 So there you have it folks! Some of the best Silfra snorkeling tours for Iceland and some insider tips for your adventures to this magical location. This fissure is truly breathtaking, so book a tour, prep your warm clothes, and go explore the deep blues in a rare cite that only exists in Iceland.