Here is a list of every Iceland canyon you need to know about for your next trip. Add these locations to your Iceland itinerary in order to fully embrace the rugged wilderness that makes up this beautiful country. With insane, moody views that simply scream "Iceland," these canyons are something you need to see in person to truly believe and admire. It is easy to say that these canyons in Iceland will blow your mind!
Iceland is a country that was carved out over time by rivers and glaciers, leaving behind glorious scars in the formation of rugged canyons. With a mixture of sheer cliffs, varying stone textures, rushing rivers, and graceful waterfalls, none of these canyons were created equal and each has a unique quality.
To really get up close and personal with them, make sure to pack some good hiking boots because there is going to be a good amount of walking and climbing to get to the best viewpoints. But, the work will be worth the effort when you get to see the awe-inspiring scenes stretching out before you.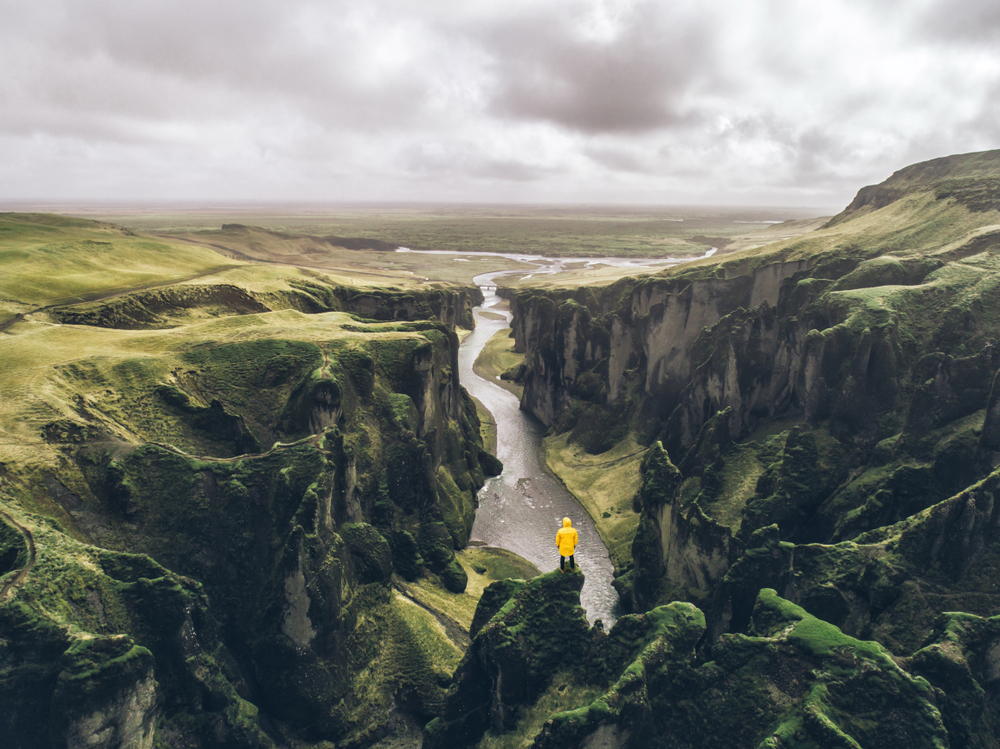 10 Canyons In Iceland That Will Blow Your Mind
Mulagljufur Canyon
This first Iceland canyon is found just off the Ring Road about twenty minutes south of the popular tourist stop, Jokulsarlon Glacier Lagoon. With such proximity, you can easily visit both Mulagljufur Canyon and the lagoon on the same day.
Just make sure to schedule enough time for the approximate three-mile round trip hike you'll need to conquer to reach the summit of this mighty Iceland canyon. Then, of course, add in extra time for taking pictures that will make everyone back home jealous. This canyon is also one of the hidden gems in Iceland, so with fewer tourists, you may even get the place to yourself.
The hike is uphill on the way up, but it is relatively easy. We aren't huge hikers and hiking uphill is usually difficult, but we found this hike moderately easy with frequent breaks. We made it to this viewpoint in about 45 minutes. It was enjoyable with great views!
The Mulagljufur Canyon is also where you will find Mulafoss, a magnificent waterfall that falls about 100 meters over the uneven stone cliffs at the head of the canyon. From a distance the silver stream of the waterfall stands out starkly against the darker land that surrounds it, adding to the perfect natural backdrop. Snap a wide-angle photo here to capture the complete scene.
If you are still planning your trip, we have a 5 Day Iceland Itinerary, 4 Day Iceland Itinerary, and 3 Day Iceland Itinerary, depending on your needs. We have carefully crafted these itineraries to include the best of the best stops and things to do in Iceland!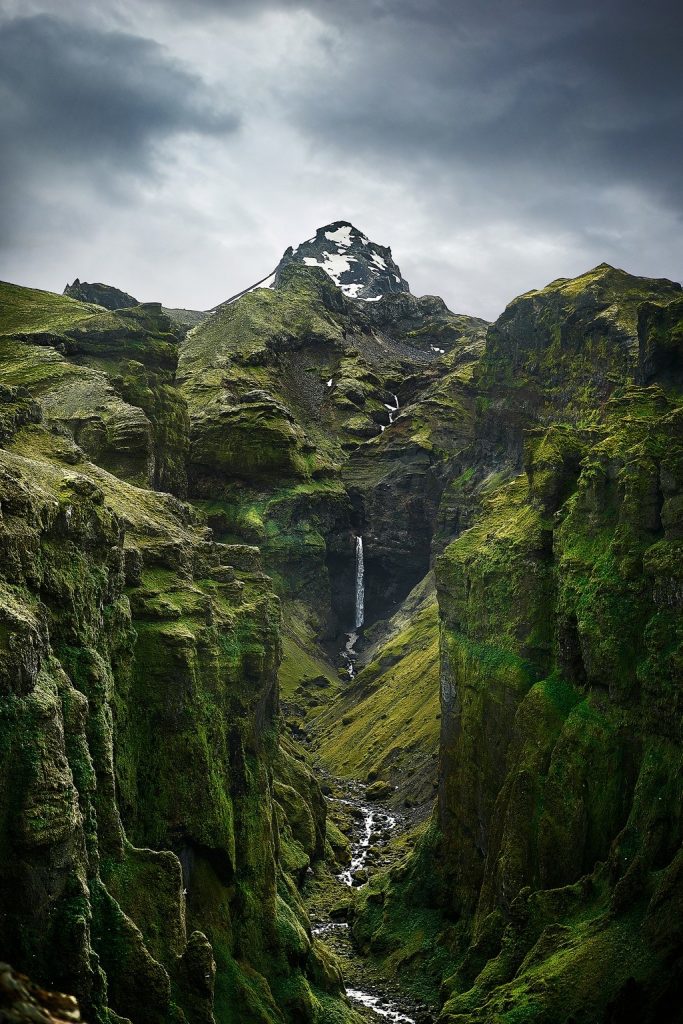 Fjadrargljufur Canyon
Fjadrargljufur Canyon is a 100-meter deep passage with stunning moss-coated walls and an ancient river flowing through its base. It is possible to hike down to the bottom when the water level is low, or you can stick to the top and hike along the outlining ridges.
Beware of the edge as you walk and make sure to keep on the designated paths. The moss that grows here is very delicate and takes decades to repair itself if it is damaged. Take care to respect nature while you enjoy the views.
This Iceland canyon is not too far from the Ring Road in the south of the country. It can be visited the same day as Eldhraun Lava Field, another beautiful moss-covered landscape found just on the other side of the Ring Road from the canyon.
Visit these spots in the spring or summer to get the best sights of the vibrant green moss. In winter it will be a dormant brown or covered in snow, but still worth seeing, though be extra careful while hiking as the paths may be slicker.
This is one of the best stops around Iceland's Ring Road. If you happen to be driving in Iceland, you will want to ensure that you make time to see it!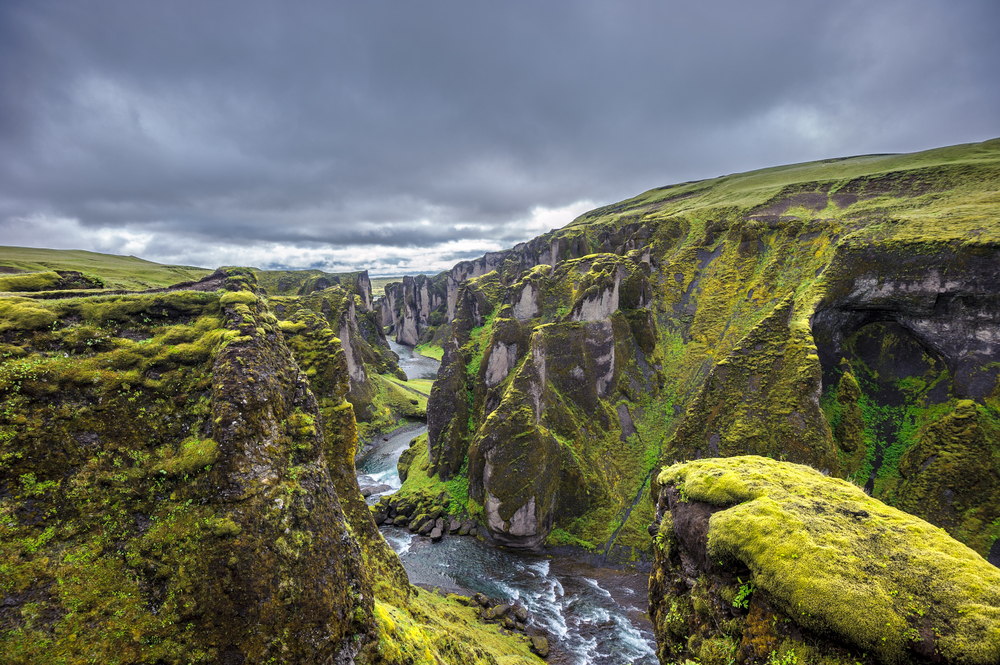 Studlagil Basalt Canyon
The jaw-dropping Studlagil Basalt Canyon is one canyon in Iceland that will take your breath away and is not to be missed if you are planning on driving the whole Ring Road, or at the very least are going to visit the eastern section of the country. With walls made of towering, black basalt, this canyon is unique and worthy of praise. Standing near it will make you think you have landed on an alien planet.
The Studlagil Basalt Canyon was formed long ago by the glacial river Jokulsa a Dal, which still flows a vivid blue down at the canyon's base. In certain areas, the basalt stones are shorter and act as natural steps that can be used to climb closer to the water to get the perfect shot.
Be careful, as always in these Iceland canyons, to watch your step and pay attention to your surroundings. Falling into a frigid and rushing river should not be on your Iceland bucket list! As long as you keep safety a top priority, visiting this amazing canyon will be well worth your time and you will not regret making room for it on your Iceland itinerary.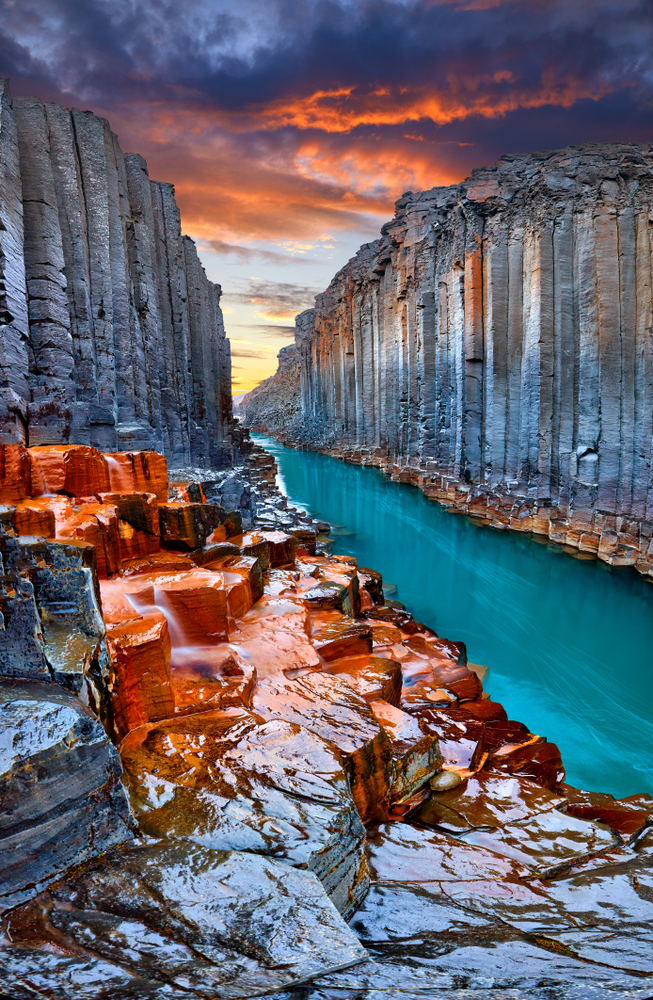 Jokulsargljufur Canyon
Jokulsargljufur translates to "glacial river canyon" which tells you everything you need to know about how it was formed by the strong Jokulsa a Fjollum River, the second-longest river in Iceland. As one of the deepest canyons in Iceland and with a length of about 25 kilometers, this giant and ancient landscape is a not-to-be-missed location.
Jokulsargljufur Canyon is located in Vatnajokull National Park in the north of Iceland and can be reached by leaving the Ring Road and driving along Route 864.
This canyon is a landscape full of mesmerizing rock formations, interesting vegetation, and many noteworthy waterfalls. Some of those waterfalls include Dettifoss, Selfoss, and Hafragilsfoss. If you really want to treat your eyes to something amazing, try catching a view of Dettifoss.
This 100-meter wide waterfall is thought to be one of the most powerful waterfalls in Europe and as you watch the insane amount of water gush over its edge, you will understand why.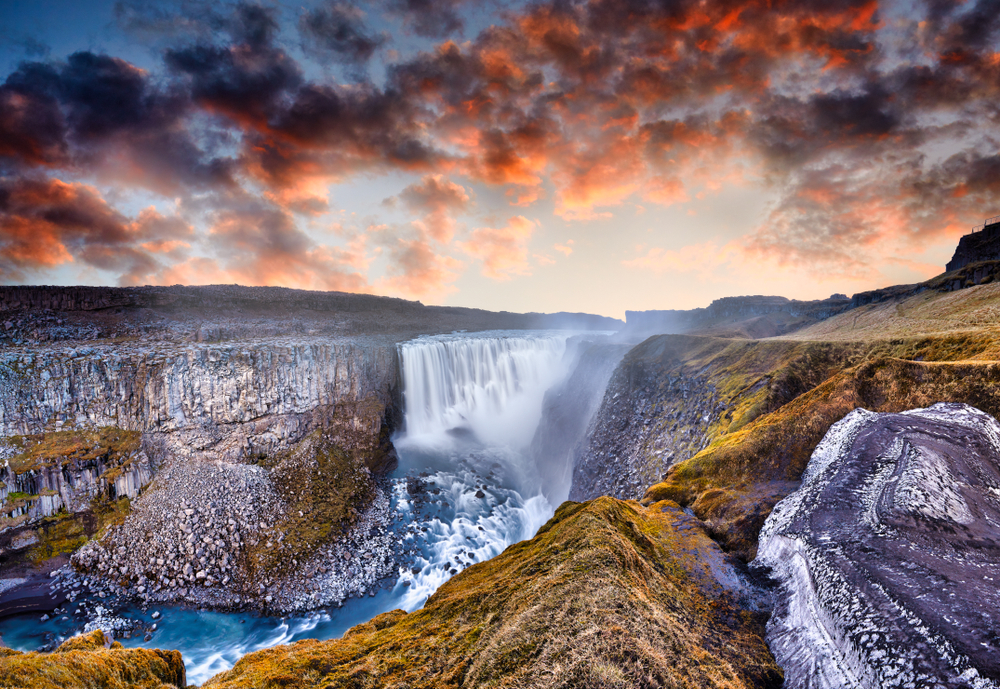 About a kilometer downstream from Dettifoss is Selfoss, which is not truly one waterfall, but a series of smaller falls that flow down into the main river. Because Dettifoss and Selfossare are so close to each other, they share the same parking lot and it is possible to hike to both from there. If you plan on visiting Dettifoss, there is no excuse to overlook Selfoss, though it is smaller, it is still an amazing sight. With both of these waterfalls found in Jokulsargljufur Canyon, they help to mark this as an Iceland canyon you must see to believe.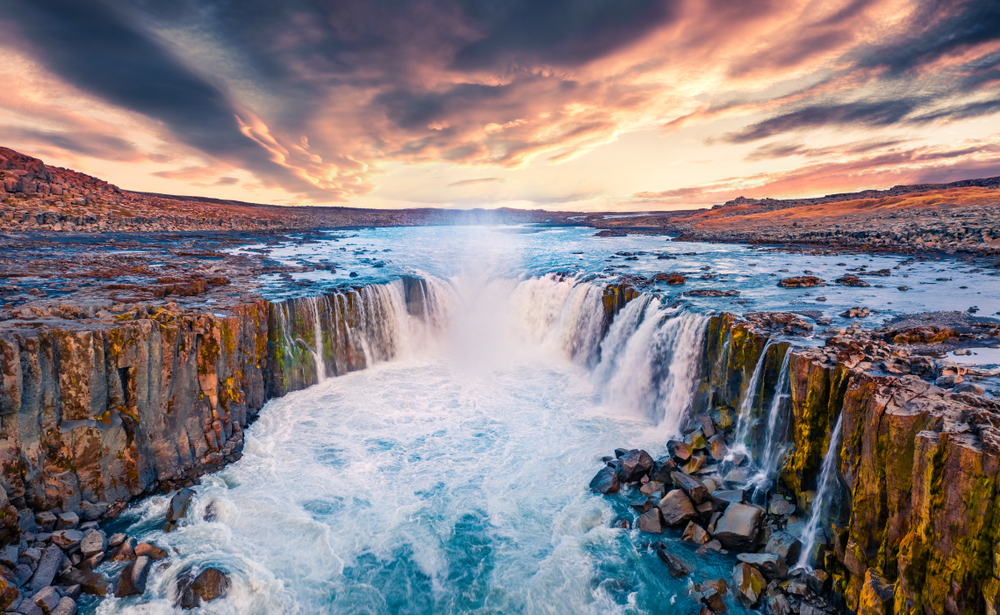 Sigoldugljufur Canyon
Next is Sigoldugljufur Canyon, which can be found in the south of Iceland and can be found by turning off the Ring Road onto Route 26 before moving on F26 and then turning onto f208. Since this route includes f-roads, it is necessary to drive a 4WD vehicle.
After driving past a power plant, you will find a small road that will lead you to a parking lot. A short walk from there will lead you to the fantastic views this Iceland canyon provides. Because this canyon is so far out and involves some slightly difficult driving, not many tourists venture this far. Of course, they are missing out, but you will be rewarded with picture-perfect scenery.
With intricately carved gorges, a shimmering jewel of a river, and many hidden waterfalls, there is plenty for the eye to enjoy at this location. Though the work done at the nearby power plant has reshaped some of the lands, much of the area is still in its pristine natural state. From the Tungnaa River flowing at the base and the moss-spotted bluffs above it, there is a lot to see and explore at this canyon in Iceland. Make sure to bookmark it for your next trip.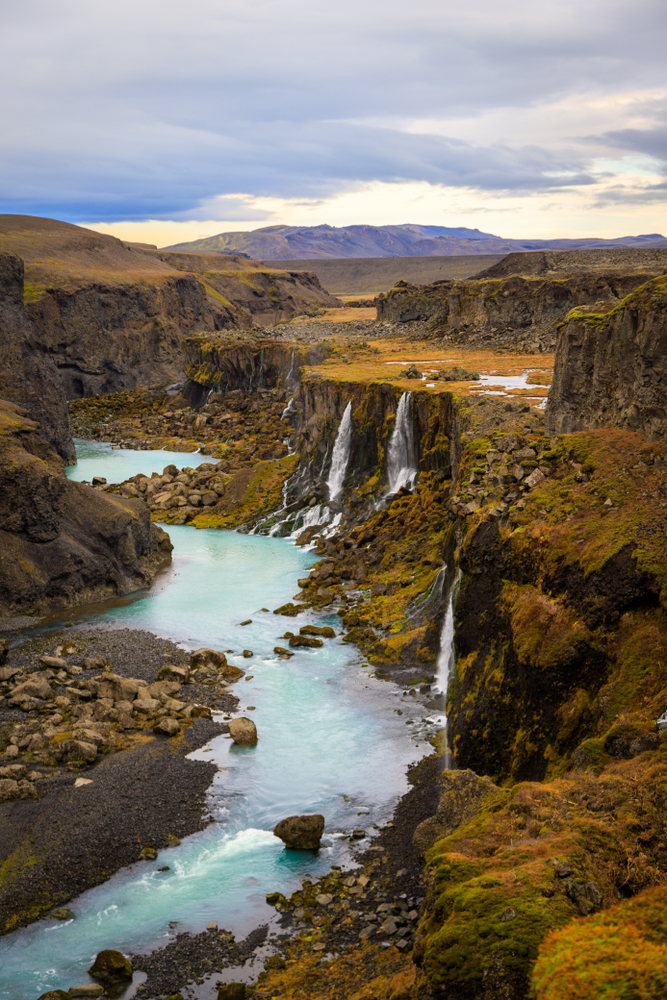 Glymur Canyon
Created by the powerful force of Iceland's second-tallest waterfall, Glymur Waterfall, this next Iceland canyon promises to blow your mind. Part of the glacial Botnsa River, the waterfall here drops an astounding 198-meters into the canyon below. Take time to appreciate the might of nature by witnessing firsthand how erosion can shape the land.
Glymur Canyon can easily be made as a day trip from Iceland's capital, Reykjavik, as it is less than an hour's drive to the canyon's parking lot. Though from there, you will have a nearly four-hour round trip hike to conquer. Make sure you are fit and ready for this hike, too, because it is more than a leisurely stroll.
You need to be prepared to wade through a river, venture through a cave, and trek treacherous, mountain paths. Make sure you check the weather before you start and only go when it is safe. Though there is no paved path, there are plenty of sign markers to keep you from getting lost. All of this work will be worth it, however, when you see the views.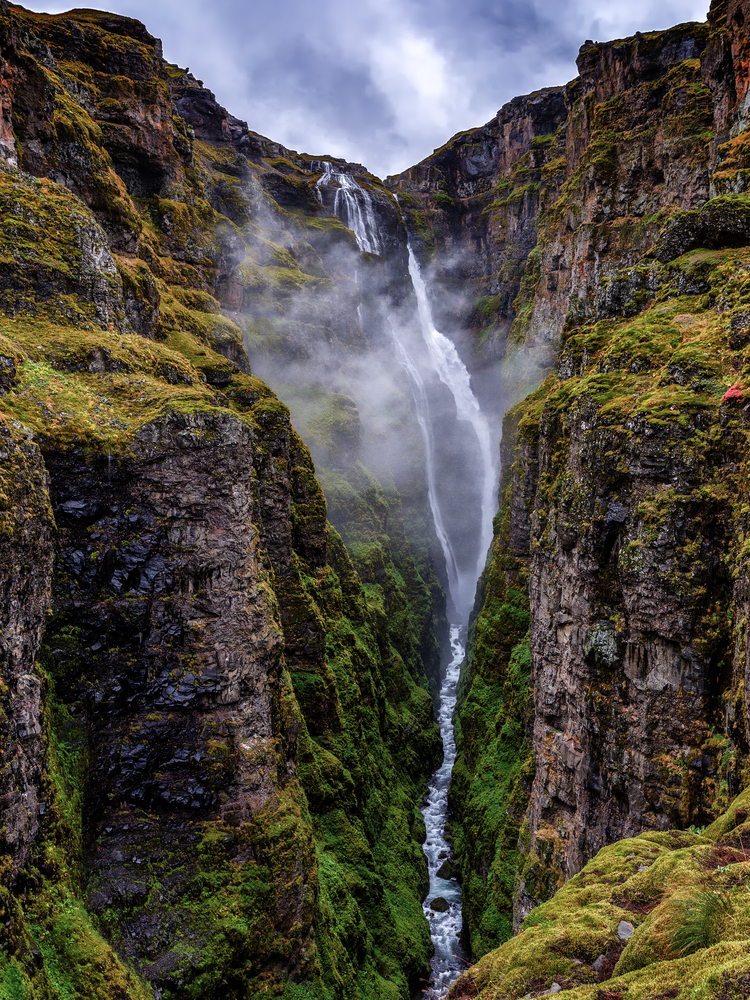 Nauthusagil Canyon
Nauthusagil Canyon, or Ravine, is next up on our list and is another canyon sure to blow you away with its beauty. After you make your way through the moss-covered walls of this Iceland canyon, you will find yourself face to face with one of the best-hidden gem waterfalls in Iceland.
Like with the last location, this place involves a bit of a difficult hike to get to the waterfall. You will need to climb over rocks, walk through water, and use ropes to make it to your destination. Again, it will be worth it in the end when you can finally pose for a selfie in front of the gushing Nauthusagil Waterfall.
Nauthusagil Canyon is located about two hours from Reykjavik, and so is another place you could visit on a day trip from the city. This canyon and the waterfall hidden inside are only a few minutes from two other waterfalls on the Ring Road, Gljufrabui and Seljalandsfoss. Try scheduling your Iceland itinerary so you can visit all three falls on the same day to make the most of your time.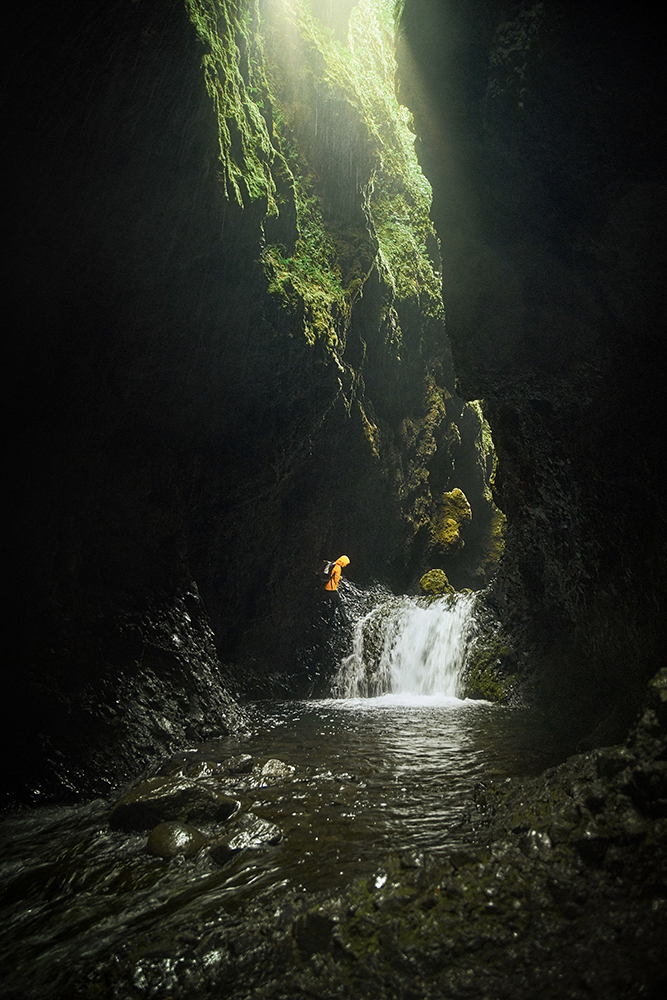 Gljufrabui Canyon
This Iceland canyon is home to the Gljufrabui Waterfall mentioned above. This canyon is very similar to Nauthusagil Canyon in that they are both mossy ravines with beautiful, secret waterfalls nestled inside. The difference between the two, though, is that Gljufrabui Waterfall is easier to approach. Though you will have to wade through the stream that flows through the canyon's opening, you will then be immediately greeted by the roaring 40-meter waterfall that lies within.
Gljufrabui translates to "canyon dweller," which is what you will want to become once you see the inside of this canyon. Near the base of the waterfall, there is also the perfect photo spot. Right in front of the waterfall is a boulder that begs to be climbed and posed on for an Instagram-worthy shot.
This stop is in a great area and is actually on our list of Best Places To Stay In Iceland. In this post, we offer suggestions for where to stay around the Ring Road!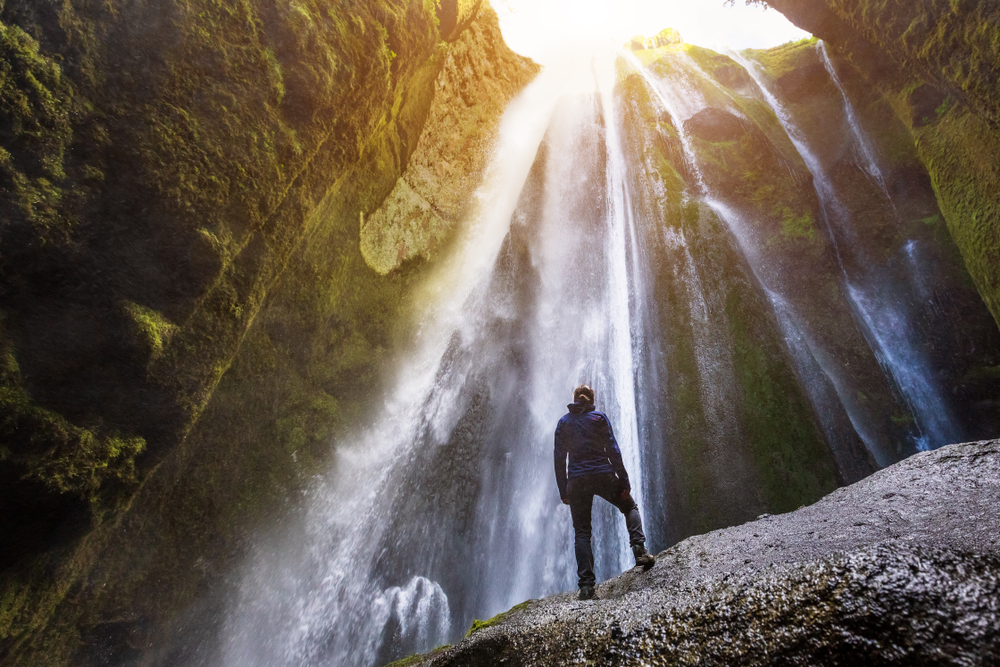 Kvernufoss Canyon
Kvernufoss Canyon is yet another Iceland canyon where you will find a drop-dead gorgeous waterfall. The Kvernufoss Waterfall tumbles down about 30 meters over the craggy stones that form the walls around it and into a gushing pool beneath. One amazing feature of this waterfall is the ability to walk behind the falls, allowing you an amazing perspective and a photographer's dream. This canyon is also one of the easier hikes mentioned here, so if you want a bit of a break, this is the place for you!
Kvernufoss Canyon and the waterfall found there is only a short hike from Skogafoss, one of the most popular waterfalls in Iceland, which is found just off the Ring Road near the south coast. If you are not completely sick of waterfalls by now, try to visit both of these on the same day. On the other hand, if it is your Icelandic goal to see as many of the amazing waterfalls the country has to offer then knowing how close these waterfalls are to each other is sure to bring you delight.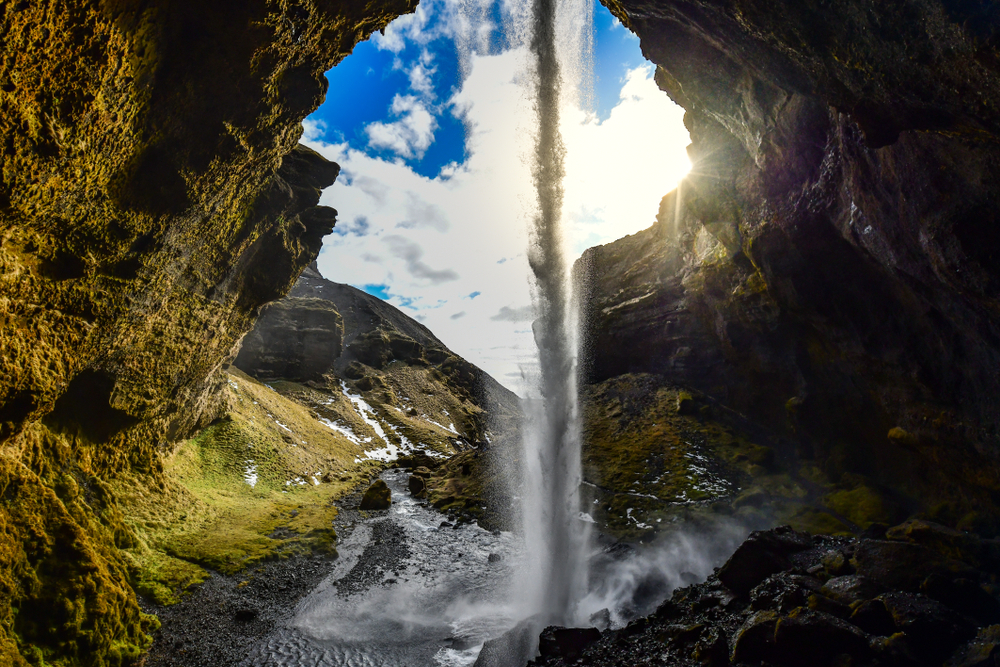 Stakkholtsgja Canyon
Last but not least, we have the Stakkholtsgja Canyon, which can be located in the south by driving on f249 with a 4WD vehicle. In this 100-meter deep Iceland canyon, you will find giant, rugged stone walls in otherworldly shapes. This wide canyon is a great place to explore as there are plenty of secret caves, side ravines, and waterfalls to find.
This is another easy hike as long as you do not mind possibly getting some wet feet. Although there are some defined paths, there are no bridges, so depending on the water level when you visit, you make have to wade through the river that runs here. As long as you are cautious of where you place your feet, the hike should be relatively straightforward. Allow yourself at least an hour and a half to make the hike in and out of this amazing canyon.
We hope you have found some beautiful and unique Iceland canyons to explore on your trip to Iceland! With so much to see at each one, you will lose yourself in the beauty found in these carved-out landscapes. Have fun and be safe as you hike along the rocky and often wet paths!