Are you wondering where the best Iceland photography locations are? We get it. An epic holiday deserves the best photos as a reward. So grab a camera, wipe your lenses, and head out for all the Icelandic photography locations where you can get incredible shots.
There is something so special about Iceland. The cold and distant island is filled to the brim of jaw dropping scenery. When you visit Iceland, it will be hard to put the camera down even once. Trust us. The vast open landscapes and colorful mossy mountains make for awe-inspiring shots. Even more, the balance between power and peace in the natural landscape will be sure to inspire any photos from Iceland.
Iceland's beauty is not hard to photograph either. Giant craggy mountains and basalt columnar joints create for the perfect rugged and moody background, just like in Game of Thrones. Epic icy shots can be taken beside large drifting icebergs at Jokulsarlon Glacier Lagoon, or nearby, on Diamond Beach where the shimmering rubble of icebergs shine like brilliant jewels. Fall in love with pictures from hot geothermal areas that have astonishingly beautiful sapphire-blue hot spring waters, such as Blue Lagoon.
Get excited, because we want to share all the tried and true Iceland photography locations with you. We have been to Iceland many, many times. From those adventures, we have found so many beautiful spots for photos in Iceland. Use this list of locations to discover instagrammable spots in Iceland and awesome spots for landscape photography in Iceland. So, mark down these spots on the Iceland itinerary for one heck of a photographic journey through Iceland, the land of fire and ice.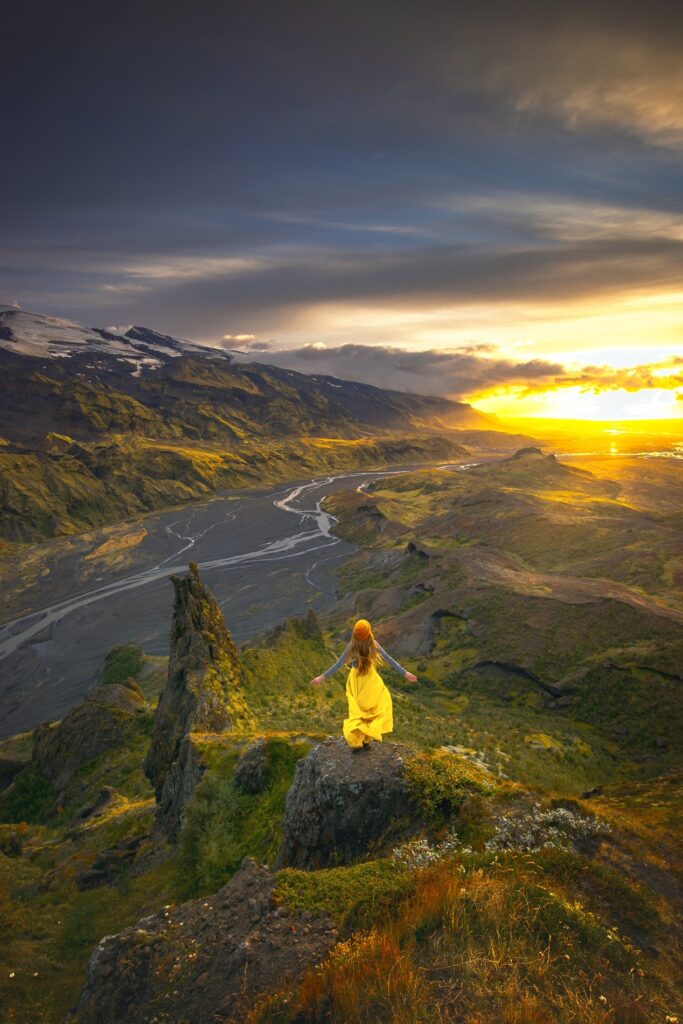 20 Best Iceland Photography Locations You Must Visit
Blue Lagoon
Head to Blue Lagoon hot springs for one of the most instagrammable spots in Iceland. You may have heard of Blue Lagoon before. That is because Blue Lagoon is one of the best hot springs in Iceland. You will want to plan ahead and make a reservation to visit these incredible waters. Not only are the springs a totally dreamy milky-blue, but the steam that rises from the hot waters create an element of texture to any photos taken here.
The best way to get awesome photos from Blue Lagoon is to relax and enjoy the hot springs first. Yes, we are serious! Enjoy the natural mud masks and a refreshing drink from the in-water bar as you soak in deep relaxation in the mineral-rich springs. After that, capture the perfect photo to remember the visit by. Using the steam as foreground in your shot, get some awesome Iceland photos of yourself or a friend.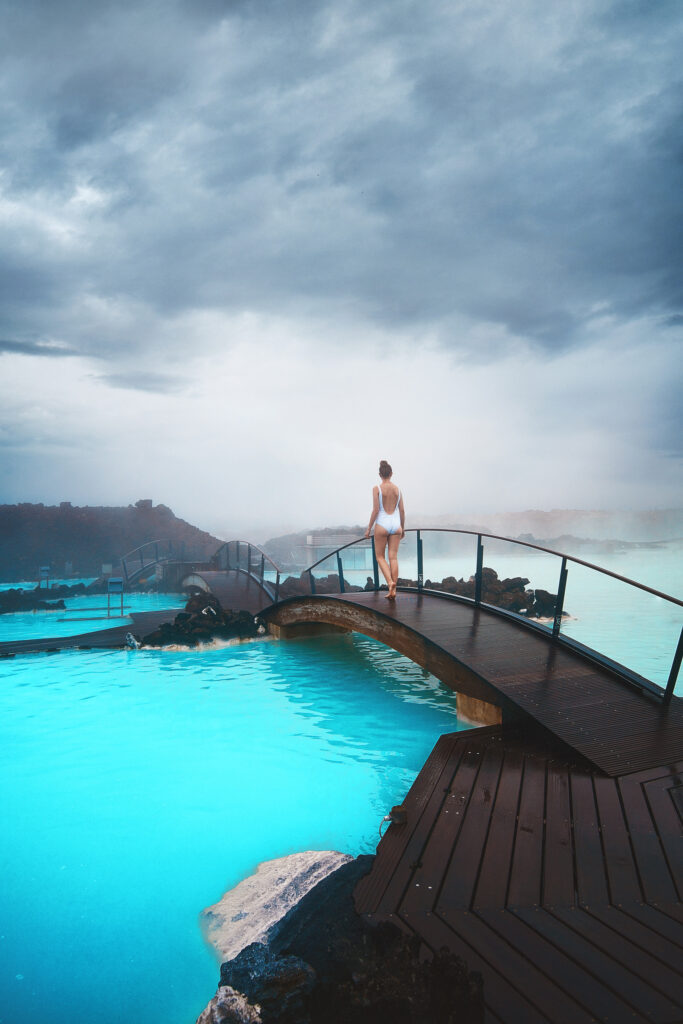 Mulagljufur Canyon
Make a stop at Mulagljufur Canyon for a beautiful landscape photography in Iceland. A short, twenty minute drive from Jokulsarlon Glacier Lagoon will bring you to this easy to trek canyon. Here, you will be met with moss covered walls keeping the secret of a beautiful slender waterfall.
Prepare for an easy-to-do three mile hike. Although the hike is not particularly hard, make sure to bring a little bit of water along with you. The hike will take about 45-minutes to reach one of the most epic canyons in Iceland. Take a moment to breathe in the vast landscapes and the chilled Icelandic air. Next, grab the wide angle lens to capture Mulafoss, the 100 meter waterfall tucked away in Mulagljufur Canyon. Finally, aim and shoot for the best Iceland photos within this hidden gem.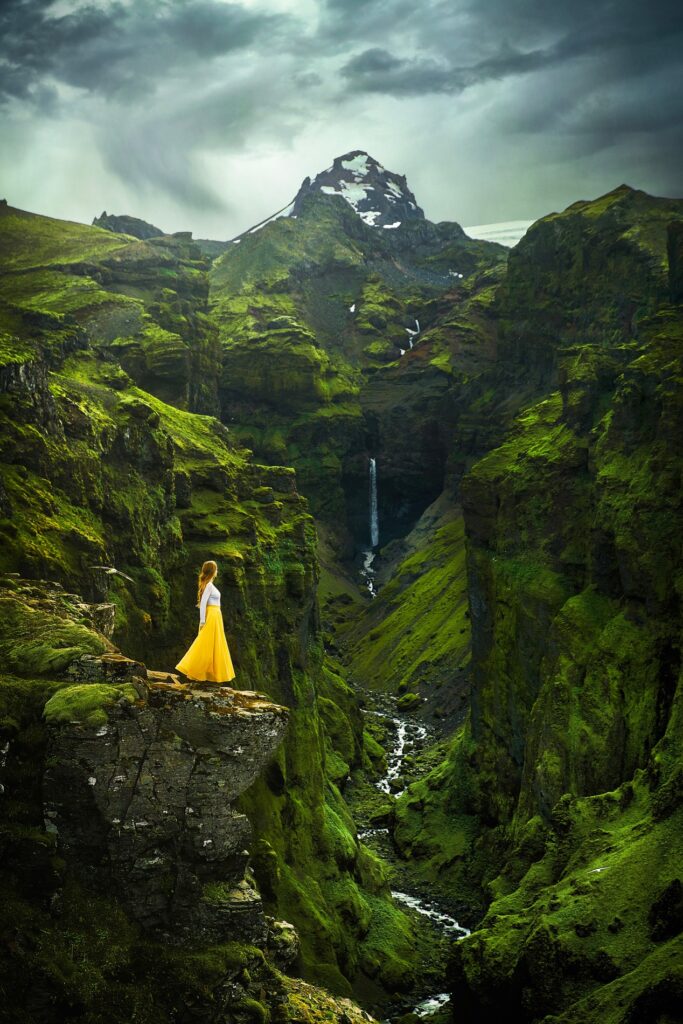 Dyrhólaey
One of our favorite photography locations in Iceland is Dyrholaey Promontory of the south coast. Moody and romantic shots of Iceland can be taken here. Dyrholaey is the perfect spot to get a bird's eye view photo of the coastline. You can even get a shot with distant sea-stacks in the background too!
We love to visit Dyrholaey during the summer for the best Iceland photos. The incredible midnight sun casts blazing orange hues over the black sand beaches which adds a near tangible feeling of infinity to the shot. It is truly a breath-taking experience to be had. This is also a perfect time to capture an idyllic shot of the waves crashing and curling around the promontory, or, the "land that juts into the water".
Pack the camera bag with a wide angle lens to capture the coastline, a zoom lens to capture photos of any puffins in Iceland, and a 50mm for any portraits by the lighthouse. Check out all the cool things to do nearby in Vik, Iceland while you are there.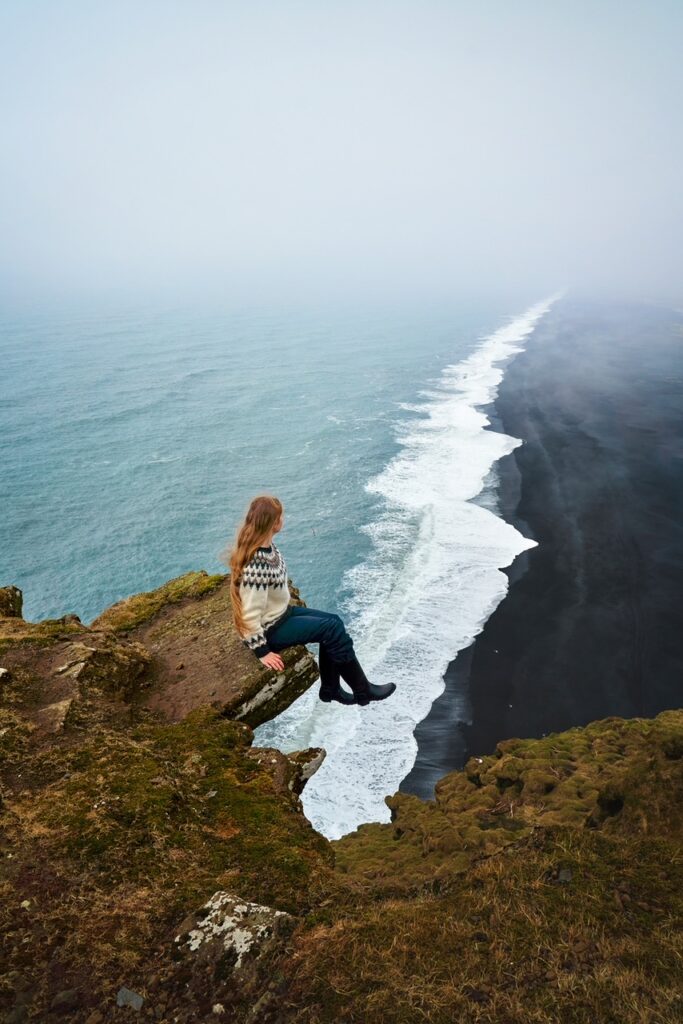 Godafoss
Gorgeous landscape photography can be taken at the "Waterfall of the Gods", Godafoss of North Iceland. Although this unique waterfall isn't particularly tall, but is abundant in beauty. The semi-circle waterfall has brilliantly blue cascading waters and a large pool at its base. It is no wonder that the beauty at Godafoss is searched out by many; after all, it is one of the best things to see in Iceland.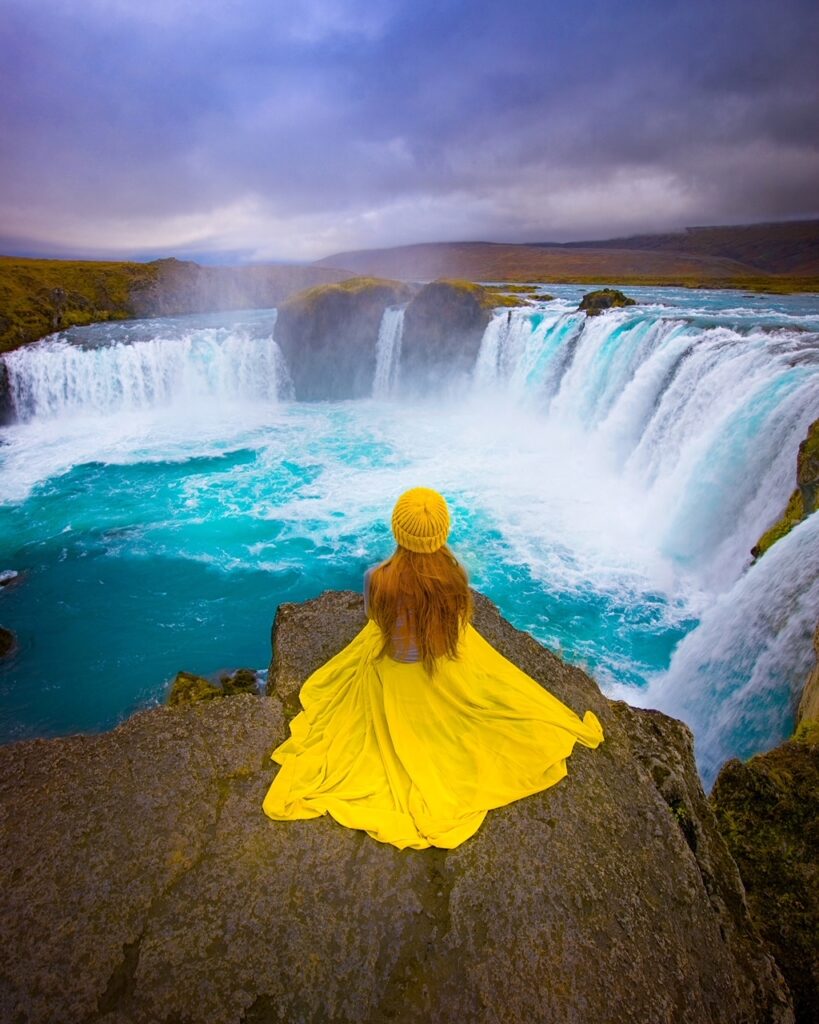 Skogafoss
Another one of the great photo spots in Iceland is Skogafoss waterfall, which lies just off the Ring Road. Great Iceland landscape shots can be taken by using a slower shutter to create airy and soft flowing photos of the waterfall. Alternatively, if you wish to capture just how powerful Skogafoss is, use a faster shutter speed. Don't worry though; we can fill you in on all the things to know about Skogafoss waterfall in Iceland before you even visit.
Plan for the type of shot you want before you buy the plane ticket. If you visit Skogafoss Iceland in the summer, you will get drastically different photos of the waterfall than from visiting Skogafoss in the winter. In the summer, you will be able to shoot Skogafoss surrounded by a mossy mountainside with possible rainbows floating overhead. Photos taken of Skogafoss in the winter will showcase a beautiful icy winterscape with northern lights dancing above the falls.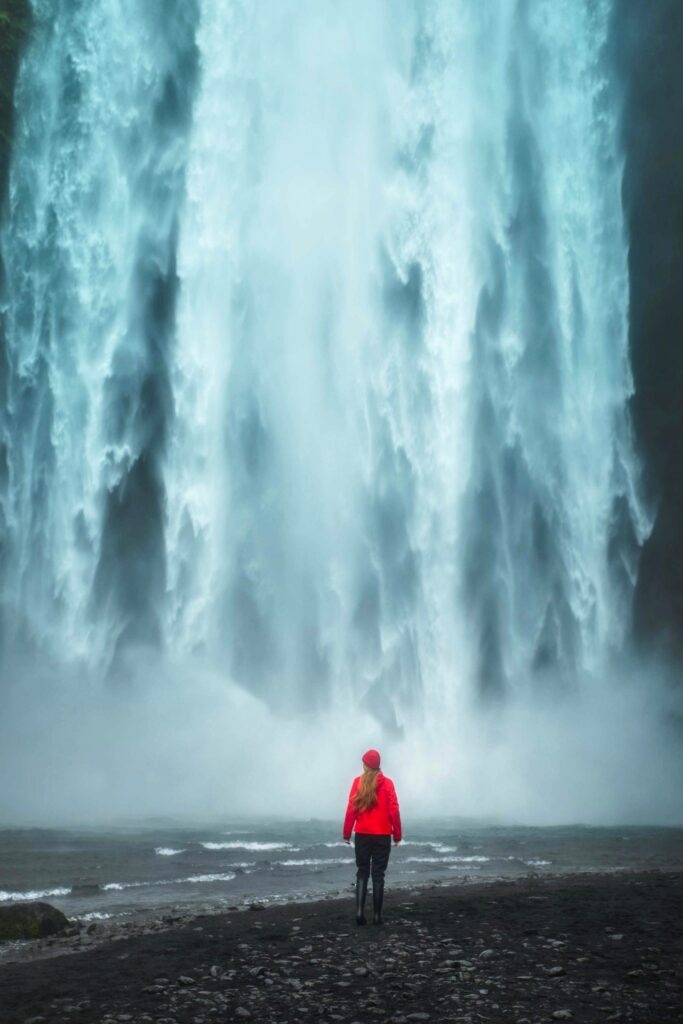 Reynisfjara Beach
Head over to Reynisfjara black sand beaches for more moody and dramatic Iceland photography. The beach at Reynisfjara is so dreamy that it was used as one of the Game of Thrones filming locations in Iceland. This is truly one of the best Iceland photography locations and it is easy to access.
Visit the sea cave on Reynisfjara beach with a wide angle lens for an epic shot of the Atlantic. Then, make use of the basalt columnar joints as the perfect backdrop for selfies or romantic shots of couples. Also, be sure to include an iconic capture of the Reynisdragnar sea-stacks to the shot list, which according to legend are the petrified bodies of trolls!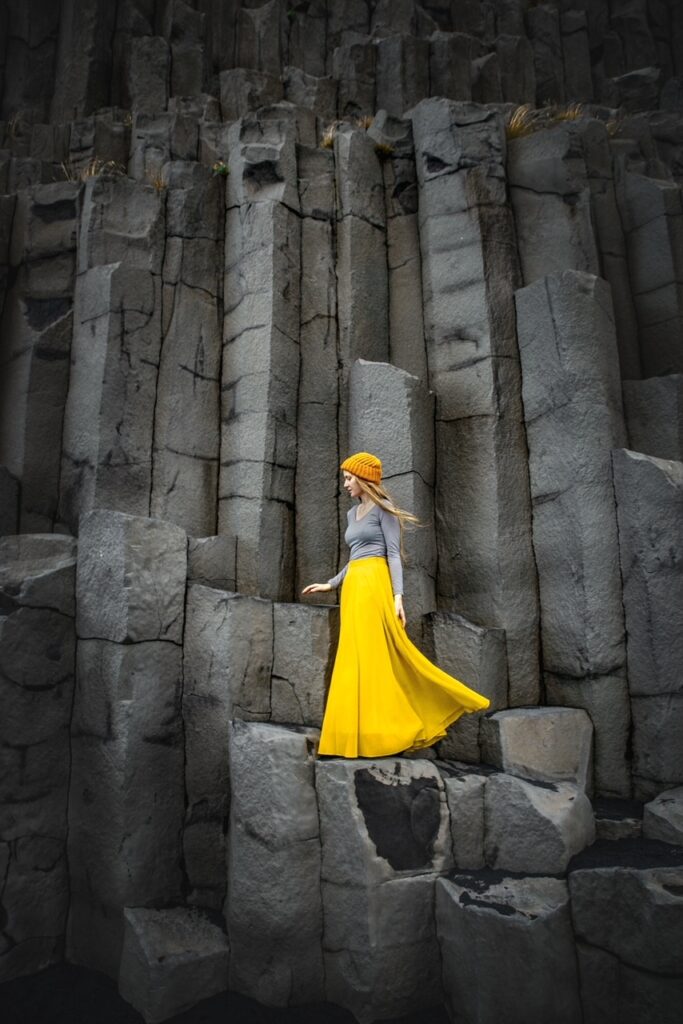 Seljalandsfoss
There is magic to be found when using Seljalandsfoss as a location for great Iceland photography. Not only is it one of the most instagrammable spots in Iceland, but you can actually walk behind this waterfall too! Although every shot from Seljalandsfoss is bound to be amazing, we suggest waiting until sunset for crazy rainbow colors within your shot. Because the waterfall spills over the mountain toward the west, photos taken during golden hour will be illuminated with vibrant colors of the setting sun.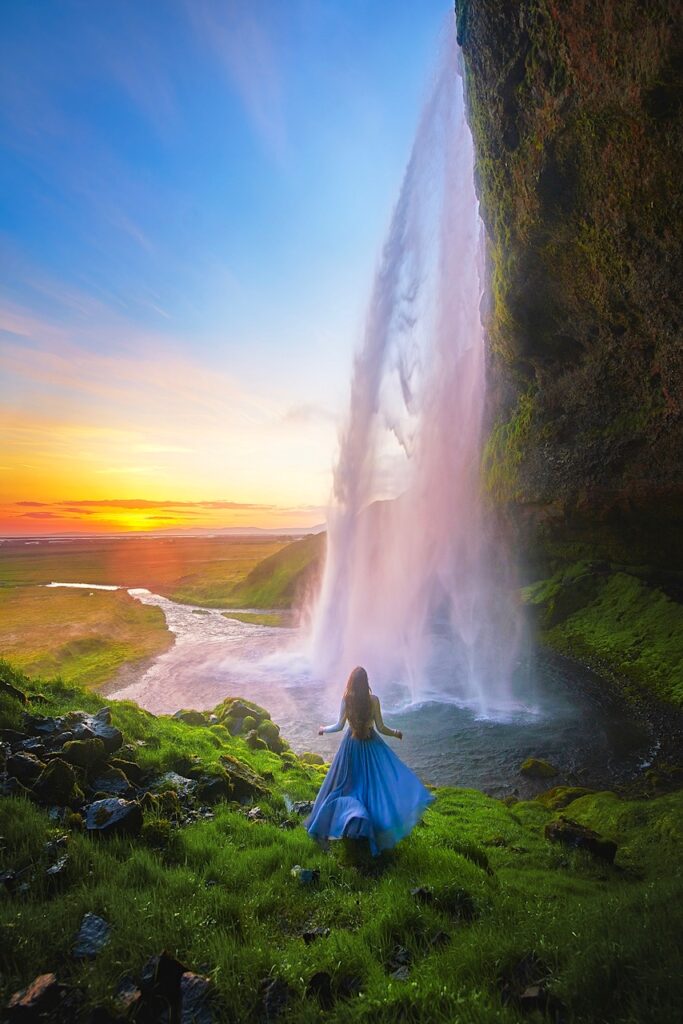 Sky Lagoon
Sky Lagoon is one of the best instagram spots in Iceland and is actually found a short 10-minute drive from the capital, Reykjavik. The best part about Sky Lagoon is that it is an oceanside geothermal luxury spa. That's right; these gorgeous hot springs look just like an infinity pool on the world's edge. A gorgeous view of the Atlantic makes for beautiful photos of Iceland. On the other side, a stone-gray rock wall closes the hot spring off from the bustling capital allowing you to reconnect with nature just outside the city. We highly recommend Sky Lagoon as one of the Iceland photography spots totally worth the effort.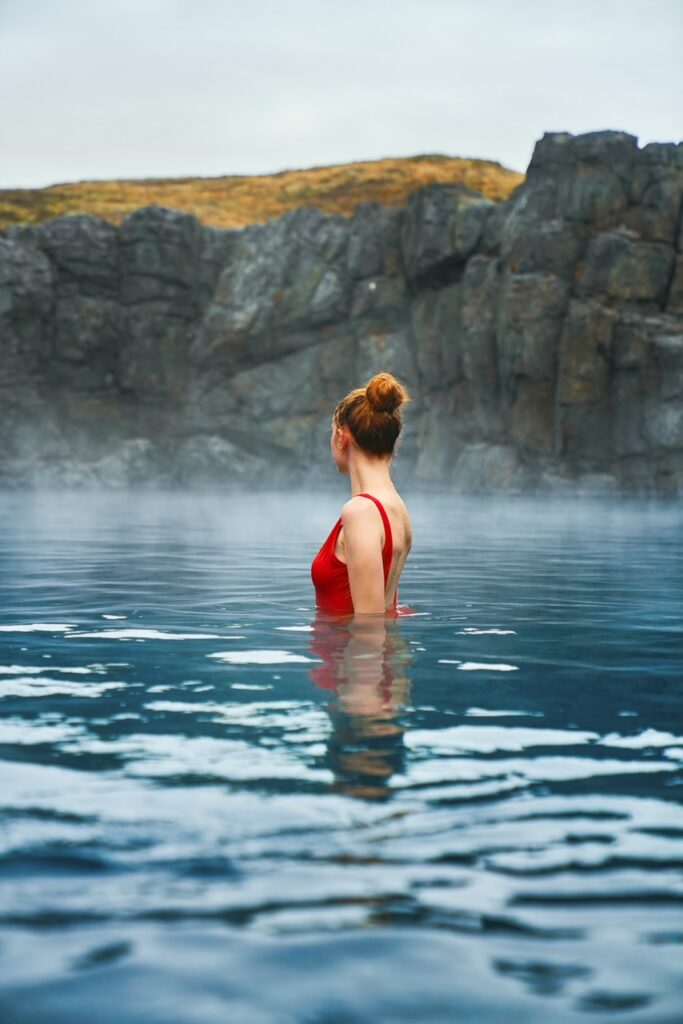 Stokksness
Trust us when we say that you don't want to miss out on Iceland photography at Stokksness. This is definitely one of the best places to visit in Iceland with the most magical black sand beaches. We love the Stokksness Peninsula for the huge mountain range, the purple lupine flowers, and the small tufts of grass that line the beach. Days when the tide leaves behind a small film of water on the sands make for our favorite Iceland photos. Not only is the mountain reflected on the water, but it also looks as if you are walking on water.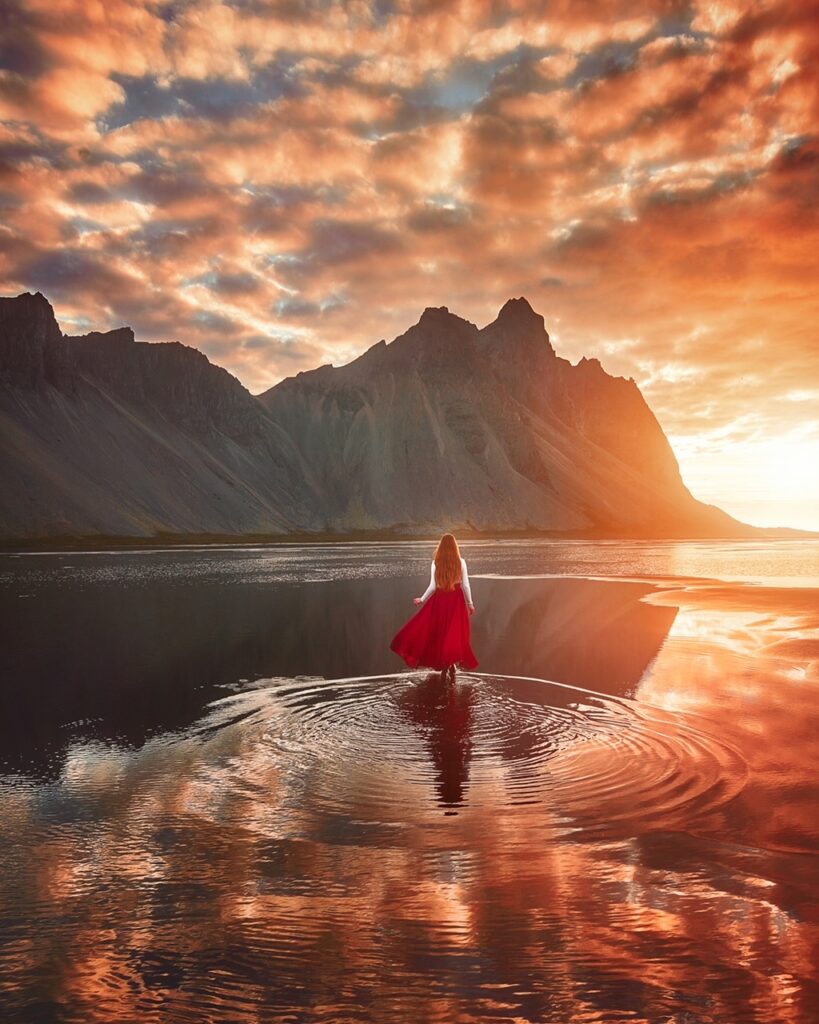 Dynjandi
Dynjandi is the place to get the best landscape photos of Iceland. Not only is Dynjandi one of the best Westfjords attractions of all time, the views here are endless. This monumental cascading waterfall stands 200 feet wide and 100 feet tall. Another great thing about Dynjandi is the full 360 view of the westfjords. You'll get to capture beautiful views of Arnafjordur and Dynjandisvogur bay, the place that once inspired legends of sea monsters. There is no doubt that you will find Dynjandi to be a great place for Iceland landscape photography. Bring your favorite handheld camera though because drones are strictly illegal here as the area is a natural protected monument.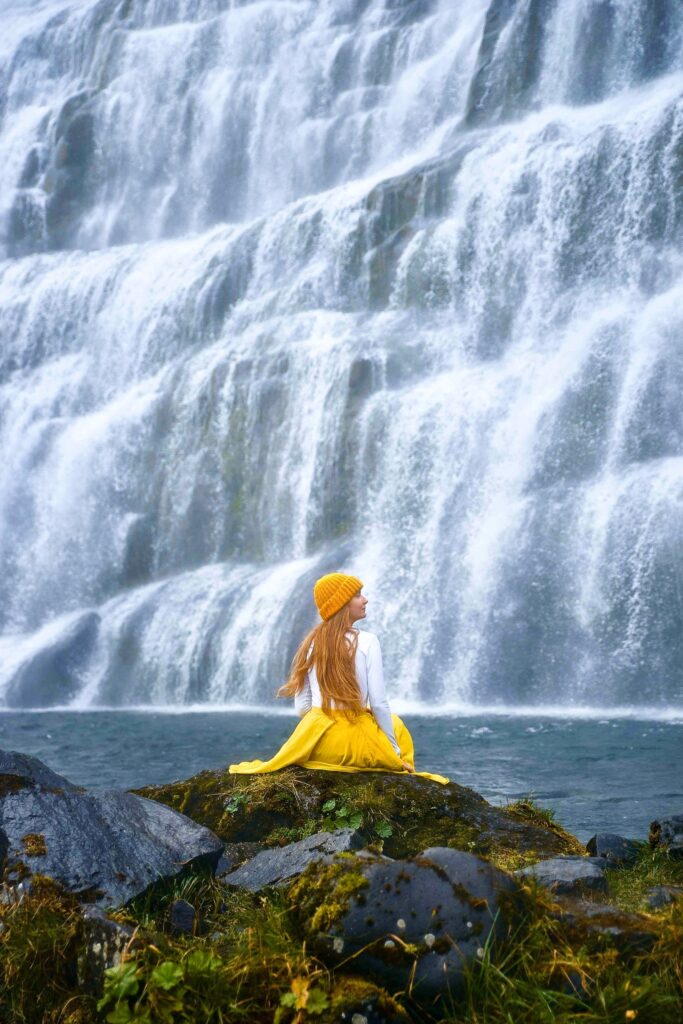 Fjallsarlon
Take a dip in Fjallsarlon Glacier Lagoon, just 25-minutes off the Ring Road. Use your camera or phone to snap shots of the icy lagoon, playful seals, and floating icebergs. Be inspired by the peace and quiet of Fjallsarlon lagoon. If you are quiet enough, you may even be able to hear the cracking of the ice nearby. This is a great place to stop for photos even if you only have 5 days on the Iceland itinerary as it is one of the best things to do in south Iceland.

Sólheimajökulll
Another great spot for photos in Iceland is Solheimajokull Glacier. Fondly referred to as the "Home of the sun glacier", this is a gorgeous and easy to access spot for views of a glacial outlet. Solheimajokull is the place to take photos of an icy blue and black marbled wall against beautiful mossy green mountains. Just be sure to not attempt walking on a glacier alone while you visit as it is very dangerous. Instead, book a spot with one of the many wonderful glacier tours that allow you to walk safely across the ancient ice sheet.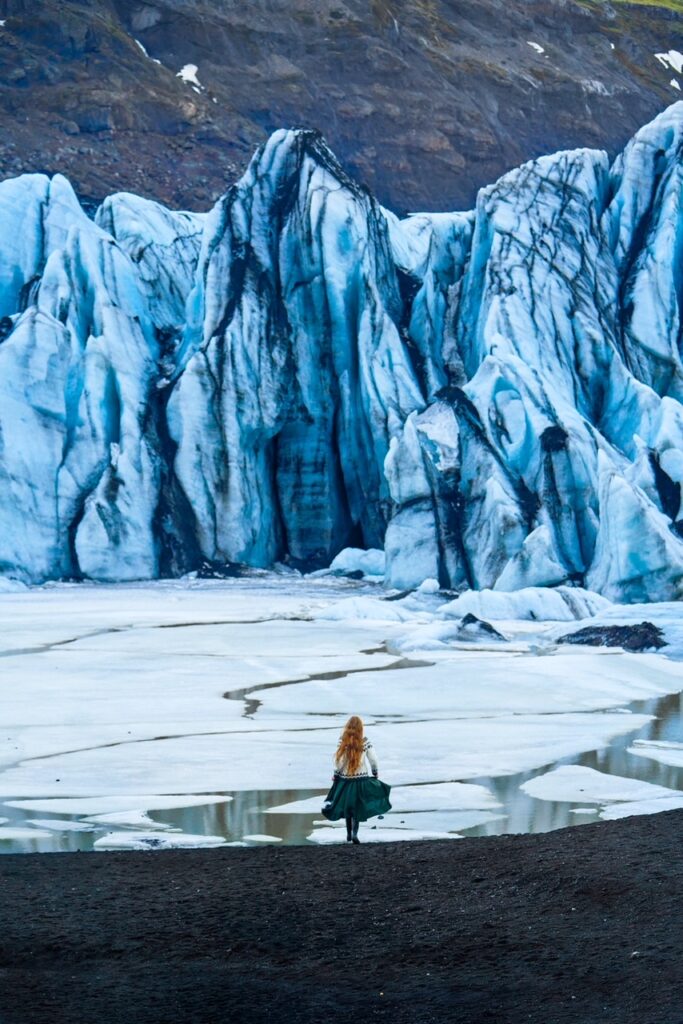 Thorsmork
Visit Thorsmork in the highlands for amazing landscape photography in Iceland. Thorsmork is a beautiful nature reserve in the highlands with entrance from south coast Iceland. You'll be stunned with the vast open landscapes, flowing rivers, and the many canyons within. Although this spot is not for the faint of heart, the reward for getting to the highlands of Iceland is truly exponential.
However, we should inform you of the nitty gritty details of the challenges to reach Thorsmork. First, you can only visit Thorsmork in the summer. Then, you'll need a 4×4 drive vehicle to traverse is F road into the highlands. If you don't feel comfortable traversing roads which cross river streams, just get on a mountain bus or go with a tour guide. Next, trek down one of the many hiking trails within Thorsmork to capture photos of the lush green mountains. Finally, smile with deep satisfaction of the gorgeous photos of Iceland you just took.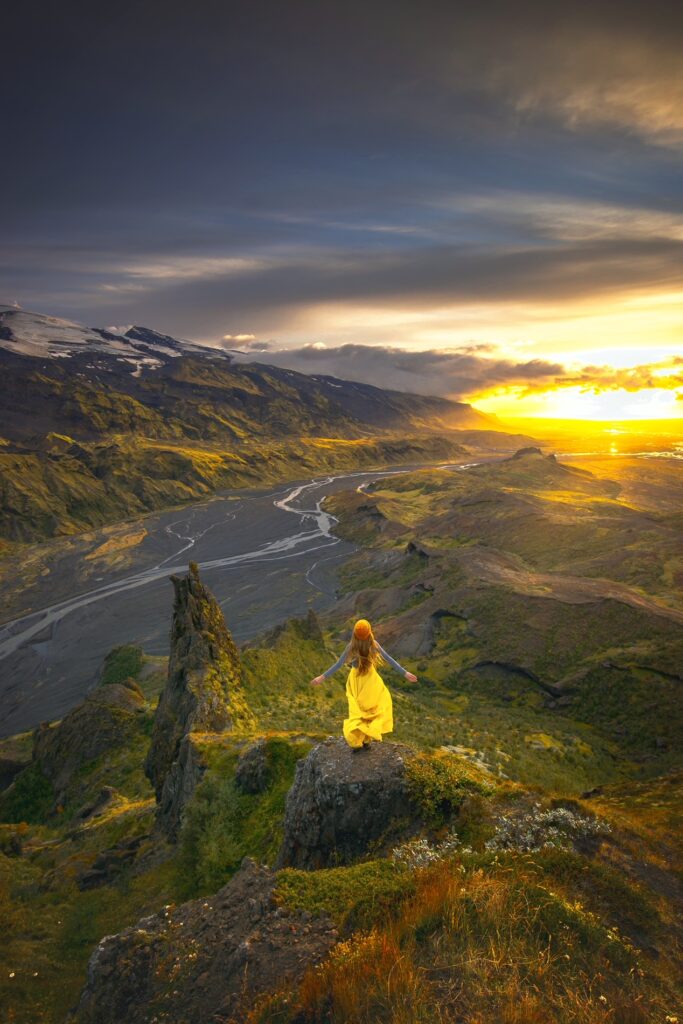 Diamond Beach
Go to Diamond Beach across the road from Jokulsarlon Glacier Lagoon. It is another great spot to visit in the south coast for Iceland photos. This black sand beach contains the rubble remains of icebergs that had been weathered by the sea. Consequently, the amount of 'diamonds' on the beach are directly related to the tides.
Can you capture the magic found on Diamond Beach? We think it lies within the tiny bits of ice strewn across the sand, as they truly do sparkle like jewels. Try your hand at taking a shot of the light reflecting from the ice. We recommend using a 50mm lens, or the 1x setting on your phone.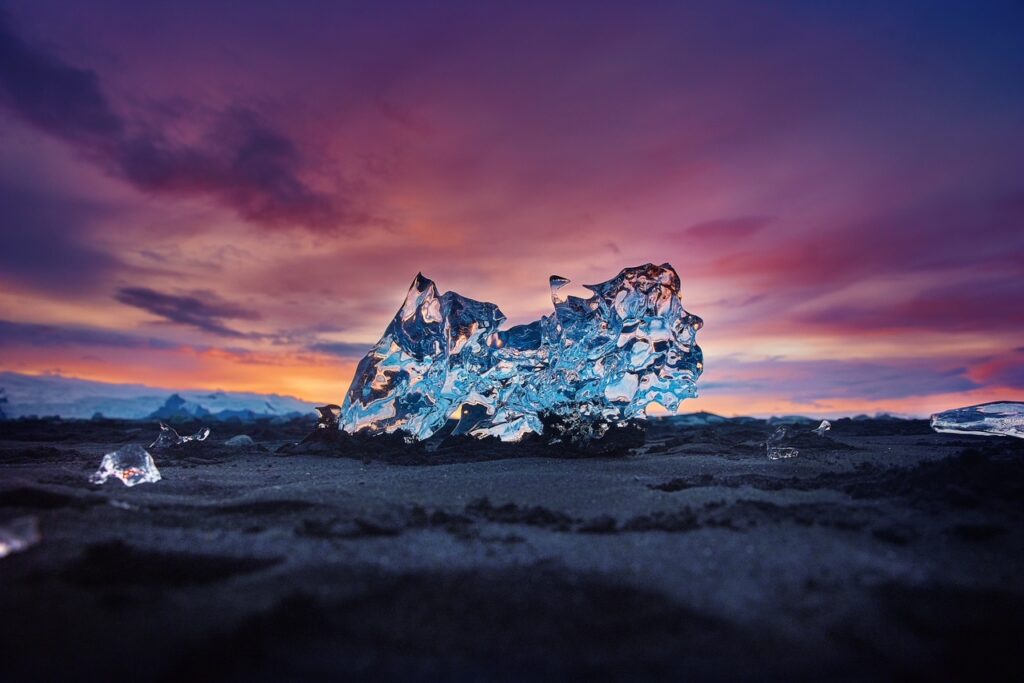 Kirkjufell
Next, head to Kirkjufell in West Iceland for Iceland photography that features an iconic moss-covered mountain beside a waterfall. Because Kirkjufell was voted as one of the top 10 most beautiful mountains in the world, we highly recommend a visit. Visit Kirkjufell in the winter for photos featuring the northern lights dancing above the stunning 463-meter high peak. You can find Krikjufell and lodging nearby on the Snaefellsnes Peninsula.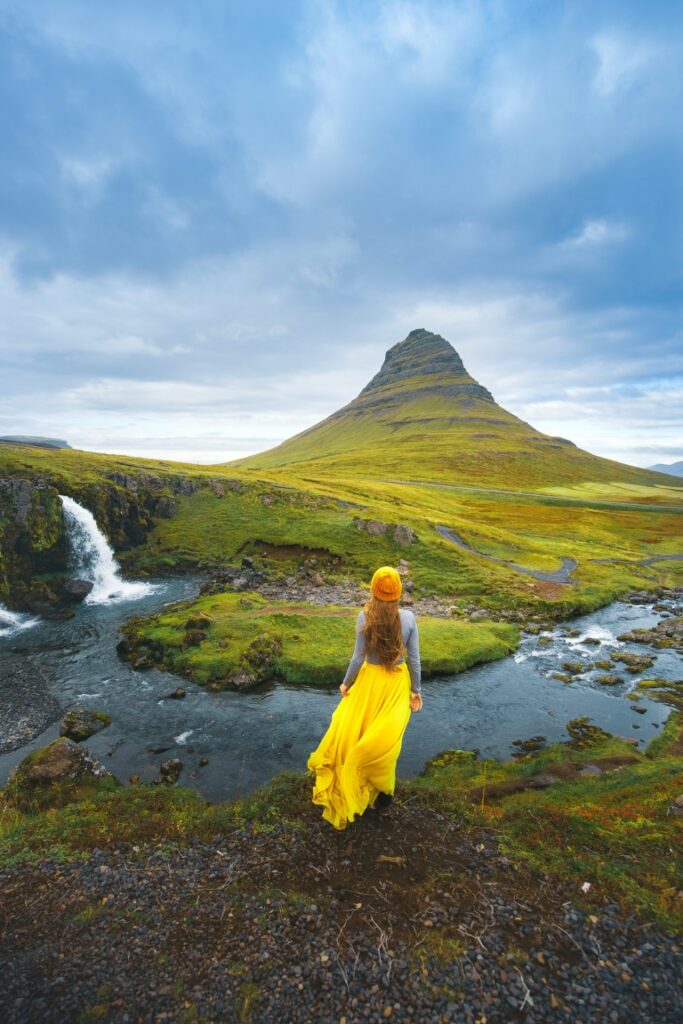 Dettifoss
While traversing North Iceland, visit Dettifoss, Europe's most powerful waterfall. There are two different sides to grab a shot from; However there is no bridge that makes getting to the other side easy. Instead, choose from either the east or west side to shoot epic waterfall photos.
Most travelers will choose the west side entrance to Dettifoss which shows the full length of the falls. Traveling to west Dettifoss is much easier to reach as it is a short 20-minute drive off the Ring Road. Alternatively, within a 45-minute drive you can be taking dreamy photos of east Dettifoss without large crowds of people. Our best tip is to protect yourself and your camera with waterproof gear as the spray from these falls can be a lot!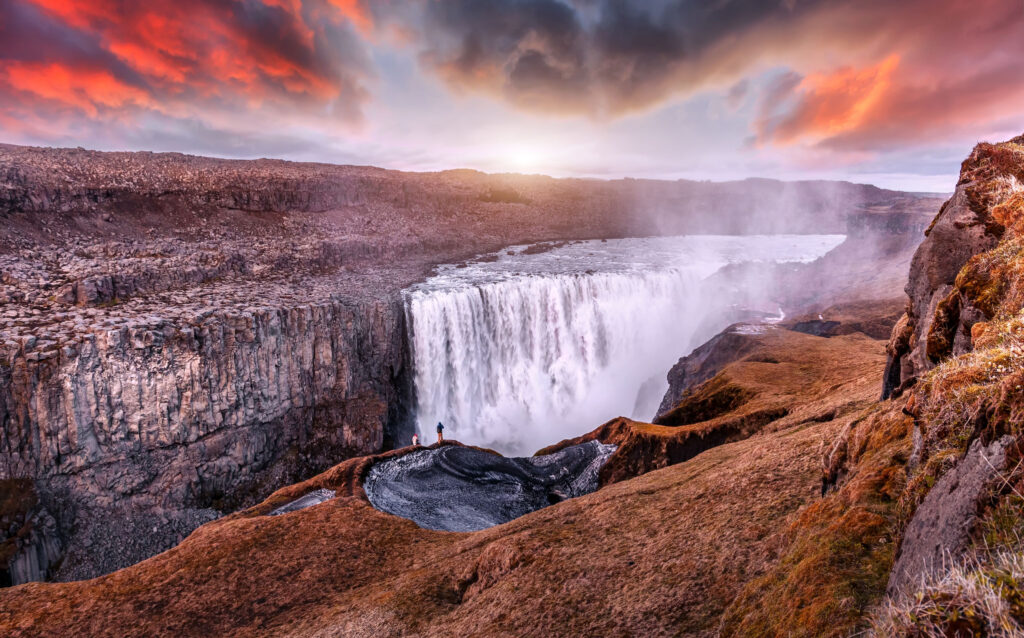 Seljavallalaug Swimming Pool
You may have seen photos from Seljavallalaug Swimming Pool before. That is because it is a very instagrammable photo spots in Iceland. To visit this dreamy of pool tucked away in the mountains, you will need to hike 2 miles, about 20-minutes each way. Enjoy the views as you soak in Iceland's oldest swimming pool. Take a beautiful shot before you leave!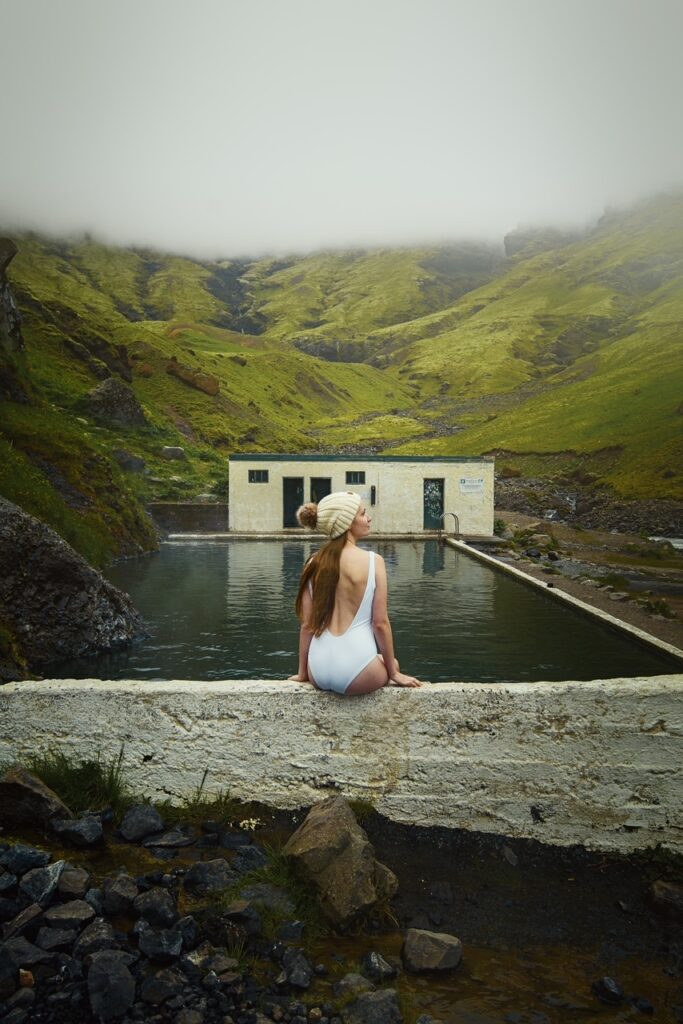 Hrunalaug Hot Spring
Hrunalaug Hot Springs are located off Route 30, which is also known as the Golden Circle. This Iceland photography spot is super easy to get to; it is just a 5-minute drive off Route 30. Choose from among three different pools to enjoy. We suggest using the rectangular pool at Hrunalaug hot springs for the most instagram-worthy shots. Not only are there great angles to be captured from this pool, it is the hottest one too!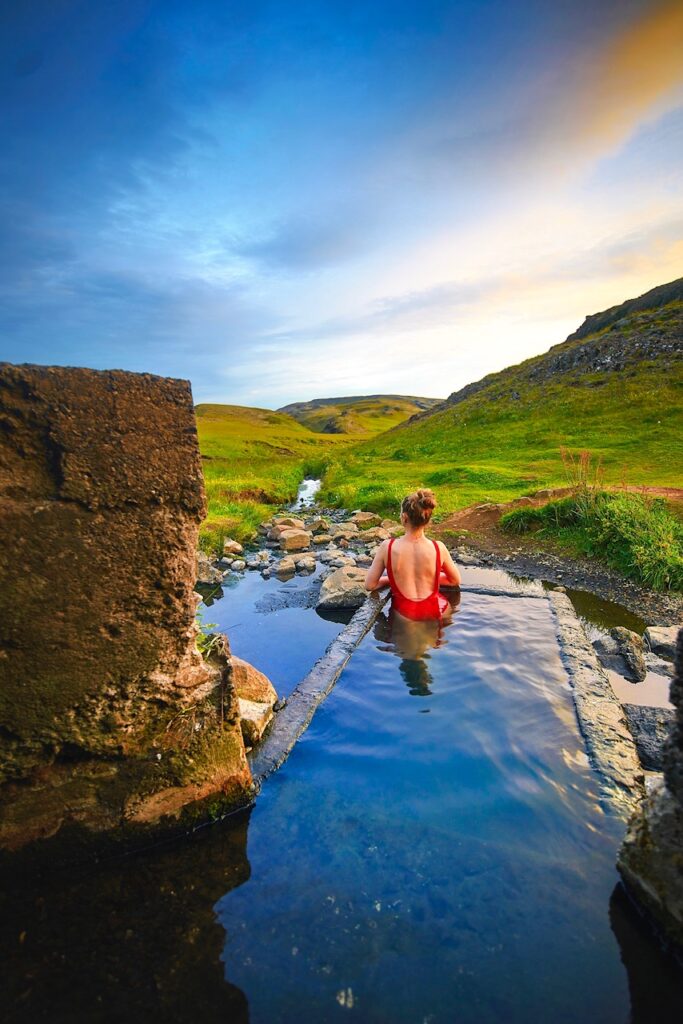 Aldeyjarfoss
Next, find your way to Aldeyjarfoss. This is one of the most beautiful Iceland waterfalls, although it takes a 4×4 drive vehicle to reach its remote location within the Iceland highlands. Slate gray basalt columns surround the waterfall with great symmetry. It totally sets the tone for moody Iceland photos. Brave the waters and plunge into the cold pools facing the falls for a great portrait shot. Aim to visit in the summer for the best photos from Aldeyjarfoss. While in the area, check out some of the other great things to do in the north, such as visiting the Rim of Viti Crater.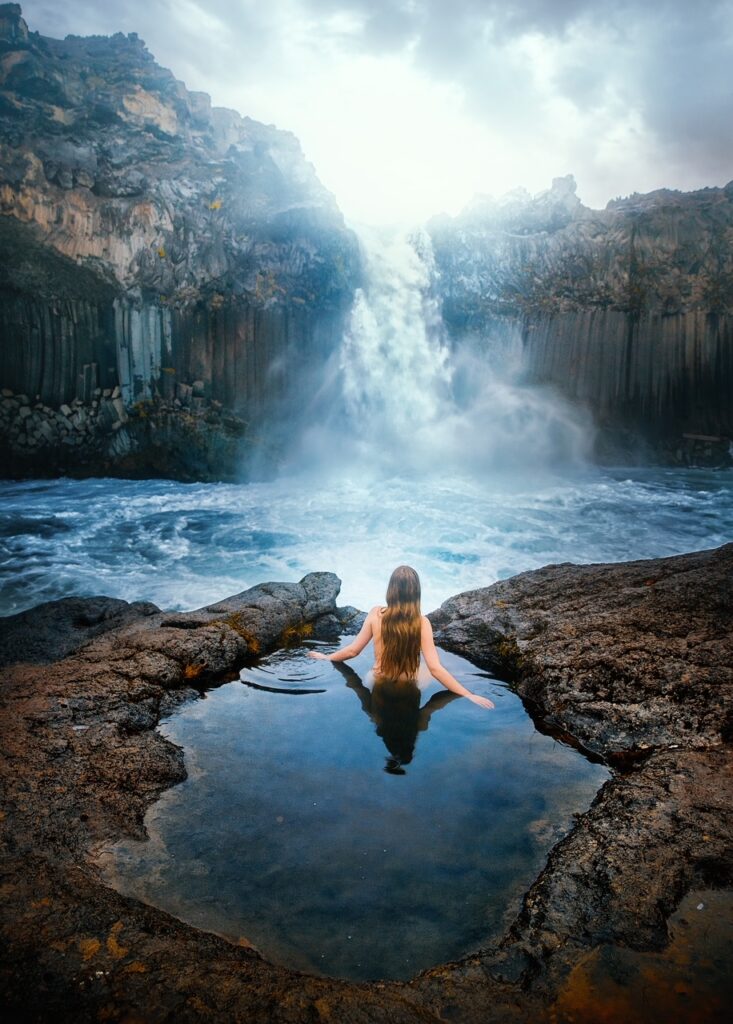 Seydisfjordurkirkja Church
Last but not least, have a blast with photos taken at Seydisfjordurkirkja Church. Walk, run, or jump down the rainbow road that leads to the powder blue church found in Seydisfjordur. While there are plenty of things to do in east Iceland, photos at the church will be some of the most fun and lively ones taken on the whole trip. Give your best pose on the rainbow road in front of one of Iceland's prettiest churches. Ready? Set. Go.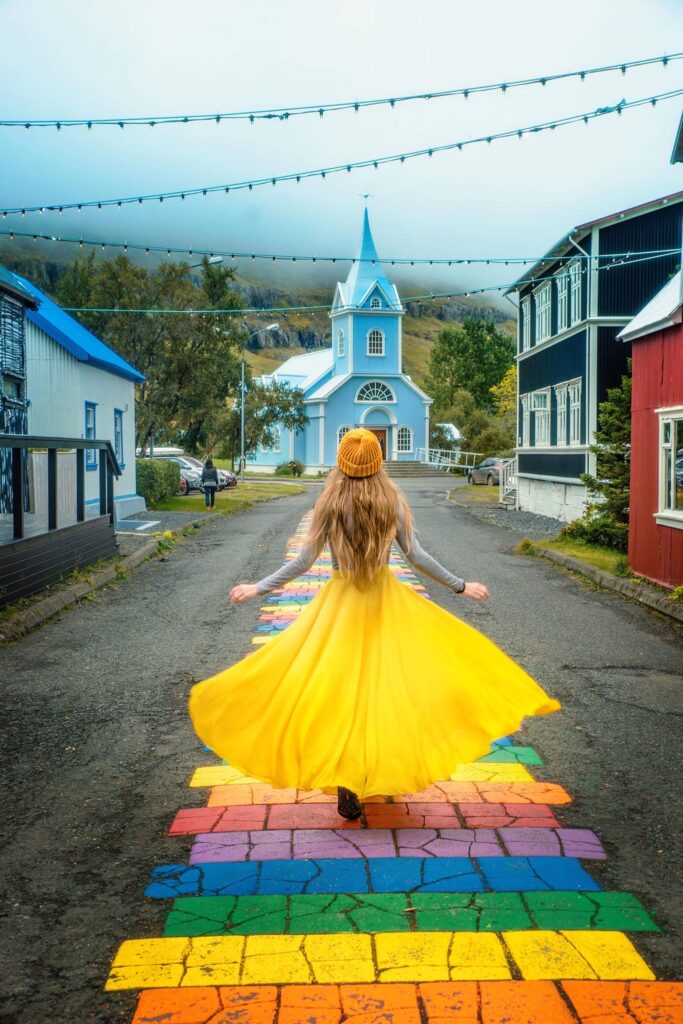 So, there you have it. Twenty of the best places for Iceland photography and our best tips on how to get amazing photos from each place. Whether you visit the hot springs, waterfalls, or canyons, there is no going wrong with these gorgeous locations in Iceland. If you are looking to get the dancing auroras in your Iceland photos, be sure to check out our post on how to see the northern lights in Iceland.
If you need more resources for any of these places, check out our other blog posts. After many years of travels to Iceland, we aim to bring you our best tips and tricks. We will help you plan your epic road trip to Iceland, and tell you how to decide if you need a 4×4 drive vehicle or 2×2 drive too. Now, get out there and start your newest adventure!