Renting a campervan in Iceland has become a bucket list activity for many travelers. Using a campervan to explore the country has many pros in regard to saving money, convenience, and having a more memorable time.
If you are considering driving a campervan in Iceland, then you probably have some questions you need to be answered. We have laid out all the information and tips you will need to know before you book that dream Iceland campervan trip.
Let's get going!
Get a FREE printable "Hidden Gems In Iceland" E-book by joining our private Iceland Facebook Group and share your photos and ask for tips and tricks.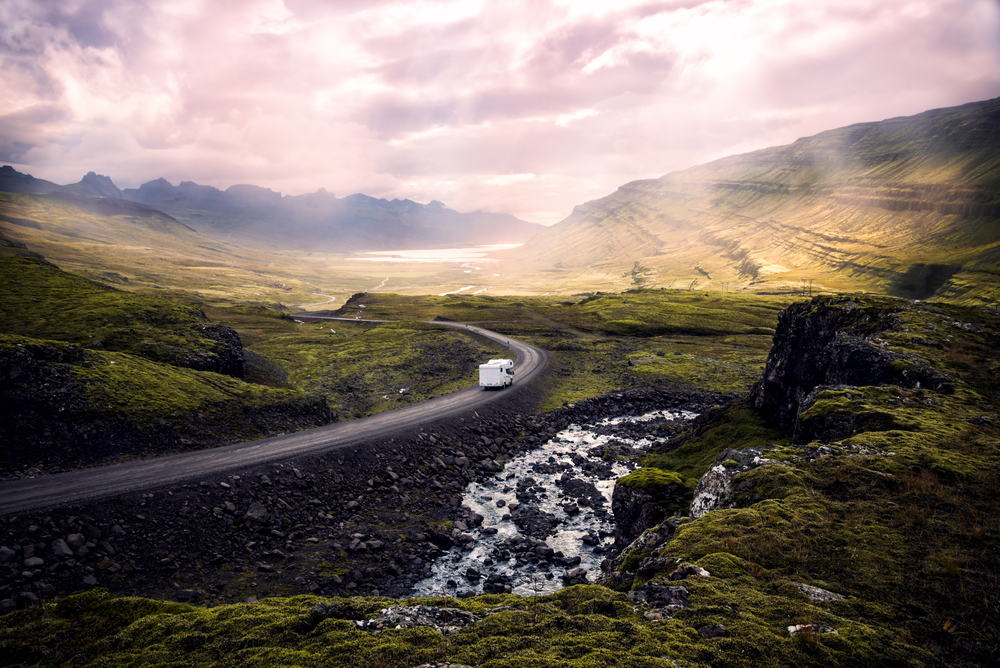 Why Rent A Campervan In Iceland?
Renting a campervan in Iceland is a great idea for multiple reasons. Unless you plan on only making guided day trips from Reykjavik with tour companies, you pretty much need to rent a vehicle to earn the freedom to see Iceland properly.
When you book a campervan, you have both your transportation and accommodation rolled into one. That fact, plus the ability to cook your own meals, means you save money.
Having a camper means you do not need to pay for a hotel or Airbnb each night. There is no struggle to reserve the perfect room; you just need to find a campground with enough space to park.
A campervan gives you the best of both worlds. You get the Iceland camping experience, but with more comfort and security than a tent would provide. You have a roof over your head to better protect you from the unpredictable Iceland weather as well as amenities to make things like cooking easier.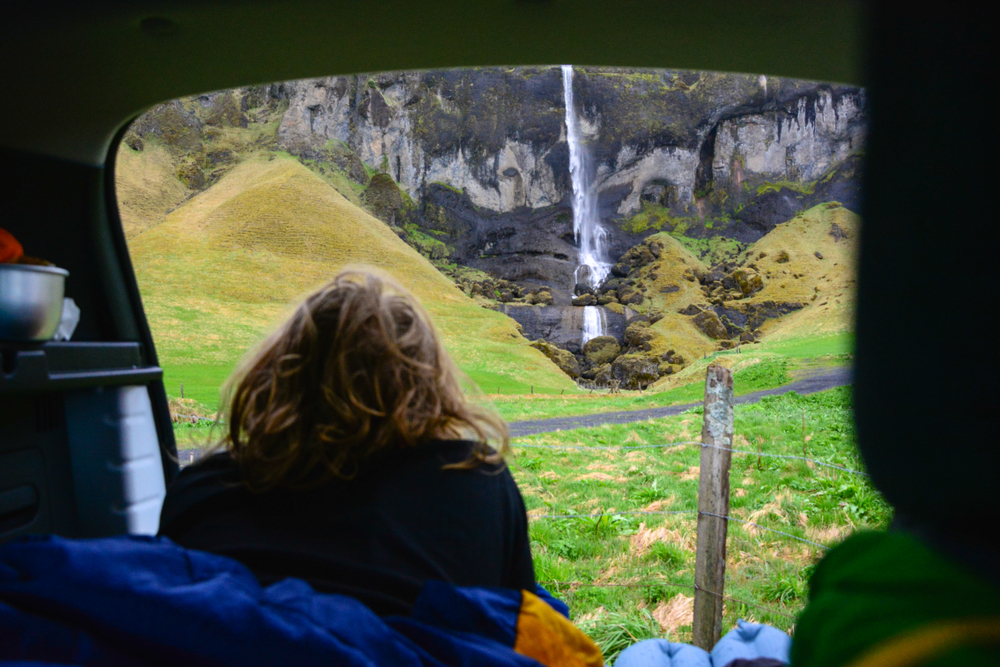 Can You Rent Motorhomes In Iceland?
Yes, you can rent a motorhome for your Iceland trip. Compared to a campervan, motorhomes in Iceland are larger and offer even more amenities. You would have a bigger bathroom and kitchen area.
If you are traveling with family or a group of friends, a motorhome would be a better option. Though they are more expensive, the added price might be worth it for more space.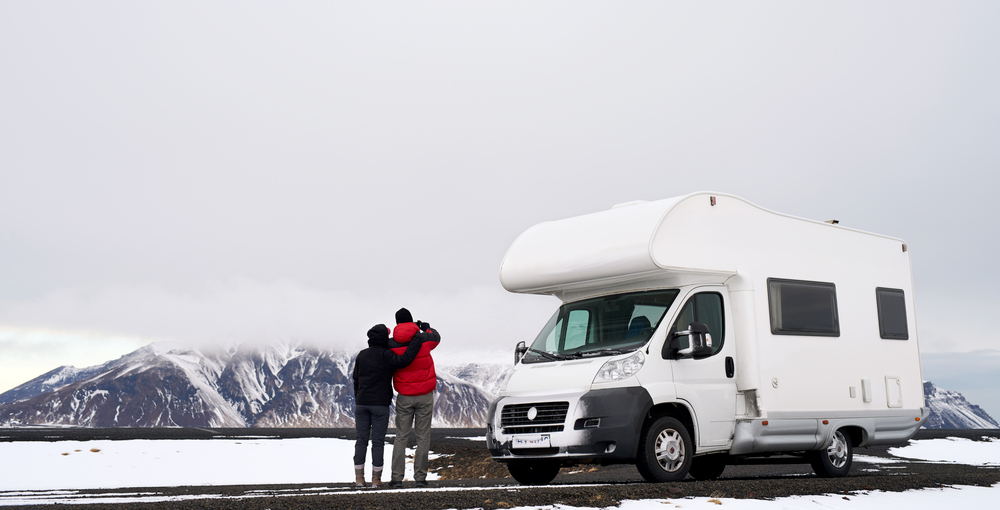 8 Things To Know Before Renting A Campervan In Iceland
Many Vans are Manual
Unlike in the United States, most vehicles in Iceland have manual transmissions. If you do not know how to drive a stick shift, pay close attention when you are booking because you do not want to end up with a vehicle you cannot drive or feel uncomfortable operating.
There are some automatic campervans in Iceland, but they are rarer to come across so you might have to reserve them even further in advance. Because they are a hot commodity, they cost extra as well.
However, if you are able to learn how to drive a stick before you come to Iceland, we suggest you do. The knowledge will help not just in Iceland, but in other countries where manual vehicles are more common. Plus, it will save you money.
You Might Need a 4×4
Another thing to look into when you are searching for the perfect van is whether or not it is four-wheel drive. In Iceland, there are many roads, known as f-roads, that require a 4×4 vehicle, especially in the winter.
Before you book your Iceland campervan, check your itinerary and see if you are going to be driving on any f-roads, such as in the highlands in Iceland. If you are, then book a 4×4 campervan so you can travel easier and safer.
If you are sicking to the Ring Road and are traveling in the summer, a 4×4 might not be required as this road will be clear and easy to drive.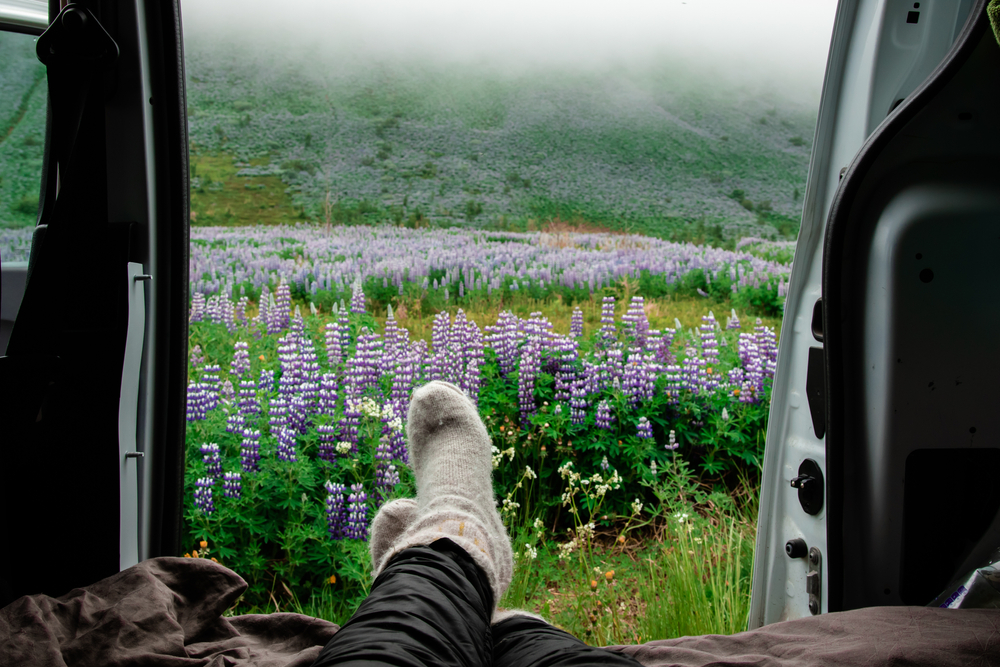 Renting a Campervan in Iceland Can Save Money
One of the best things about renting a campervan in Iceland is the economic aspect. If you want to save money when you visit this expensive country, then consider using a campervan as both your transportation and accommodation.
Campervans in Iceland usually start at $100 a day and the price goes up depending on the size and included amenities. Since you are sleeping in your van too, you do not have to pay the average $100+/night for a hotel or rental home. Most campsites do have a small fee, however, so keep that in mind.
You Need to Budget for Gas
Gas is expensive in Iceland, and it is important to work this essential cost into your budget. A gallon of gas will cost you around $8, which really adds up when you are filling the large fuel tanks in campervans.
Depending on the number of days you will be in Iceland and the distance you will travel, you could be spending hundreds of dollars on gas during your Iceland vacation. But, if it makes you feel better, you will be saving hundreds by not staying in a hotel so it all works out.
Cook Your Own Meals to Save Money
To help alleviate the price of gas, you can save money by cooking your own meals in your campervan. Food and alcohol are expensive in Iceland since it is imported to the island. However, if you avoid eating out and prepare cheap meals like sandwiches, soups, and pasta, then you can save money.
Make sure to pick your groceries up at budget supermarkets, like Bonus. Also, stock up in Reykjavik because stores are harder to find in the more remote areas.
Most campervans will come with cooking equipment, such as portable camp stoves, pans, dishes, and propane.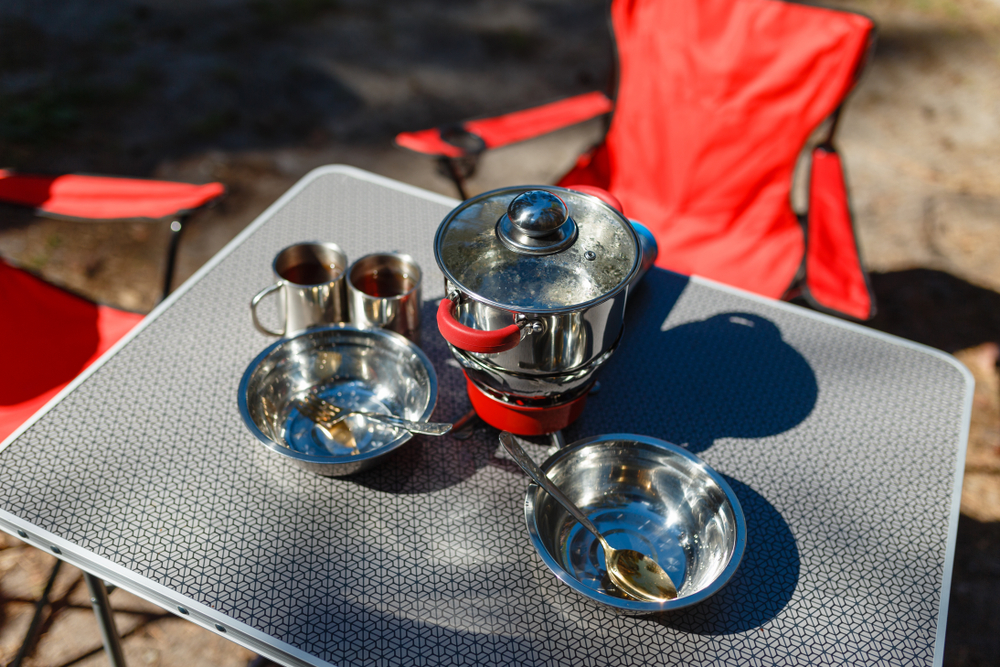 You Can Only Camp at Approved Campsites
In Iceland, it is illegal to do wild camping. You cannot set up camp wherever you want. Instead, there are plenty of campsites throughout the country where you can park your campervan for the night.
Use Google Maps or maps provided by your campervan rental company to find campgrounds. Most major attractions and towns will have some campsites nearby.
The campsites vary from simple, open fields to sites with facilities such as restrooms, showers, and laundry spaces. Some have picnic tables. To make your Iceland campervan experience even better, try to find a campsite with water and electric hookups.
While some campsites in Iceland are free to use, most cost anywhere from a few dollars to $20 a night per person. Many campgrounds also close for the winter, so keep that in mind while you are planning your trip.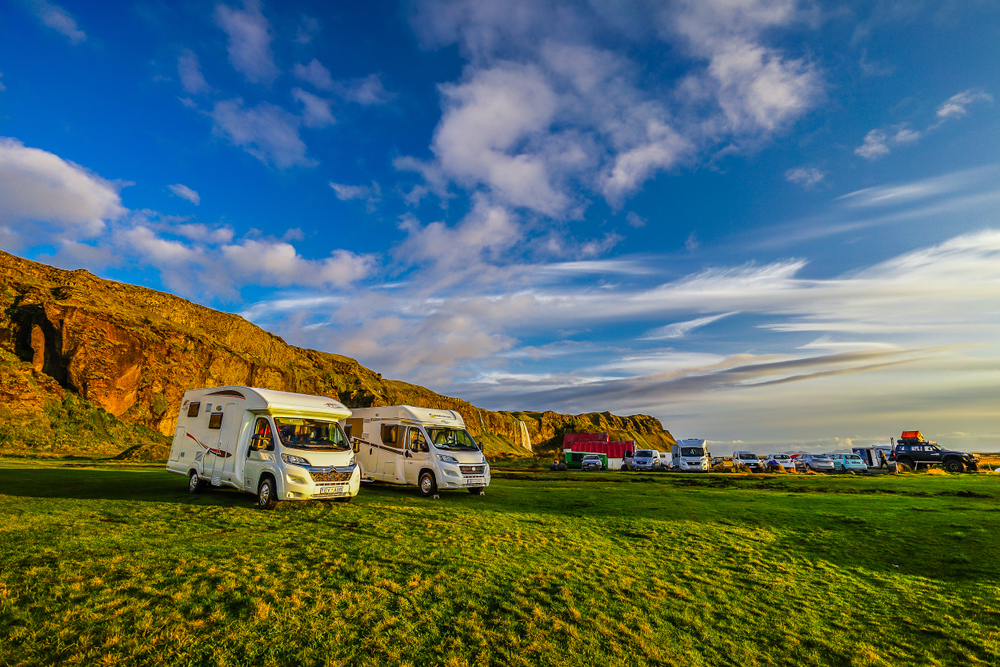 Showers and Electricity Will Cost Extra
If you do find a campsite in Iceland with showers or electricity, it will cost a little extra. A refreshing shower after a day of hiking will be worth around $4. Electricity is about $8 per day.
While most campgrounds accept credit cards to reserve a spot, the shower and laundry facilities are often coin-operated. Make sure you get some Icelandic krona coins before you head out of Reykjavik.
You Cannot Build Campfires in Iceland
To protect the fragile ecosystem, it is illegal in Iceland to build campfires. Even so, there are so few trees, you would have no wood to burn.
Instead, you can cook on a camp stove. As mentioned, your campervan should come with everything you need to make a delicious meal.
How to Drive In Iceland
Driving in Iceland is not as scary as it might seem! You do not need an international driver's license to drive in Iceland, so as long as you have a driver's license in your country, you are good to go. You will drive on the right side of the road.
Just like anywhere else, pay attention to road signs as you drive. You definitely want to drive the speed limit since speed cameras in Iceland can lead to fines. The speed limit outside of towns is usually around 90 km/h, or 56 m/h. On gravel roads, it is less.
There are mostly two types of roads in Iceland. The main, bigger routes, such as the Ring Road, are well maintained and easy to drive. They are usually only two lanes and stretch into the distance since they are relatively flat.
F-roads, however, are rural roads that are often unpaved. These roads require 4×4 vehicles and can be trickier to traverse. They are worth it though for the sights you will see. They are usually closed and inaccessible in the winter.
As long as you drive safely, use common sense, and read the road signs, driving in Iceland will be no problem.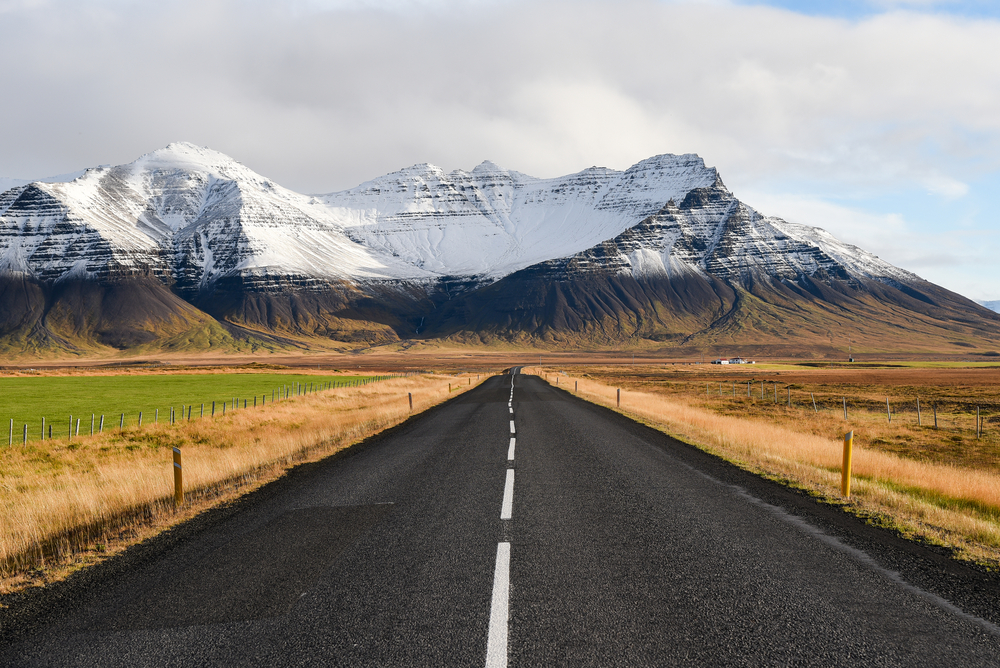 What To Pack When Renting A Campervan In Iceland
What you pack for your camping trip in Iceland is very important. To make sure you pack everything you need, we have created a list of the essentials you need to pack. These items will help you to be more comfortable and safe as you travel Iceland in a campervan.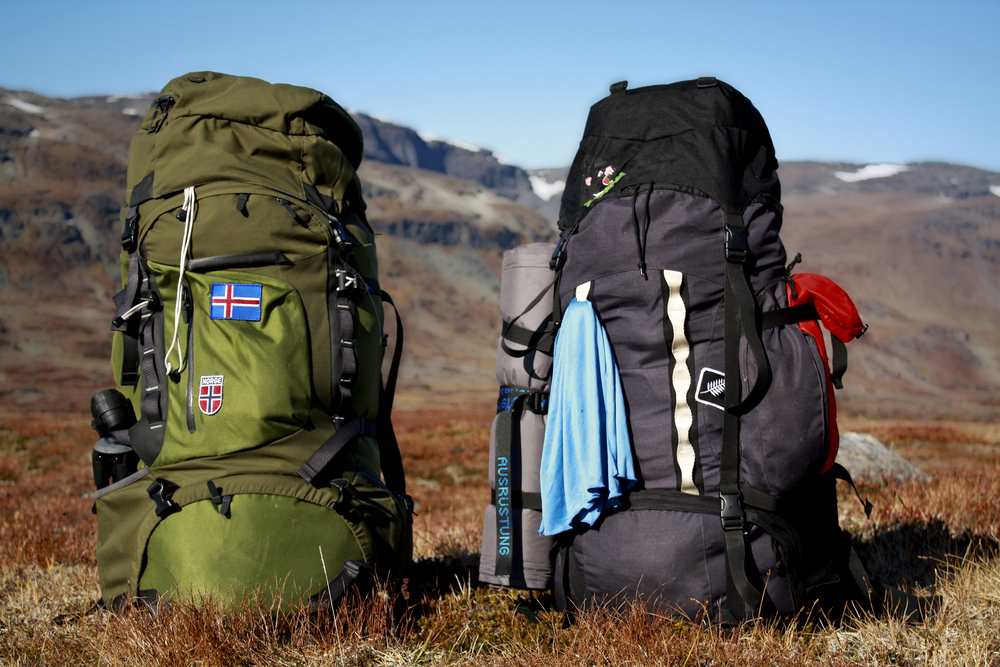 Best Time Of Year To Rent a Campervan Iceland
The best time of year to camp in Iceland is anywhere from spring to fall. The majority of campgrounds are open from June through August. Besides the fact that many campgrounds and roads close in the winter, the weather is very harsh and cold.
Overall, though, the best time to visit Iceland depends on what you want from your trip. If you want the calmest weather, the most light, or to see the blooming lupine, then come in the spring or summer. You will have comparatively warmer weather, see more greenery, and experience the midnight sun.
If you want to avoid the crowds or have a chance to see the Northern Lights, then you need to come in the winter. This is also the cheapest time to travel to Iceland since it is the low season and there are fewer tourists. Campervans will be discounted and you won't have trouble finding the perfect one.
Renting a campervan in Iceland in the winter means you need to do research and find the few campgrounds that are open year-round. Double-check you are renting a campervan with four-wheel drive to get through the snow. Plus, you definitely need a good heater!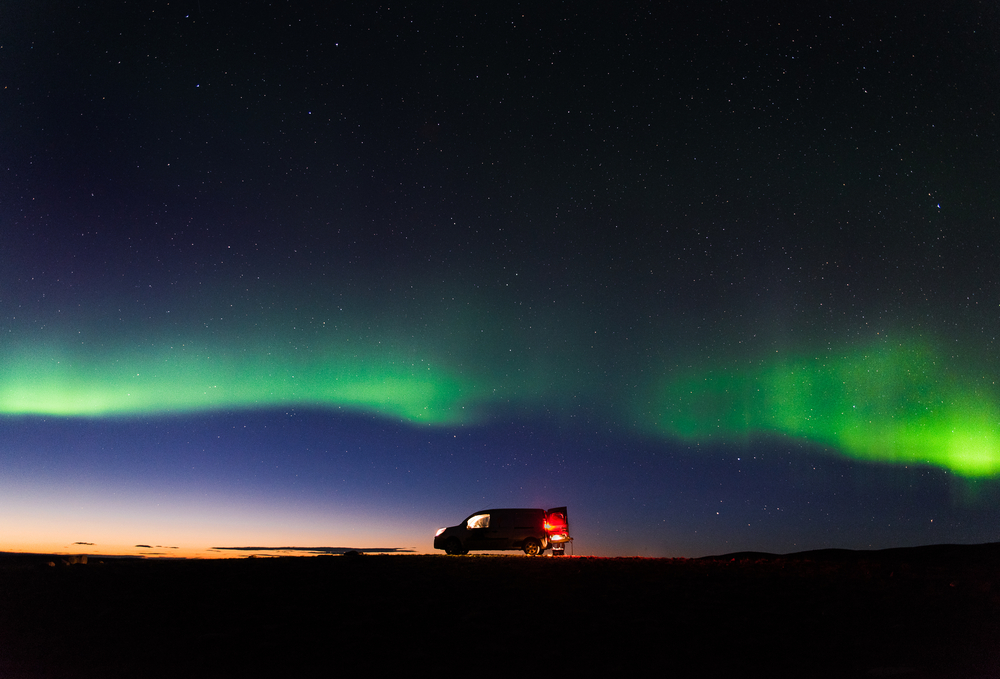 If you are planning to rent a campervan in Iceland, then you are in for the experience of a lifetime! You are sure to have an amazing time car camping in Iceland no matter what time of the year you travel. Hopefully, these tips helped answer some of the questions you had about Iceland van rentals.