Are you planning a trip to Iceland and wondering how to get from Keflavik to Reykjavik when you arrive? We've got you covered with a number of possibilities to accommodate varying budgets, time constraints, and personal preferences. 
Planning your trip to Reykjavik last minute?
Make sure to book ahead! Hotels and tours often sell out the closer you get to your trip. Here are our top picks for Reykjavik!
Top Experiences And Tours In Reykjavik:
Top Hotels In Reykjavik:
How to get from Reykavik Airport to the city, or what's the best bus from Reykjavik airport are two common questions potential visitors will ask. The assumed location of the international airport in Reykjavik is one of the biggest misconceptions tourists have.
While there is an airport for domestic flights located in Reykjavik, Iceland's international airport is actually located in Keflavik roughly 45 minutes from the Reykjavik city center. Thankfully there are a number of comfortable options to get you to the city including riding the Flybus to Reykjavik or renting a car.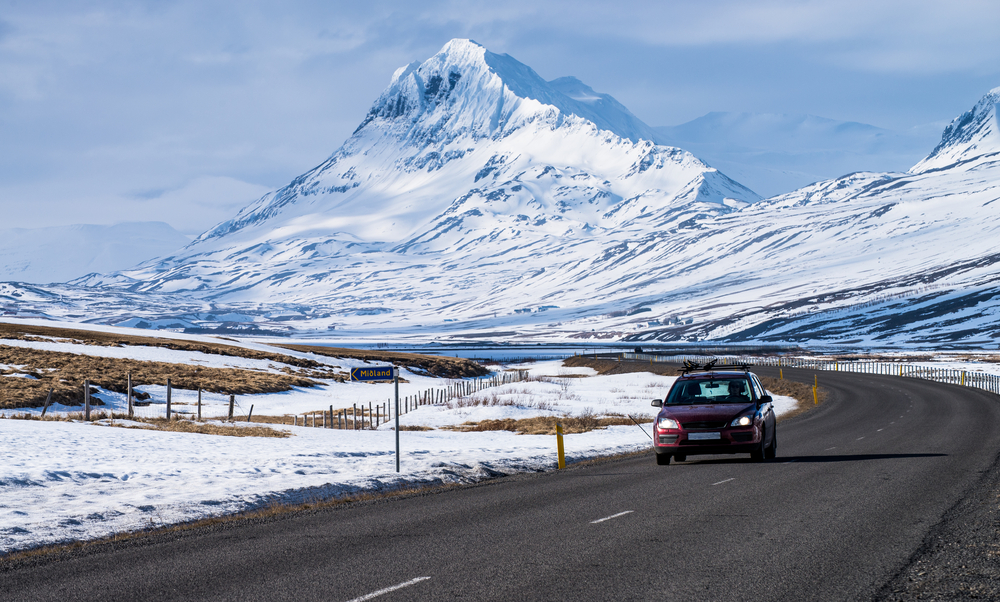 How Far Is Keflavik Airport From Reykjavik?
The distance from Reykjavik to Keflavik is about 30 miles (45 minutes). Because it's virtually a straight shot down a single road to get from the airport to the city, it's not a particularly difficult drive. Along the way, you'll also get your first taste of the vast lava fields covered in green moss that are so synonymous with Iceland.
Although the journey is fairly straightforward, it still helps to plan the trip ahead of time and expect that1-2 hours of your day will be eaten up by the trip.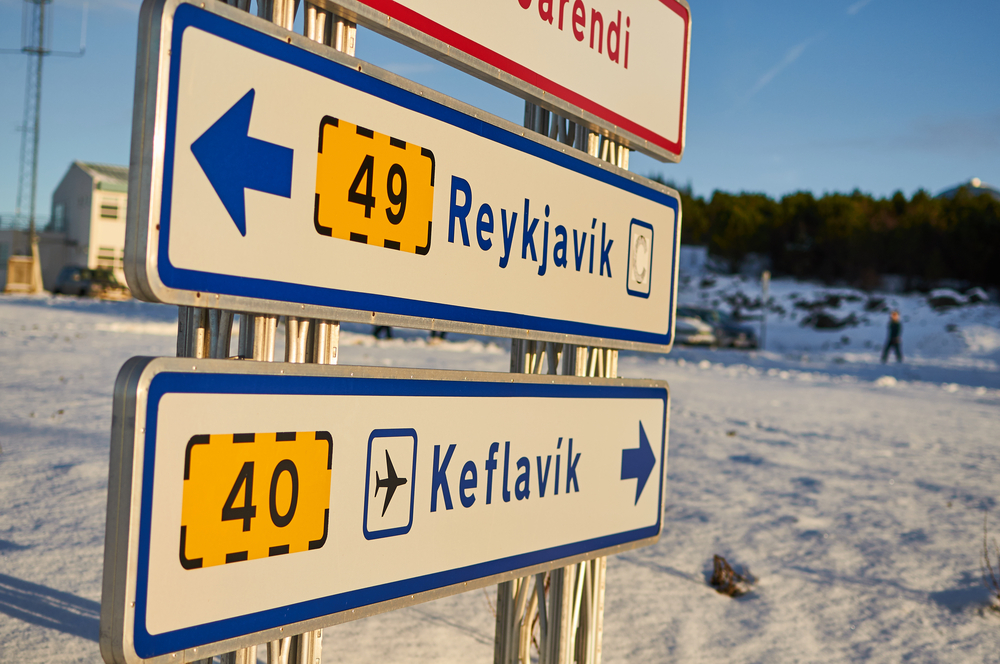 Is there Uber In Iceland?
While Uber is a common mode of transportation in the United States, you'll find it doesn't exist in Iceland. In fact, Uber (and ride share-services in general) are illegal in Iceland with the exception of taxis whose drivers have strict rules they must abide by and licenses that they must obtain.
While traveling by taxi is an option, it is expensive to take one the 30 miles from Keflavik to Reykjavik. You'll be better off renting a car or taking public transportation to get you into the city center.
Rideshare apps could potentially become legal in the future as it has been a topic of discussion among Iceland's officials, however until that day, you'll have to look for a ride elsewhere.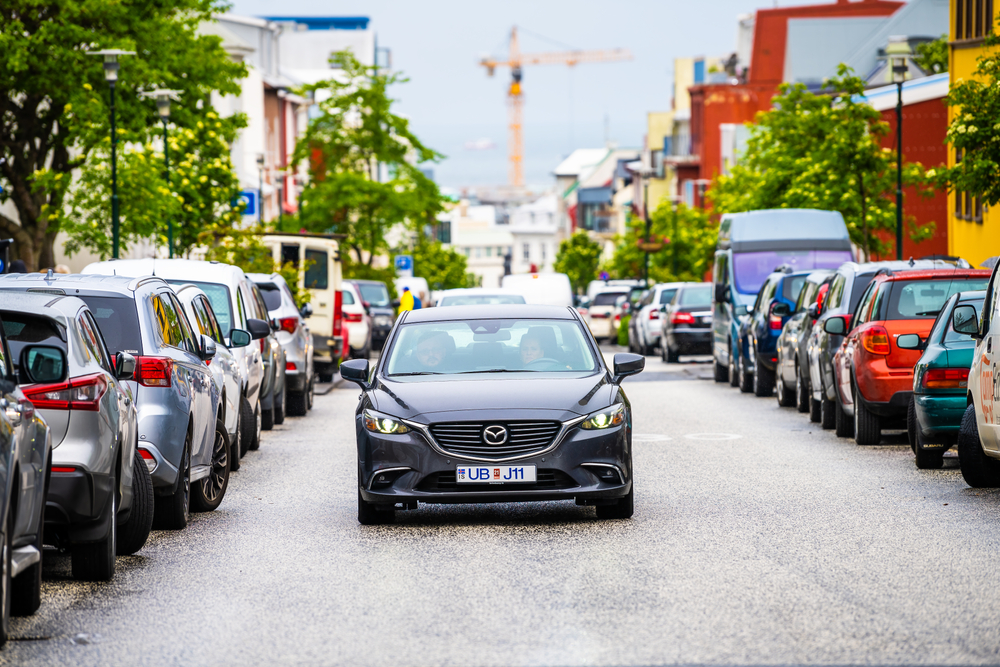 Keflavik Airport To Reykjavik By Flybus
The pricing, flexibility, unlimited baggage allowance, and transport time make traveling by Flybus one of the best ways to get from Keflavik Airport to Reykjavik.
The Flybus Airport Transfer takes you from Keflavik Airport to the BSÍ Bus Terminal in the Reykjavik City Center for roughly 3.500 ISK. You can also opt to pay more for a hotel drop-off.
What makes traveling by Flybus to Reykjavik so appealing is the fact that the departure times are determined based on the flight arrival times. Therefore the buses tend to leave roughly 35-40 minutes after each flight lands and will wait for you if your flight is delayed. This takes the stress out of your trip if the flights don't go according to plan.
If you know you'd definitely like to take the Flybus, go ahead and book a ticket online in advance. Though it's usually possible to buy a ticket at the airport kiosk, you're encouraged to buy in advance to guarantee your spot on the bus.
It will take you roughly 45 minutes to travel from Keflavik to Reykjavik or vice versa. This information is particularly important for planning which bus to catch from Reykjavik to Keflavik Airport to arrive with plenty of time to navigate check-in and airport security prior to your flight's departure. You'll find the bus schedule on the Flybus website.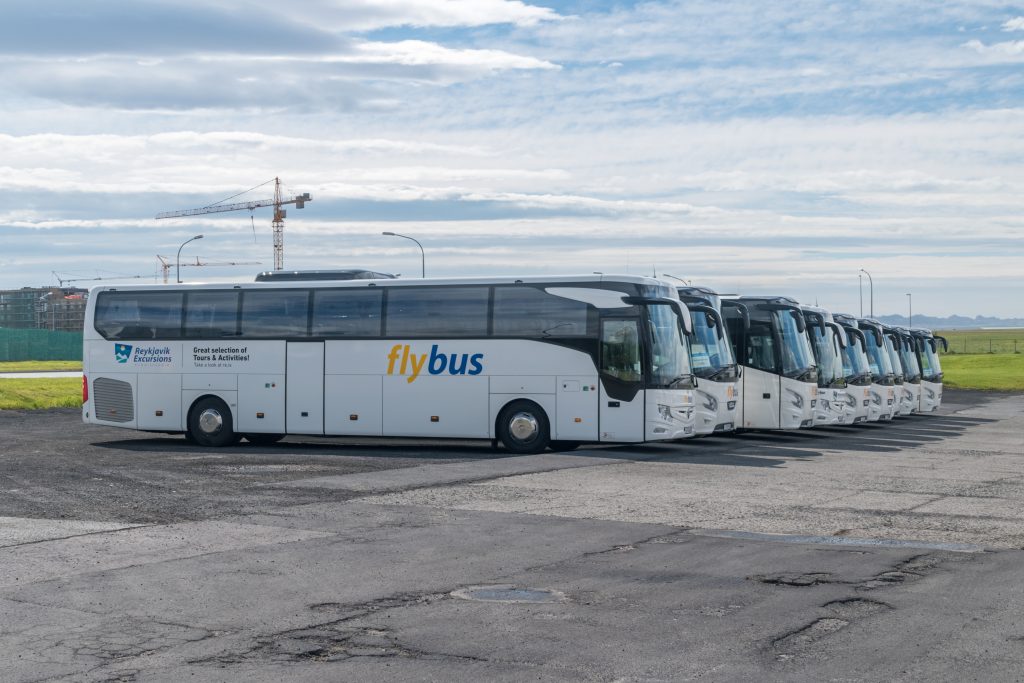 Keflavik Airport to Reykjavik By Bus 55
For those traveling on a budget with no time constraints, Bus 55 is a great option for traveling from Keflavik Airport to Reykjavik. This is the cheapest option on our list with a one-way ticket cost of 1.840 ISK and it will take you to the BSÍ Bus Terminal in Reykjavik. Don't forget to check out our Tips For Traveling Iceland On A Budget!
The trip on Bus 55 takes roughly 1 hr and 20 minutes. Though the buses run every day of the week, nearly all day long, if you narrowly miss one bus, you could be left waiting for the next one for an hour or more depending on the time of day.
It helps to download the Straeto app to check bus timetables and routes. It's not the easiest system to navigate for foreigners, but if it's important to you to save as much money as possible, and perhaps meet a local or two onboard, this would be an appropriate option.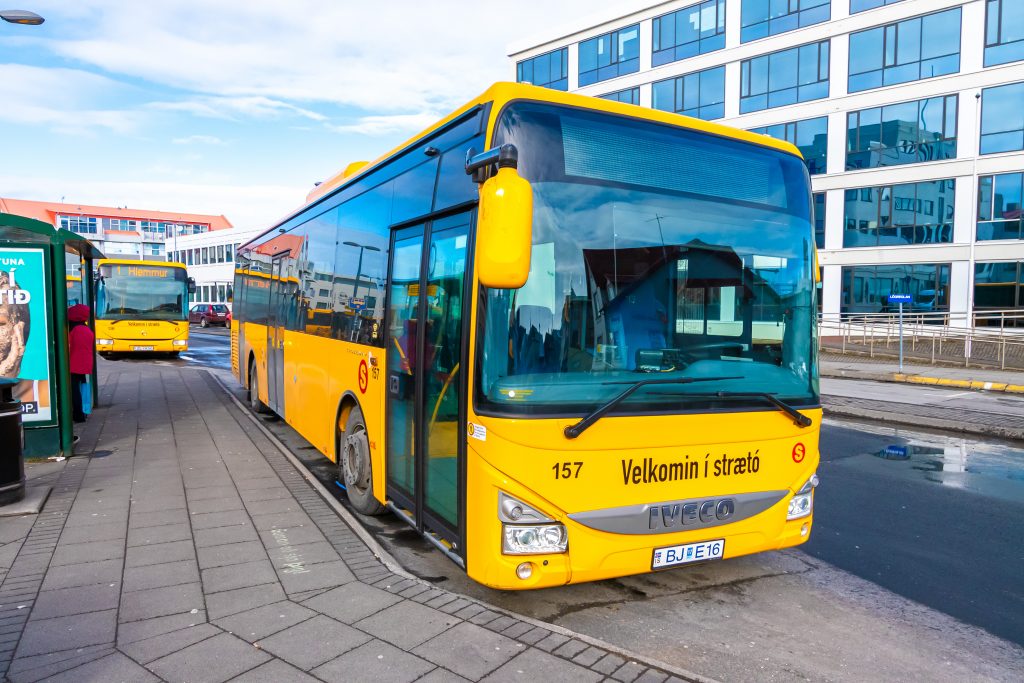 Keflavik Airport To Reykjavik By Airport Direct
The Airport Direct Economy Bus is another affordable way to get from Keflavik to Reykjavik. For 2.900 ISK you can take their fixed schedule economy bus to the Reykjavik city center with an option for paying an additional 1.000 ISK for a hotel connection. Should you wish to go straight to your hotel in a smaller (shared) mini cab, you can pay 6.500 ISK for the premium option.
Like Flybus, Airport Direct takes roughly 45 minutes to get from Reykjavik to Keflavik Airport and vice versa. Airport Direct is slightly cheaper than Flybus, however, there are a couple of limitations.
Airport Direct only allows one suitcase per person onboard the bus. You're also required to book for a specific departure time which means if your flight is delayed you might end up having to buy a new bus ticket. You do have the option of paying for a flight delay guarantee when you book that will secure your spot on the next bus should your flight arrive late.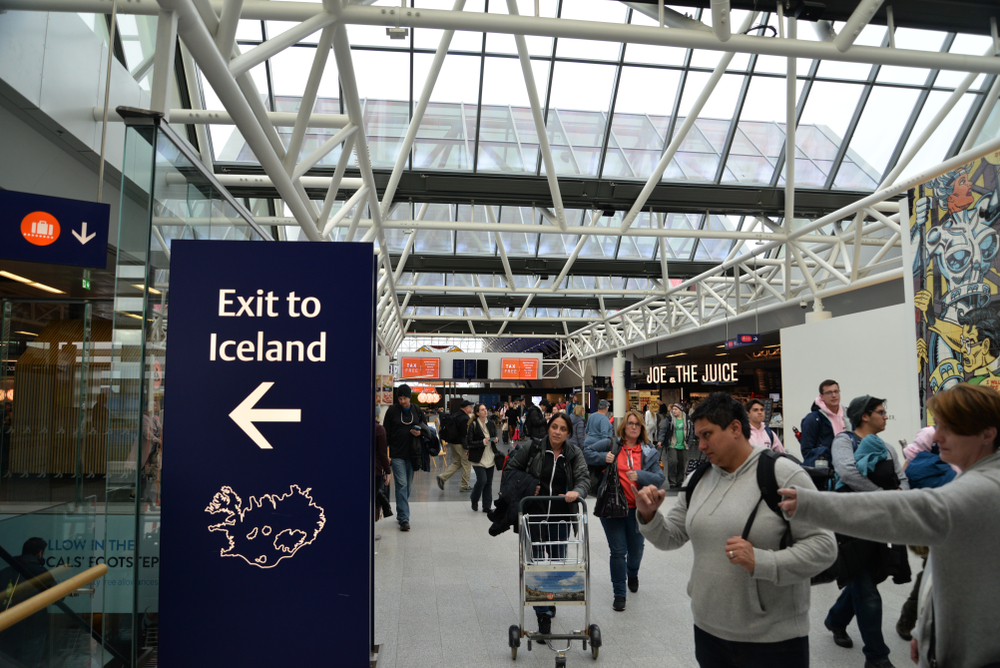 Keflavik Airport To Reykjavik By Gray Line
The Gray Line Airport Express has many similarities to Flybus and Airport Direct and is another affordable way to ride by bus from Keflavik to Reykjavik. The bus fare starts at 2.904 ISK which gets you from Keflavik Airport to Bus Stop 13 or Stop 6 in Reykjavik. You can pay an additional fee for hotel drop-offs or drop-offs at other bus stops.
Gray Line Bus tickets are easy to book in advance. Bus departure times revolve around the Keflavik Airport schedule for arriving and departing flights. When traveling from Reykjavik to Keflavik Airport, it's suggested you book a bus 3 hours before your flight time.
With reasonable prices, WiFi on board, and the option for door-to-door service, Gray Line makes traveling from Keflavik to Reykjavik and back a breeze.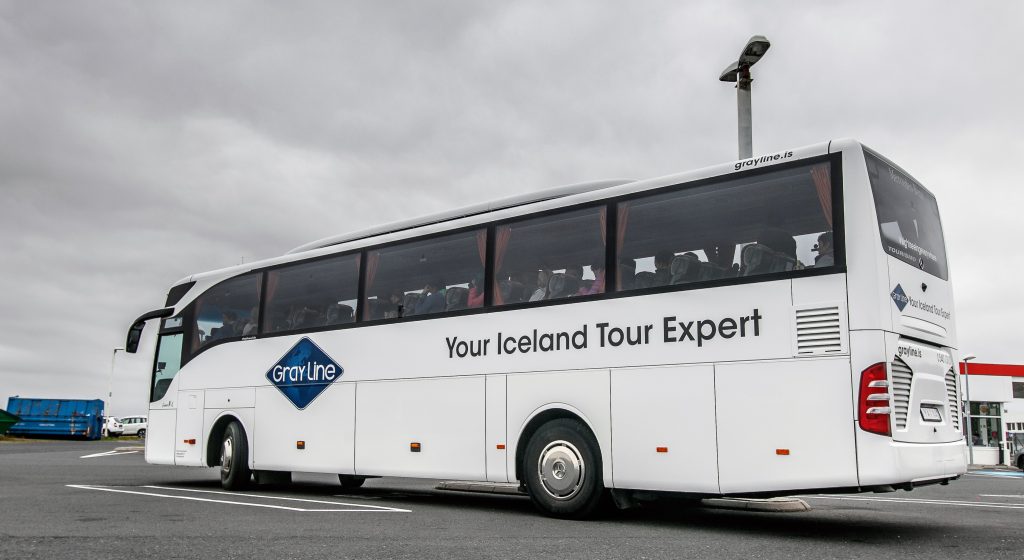 Renting A Car And Driving Between Reykjavik And Keflavik
Renting a car is our favorite way to get from Keflavik to Reykjavik and vice versa. It's not just convenient for getting to and from the airport, but it makes your whole trip that much easier.
Though it's possible to spend the whole trip taking tours and riding public transportation, the best way to truly experience the country is to at least have the option to venture out on your own and explore all that it has to offer. If you plan on driving the Ring Road, which is one of the best ways to see the country if you have the time, you'll definitely need a rental car.
Renting a car in Iceland can be expensive but the freedom it allows you is priceless. Head to AutoEurope.com and compare rates between rental cars to find one in a price range that works for you.
There are a couple of things that are important to pay attention to when renting a car. The first is that like many European countries, not all cars have automatic transmissions. If you don't want to be stuck driving a manual car make sure you pay attention when booking to ensure your car is automatic.
The other thing you'll want to keep in mind is whether you'll need a 4 wheel drive or whether the itinerary you've planned is possible with a 2 wheel drive. Though a 4 wheel drive will be more expensive it's necessary for navigating some of the roads in Iceland, particularly in the highlands.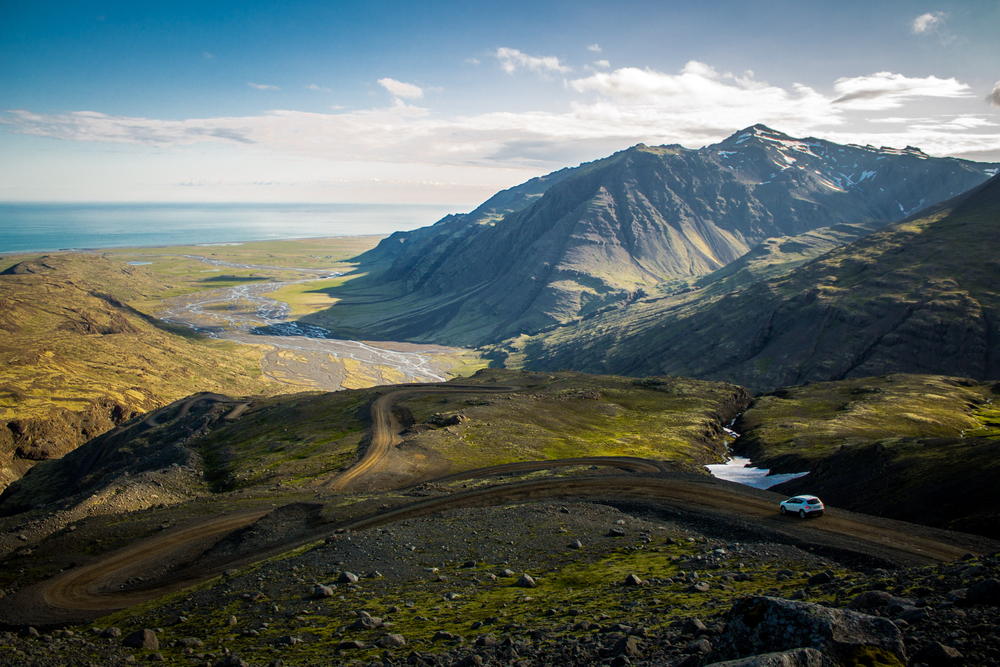 Taxi From KEF Airport To Reykjavik
A taxi from Keflavik to Reykjavik might be the most efficient mode of transportation, however, it's expensive. If you decide to go this route, BSR and Hreyfill are two taxi services you can choose from.
BSR offers a fixed rate of 15.500 ISK for 1-4 people and 19.500 ISK for 5-8 people. Hreyfill on the other hand uses a meter so the cost will hover somewhere around 18.000 ISK but could be higher.
If you're traveling with a larger group of people who can split the cost, and you're anxious to get to the city as fast as possible, a taxi might be the way to go. For those traveling alone, however, it's not ideal.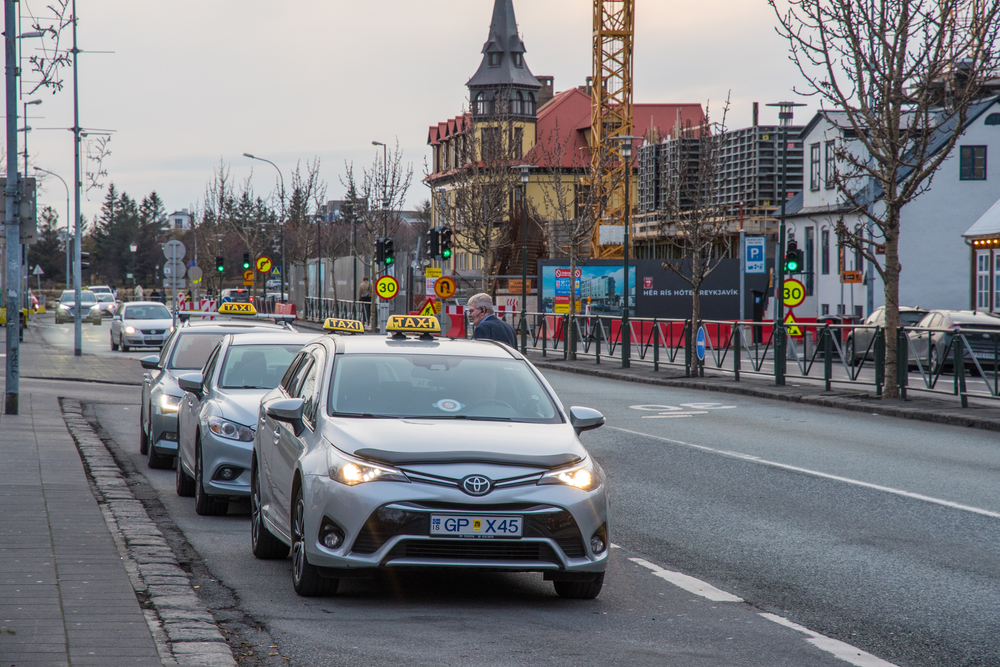 Private Reykjavik Airport Transfers
If you're hoping for fast, efficient, personalized travel, you might consider taking a private Reykjavik airport transfer. This option is offered through a number of different companies including Gray Line and Airport Direct.
The prices tend to hover somewhere around that of a taxi, however, the advantage of private transfers over some taxi options is that the price is fixed so you know what you're paying ahead of time.
If you're traveling in a large group and can split the cost or are short on time and need to get from Reykjavik to Keflavik Airport or vice versa in a hurry, a private airport transfer can be a great way to go.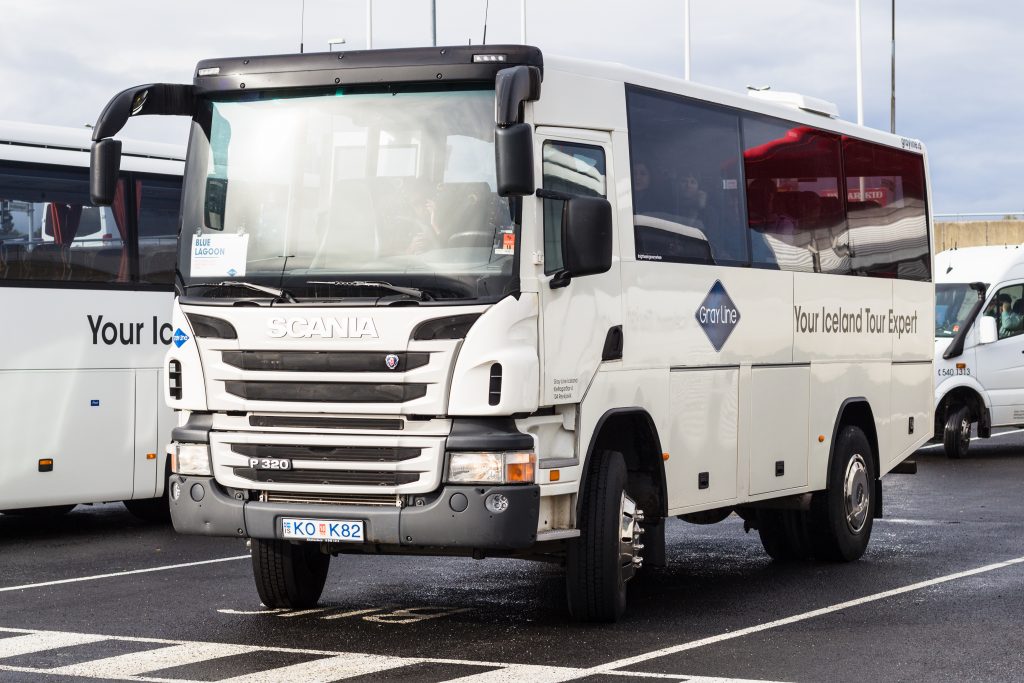 How To Get From Keflavik To The Blue Lagoon
The Blue Lagoon is one of the most iconic tourist stops in Iceland. Because the Blue Lagoon is located just a short 20 minutes from the airport, it's common for visitors to make it their first stop upon arriving in the country, or their last stop on the way out.
If you decide to make a Blue Lagoon stop instead of going straight from Keflavik to Reykjavik, you have a couple of options. Of course, the easiest way to reach the Blue Lagoon is by driving a rental car, however, if you decide not to rent a car, there are two buses you can take instead.
The Destination Blue Lagoon Bus, the official transport partner of the Blue Lagoon offers transfer to and from Reykjavik as well as to and from Keflavik Airport. Check the schedule to make sure the departure times work for you. You're also required to book your Blue Lagoon ticket prior to booking your bus ticket.
Reykjavik Excursions offers transfer to and from the Blue Lagoon as well with options to buy an admission and transfer package, or transfer by itself. If you choose the transfer-only option, you're still required to pre-purchase a Blue Lagoon ticket first.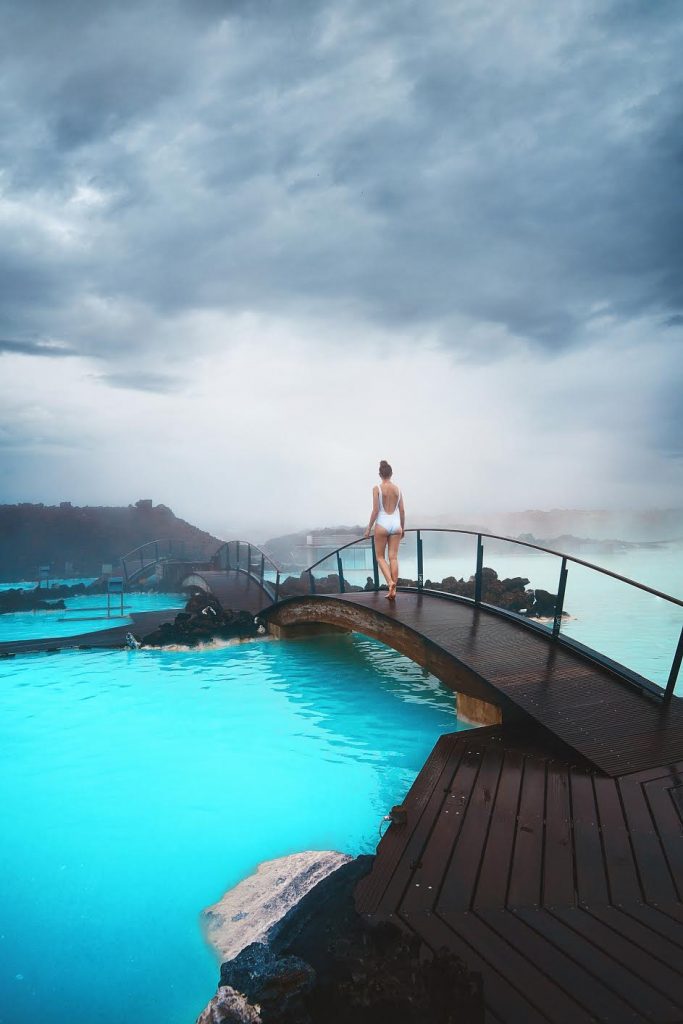 Where To Stay Near Keflavik
If you'd rather not make the drive from Reykjavik to Keflavik Airport in one fell swoop, you can stay overnight in Keflavik near the airport. The BB Hotel is one possible option. With free shuttle service to the Keflavik Airport and buffet breakfast in the morning before you head out, it's an ideal place to spend the night before flying out the next day.
Just 5 minutes from the airport you'll find the Courtyard by Marriott. It has everything you need for a comfortable stay as well as a lobby bar and restaurant on site. Though it boasts clean, well-designed rooms and friendly, welcoming staff, its proximity to the airport is what makes it particularly ideal.
If you're looking for luxury and are willing to dish out significant amounts of money, you might consider spending the night at The Retreat at the Blue Lagoon. The rooms are beautiful and depending on the room type have views of the vast moss-covered lava fields or have access to your own private lagoon. If you're already planning on making a trip to the Blue Lagoon, The Retreat might be the perfect option for you. The Retreat is roughly 20 minutes from the Keflavik Airport.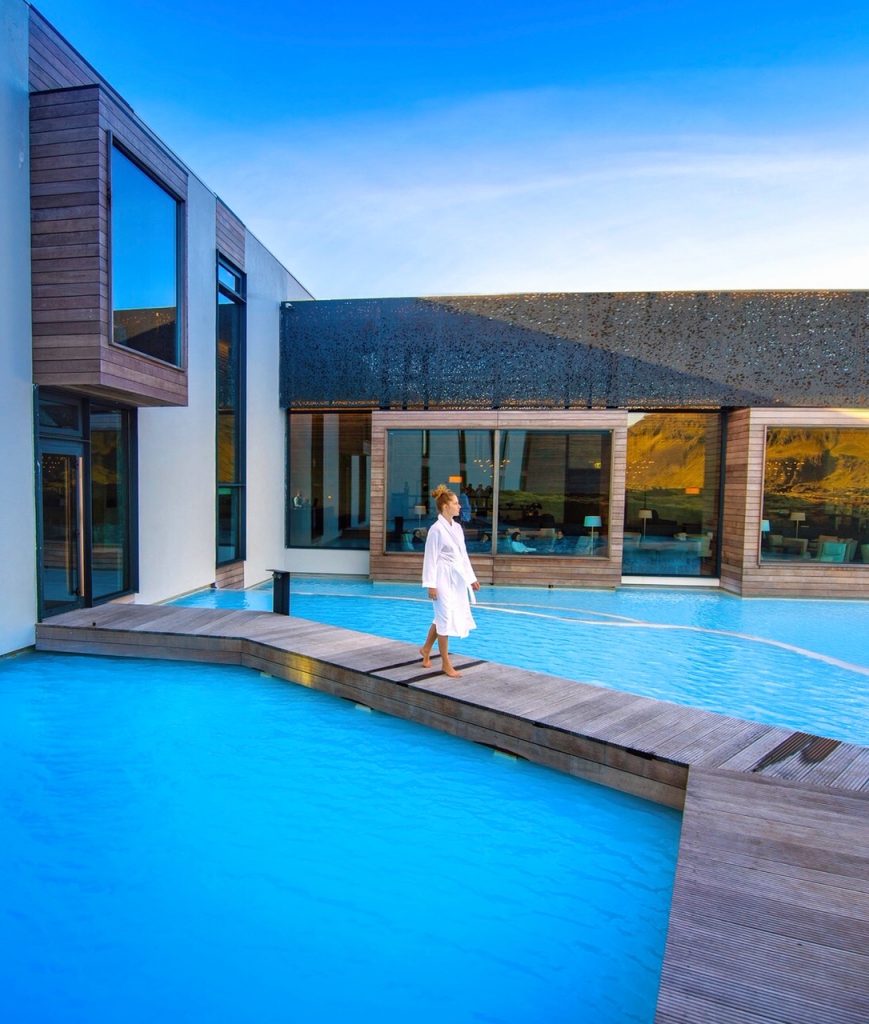 Although the drive from Keflavik to Reykjavik is not particularly short, figuring out how to get from one place to the other doesn't have to be stressful. Whether traveling by bus or car it's a straightforward, easy trip that can be accomplished without breaking the bank (unless you'd like to in order to travel with additional perks).
If you have any questions as you choose your ideal mode of transportation from Keflavik Airport to Reykjavik, feel free to let us know in the comments section below.