Are you trying to plan an Iceland winter itinerary? From thawing out in hot springs to escaping the cold to seeking it out in ice caves and on glaciers, we've got you covered with an adventure-filled itinerary as well as details on where to stay in Iceland in winter. 
Fortunately for you, many of Iceland's most spectacular natural landscapes are still accessible in the winter, and you might even find they're cloaked in a beautiful layer of white snow.
From the Snaefellsness Peninsula all the way east to Skaftafell and the glacier lagoons, the landscape is equally stunning wherever you go and is remarkably diverse.
Whether you take Iceland winter tours or stick to exploring on your own, you're in for a real treat.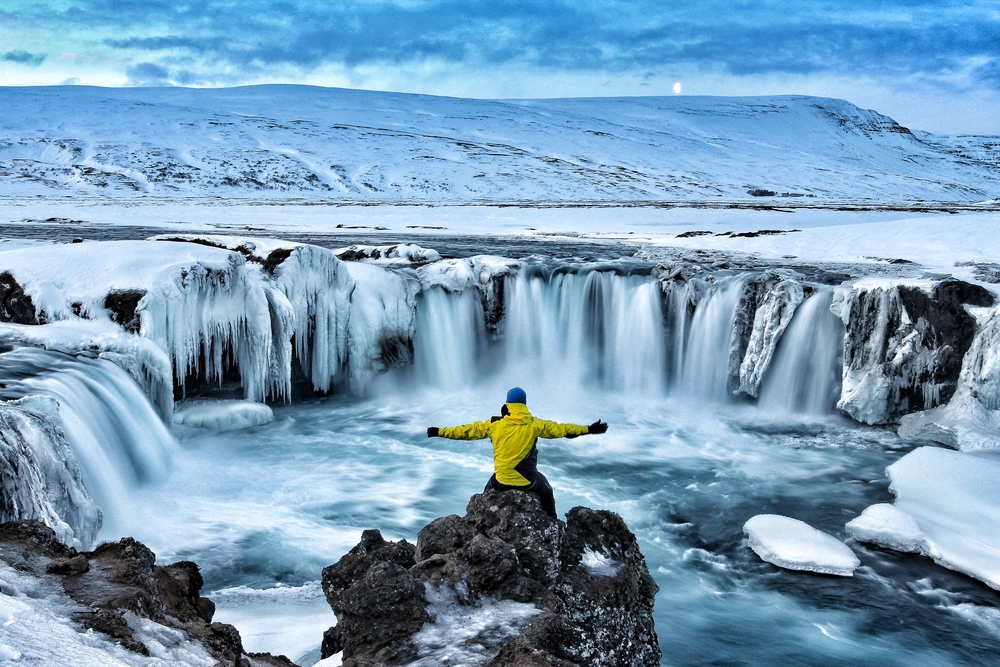 How Many Days Do You Need For Your Iceland Winter Itinerary?
The beauty of this Iceland winter road trip itinerary is that it can be adapted to fit your desires and time constraints.
A week to explore down the south coast and back would be ideal, but anywhere from 4-7 days will give you enough time to really soak in the beauty of the country in winter.
The limited daylight hours, particularly if you plan an Iceland Itinerary for December, mean you'll have less time each day to explore, however activities such as bathing in hot springs and viewing the Northern Lights can be done after the sun sets.
Because the winter weather restricts access to some parts of the country, you have less ground to cover and will stick largely to the south coast. This means that a 4-7 day winter Iceland Itinerary is a reasonable timeline.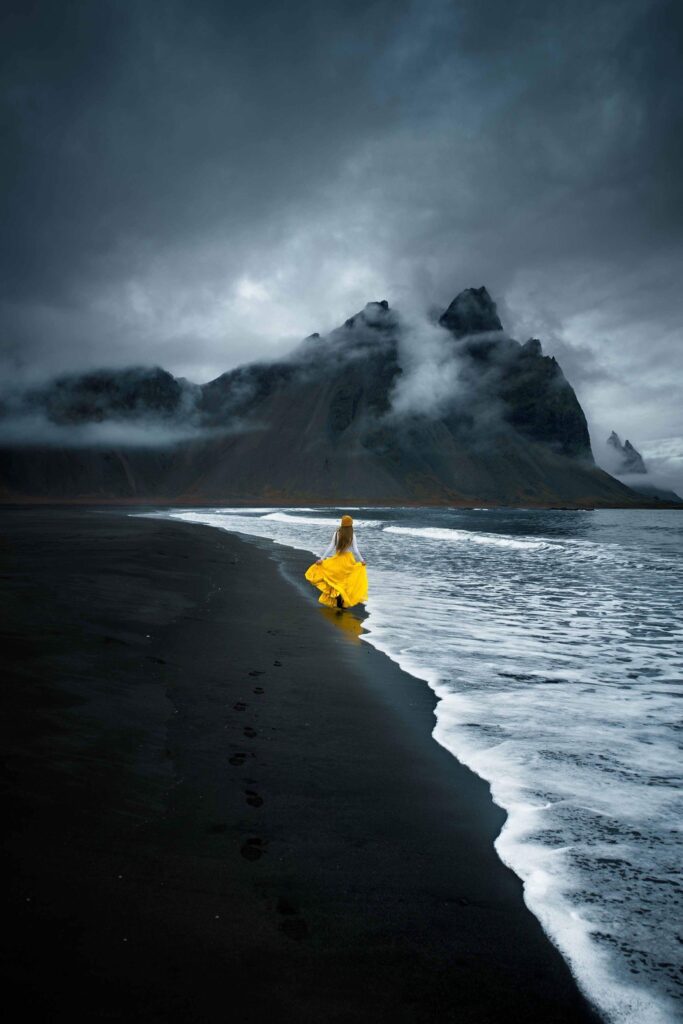 Daylight Hours For Your Iceland Winter Road Trip
As winter arrives in the land of fire and ice, the days rapidly get shorter ultimately culminating in the winter solstice on December 21 when the country sees just four hours of daylight from approximately 11:30am to 3:30pm.
If you plan an Iceland Itinerary for January, the daylight hours will increase again to 7 hours by the end of the month giving you a little more time to explore.
By February you'll experience 10 hours of daylight as it finally begins to resemble the daylight hours of the rest of Europe.
While the many hours of darkness certainly impact the number of outdoor activities that can be accomplished in one day on a winter Iceland road trip, it also means a higher chance of experiencing ideal conditions to see the Northern Lights.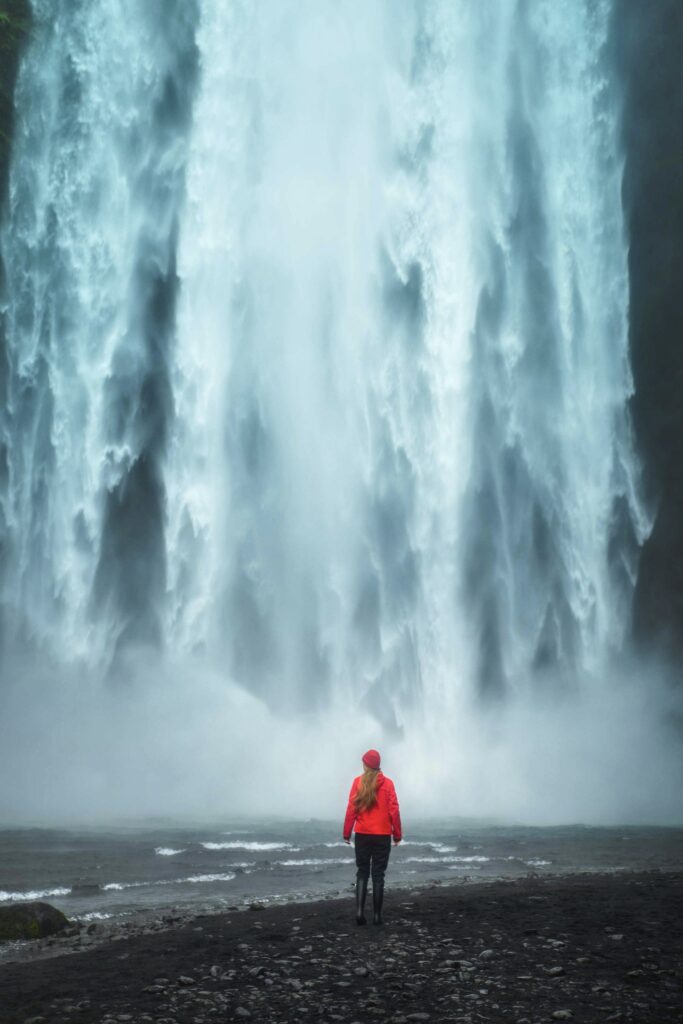 Weather On Your Winter Iceland Trip
There's no arguing against the fact that Iceland winters are cold, however despite the country's name and its proximity to the Arctic Circle, it's not as cold as you might think.
Thanks in part to the warming effects of the Gulfstream, the average winter temperatures are in fact comparable to that of a US city such as New York City.
Winter temperatures particularly in the capital hover around freezing (32F/0C), however, if you pack appropriately and bundle up, the cold won't stop you from completing your adventurous itinerary.
The bigger hindrance in the winter is the snow, rain, and often fierce winds making road conditions challenging and sometimes dangerous. Iceland's weather is notoriously unpredictable all year long.
If you're planning a winter trip to Iceland, make sure you continue to check the road conditions. Even the best-maintained roads can become impassable during the winter months.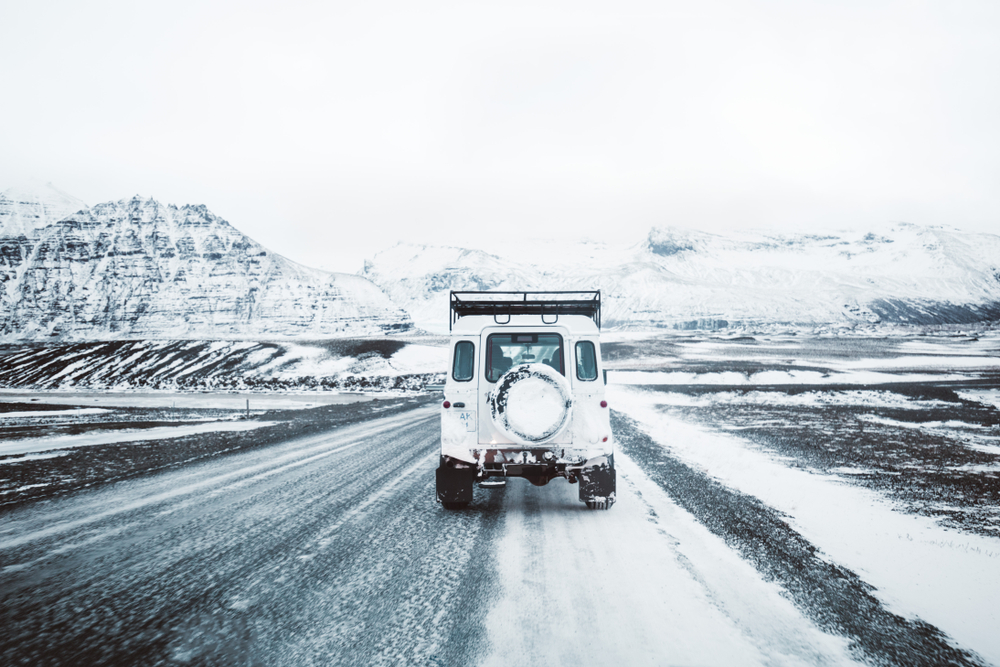 Ultimate Iceland Winter Itinerary In 7 Days
Day 1: South Coast Waterfalls
Iceland's south coast is known for its spectacular waterfalls. Not only is this collection of waterfalls particularly impressive, but they are all relatively close to one another making them easy to access in one day.
You can expect large tourist crowds at Seljalandsfoss and Skogafoss in particular. Their easy accessibility off of the well-maintained Route 1 and their reasonable proximity to Reykjavik make them an appealing stop for your Iceland winter itinerary.
Book Here: Full-Day South Coast, Black Beach & Waterfalls Tour
Stop 1: Walk Behind The Cascading Seljalandsfoss Waterfall
Seljalandsfoss is the first of the south coast waterfalls you'll encounter, and it's certainly one of the most popular.
This 200-foot waterfall is particularly unique because a path leads around the back allowing you to walk behind the waterfall and feel its sheer force. If you don't want to get wet, bring a raincoat as you'll definitely catch some of the sprays as it hits the water below.
If you choose to visit the waterfall as part of your 7-day winter Iceland Itinerary, you'll have the opportunity to see it take on a whole new kind of beauty as parts of the waterfall freeze and a sprinkling of snow coats the land around it.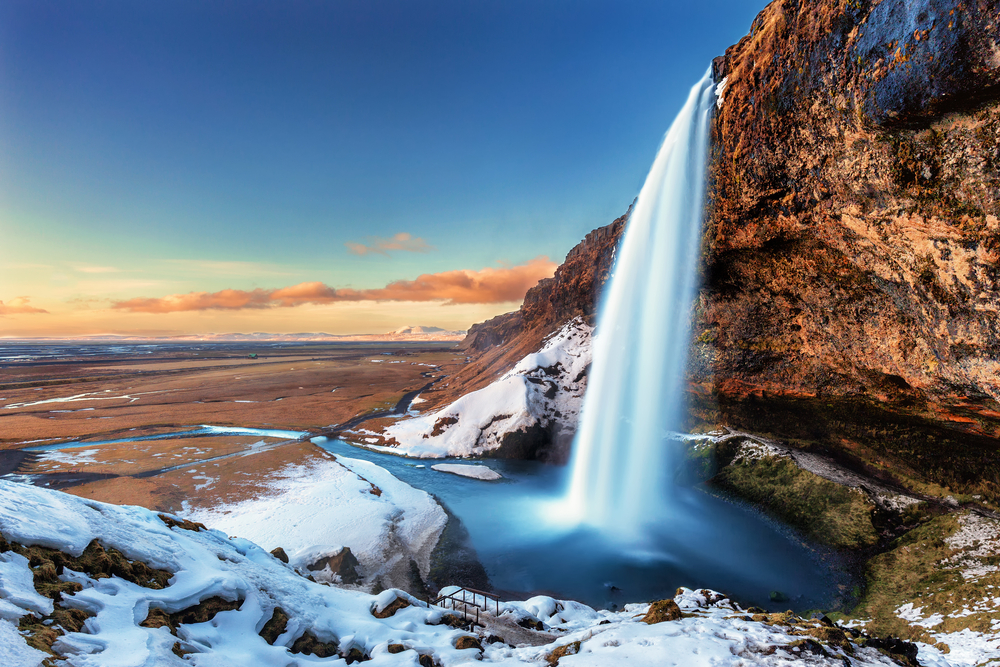 Stop 2: Wade Through A Cavern To Find Gljúfrabúi
Gljúfrabúi is particularly convenient to visit as it's a neighbor to Seljalandsfoss. This unique waterfall requires a bit more of an adventure to reach, and ideally, you'd be equipped with waterproof or quick-drying shoes in case the water levels are high.
To reach Gljúfrabúi on your Iceland winter trip, you'll follow the end of the Seljalandsfoss trail towards the campground, where you'll eventually spot a sign for the entrance to the waterfall. From there, you'll walk over stones through the river or wade through the water if the stones are underwater.
Inside the cavern, you'll find a beautiful waterfall cascading down the cavern walls. On a sunny day it's particularly striking as it's made even more brilliant by catching the light streaming through the opening above.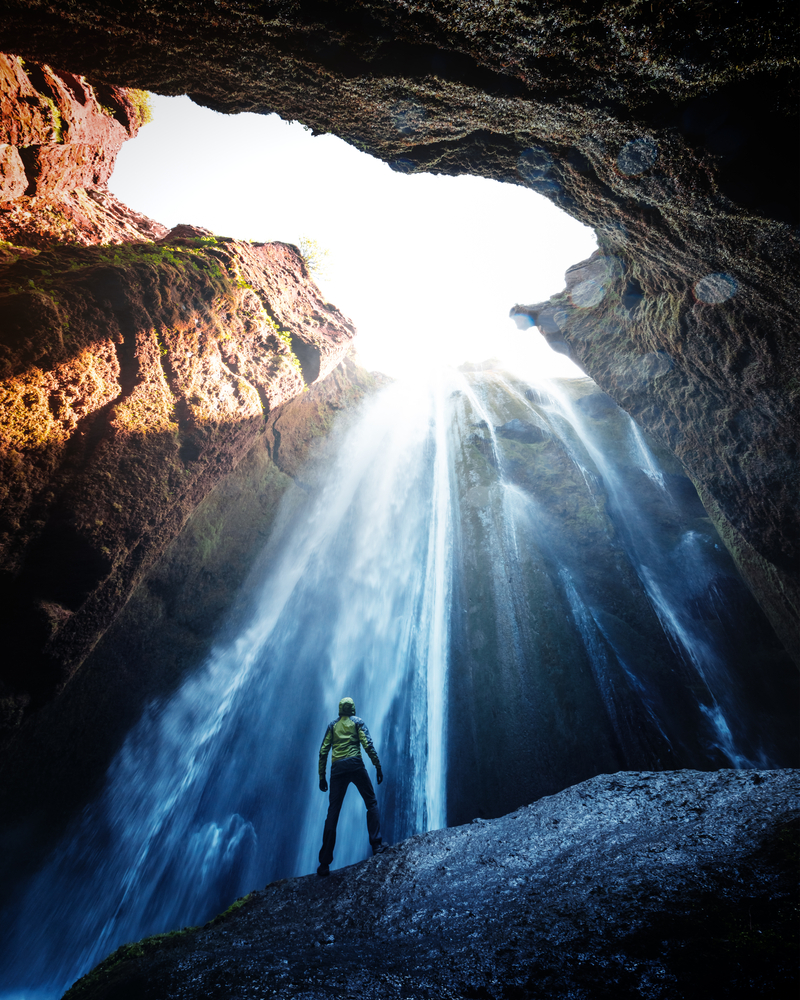 Stop 3: View The Power Of Skogafoss From Below Or Above
Your Iceland winter road trip continues with Skogafoss which is located just a short 25 minutes down Route 1 from Seljalandsfoss and Gljúfrabúi. It's nearly equal in height to Seljalandsfoss at 197 feet but beats it in width at an impressive 84 feet wide.
This thundering waterfall can be viewed from below where you're sure to get wet from the spray. Or you can choose to work your legs climbing roughly 500 stairs to the top of the waterfall for a view from up above.
From above you'll get to see the waterfall's source, the river Skógá, as well as a view out beyond of the vast south coast landscape.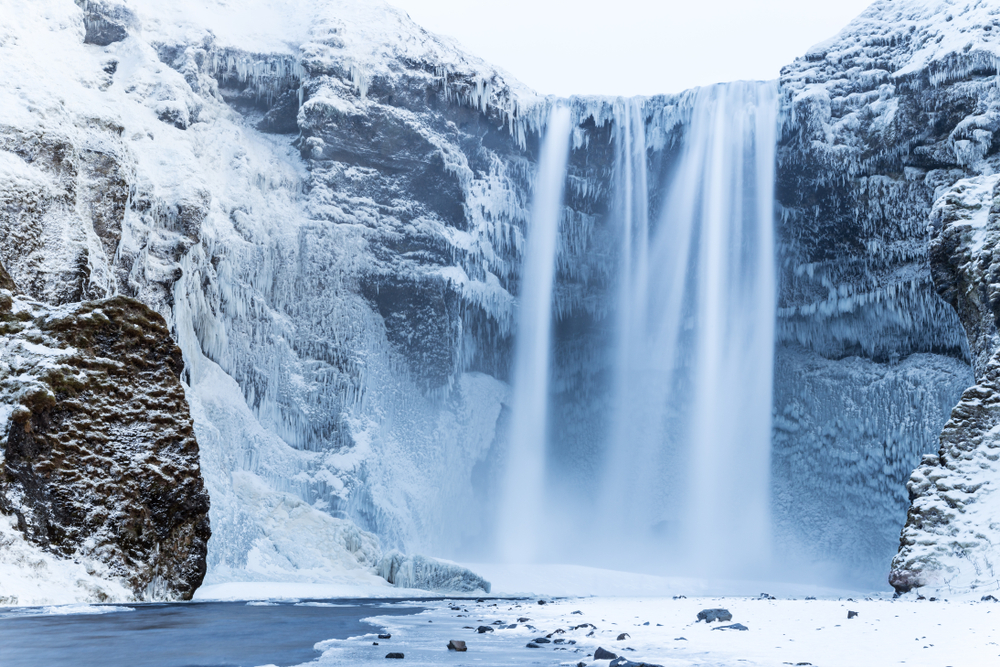 Stop 4: Wander Into The Valley Where Kvernufoss Awaits
Visually, Kvernufoss has many similarities to Seljalandsfoss, just on a smaller scale. It also happens to be a neighbor to Skogafoss making it an obvious next stop on your Iceland winter itinerary.
You'll drive from Skogafoss to Hotel Edda, which is right next door, where you'll walk a brief 10-15 minutes into the valley. Navigating the last part of this walk is trickier and sometimes impossible in the winter when the icy ground makes approaching the waterfall dangerous.
Worst case scenario you can view this 98-foot waterfall from a bit of a distance. It's still a beautiful site and a peaceful one too thanks to much smaller crowds.
Where To Stay Near Kvernufoss In Vik
Affordable: The Barn. Check rates: Booking.com
Mid-range: Puffin Hotel Vik. Check rates: Booking.com
Luxury: Black Beach Suites. Check rates: Booking.com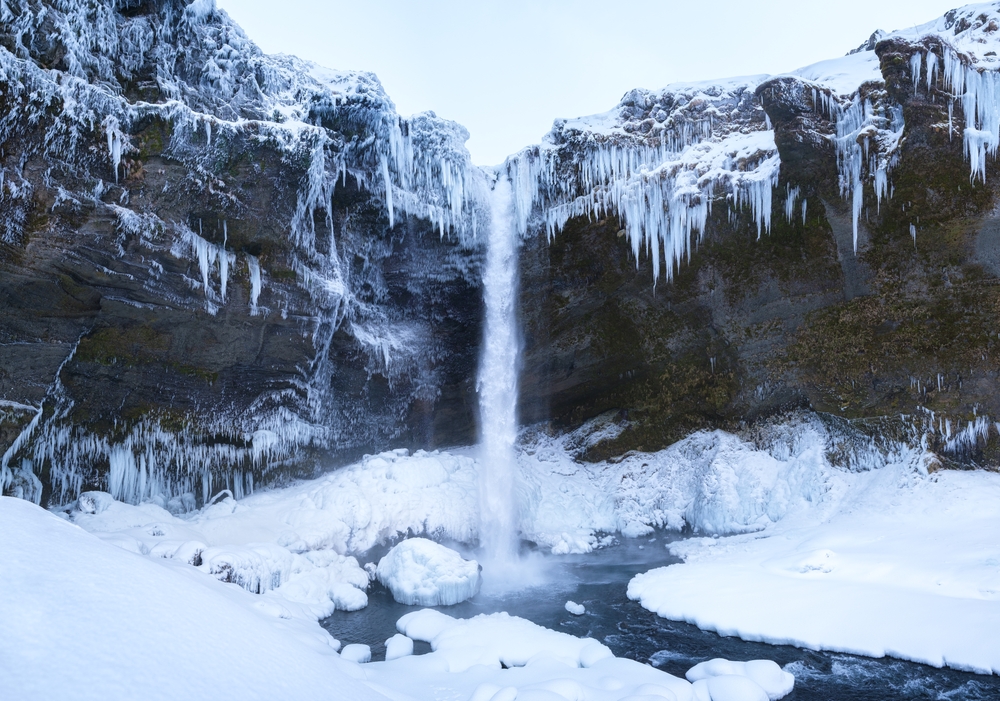 Day 2: Skaftafell And Glacier Lagoons
Day 2 of your Iceland winter road trip itinerary is the kind of day Elsa from Frozen would enjoy thanks to an endless supply of ice-related experiences.
This is the farthest east you'll venture on this trip before heading back in the direction of Reykjavik.
From glaciers to floating icebergs you're about to experience a whole new side of Iceland that fits right in with the country's name. This is proof of Iceland's diverse landscape at its finest.
Stop 1: Explore The Landscapes Within The Skaftafell Nature Reserve
Unsurprisingly Iceland is home to a number of national parks including Vatnajokull National Park where you'll find the Skaftafell Nature Reserve.
This is the perfect opportunity to take a guided ice cave tour. These Iceland winter tours take you over a glacier and through newly discovered or rediscovered ice caves that form each summer and become explorable in the winter.
Within Skaftafell you'll also find another of Iceland's unique and impressive waterfalls, Svartifoss. A 3.5-mile round trip hike takes you by a number of other waterfalls before reaching the cascading Svartifoss backed by beautiful basalt columns.
Book Here: Skaftafell Guided Glacier Hike Day Trip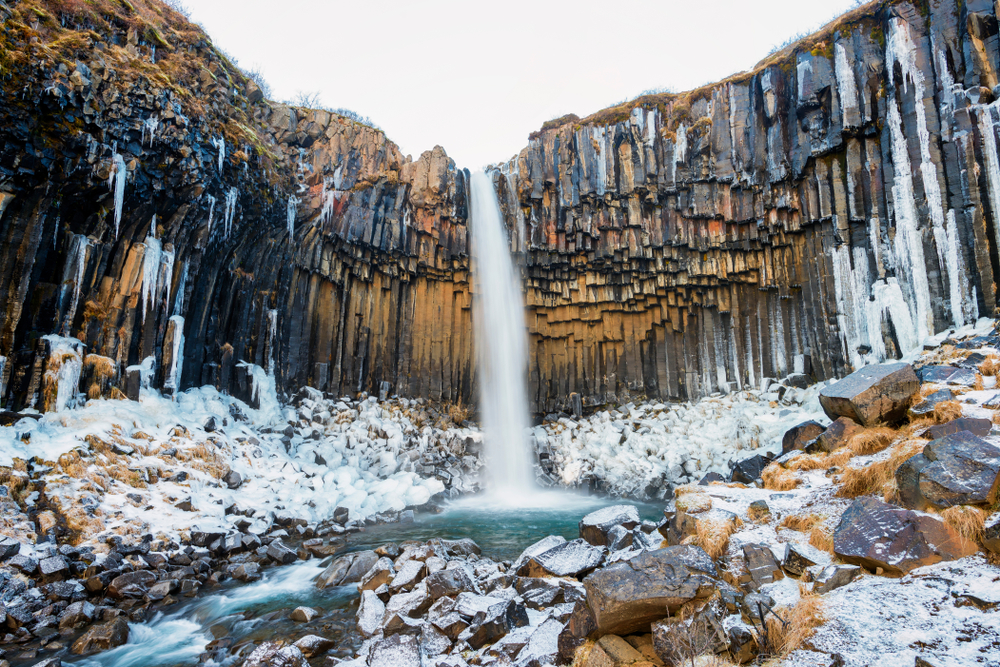 Stop 2: Escape The Crowds At The Fjallsarlon Glacier Lagoon
The Fjallsarlon Glacier Lagoon offers similar beauty to Jokulsarlon, but on a smaller more intimate scale. Tourists flock to Jokulsarlon but many skip over its neighbor leaving you to enjoy the beauty of Fjallsarlon in peace and quiet.
If you sit by the water you can hear the ice break and collide, a reminder of nature's ever-changing existence and power. This is the perfect way to wind down day two of your winter Iceland road trip.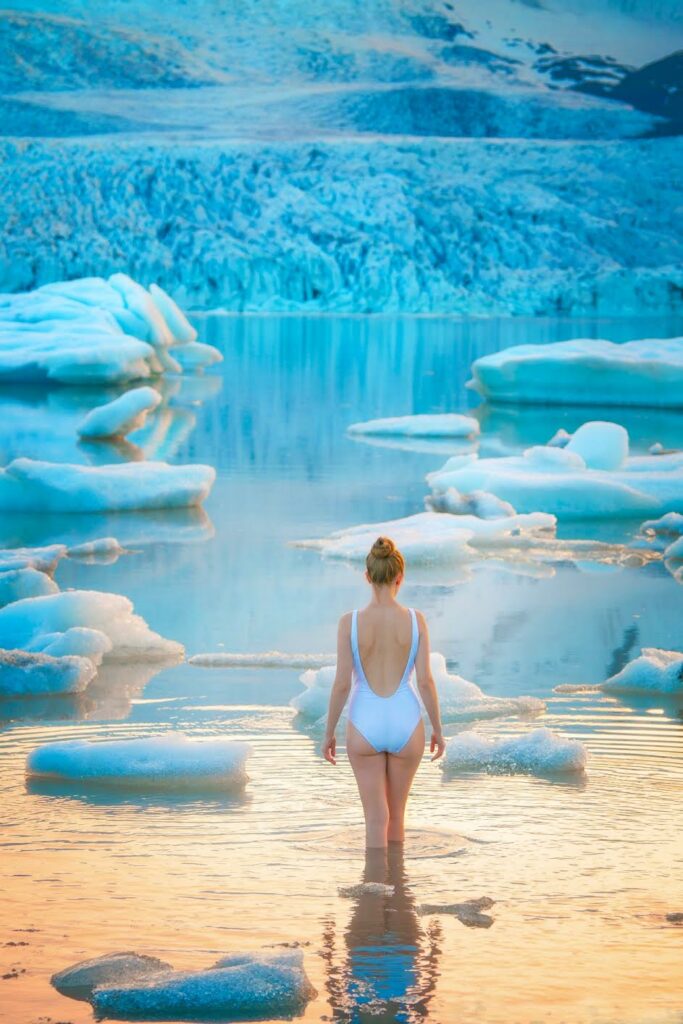 Stop 3: Watch the Icebergs Float To Shore At Jokulsarlon And Diamond Beach
There's something so serene and peaceful about watching icebergs float on calm waters during your Iceland winter trip.
The Jokulsarlon Glacier Lagoon gives you the opportunity to view these bergs from a distance while listening to the occasional crack of ice as pieces break off the glacier in the background.
Across the street, you'll find Diamond Beach, a beautiful black sand beach with crystal clear iceberg chunks dotting its shores. The beauty of Diamond Beach is that it's always changing as ice melts and new bergs wash to shore.
Book Here: Jökulsárlón Glacier Lagoon Full-Day Tour From Reykjavik
Where To Stay Near The Jokulsarlon Glacier Lagoon
Mid-range: Reynivellir II. Check rates: Booking.com
Mid-range: Skyrhúsid Guest House. Check rates: Booking.com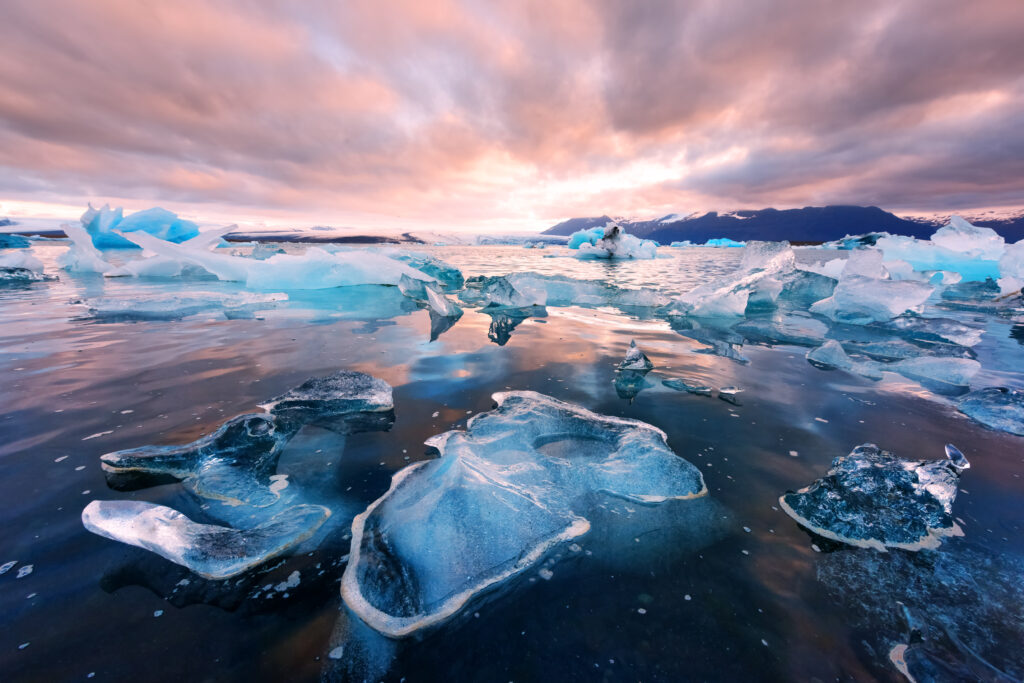 Day 3: Solheimasandur And Reynisfjara Black Sand Beach
Day 3 is one of the more relaxed days of your winter Iceland road trip as a light itinerary leaves you with time to wander and fully take in the unique spots you'll be visiting.
From an eerie plane wreck to the most well-known of Iceland's unique black sand beaches complete with dramatic basalt columns, you're in for an exciting day with the chance to take in a part of Iceland that is different from anything else you'll experience on this trip.
Stop 1: Circle The Plane Crash Remains On Solheimasandur Beach
Visiting the wreckage of a plane crash may seem like an odd choice for your winter Iceland Itinerary when you have so much natural beauty to explore around the country, but when that plane crash is smack in the middle of one of Iceland's black sand beaches, it becomes all the more intriguing.
A 2-mile hike each way will take you to the Solheimasadur Plane Wreck, the remains of a DC-3 US navy plane from 1973. Thankfully everyone survived the crash, so the story isn't exceptionally grim, but the scene still paints an eerie picture.
The white wreckage contrasted with the black sand is a picture every tourist looks to get. Visiting in winter is equally fantastic when the sand might be peppered with white snow.
Book Here: South Coast and Black Beach ATV Ride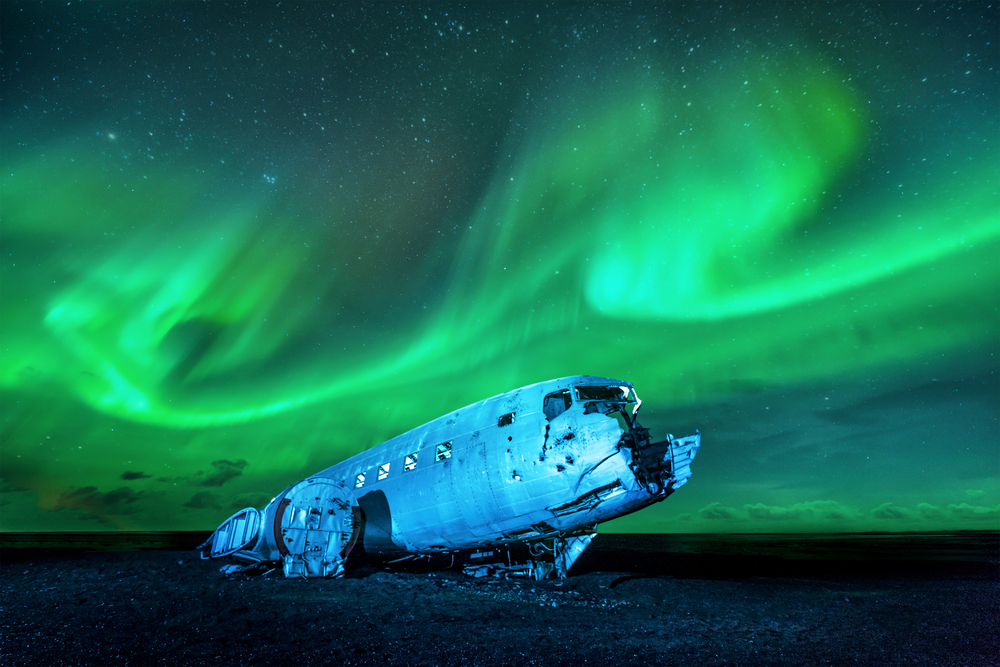 Stop 2: Watch The Raging Atlantic From The Reynisfjara Black Sand Beach
Iceland is known for its black sand beaches, but Reynisfjara is the most popular of them all. Known for its dramatic waves, the beach can be both stunning and dangerous. Sleeper waves have been known to take out oblivious tourists, so stay alert.
As long as you're paying attention and are dressed to brace the cold, the beach is a wonderful stop along your winter Iceland road trip allowing you to take in ocean sounds, admire the unusual rock formations out in the sea, and climb the basalt columns.
The basalt columns line the back part of the beach rising higher and higher like an enormous church organ. They've become a favorite spot for photographs as tourists climb the individual hexagons.
From the Reynisfjara Black Sand Beach, you'll head a couple of hours away to Fludir so you're in a great position to start Day 4.
Where To Stay In Fludir
Affordable: Skyggnir Bed and Breakfast. Check rates: Booking.com
Mid-range: Blue Hotel Fagrilundur. Check rates: Booking.com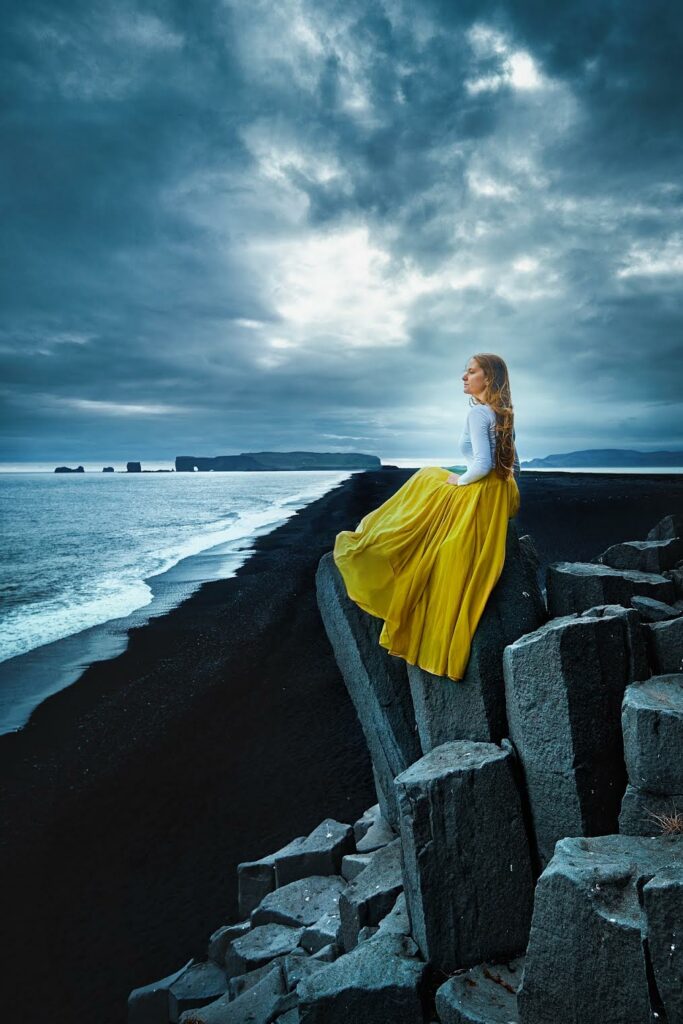 Day 4: Golden Circle and Hot Springs
Iceland's Golden Circle route is perhaps the most iconic tourist route in the country which means it gets crowded, but it's iconic for a reason and offers you a glimpse of some of Iceland's most spectacular natural phenomena.
Day 4 of your 7-day winter Iceland Itinerary takes you to hot springs, waterfalls, and geysers. By the time you reach your hotel at the end of the day, you'll be in awe of the power and diversity of nature.
Book Here: Golden Circle Full Day Tour From Reykjavik
Stop 1: Grab A Pool Noodle And Float In The Secret Lagoon
Let the hot spring bathing begin! The Secret Lagoon is the first of many opportunities on your Iceland winter itinerary for you to soak in geothermally heated water.
The Secret Lagoon is a man-made pool with water fed from a natural spring. It's located in a geothermally active area near the town of Fluðir and is a favorite spot for many locals and tourists.
If you're looking for the luxury of the Blue Lagoon, this is not it. But this modest pool offers pool noodles to float on, a petite geyser behind the pool, a relaxing setting for recharging and is an ideal way to start your day.
Book Here: Golden Circle Small Group Tour With Secret Lagoon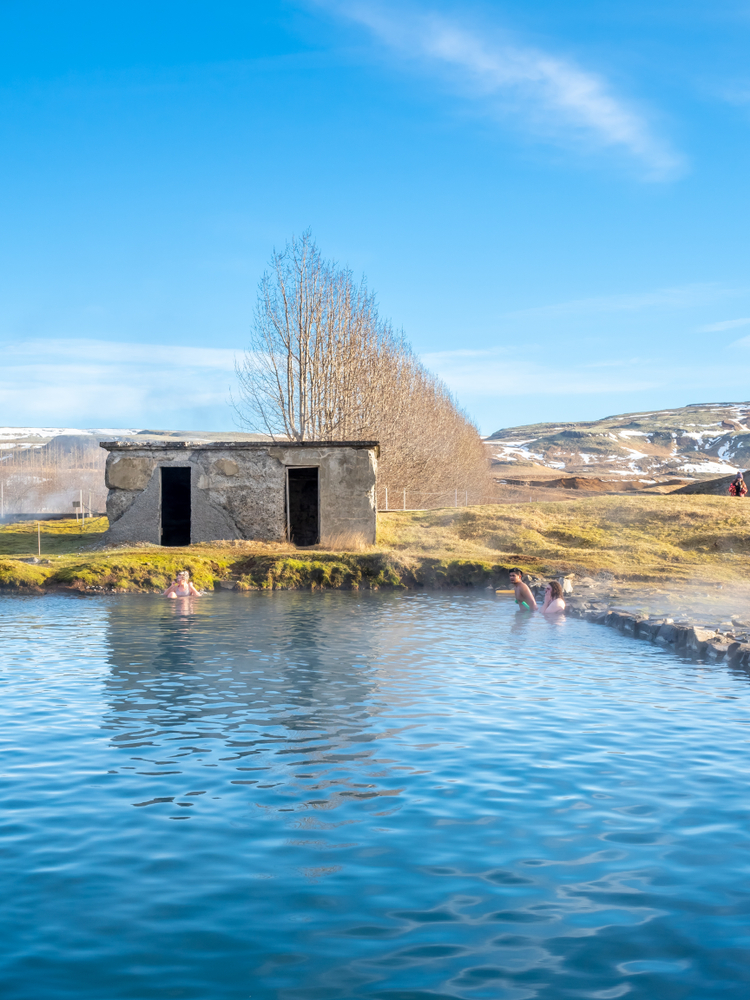 Stop 2: Stay Warm In The Hrunalaug Hot Springs
The Hrunalaug Hot Springs consists of one bathtub-sized pool and one slightly larger 8-10 person pool with a changing hut in between.
As you relax in the hot springs, you'll be surrounded by the beautiful natural landscape while you enjoy ideal water temperature that is perfect for keeping you warm as you make your way through day 4 of your Iceland winter itinerary.
While you're more than welcome to visit both the Secret Lagoon and the Hrunalaug Hot Springs back to back, you'll more likely want to pick one over the other as they both serve similar purposes.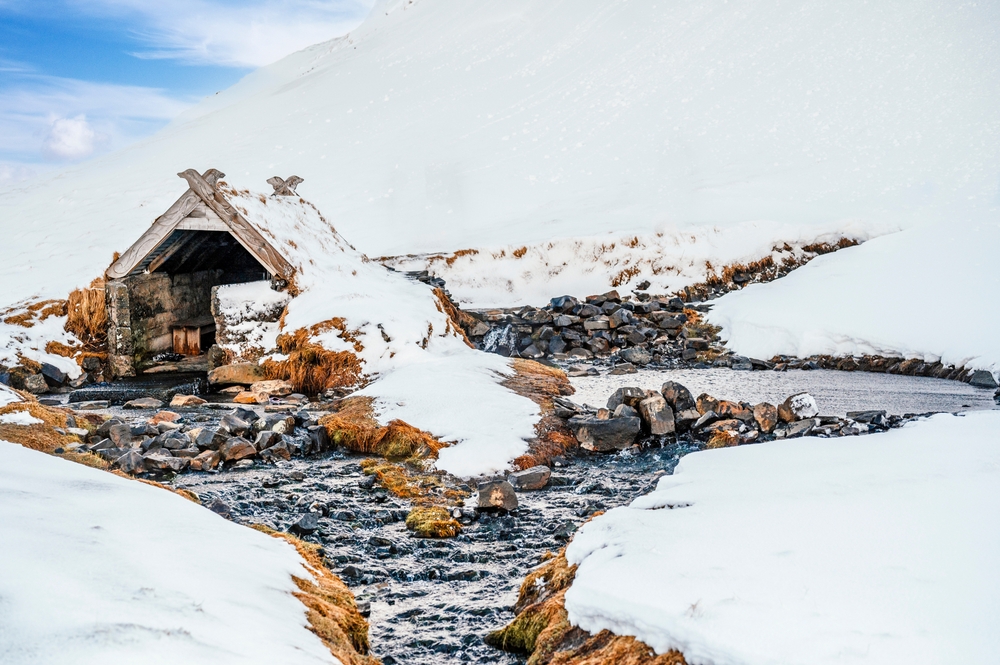 Stop 3: Take In The Impressive Width Of Faxafoss
The packed crowds of the most famous Golden Circle stops are still to come, but in the meantime, you can enjoy a lesser-known treasure of this tourist route, the Faxafoss waterfall.
Faxafoss stands at 105 feet tall which is nothing special compared to the well-known south coast waterfalls, but its width and the power of its crashing water make it a worthwhile stop.
Another benefit to visiting this natural beauty is its proximity to the greenhouse restaurant Friðheimar where you can get the most delicious all-you-can-eat tomato soup and freshly baked bread to fuel your Iceland winter road trip adventures.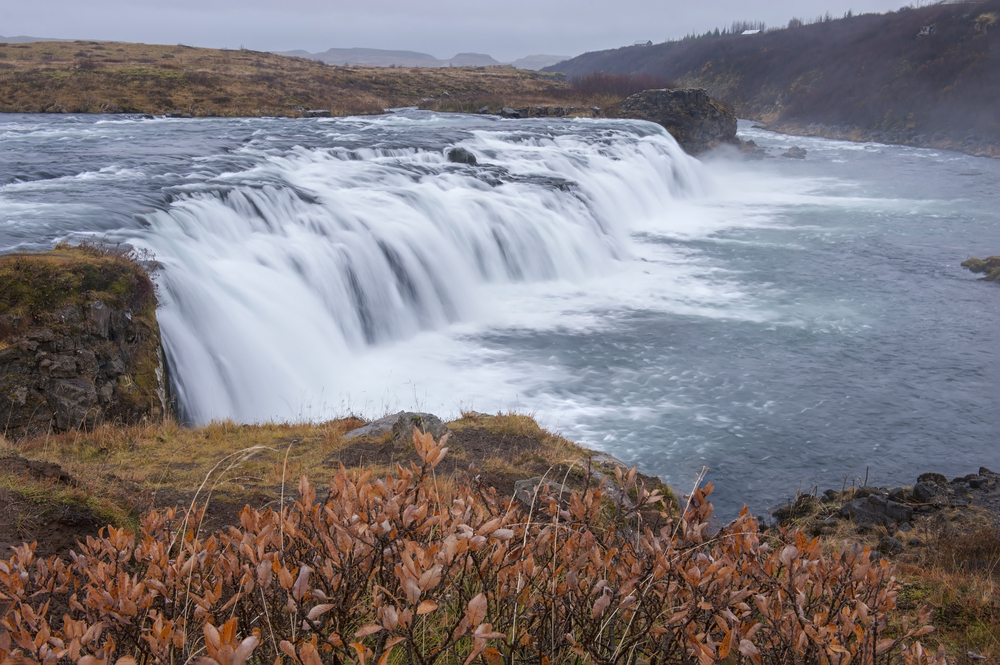 Stop 4: Feel The Spray Of The Two-tiered Gullfoss Waterfall
You've officially hit the first of the three most iconic Golden Circle stops on your winter Iceland road trip.
Gullfoss is an impressive, two-tiered waterfall nicknamed the Golden Waterfall due to the rainbow that can often be seen arching over it on a sunny day.
You can view the waterfall from its second drop, or climb the stairs to the top of the waterfall where you can get close enough to feel its misty spray. Either viewpoint is impressive and makes you understand why this stop is among the most famous in Iceland.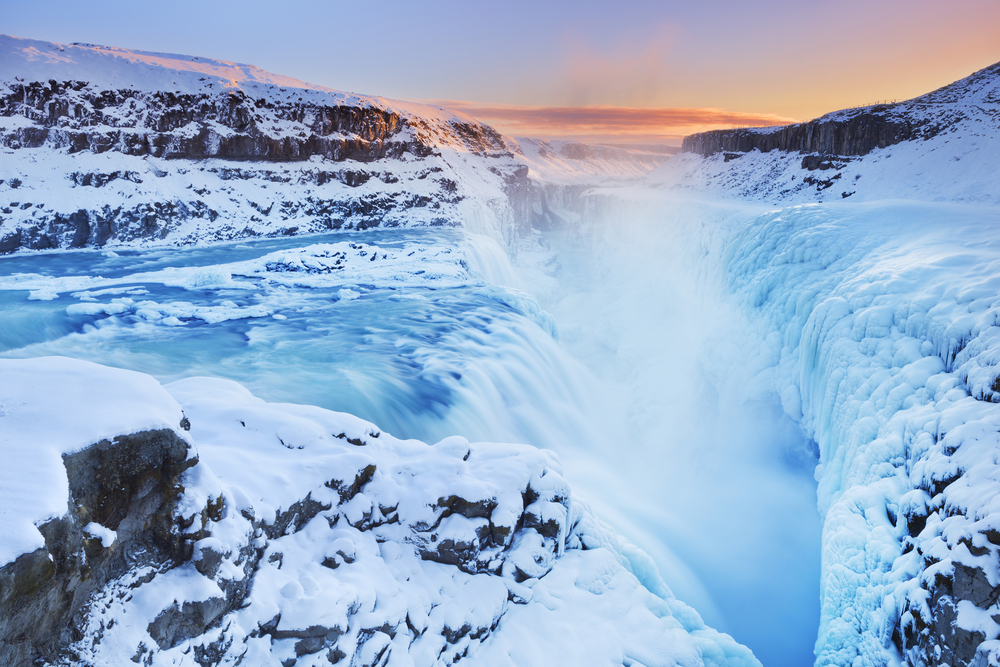 Stop 4: Take A Video of The Strokkur Geyser Erupting
Strokkur marks the second of the iconic Golden Circle stops on your winter Iceland Itinerary. Iceland is full of geothermally active regions, but to see an erupting geyser is a rare and unique occurrence.
In the Haukadalur Valley, you'll find the Strokkur geyser. It's a neighbor to another geyser, appropriately named "Geysir" however Geysir is no longer active. Strokkur on the other hand erupts roughly every 5-7 minutes making it easy to witness multiple times if you choose to stick around for a bit.
As you wait for the next eruption you can wander the area and enjoy bubbling pools of muddy water and steam rising from the ground.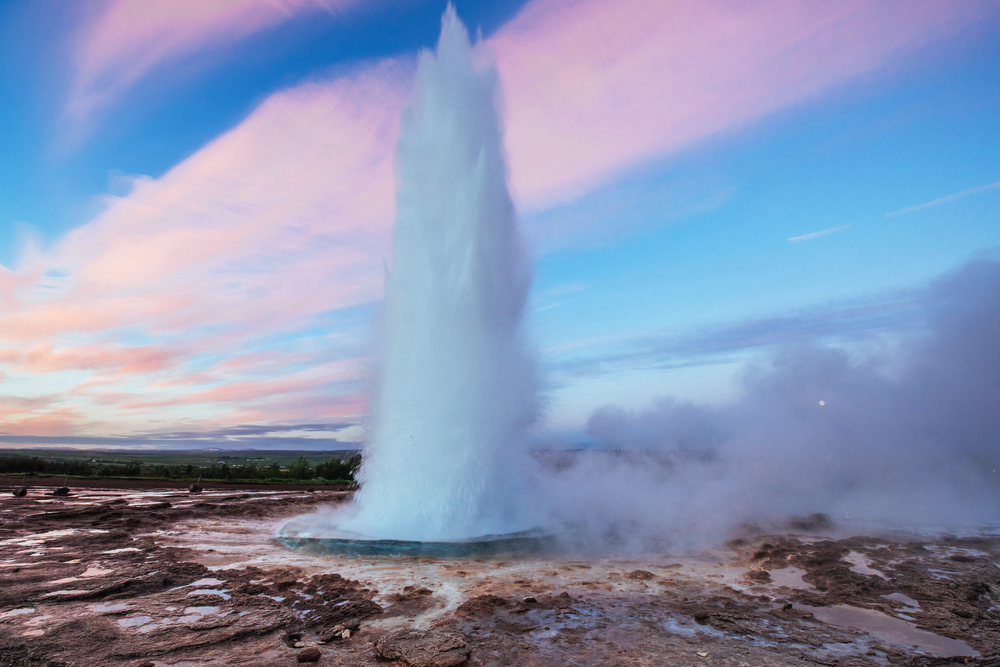 Stop 5: Thaw Out At The Laugarvatn Fontana To End Your Day
A day that starts and ends with a soak in a geothermal bath is an ideal day. You'll finish day 4 of your Iceland winter itinerary with a stop at the Laugarvatn Fontana thermal baths and spa.
With three mineral pools of varying temperatures, steam baths, a sauna, and a lake bordering the pools if you care to take a cold plunge, you're in for a real treat.
You'll even have the opportunity to pay a little extra to see how rye bread is baked in the hot ground as part of a geothermal bakery tour. And of course, you'll get to eat some bread after for the ultimate icing on the cake.
Where To Stay In Laugarvatn
Affordable/Mid-range: Hotel Laugarvatn. Check rates: Booking.com
Mid-range: Galleri Laugarvatn. Check rates: Booking.com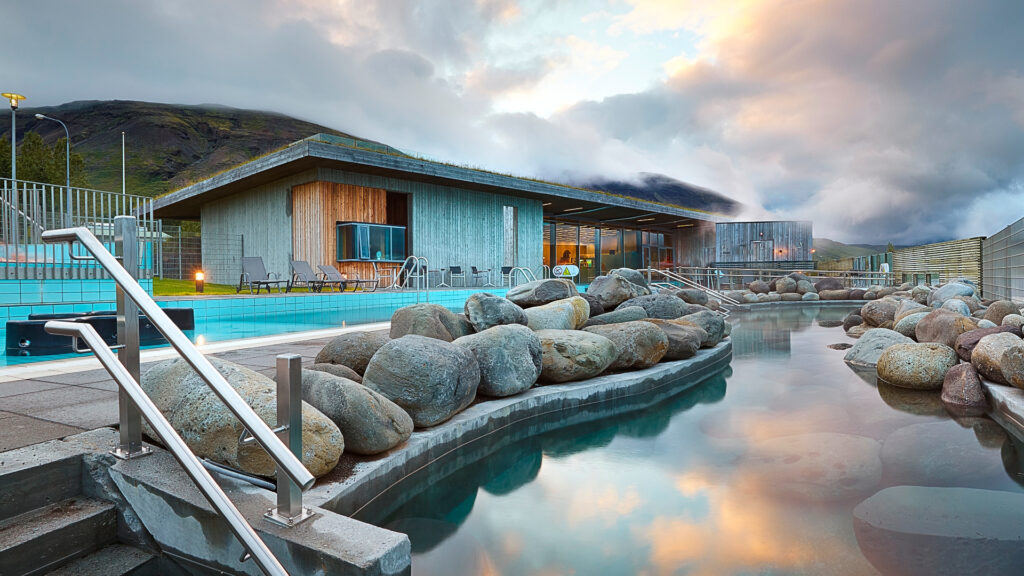 Day 5: Thingvellir, Selfoss, And The Reykjadalur Hot Springs
Day 5 of your Iceland winter itinerary will allow you to complete the Golden Circle with the third of the most iconic stops before heading towards the steam-filled valleys of Hveragerdi. Multiple continents soaks in hot rivers…the good times and stunning natural landscapes never stop.
The day offers the perfect mix of relaxation and thrilling adventure. Are you hoping to snorkel in crystal clear waters or sit by a waterfall? All this and more await you as you make your way through the Selfoss and Hveragerdi regions of Iceland.
Stop 1: Venture Between Continents At Thingvellir National Park
A UNESCO World Heritage Site, the meeting point of the Northern American and Eurasian tectonic plates, lava rock, a waterfall…surely this is enough to convince you to add Thingvellir National Park to your Iceland winter road trip itinerary.
As one of the three most iconic Golden Circle stops, Thingvellir is a thriving tourist destination, so expect crowds. Fortunately, the national park spans a large area so the crowds don't tend to feel overwhelming.
The park can be explored any number of ways from walking the rift valley separating the two continents to taking a snorkeling tour through the Silfra Fissure.
Book Here: Silfra Fissure Snorkeling Half-Day Trip From Reykjavik
Stop 2: Take A Break And Enjoy The Conveniences Of Selfoss
As one of the larger towns outside of the capital, Selfoss is an ideal place to stop and just regroup before the next adventure of the day.
In Selfoss, you'll have access to Bónus, Hagkaup, Krónan, and Nettó, all the major grocery store chains in Iceland.
You can also grab a casual bite to eat at a place like Subway or Pylsuvagninn (hot dogs), or you can sit down for a longer lunch in a cozy, charming spot like Þrastalundur.
This stop in Selfoss is also the perfect opportunity to fill up on gas before you head roughly 20 minutes to the next stop on your Iceland winter itinerary, the Reykjadular Hot Springs.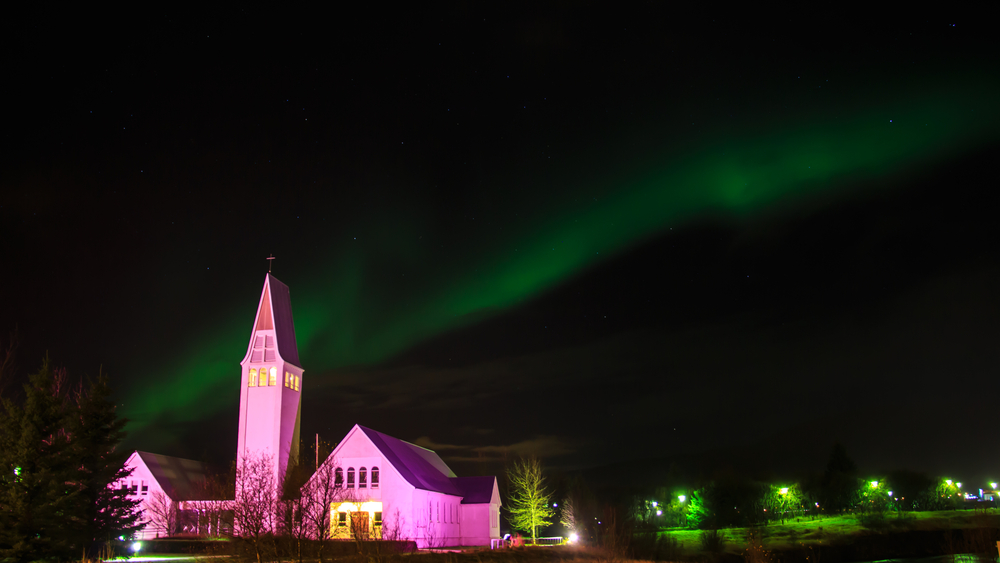 Stop 3: Break Up A Rewarding Hike With A Soak In The Reykjadalur Hot Springs
A 45-minute moderately difficult hike through a beautiful steam-filled valley will lead you to the ultimate reward, the Reykjadalur Hot Springs, a hot river perfect for bathing.
As you approach the area appropriate for bathing you'll see the river is divided into sections by short rock walls that create deeper pockets of water just deep enough for you to comfortably sit in.
For an Iceland winter trip, however, you might have to hike slightly farther upstream to find a warm enough section of the river. When your legs feel rested and you're ready to head back, you'll return the same way you came to arrive back at your car.
Where To Stay In Hveragerdi
Affordable: Hotel Eldhestar. Check rates: Booking.com
Mid-range/Luxury: The Greenhouse Hotel. Check rates: Booking.com
Luxury: ION Adventure Hotel. Check rates: Booking.com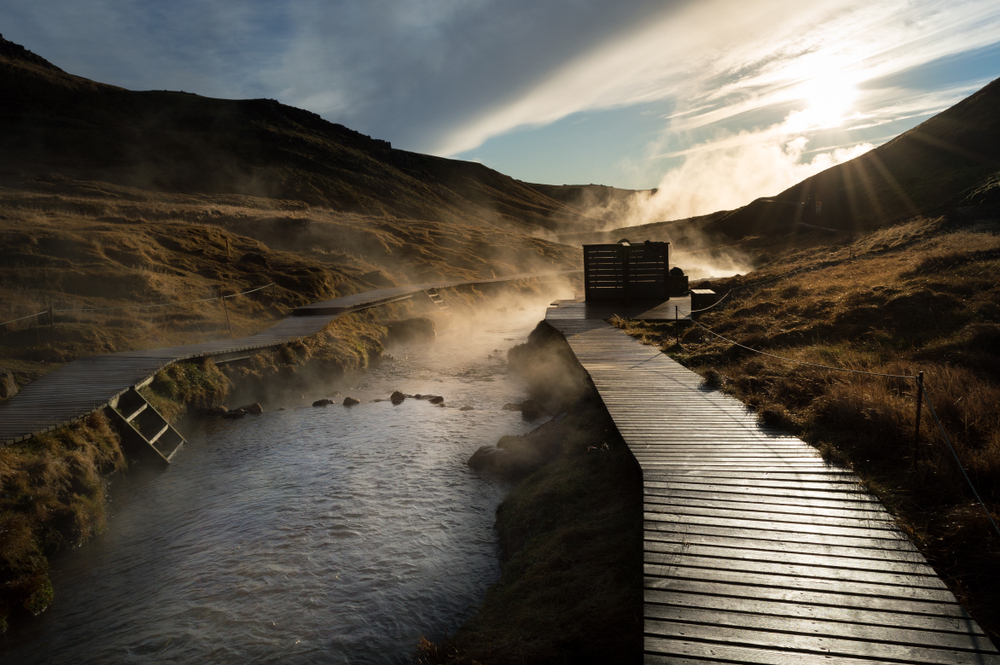 Day 6: Snaefelssnes Peninsula
Waterfalls, natural bridges, basalt columns, volcanic craters…the Snaefelssnes Peninsula features a diverse landscape that offers a little bit of everything.
Visiting the Snaefelssnes Peninsula will take you back past Reykjavik and requires extra driving, but it's a worthwhile stop.
If you're starting to slow down towards the end of your winter trip to Iceland, you can choose to eliminate the Snaefelssnes Peninsula and spend all of day 6 and 7 relaxing in the lagoons and exploring the capital instead.
Book Here: Snaefellsnes Peninsula Full-Day Tour From Reykjavik
Stop 1: Snap A Shot Of The Iconic Kirkjufell Mountain and Kirjufellsfoss Waterfall
You might recognize Kirkjufell (church mountain) from an episode of Game of Thrones, or maybe you just saw it plastered on postcards in gift shops throughout the country. Either way, soak in the beauty of this cone-shaped mountain that dominates the surrounding landscape.
Most people just enjoy the view from Kirkjufellsfoss where you can capture both the waterfall and the mountain in one photograph. Though it's possible to climb the mountain it must be done with a guide.
If Northern Lights viewing is on your Iceland winter itinerary, the dark skies and imposing nature of the mountain make Kirkjufell an ideal spot to enjoy the lights when conditions are appropriate.
Book Here: Snaefellsnes Peninsula And Kirkjufell Day Trip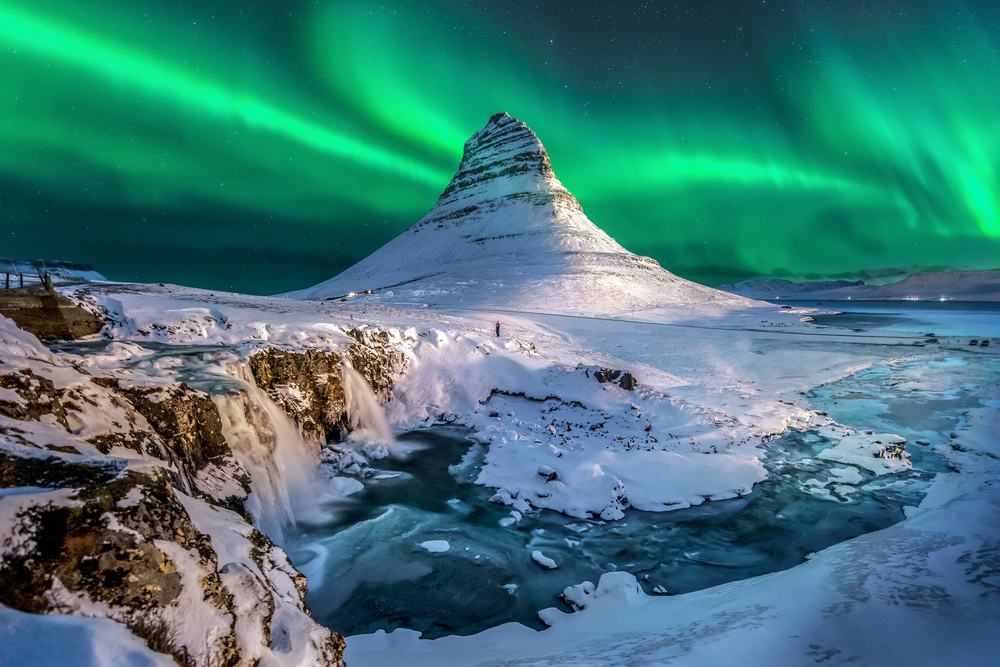 Stop 2: Admire The Unique Londrangar Rock Formation Along The Coast
Londrangar is a short but picturesque stop best viewed from a distance to capture the complete picture of the rocks contrasted with the crashing waves of the Atlantic.
The existence of these castle-like remains of volcanic plugs is a testament to the power and resilience of nature.
Enjoy watching the seabirds riding the thermals and the sounds of the world around you that somehow manage to be simultaneously noisy and peaceful. It's beautiful in any season, making it a perfect stop for your Iceland winter trip.
Once you've taken in the view from afar, you can choose to get a closer look at the unusual rock formations by starting at the lighthouse at Malarrif and making your way over.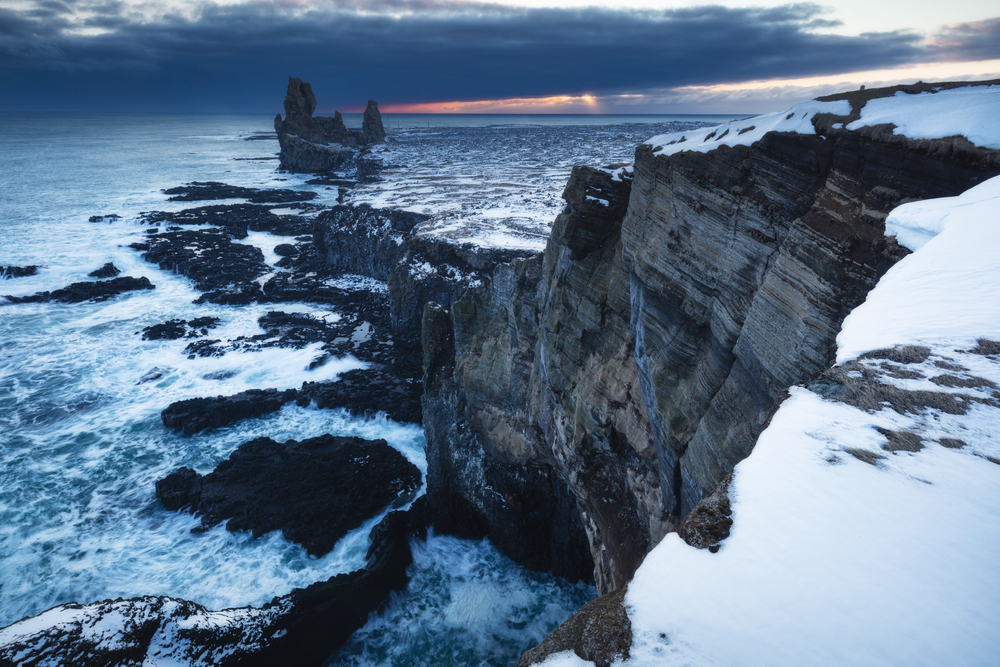 Stop 3: Make Your Way Across Arnarstapi's Natural Bridge
Have you ever wanted to walk across a natural bridge with the ocean waves gently lapping below you? Now's your chance to add it to your Iceland itinerary for winter.
The small fishing village of Arnarstapi is home to an impressive natural bridge that's wide enough for you to comfortably walk over.
The bridge isn't always the easiest to find (it's not Gatklettur, an arched rock you'll come across earlier along the coastline), but as you continue along the coast from the stone statue of the half-troll/half-man Bardur Snaefellsas, past Gatklettur, to the sign labeled "Midgja," you'll find the bridge.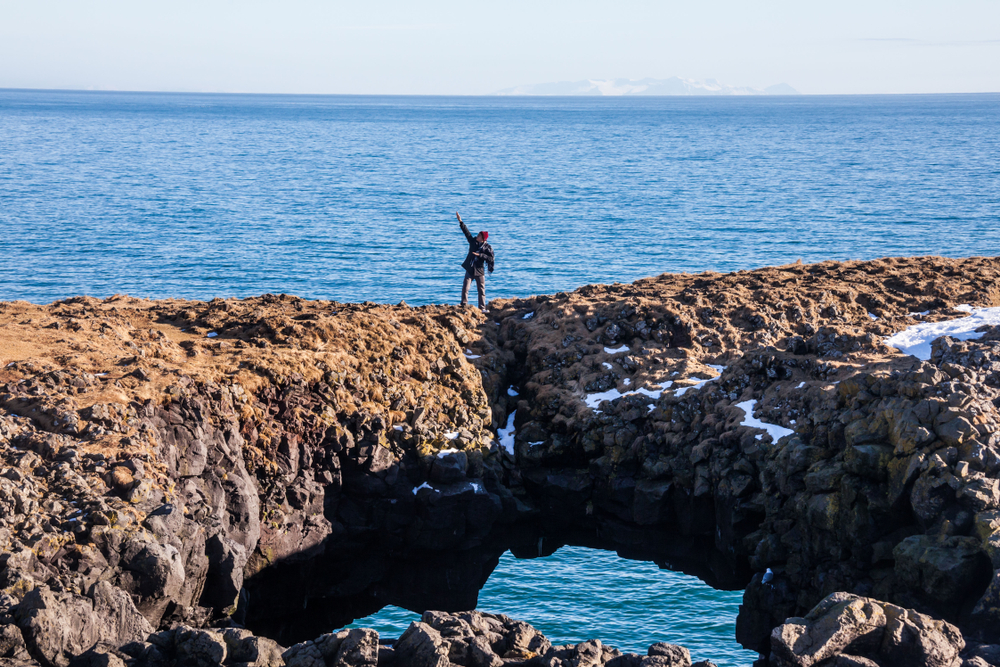 Stop 4: Embrace The Moody Darkness Of The Búdir Black Church
The Búdir Black Church is the ideal place for moody photographs. It's a striking sight any time of year but is particularly perfect for an Iceland winter itinerary when the black of the church is contrasted with the surrounding landscape blanketed in snow.
This church has stood in various forms of disrepair and reconstruction since 1703. With the ocean on one side and mountains and glaciers on the other, its isolation within a small village makes it particularly unique.
Add Iceland's often gloomy weather conditions and the surrounding church graveyard and you have yourself quite the eerie but fascinating site.
Where To Stay On The Snaefellsnes Peninsula
Mid-range: Hotel Rjúkandi. Check rates: Booking.com
Mid-range/Luxury: Miðhraun – Lava Resort Check rates: Booking.com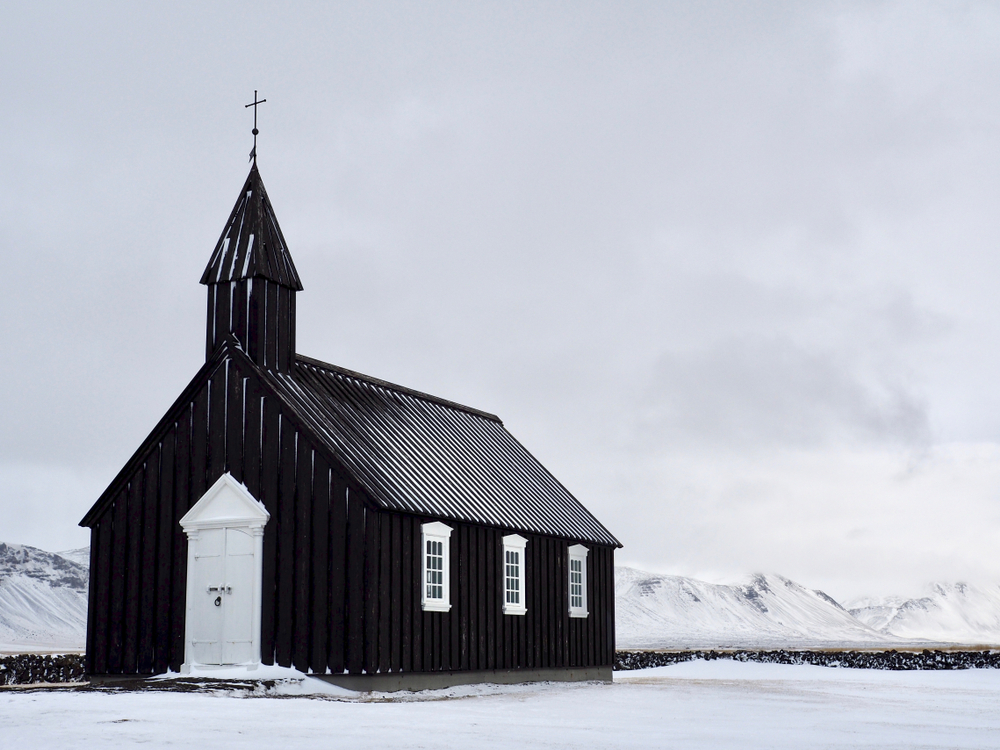 Day 7: Reykjavik, Blue Lagoon, And Sky Lagoon
The final day of your 7-day winter Iceland Itinerary has the potential to be the most relaxing. You'll have the option of visiting two of Iceland's most luxurious geothermal baths while sipping on a drink and reminiscing about your trip.
Follow that up with a stroll through the colorful streets of Reykjavik as you learn about Iceland's rich history and culture. With all the amenities and conveniences of a larger city, you're sure to enjoy your time in the capital.
Stop 1: Soak In The Healing Waters Of The Blue Lagoon
At this point, the Blue Lagoon is practically synonymous with Iceland. It's an iconic tourist spot that has evolved over the years from a local hangout to a luxury tourist destination.
Mineral-rich waters, a swim-up bar, and a striking lava rock backdrop make for an ideal day of relaxation. Even the most basic entry ticket is pricey, but it's worth experiencing at least once in your life.
If you'd like to make a soak in the milky-blue water of the lagoon a part of your Iceland winter itinerary, you'll need to make sure you book your tickets weeks if not months in advance.
Book Here: Golden Circle & Blue Lagoon Small-Group Tour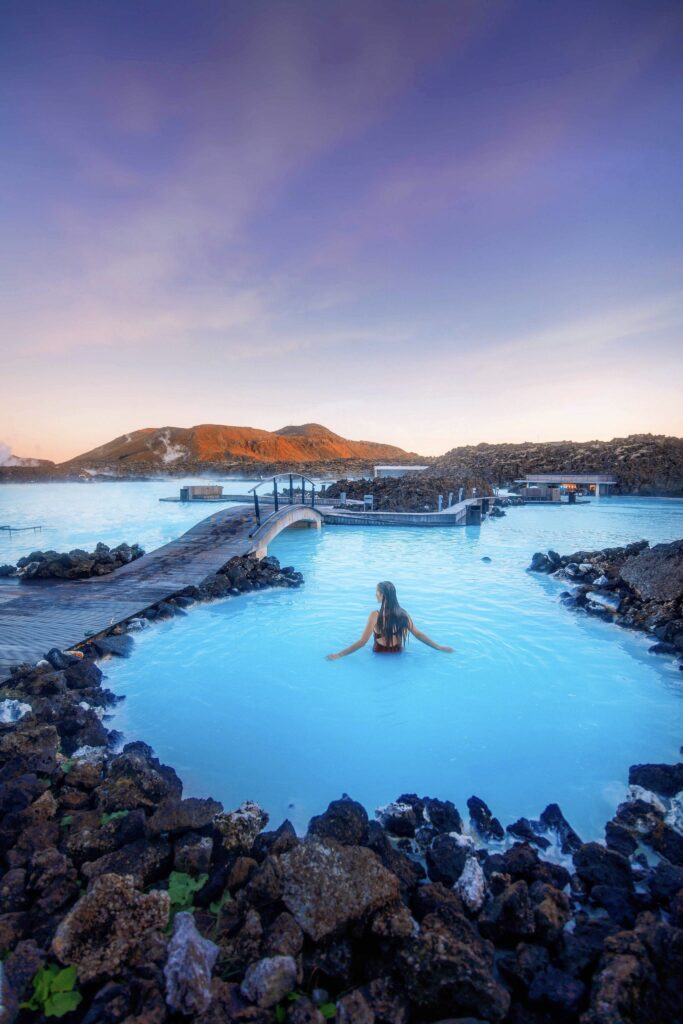 Stop 2: Enjoy A Seven Step Spa Ritual At The Sky Lagoon
What's better than a luxury bathing experience in geothermally heated waters in the land of fire and ice? Not even having to leave the capital to have this unforgettable experience.
The Sky Lagoon is a newer addition to Iceland's geothermal pool landscape, but one that has quickly become a favorite of both locals and visitors alike.
Rugged rock walls, an infinity pool that offers stunning views of the ocean, and a swim-up bar make the Sky Lagoon an enticing place to recover from your adventurous Iceland winter trip.
The seven-step ritual however is what truly sets it apart from other luxury bathing experiences such as the Blue Lagoon.
The seven-step ritual begins with a soak in the lagoon, followed by a cold plunge, a 10-minute sauna experience, a cold fog-mist, the use of an exfoliating body scrub, the steam room, and finally a shower, and additional time spent enjoying the lagoon.
Book Here: Sky Lagoon Entrance Pass With 7-Step Spa Ritual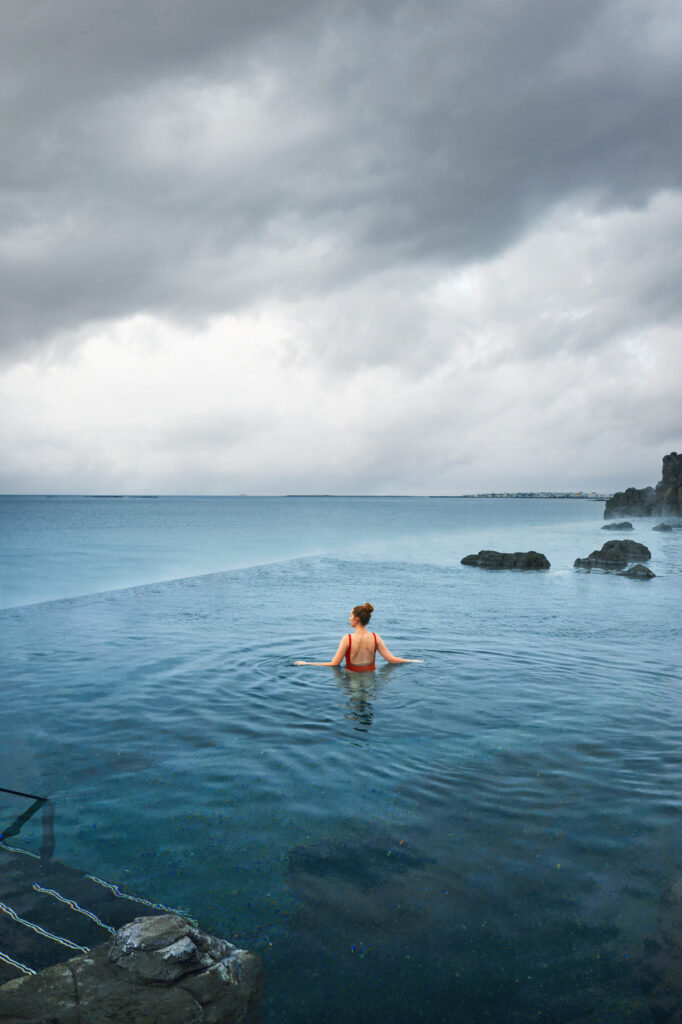 Stop 3: Explore The Landmarks and Museums In The Reykjavik City Center
One week in Iceland in winter is best spent road-tripping through the country's unique and impressive natural landscape, but the charming capital city of Reykjavik can be a welcome change of pace.
Downtown on Laugavegur and the surrounding streets you'll find restaurants, cafes, bars, and souvenir shops.
Reykjavik is also home to some of Iceland's most fascinating museums such as the Arbær Open Air Museum which displays old Icelandic sod roof buildings as well as the Maritime Museum on the harbor.
Before leaving, you'll want to visit one of Iceland's most iconic landmarks, the Hallgrímskirkja Church which offers stunning views of Reykjavik and beyond.
Book Here: Reykjavik Icelandic Food Tour
Where To Stay In Reykjavik
Mid-range: Hotel Vera. Check rates: Booking.com
Luxury: Kvosin Downtown Hotel. Check rates: Booking.com
Luxury: Eyja Guldsmeden Hotel. Check rates: Booking.com
We're thrilled you've chosen to spend one week in Iceland in winter. Whether you're arriving at the start of winter or are planning an Iceland Itinerary for February, you're visiting at a truly magical time of year.
If you have the full seven days to explore, this Iceland itinerary in winter will help you maximize your trip. If you're working with limited time, feel free to pick and choose stops as you see fit.
If you have any questions as you begin planning, please let us know in the comments section.