Thinking of visiting Iceland in winter? You will not be disappointed. Winter in Iceland is an adventure you will never forget. While Iceland is a beautiful country whatever time of year, winter in Iceland is magical.
Rather than the landscape being buried under snow it somehow seems to be enhanced by it. Waterfalls are cloaked with icicles, a golden light seems to always be present and the snow and ice make this prehistoric land looked even more mystical.
There is no need to be worried about visiting Iceland in the winter; as long as you are flexible with your plans and check the weather forecast before you travel anywhere you will have a safe and enjoyable trip. In fact, winter is one of the Best Times To Go To Iceland!
In this article, we will tell you everything you need to know about spending winter in Iceland, things to do in Iceland in the winter, and what things you need to put on your Iceland winter Itinerary.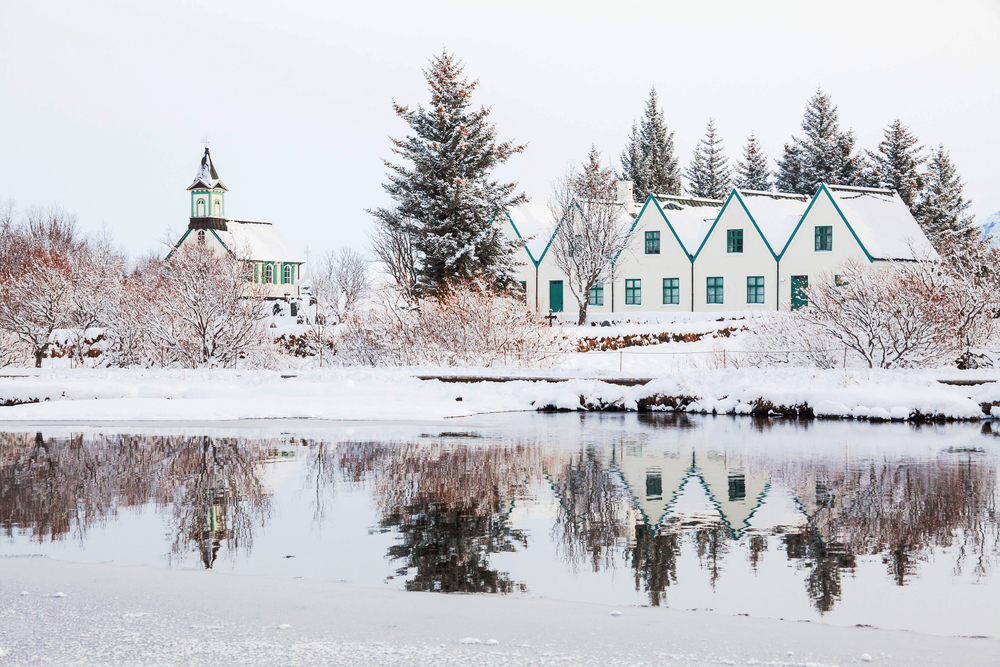 Is Winter A Good Time To Visit Iceland?
In our opinion, there is no bad time to visit Iceland and it really depends on what you want to do while in Iceland and the type of holiday you prefer. If you decide to spend the winter in Iceland you are likely to find it cheaper and less crowded, which is a great advantage.
However, the real advantage of spending winter in Iceland is you have a greater chance of seeing the northern lights. You might even find yourself snow hiking, visiting ice caves, or bathing in warm geothermal pools.
Winter in Iceland is a unique, unforgettable experience.
Make sure to check out our Detailed Winter In Iceland Travel Itinerary!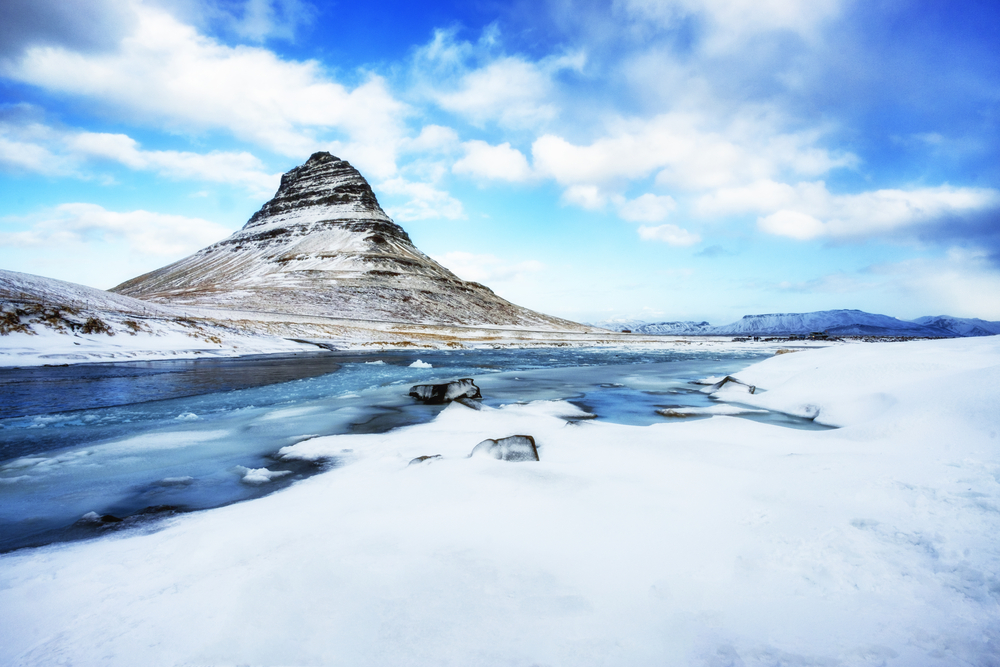 Average Winter Weather In Iceland
When most people think of Iceland in the winter they think of freezing temperatures and bitterly cold conditions. In reality, winter in Iceland is pretty mild due to being located on the Gulfstream.
The average winter temperature in Iceland is just about freezing 20-35*F [0 to -5C] and while it can get colder and warmer in general the temperature hovers around the freezing mark.
The weather can be unpredictable and there can be quite a bit of snowfall. Some places can get snowed in but this is not the norm. Be prepared for the wind which can feel bitter and make it feel colder than it is.
We recommend you pay close attention to the weather forecast and only travel when it is totally safe to do so.
To give you some perspective, a Reykjavik winter can hover between -10 and +10 (14-15*F) New York and Chicago regularly experience colder winters.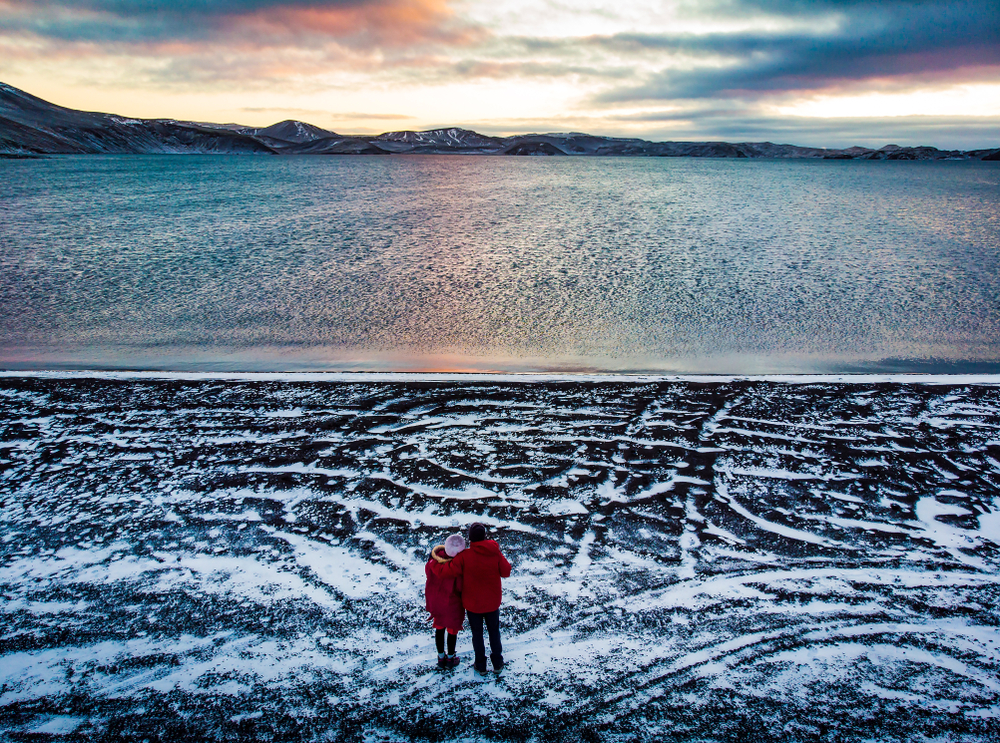 Average Sunlight In Iceland During Winter
In October there are roughly 8 ½ hours of sunlight from approximately 9 until 5.30. The days then continue to get shorter until the shortest daylight day of the year, 21 st December, where there are 4 hours of daylight from approximately 11.30 a.m. to 3.30 p.m.
The days then tend to get longer from there, gradually up until March where the days tend to be longer than the rest of Europe.
We have visited Iceland many times during winter and the shorter days are actually really crazy to experience! It is like the sunset lasts the entire day. There is nothing like it!
How to Drive In Iceland In Winter
If you are thinking of visiting Iceland in winter you may be nervous about driving during the winter months. If you are renting a car in Iceland during the winter, then this section is for you!
Being worried about driving in Iceland in the snow is understandable as most of us don't have a lot of experience of driving in snow and icy conditions. However, if we as Floridians had no problem with it I'm sure you will be fine too.
When spending winter in Iceland it's important that you drive carefully and slowly. Not all roads are cleared and there could be black ice patches so take it easy. It can be tempting to speed as the roads are often clear but don't; it's illegal and dangerous.
All rentals cars come equipped with snow tires during the winter months so you will not need a 4×4 vehicle unless you choose to have one.
Since it is unsafe to drive the whole Iceland Ring Road during winter, we don't recommend spending extra on a 4×4 unless you really want to. All of the Best Stops In South Iceland do not require a 4×4 to see!
Before any trip just be prepared. Make sure you have looked at the forecast, have a full tank of gas, and always pack some food, water, and blankets just in case you get stranded. If the forecast says don't drive, don't even if it is just a wind warning, the wind can get pretty bad and cars can get blown off the road.
Some roads will be closed but the ring road that circumnavigates the entire island is always open unless otherwise specified so check online before you travel. When we say "always open" take that with a grain of salt. The roads in the Eastfjords are often closed in winter for weather and the north may be closed as well.
If you stay away from the F or H roads, and The Highlands and the North when the weather forecast is bad, you are unlikely to come across any really dangerous conditions. Generally, if you stick to the South you will be fine.
We also recommend you always use your headlights as it is dark a lot and even the daylight hours can seem gloomy.
If you do get into trouble the emergency number in Iceland is "112." Or call the roadside assistance number that comes with your rental car if it is not an emergency.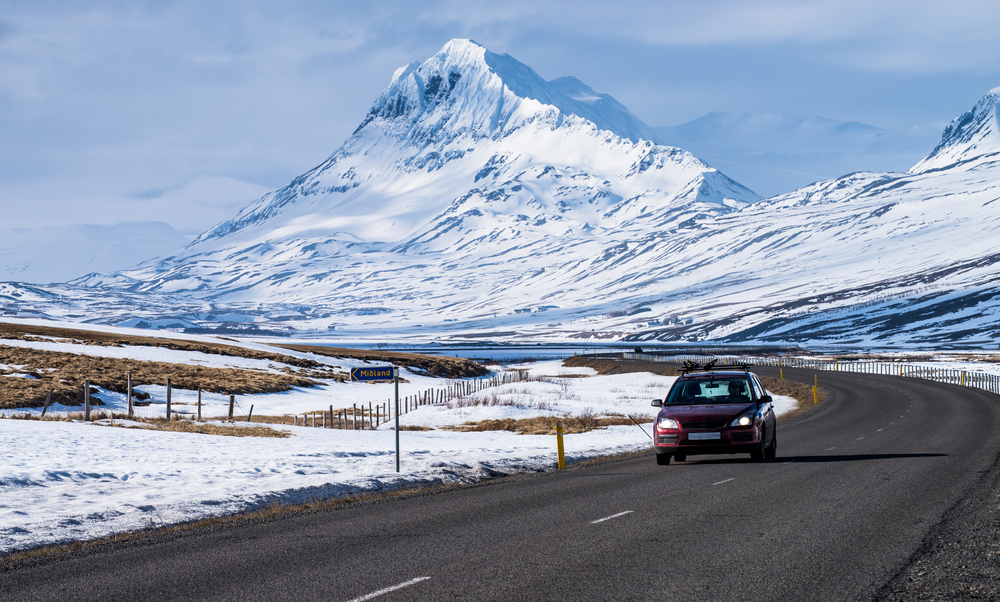 Cost Of Travel To Iceland in Winter
Iceland is one of the most expensive countries in the world so visiting Iceland in winter means you are going at the cheapest time.
Rental cars, hotels, and tours will all be less than they are if you visit in the warmer months.
However, gas will not be cheaper, and filling an economy car will cost between $80-$100 so make sure you factor in that cost.
Some restaurants may drop their food prices but don't expect this. A simple meal like a burger and chips can cost around $30-$40, a gas station meal will likely be around $15-$20. It's expensive and if you want to drink alcohol buy it at duty-free, you will pay about $8 for a glass of beer and $10 for a glass of wine.
You can save money by buying food at the grocery store and making your own but these stores do not sell alcohol.
When planning your winter in Iceland make sure you have a healthy budget for food or be prepared to cook for yourself.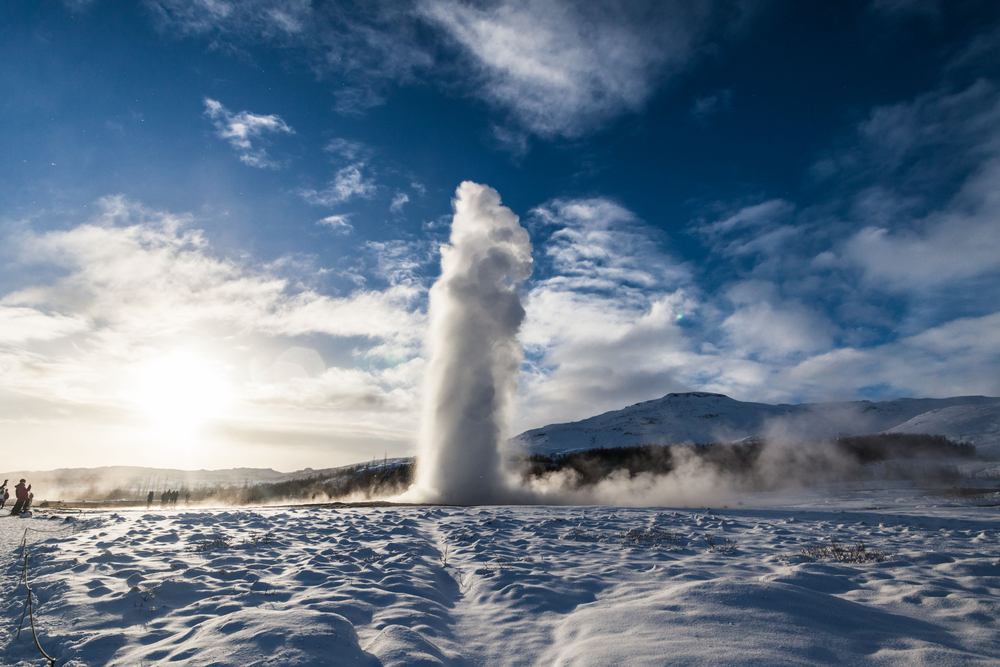 What To Wear During Winter In Iceland
When packing for winter in Iceland you do need to give what you are taking a bit of thought. We have found you often need more than you think because things get wet and may take some time drying. Having good sturdy winter boots is essential and you will need a coat/jacket that is wind and rainproof.
If visiting Iceland in winter think about layering, an inner layer that is worn directly on the skin that breathes and has moisture-wicking, a middle layer that will insulate and heat, and an outer layer that will protect against the wind and rain.
The best investment for your Icelandic winter trip is a waterproof and windproof jacket, waterproof trousers, and waterproof snow boots. If money is tight concentrate on these three items and buys second-hand if you need to.
The objective is to stay warm and dry so anything that helps in those terms is well worth the investment.
A few things to also think about is that due to snow you may not be able to wheel your suitcase very far so either go with a backpack or make sure you can carry your case.
Here are the things we recommend for your winter in Iceland packing list.
Waterproof and Windproof Coat
The right jacket in Iceland can make your winter holiday a great one or a cold miserable one. You want a solid jacket that is both waterproof and windproof. For winter in Iceland, we recommend a jacket with an Omni-tech base layer and a waterproof shell. A good jacket is worth the investment. And if you are thinking of taking pictures yellow or red looks great against the winter Iceland backdrop. We like the Columbia Women's Superpipe Slope 3 in 1 Interchange Winter Omni Heat 650 Down Ski Jacket. Terrence wears this Columbia Men's Action Jacket.
Waterproof trousers
Waterproof trousers or snow pants are a great idea for your winter in Iceland. Snow Pants tend to be thicker and padded like the ones you would wear skiing and waterproof trousers are generally trousers you can slip on over say hiking trousers or jeans so they don't get wet. It depends on what you intend to do so think about your Iceland winter itinerary and choose accordingly. We love these Columbia Storm Surge Pant and the Columbia Women's Arctic Air Omni-Tech Ski Snowboard Pants. Terrence loves the Columbia Men's Snow Gun Pants.
Winter Boots/Snow boots or waterproof shoes.
When traveling in Iceland in winter a good pair of waterproof shoes or boots are essential. There is nothing worse than walking around with cold feet. There are so many different types and styles so choose what suits you and your Iceland winter itinerary. Make sure the soles are certified to keep your feet warm to temperatures below 0*F to ensure you are purchasing a good pair. Victoria wears the Columbia Minx Mid II Omni-Heat Winter Boot and Terrence wears the Columbia Bugaboot Plus Omni-Heat Michelin Snow Boot.
A Balaclava
The perfect winter in Iceland accessory. Cheap doesn't take up a lot of space and won't be blown off your head like hats can be. They will also keep the cold wind off your face, which you will thank us for. We find Balaclavas like this work well.
Waterproof Gloves.
Like everything else in Iceland in the winter packing list make sure your gloves are waterproof if not your hands may spend most of the day wet, there may be snow and ice everywhere. You don't have to get snow gloves unless you want to; just make sure whichever you get are waterproof and are padded enough to keep you warm. Victoria loves these Touch Screen Waterproof Warm Gloves and Carhartt Women's Quilts Insulated Breathable Glove with Waterproof Wicking Insert gloves. Terrence tends to ear something like this Snow gloves like these HighLoong Men Ski Snowboard Gloves Waterproof Thinsulate Cold Winter-Black.
Thermal Tights or Fleeced leggings and a long sleeved top.
Investing in some good thermal tights, leggings, long johns, or leggings are a must, and paired with a long sleeve top these will keep you toasty warm. If you will be wearing them directly on your skin make sure they are breathable and moisture-wicking as you will sweat. Thermal underwear or an equivalent that covers you from head to toe while not necessarily attractive is required to combat the wind.
Victoria loves these Premium Women's Fleece Lined Leggings and these 32 Degrees Women's Heat Scoop Neck Thermal Tops. This is also one of your favorites Hanes Women's V-Notch Pullover Fleece Sweatshirt. We tend to pack Pack at least 3-4 good long sleeve shirts each. Terrence wears a thermal top and thermal leggings.
Light Thermal Jacket
You probably won't need to wrap up for an arctic adventure every day and some days it may be warmer. On these warmer days, you may want to ditch the heaver study coast in favor of a lighter thermal one. Having a light thermal jacket with Omni-heat technology is a great idea and your larger coat can be put over the top if needed. We love this light thermal jacket with Omni-heat technology.
Hiking Pants/Trousers
You can of course if you want to wear jeans or any other trousers but we find hiking pants more comfortable in particular if they are ones which have a bit of stretch in them. Hiking pants tend to be on the thin side so you will need something warmer under them. Whatever you wear though is liking to get muddy so make sure you're not wearing your best trousers as they will get ruined. These Columbia Women's Saturday Trail Straight Leg Pant are Victoria's favorites and Terrence likes this pair of hiking pants.
Knit Hat
For the days when a balaclava is not necessary a wool hat may do just the job. It doesn't have to be fancy, just something that you can pull over your ears and is functional. Victoria wears a Tough Headwear Cable Knit Beanie.
Wool Socks
Do not spend winter in Iceland without a pack of wool socks. Wool is the single best fabric for keeping you warm and you won't want to do the trip without them, believe me, we tried.
Things you might not think you will need but you will.
A Swimsuit or swim trunks
The hot springs will be warm when you are traveling to Iceland in winter so you will want to make the most out of it by taking a dip. In our minds, this is totally essential on your winter trip to Iceland.
Polarized Sunglasses.
If you have been skilling you will know why you need polarized sunglasses during a winter trip to Iceland. Sun reflecting off snow and ice can be very harmful to your eyes. It's also impossible to keep your eyes open if this is happening and believe us you will want to see the amazing scenery. Polarized sunglasses offer more protection but normal sunglasses will do if you don't have polarized ones.
Filtered Water Bottle
You can drink water straight from the tap and we have even seen some people drinking straight out of the streams in Iceland. However, everyone reacts to bacteria differently so we suggest a filtered water bottle or something like a life straw just to be on the safe side.
Obviously, you will also need your sleepwear and outfits for days you decide not to venture out and cozy up inside.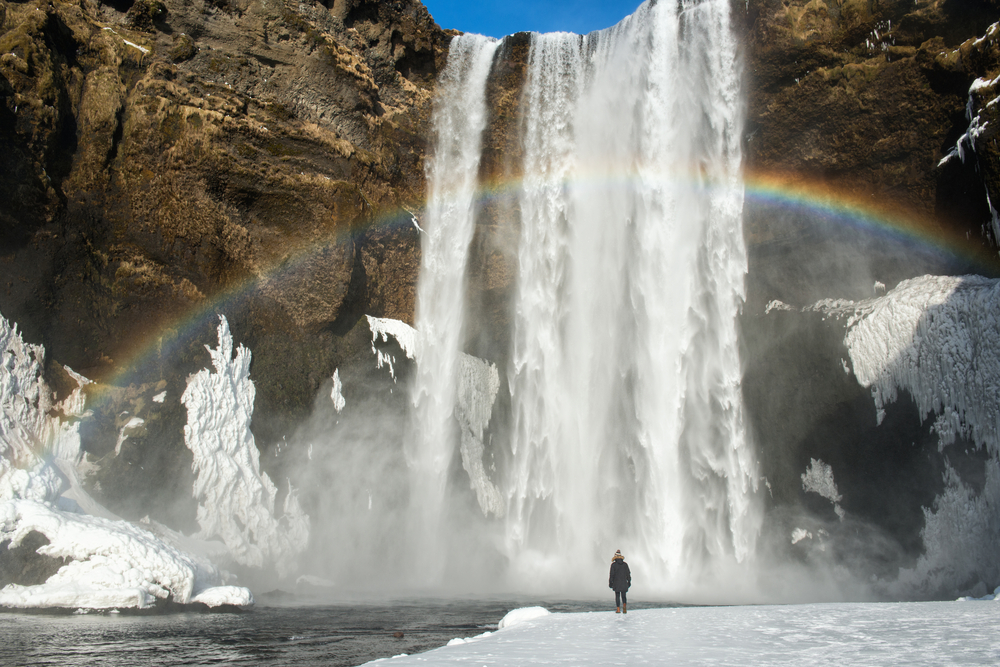 Where To Plan Your Iceland Winter Itinerary
If you are spending winter in Iceland it's best to focus on the south coast of Iceland. You are less likely to come across road closures and inclement weather.
We love the south coast of Iceland and it is the safest place for a winter trip.
The south coast has lots of natural wonders to keep you busy, from dramatic waterfalls to black beaches you are unlikely to miss out on anything a visitor in warmer weather can get a glimpse at.
As with any winter Iceland itinerary makes sure you make allowances for the few daylight areas, only climb stairs and areas around waterfalls if it is safe to do so, and stick to the main highway.
Places you can visit in the south include Reykjavik, Skogass waterfall, Glacier Lagoon, Diamond Beach, Reynisfjara Black Sand Beach, The Blue Lagoon, and much more. As you can see winter in Iceland means you miss out on none of the usual tourist spots.
Winter in Iceland allows you to see most of the places that Iceland has become known for at a time when they are likely to be less busy.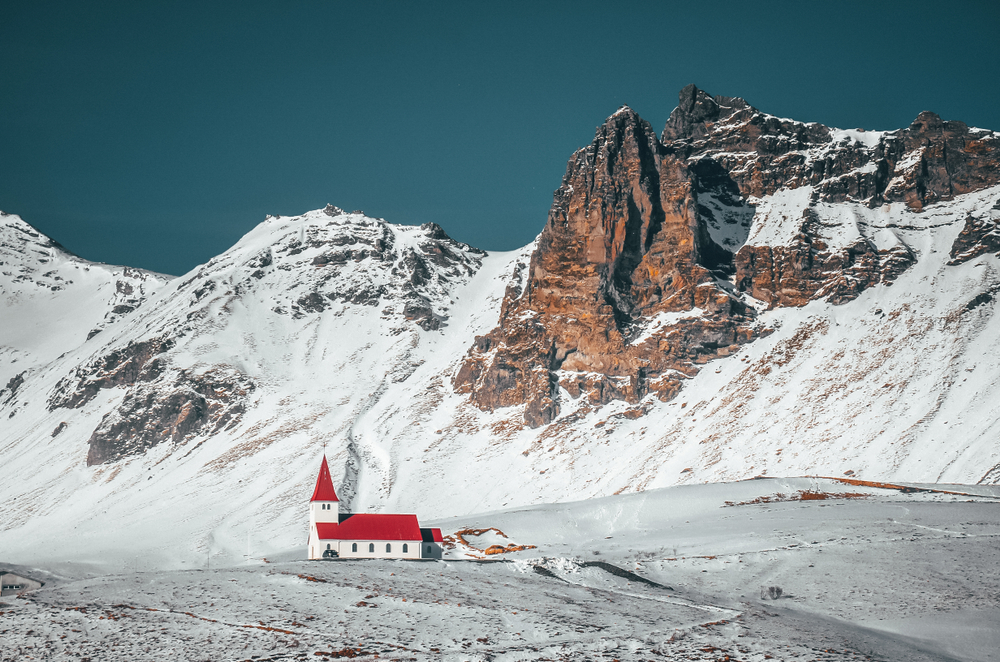 Visiting The Blue Lagoon During Winter In Iceland
The blue lagoon in Iceland in the winter is well worth the time, in our opinion.
Visiting the blue lagoon in winter can be somewhat of an extraordinary experience. If you are lucky you may catch the northern lights or be there when the snow starts to fall. We've visited during the winter on several occasions year-round
The Lagoons water is naturally heated by mineral-rich thermal springs and stays toast all year round (37-40°C/98-104°F). It's a great treat for your skin and a fantastic way for you to relax and just enjoy the experience.
The lagoon is about 45 minutes away from Reykjavik and if you don't have a car you can get bus transfer or book a tour. You will need to pre-book and there are various offers with added extras. We recommended going as early as you can as by noon the place will be buzzing with people.
There are places to store luggage and lockers to keep belongings. All purchases are charged to your smart wristband so no need to worry about your wallet while enjoying the lagoon.
Please note before entering you are required to shower naked and while a lot go for the communal showers there are private shower stalls.
The Lagoon is large and the water temperature varies so you can always find a spot that is perfect for you.
Before you go in protect your hair and jewelry as the minerals in the water can play havoc with them. We recommend using the conditioner in the shower and leaving it in your hair and taking off all your jewelry and storing it safely in your locker.
There is a restaurant on-site and you can go in your bathrobe and slippers (provided in some entry levels). It is one of the best places to see on your Iceland Itinerary!
It's definitely worth a visit if you are spending Iceland in the winter or any month.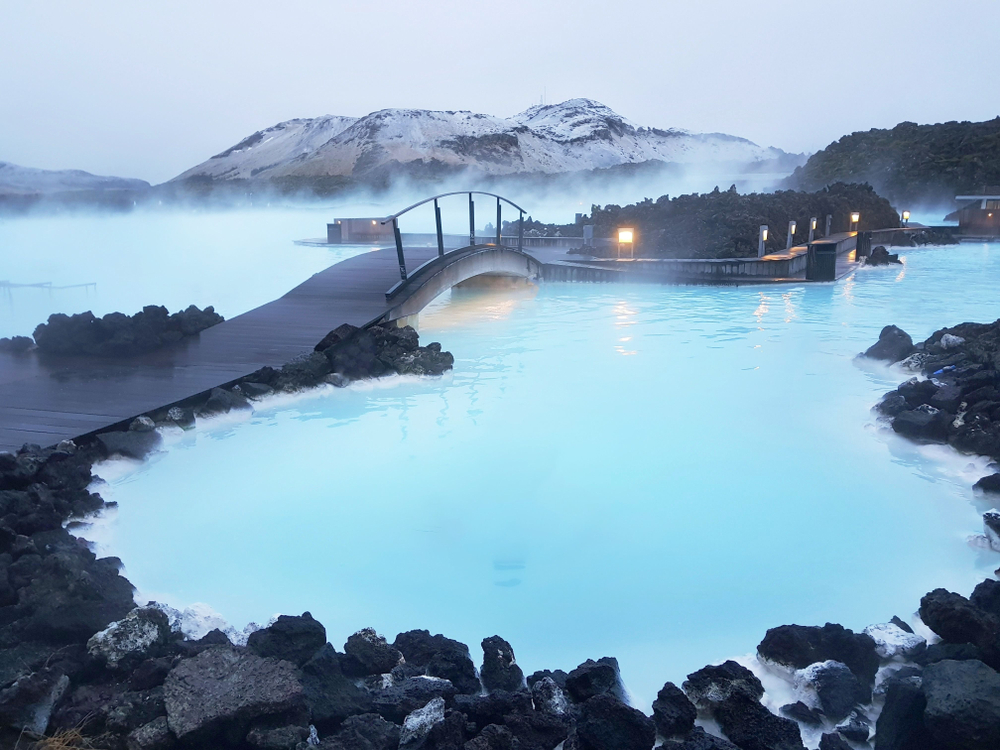 Best Winter Tours In Iceland
If you want to go to Iceland in the winter and don't want to drive, no worries. There are some great ours available most starting in Reykjavik.
Here are some of our favorite winter in Iceland tours.
Magnificent Iceland Winter: Aurora Borealis & Golden Circle
This day trip allows you to see many breathtaking sights and if the Gods are looking down on you, the northern lights.
The tour starts in Reykjavik and then you get to experience Thingvellir Park, Geysir, Gulfoss waterfall, and the Kerid volcanic crater.
Then weather permitting after a short rest you get set for your Northern Lights Tour and if the conditions are just right you will be in for a jaw-dropping experience.
This tour lasts for 9 hours and starts at 10 am. Pre-booking is required. The tour also picks up from most hotels where access is available.
Check Rates: Magnificent Iceland In Winter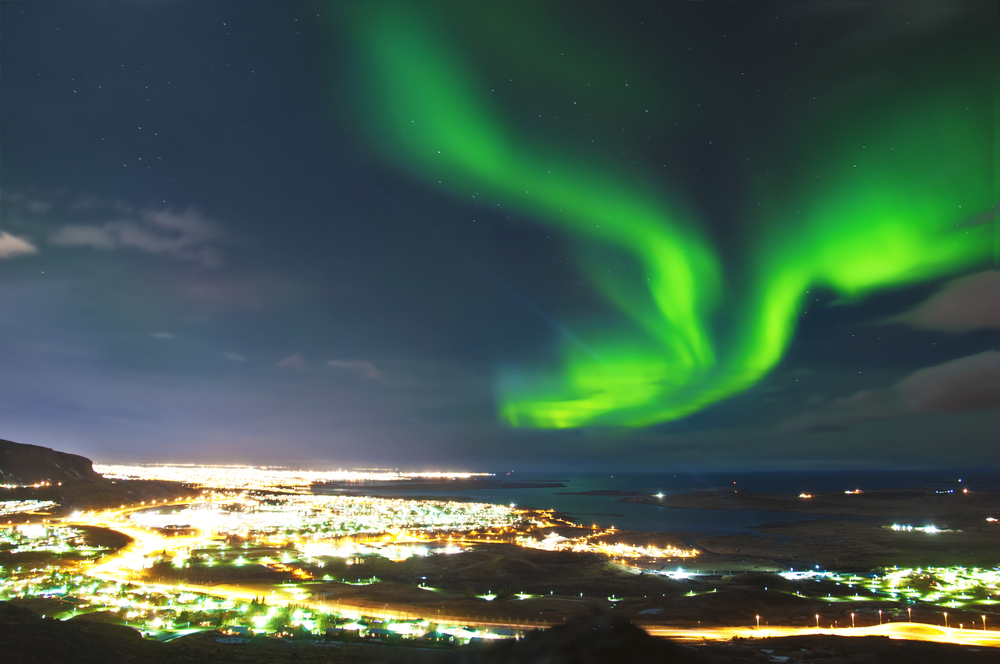 Vatnajökull Glacier: Ice Cave Tour
You can't come to Iceland in the winter without visiting some ice caves. On this tour, you will explore the blue ice caves in Vatnajökull, Europe's largest glacier. The tour begins from Jökulsárlón Glacier Lagoon in Southeast Iceland and is relatively easy going. The 4×4 Superjeep gets close to the cave entrance without much effort.
There is nothing as spectacular as the stunning blue ice and the beautiful views for which Vatnajökull is famous.
The 2½ hour tour begins from Jökulsárlón Glacier Lagoon; there you meet your professional glacier guide and a 4×4 Superjeep takes you to and from the glacier.
Check Rates: Vatnajokull Ice Cave Tour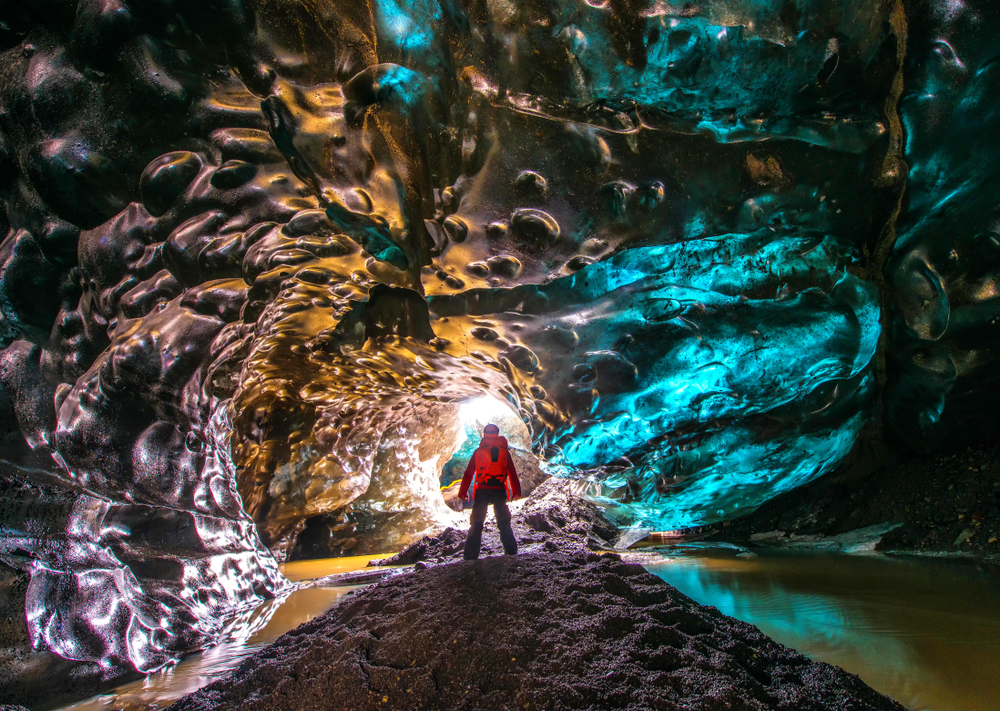 From Reykjavik: Blue Lagoon and Northern Lights Tour
If our description of the Blue lagoon had you wanting to jump into the warm waters right away then this is the tour for you. You spend the afternoon at the Blue Lagoon, entrance fee included, then you have some free time to relax before setting off on The Northern Lights Tour.
You are always taken to the best locations to see the northern lights at that moment but of course, nothing is guaranteed, and if you don't see anything you are welcome to join the tour again, free of charge.
The tour is an 8-hour experience beginning at 1 p.m. and the pickup is from the bus terminal in Reykjavik.
Check Rates: Blue Lagoon And Northern Lights Tour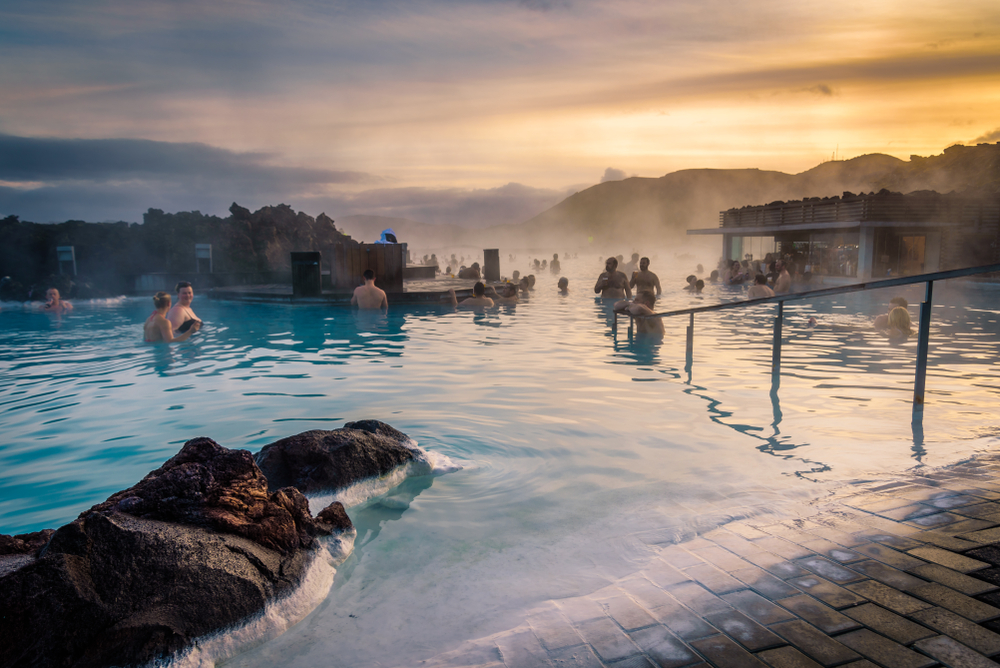 From Reykjavik: Langjökull Glacier Snowmobiling Tour
For those that like their winter in Iceland with a few thrills then this 1-hour snowmobile ride in the vast snowfields of Langjökull Glacier might be right up your street. Experience the landscape like a local and see how breathtaking this country really is.
This tour lasts 8 hours and includes a return transfer to and from Reykjavik, snowsuit, helmet, and gloves are provided.
Check Rates: Glacier And Snowmobiling Tour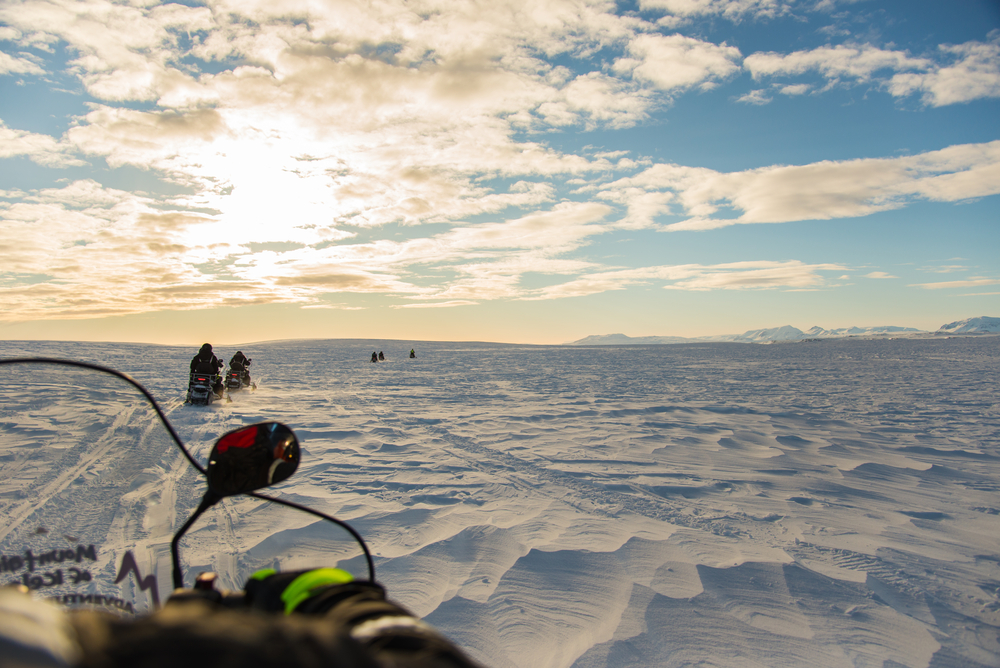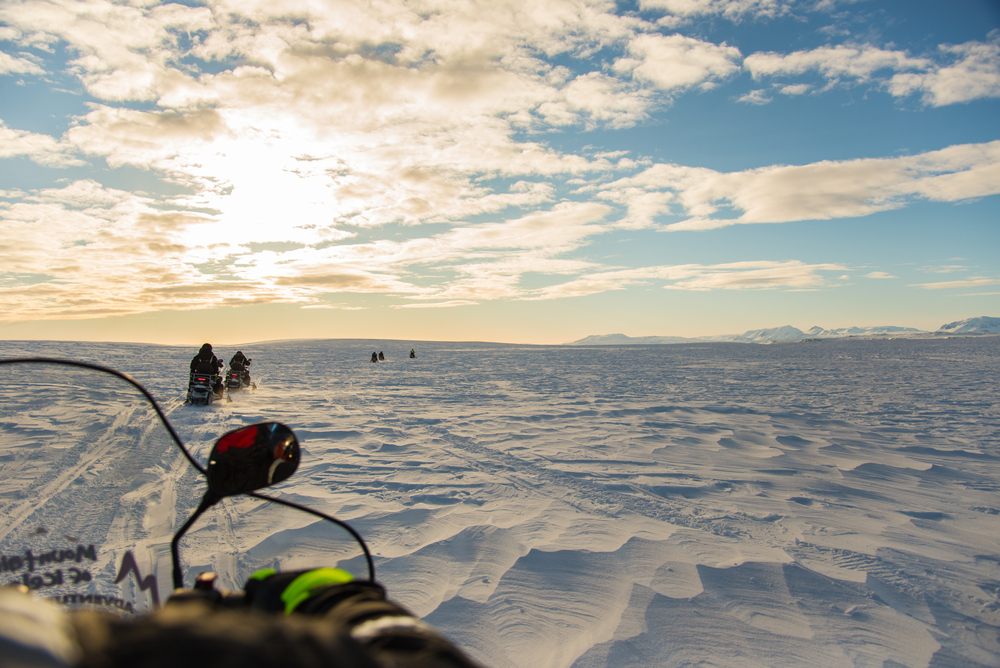 Best Things To Do In Iceland In Winter
There is so much to do in Iceland in the winter from ice skating to ice caving from hot geezers to snuggling up in front of the fire. Winter in Iceland has something for everyone.
Here is a list of 5 things to do in Iceland in the winter that we think you will enjoy.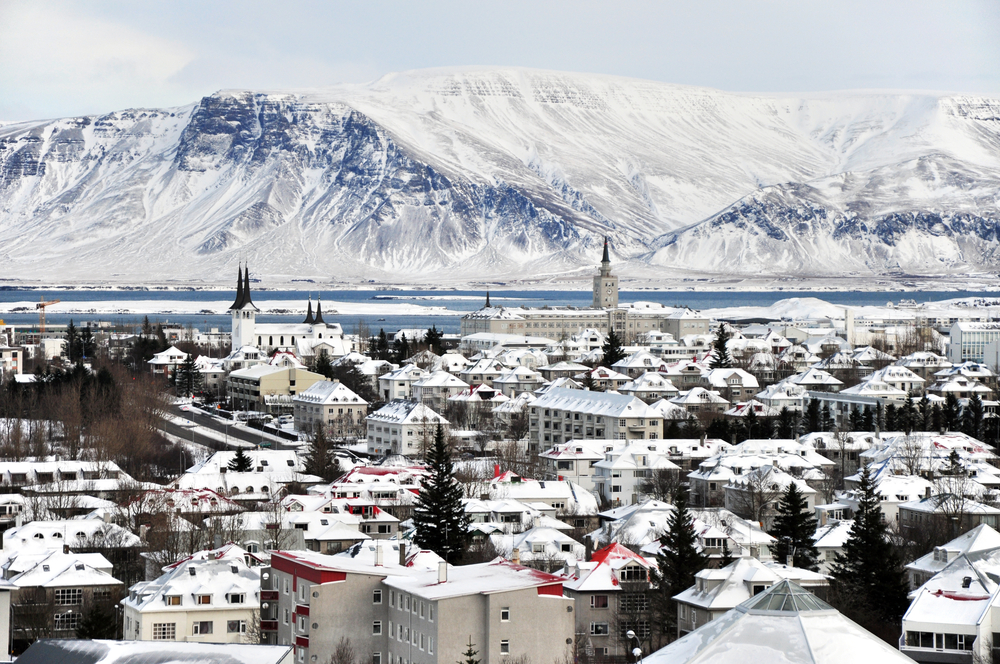 Experience a Frozen Waterfall
No trip to Iceland would be complete without a trip to a waterfall and in winter these waterfalls truly are spectacular. While the waterfalls take your breath away in a warmer month, in winter they take on a more mysterious and otherworldly quality. They really are a sight to behold.
Svartifoss Waterfall, situated in Vatnajokull National Park at Skaftafell, is overrun with visitors in the summer, but in winter you may be one of only a few people there.
Seeing these black falls draped in ice really is a sight to see. The unique black volcanic rock stands tall competing with long icicles hanging overhead as the high falls partially freeze. It's a sight to behold.
You will have to hike 1.5km to get there and the terrain will be snowy and icy and the path can get slippery. Don't attempt this unless you have crampons or microspikes to put on your shoes. The hike is uphill and will take about 45 minutes each way.
Make sure you are entirely comfortable hiking in these conditions before you set off. When you arrive grab a map from the visitors center. You will pass two other waterfalls on your way, Magnusarfoss and Hundafoss. They are far less impressive but worth a short stop never the less.
If this waterfall feels a little too adventurous for you Skogafoss Waterfall, one of the most famous waterfalls in Iceland, is easily accessible, just next to the Ring Road. Just like the rest of Iceland, Skogafoss is spectacular whenever you visit. Seeing this waterfall cascade from snow-covered hills is a sight you will never forget.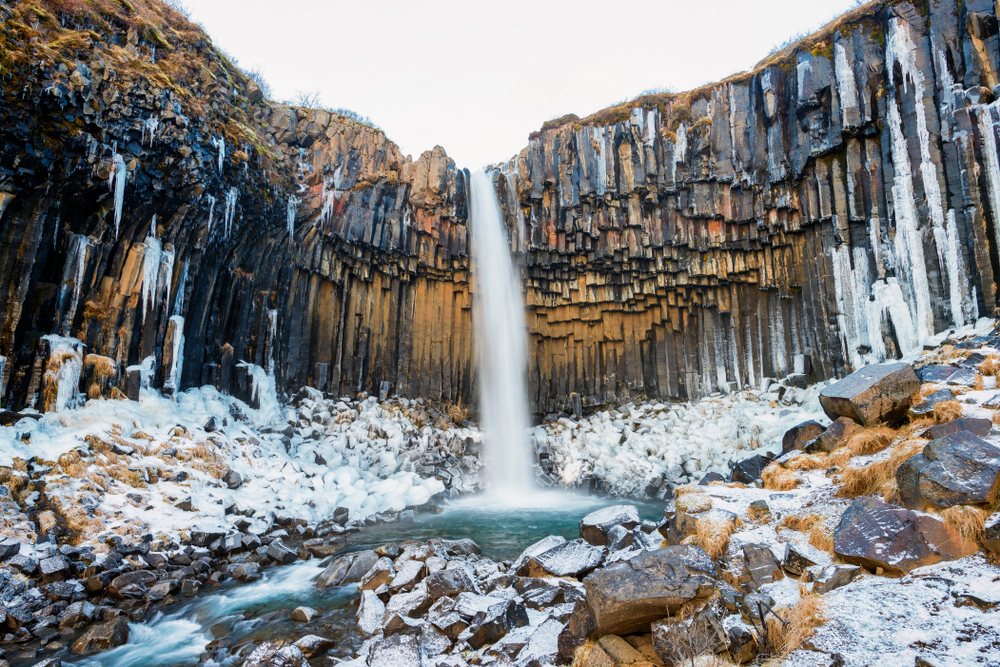 Explore a plane wreck
When most people think of things to do in Iceland in the winter I bet the plane wreck pops into most heads. The famous plane wreck at Solheimasandur Beach is, you be pleased to know accessible in winter. However, bear in mind that you will have a 4 km round trip from the car park so be prepared.
The plane has stood in this spot since Saturday, Nov 24, 1973, when a forced landing was required by the pilot due to icing. This really is a unique thing to do in Iceland in winter and the photos you can get will be phenomenal.
The walk is relatively easy on a flat rocky beach and be aware you won't be able to see the plane until you come over the hill and almost upon it. If you are visiting Iceland in the winter this is a great thing to add to your itinerary because it isn't as busy as the warmer months and you may be able to get a picture easier.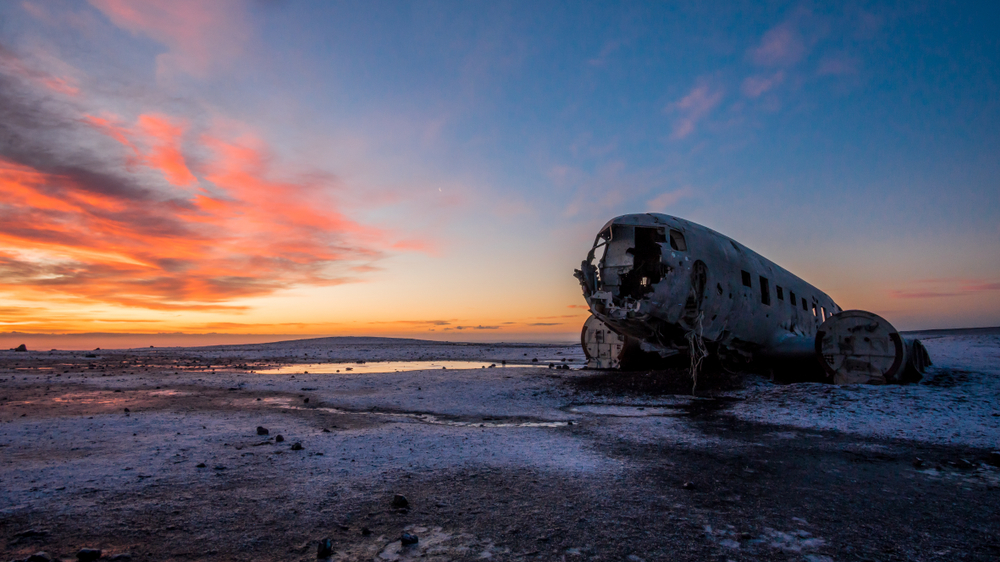 Visit a Glacier Lagoon
No visit to Iceland would be complete without a trip to Jokulsarlon. We believe it is one of the most beautiful sights in Iceland and it has lots of contenders so that is really saying something.
Formed by meltwater for the nearby Vatnajokull glacier it really is a sight to behold. Huge chunks of ice break off the glacier and float into the lake before being swept into the sea. These icebergs are speckled with black and turquoise and some are thousands of years old.
The zodiac and amphibian boat tours won't be running in the winter but you can still get an amazing view of the lagoon from the lakeshore.
Across the road you can visit Diamond Beach, so-called because the icebergs wash onto the black sand beach and some chinks of ice glisten like diamonds. And when snow covers the beach the spectacular looks even more awe-inspiring.
It's free and you are guaranteed that no two visits will look the same due to the ever-changing nature of the lagoon.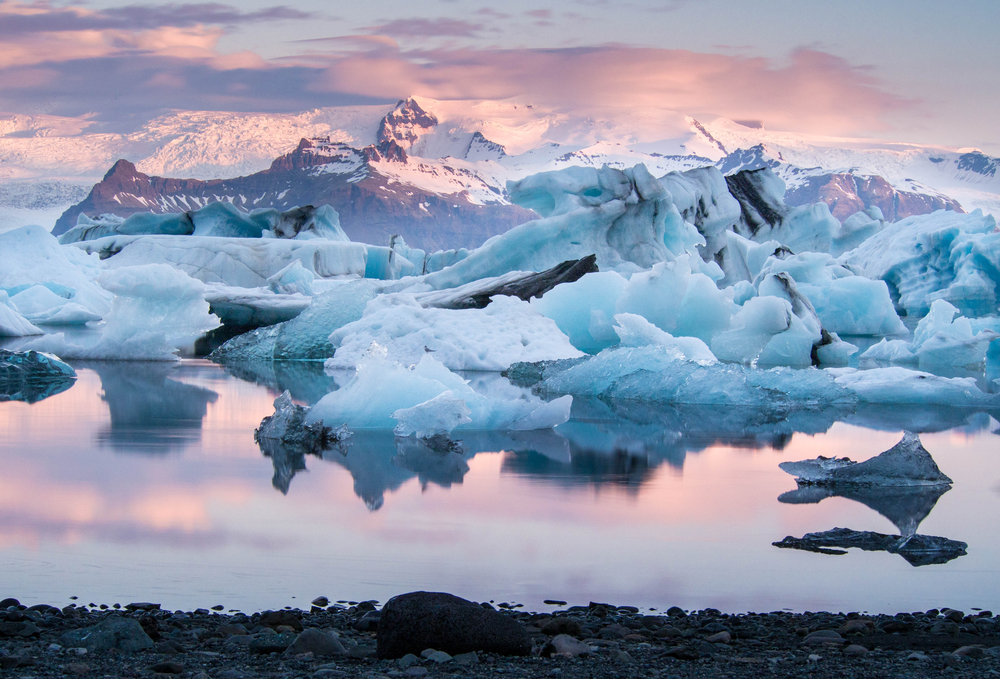 Chase down the northern lights.
The number one reason to visit Iceland in the winter is to see the Northern Lights or the Aurora Borealis.
This is the one thing that really sways a visit to Iceland in the winter over the summer months. The dark skies and the right conditions make for one of nature's most impressive shows. Seeing the sky dancing with green, purple, and orange-red hues is an experience we will never forget.
If you want to chase down the Northern lights you have two options. You can take a tour or self-drive to the location. The tours are affordable and the tour guides are more knowledgeable about where the best locations on that particular evening will be. If you self-drive you will have more time to stay at the location but you might not be in the best area that particular evening.
December through March tends to be the times when the lights are more visible but you can see them September through April if you are lucky. And like everything in nature, there is no guarantee and your visit may be an unsuccessful one. The weather changes quickly and the conditions have to be right to see this spectacular so count seeing them as a blessing rather than a has to happen thing.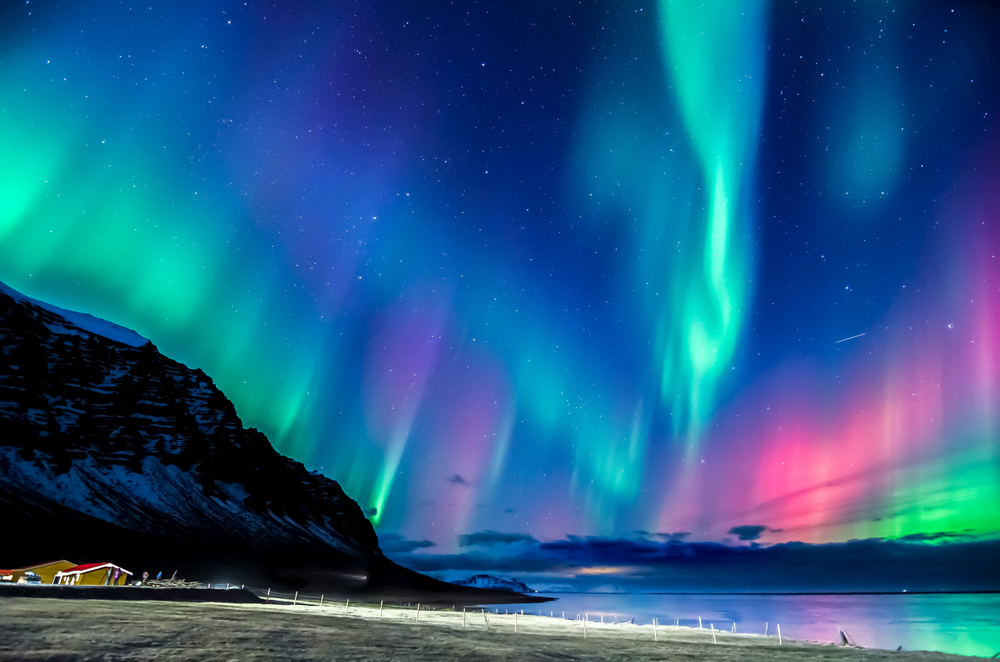 Walk on a Black Sand Beach
One of the best things to do in Iceland in the winter is to visit Reynisfjara Black Sand Beach. We guarantee you will not be disappointed.
Near the fishing village, Vik in southern Iceland visiting this place in winter gives it a whole different perspective. Even if you have seen this beach in the warmer months please go visit in winter it's special.
Prepare yourself it will be cold and most likely very windy so dress as warm as you can. We stopped on the way back to the car to get a hot chocolate at a little touristy café, it was much needed.
What makes this place so special in the winter is how white little balls of snow and ice mix with the back sand, couple this with crashing high waves against the step-like rock formations and you are standing in one of the most atmospheric locations we have ever experienced, it looks out of this world.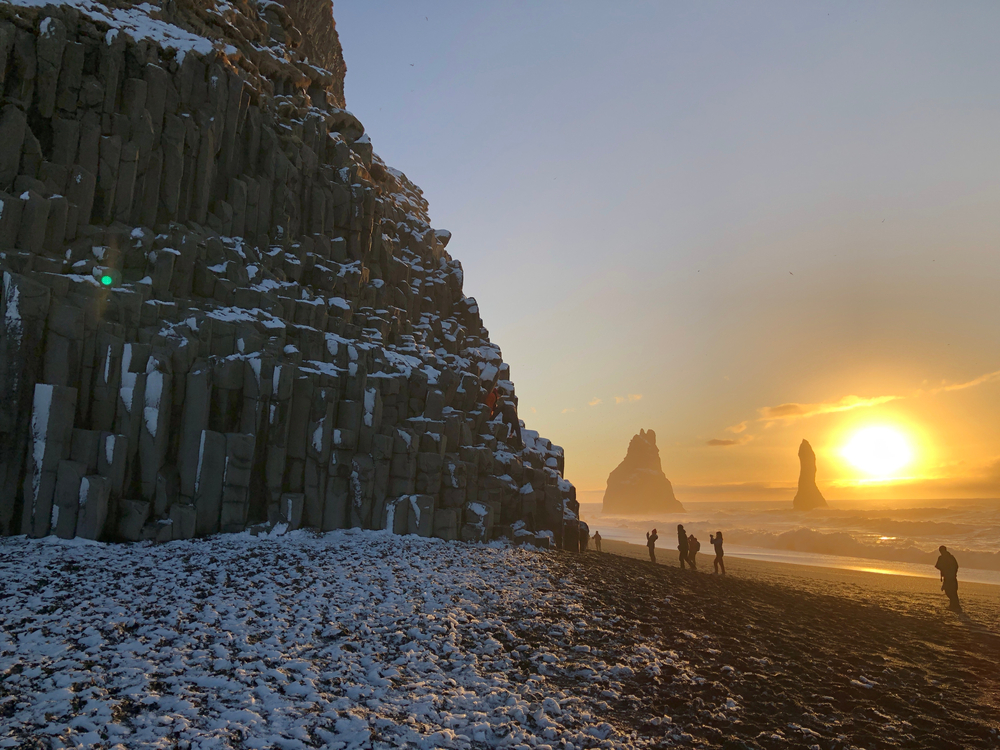 I hope we have convinced you that visiting Iceland in the winter is well worth it. There is so much to see and do and the sights really are magical with the added touch of winter. Please let us know how your winter in Iceland goes and whatever you decide to do we know you will have an amazing time.
For more information to plan your Iceland winter itinerary take a look at 60 Best Stops On Your Iceland Ring Road Itinerary, 10 Epic Iceland Glacier Tours Worth Your Money and 10 Best Places To See In South Iceland.